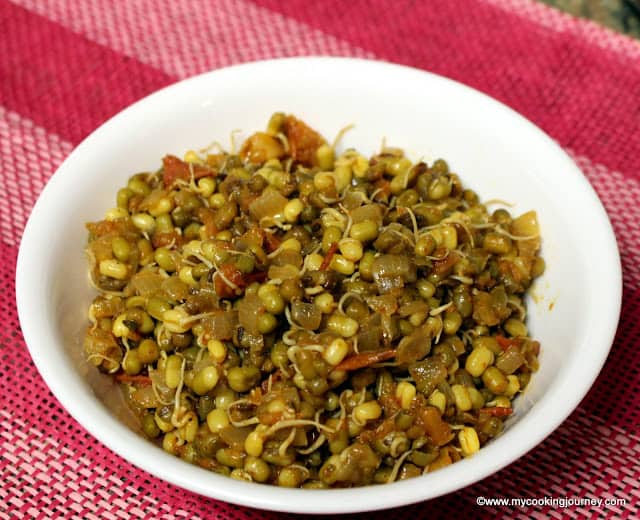 Sprouted beans have more nutrients and health benefits when compared to beans as such. Lots of people are adapting to fresh eating habits and I am one of them. After having read about the many health benefits, I have begun to sprout beans quite often and the most I use is the Moong as they are the easiest to sprout and I love the flavors.

I will write a post about how to sprout the moong / mung beans soon. It takes only couple of days and little bit of TLC and the beans are ready to go. Usually I sprout a large batch and use one half of it for salad. The other half, I store in the refrigerator to use as salad topping or a quick snack in the evenings. This time, I had quite a bit of sprouts and that is when I decided to make this quick subzi for dinner. I usually do not cook the sprouts. I just give it a quick steam, but I cooked it in this recipe.
Preparation time – 10 minutes
Cooking time – 20 minutes
Difficulty level – easy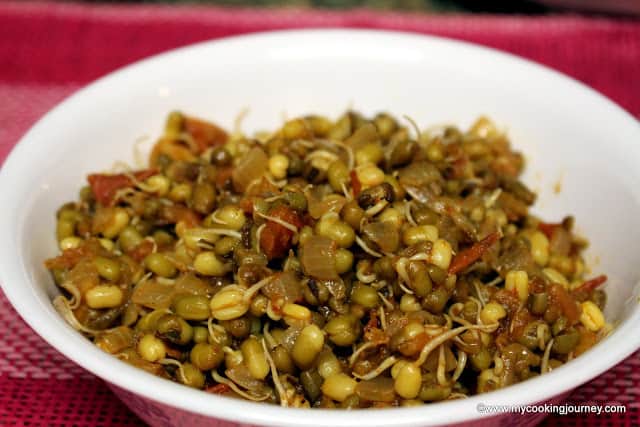 Ingredients to make Moong / Mung Sprouts Curry – Serves 3
Moong / Mung Sprouts – 2 cups
Onion – 1 medium (chopped)
Tomatoes – 2 large (chopped)
Cumin seeds – 1 tsp
Turmeric powder – ½ tsp
Red chili powder – 1 tsp (adjust based on your liking)
Dhania jeera powder – 1 tsp
Garam masala – ½ tsp (optional)
Salt – to taste
Oil – 2 tsp
Procedure –
Wash the mung sprouts and have it ready.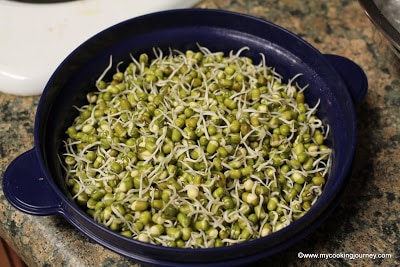 In a pan, heat the oil and add the cumin seeds. Let it crackle and then sauté the chopped onions until translucent.
Now add the tomatoes along with turmeric powder, red chili powder, Dhania jeera powder, garam masala and salt. Mix well and let it cook until the tomatoes are mushy.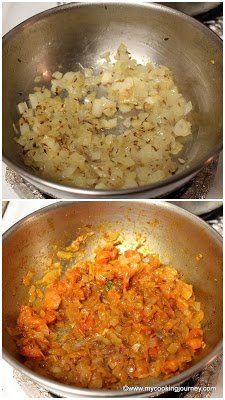 Add the moong/mung sprouts and stir. Let it cook in low flame, covered for about 10 to 12 minutes. Make sure you stir them once in a while to avoid sticking to the bottom of the pan. If you find that that it is drying out too quickly and sticking to the bottom of the pan, sprinkle some water and continue to cook. The sprouts should become soft, but not mushy.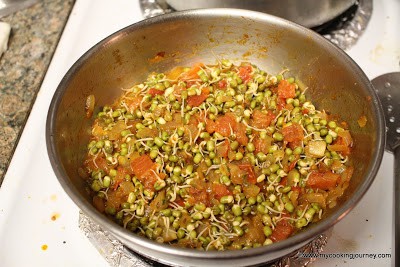 Garnish the Moong / Mung Sprouts Curry with cilantro (optional) and serve with roti.