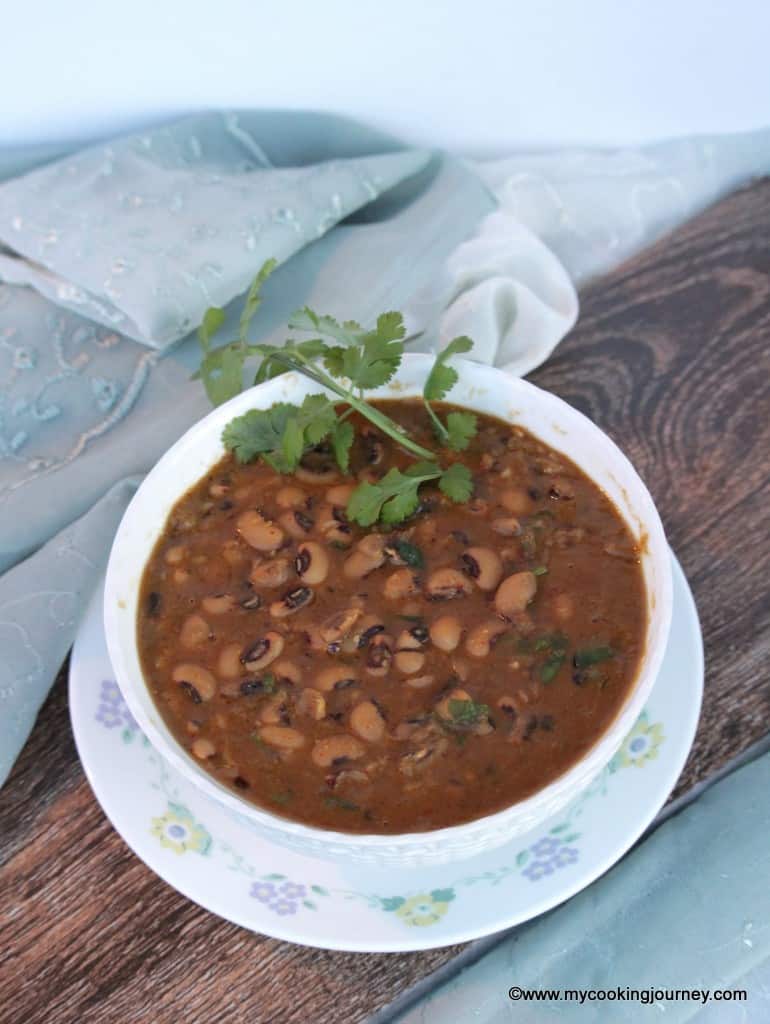 'Gravies without tomato', how hard that can be, was my first reaction to the theme and I chose that right away. When sitting down to think of recipes, I could not come with any. I referred to cookbooks, my hand-written recipe notebook and my blog to see if I can come with a modified version of any of the recipes, but no luck.

After going through my whole recipe list, I saw the recipe for Feijoada, the Goan special dish made with rajma (kidney beans). This recipe has tamarind in it which takes the spot of tomato for sourness. This recipe though has onions in it. My challenge for that specific day when I planned to make the dish was Amavasya (New Moon) day and we do not eat onions or garlic. Now making gravy without tomatoes, onions and garlic is scary.
I sort of stuck to the same idea of feijoada and used karamani (Black eyed peas) instead. I also made a slight change to the recipe and it worked great. Few things I learned by doing this theme – Always have an alternate to the sourness that we get from tomatoes. In the first recipe, Dahi Paneer, I used yogurt for sourness and in this recipe, tamarind was used.
We will also need something to make the gravy creamy. Beans and lentils work well in that case and especially beans like black eyed peas can help make the gravy creamy. I mash some of the cooked beans to help get a good consistency.
Check out my recipe for Lobia (karamani) subzi with onions and tomatoes here.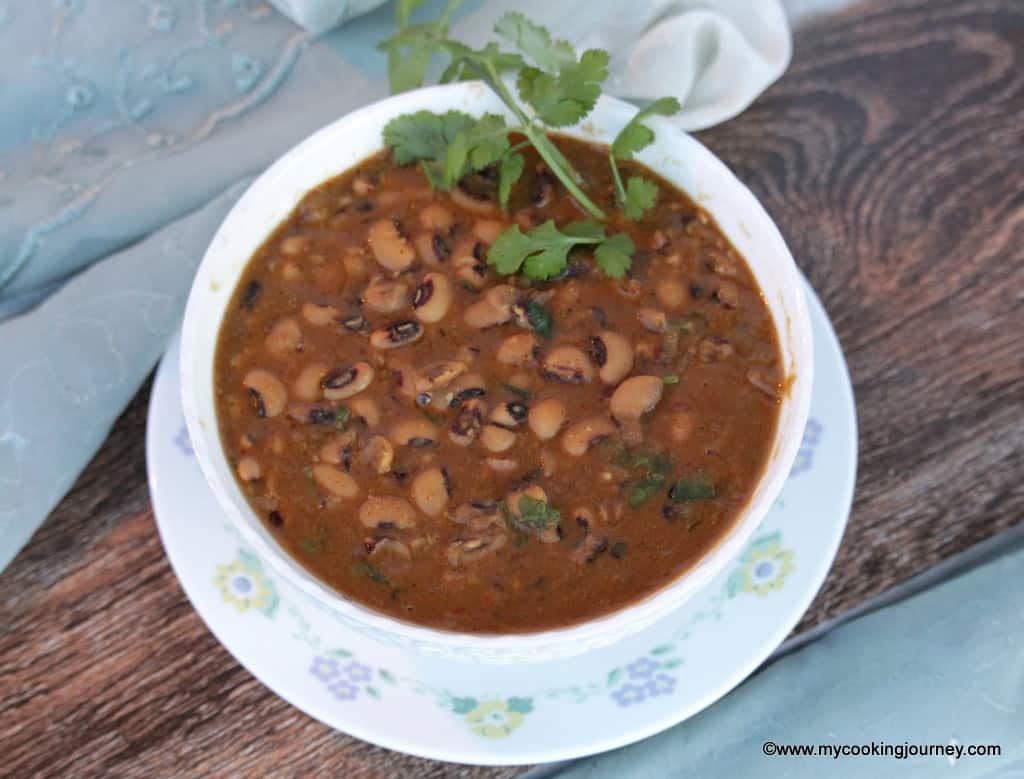 Preparation time – about 4 hours of soaking time
Cooking time – 40 minutes
Difficulty level – easy
Ingredients to make Karamani Subzi – Serves 4
Karamani / Black eyed peas / lobia – 1 ½ cups
Cumin seeds – 1 tsp
Tamarind paste – 1 tsp
Salt – to taste
Oil – 2 tbsp
Cilantro – a handful
To fry and grind –
Coriander seeds – 1 tbsp
Red chilies – 3 or 4
Cinnamon – ½ inch piece
Sesame seeds – 1 tbsp
Desiccated coconut – ¼ cup
Black pepper – ½ tsp
Cloves – 4
Oil – 1 tsp
Procedure to make Karamani Subzi -
Soak the karamani for about 4 hours and then cook it in the pressure cooker for about 3 whistles. Add salt when cooking the beans. If you are like me and forgot to soak the karamani, don't panic and just cook it for couple more whistles.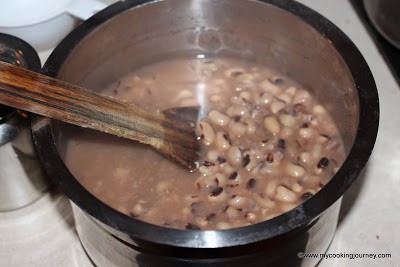 Fry the ingredients mentioned under the table in 1 tsp of oil and grind it to a paste when it cools down. Add a little water when grinding.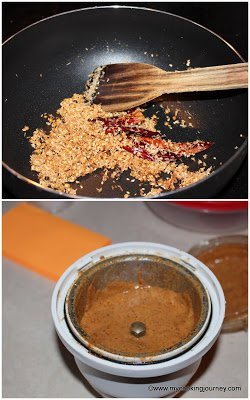 In a pan, heat oil and add the cumin seeds. When the seeds splutter, add the cooked beans with the water.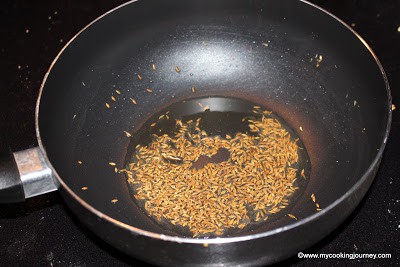 Let it come to a boil and then add the ground masala paste along with the tamarind pulp. Add the salt needed. We might not need any salt since we added salt when cooking the beans. Check before adding any more salt.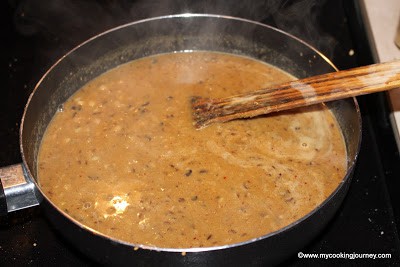 Let the subzi come to a boil again. Mash a few beans with the ladle as it helps to thicken the gravy. Simmer for about 10 minutes and then add cilantro.
Serve with Chapatti or rice.