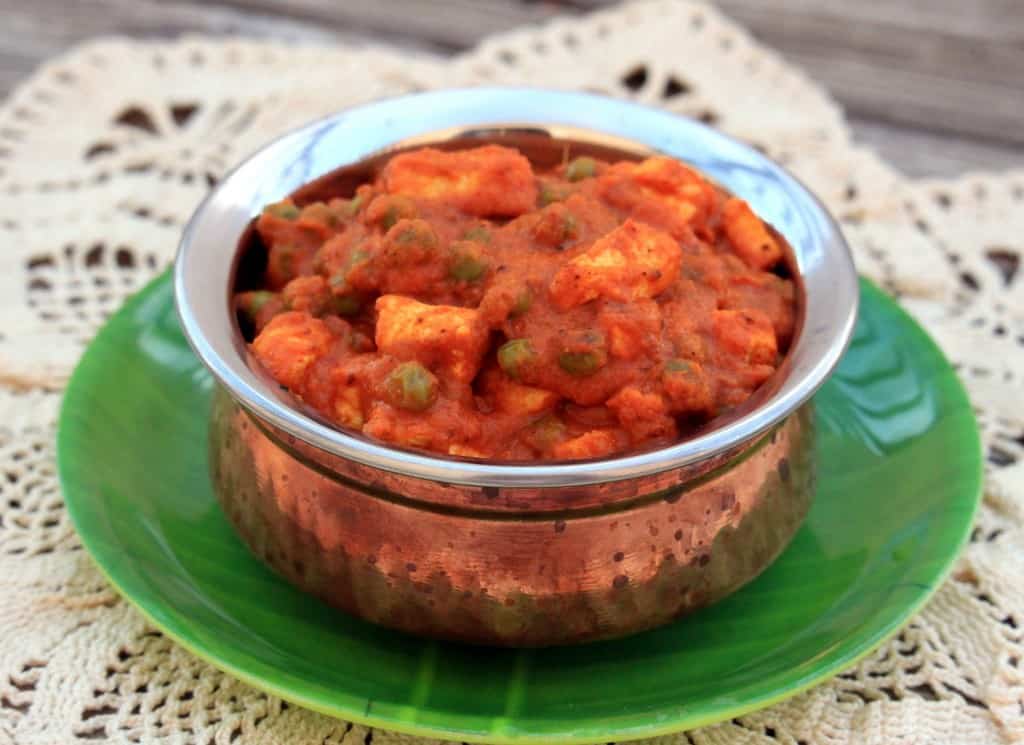 This week I am doing three days of gourmet subzis that has smooth gravies. The last two recipes that I blogged in this series are Matar paneer and Shahi Aloo Matar. Even without realizing I have made all the three recipes with green peas in them. This Matar Tofu recipe is quite different from the matar paneer recipe and can be used as an alternate flavor.
We love tofu in our house and I use them quite often. One of the biggest ways I use tofu is substituting it for paneer. Tofu works great as paneer alternate in any subzi. Make sure you use firm tofu when making any subzi. I also pan fry the tofu until slightly brown and then add it to the subzi.
One thing to remember when cooking with tofu is to let it simmer in any gravy we are making so that it can absorb the flavors. When using paneer we don't cook it long after adding it to the gravy, but when using tofu, make sure you simmer it for few minutes. Tofu does not break apart as easily as paneer (when using firm tofu).
If you are looking to make more recipes with fresh or frozen green peas, definitely try these recipes –
Matar Ka Nimona / Green Peas Curry
Chura Matar / Flattened rice with Green peas
Green Peas Pilaf / Matar Pulao
Matar Kachori / Kachori stuffed with green peas
Benarasi Aloo Matar / Potato and Green peas curry
Shahi Aloo Matar / Potatoes and Green Peas in rich Tomato gravy
Matar Paneer / Paneer and Green Peas Curry
Preparation time – 15 minutes
Cooking time – 40 minutes
Difficulty level – easy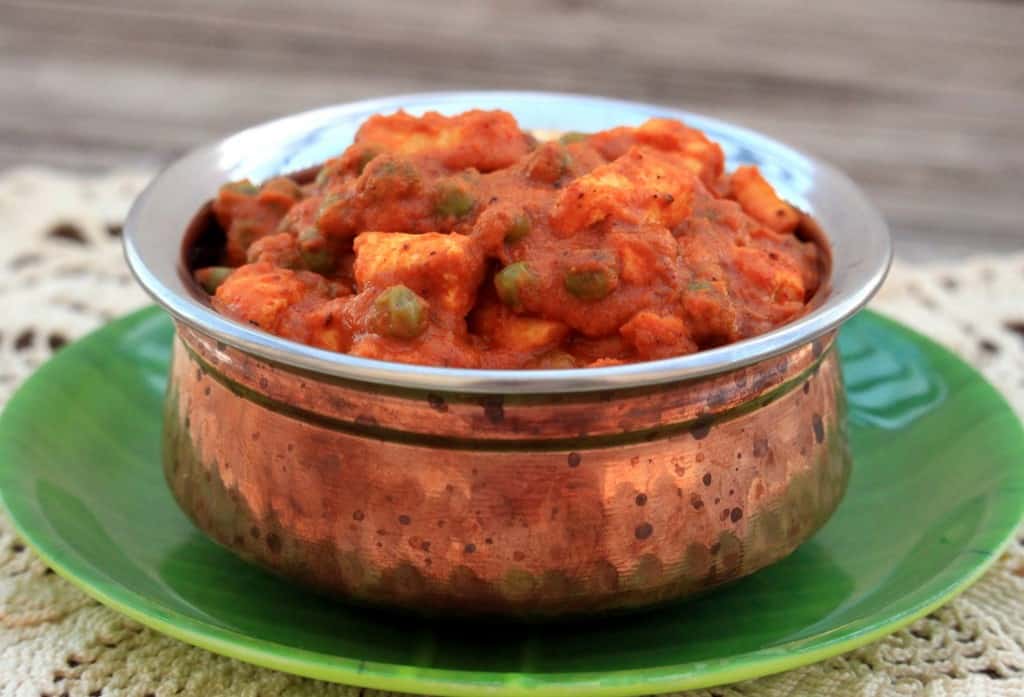 Ingredients to make Matar Tofu – (serves 4)
Tofu (firm) – 1 block (about 1 cup cubed)
Green peas – 1 cup
Turmeric powder – ½ tsp
Red chili powder – 2 tsp
Dhania Jeera powder / Cumin coriander powder – 1 ½ tsp
Salt – to taste
Oil / butter – 2 tbsp
Cilantro – to garnish
For the Masala paste –
Onion – 2 (sliced)
Tomatoes – 4 (or I can of diced tomatoes)
Ginger garlic paste – 1 tsp
Cashew nut - 10
Cardamom – 3
Cloves – 5
Cinnamon – 1 inch piece
Fennel – 1 tsp
Oil – 1 tbsp
Procedure to make Matar Tofu –
Remove the tofu from the package and drain all the water. Wrap the tofu in few layers of paper towels or a clean kitchen cloth and place a weight over it to squeeze out the extra water. Leave it like this for 10 minutes. Then cube the tofu into bite size pieces.
In a wide pan, heat about a tbsp of oil and fry the tofu until slightly brown on all the sides.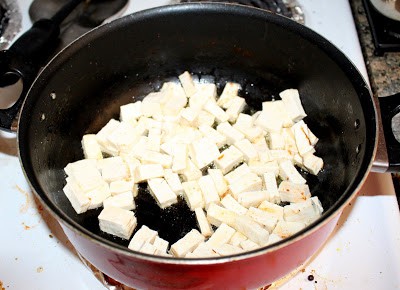 To make the masala paste –
In a pan, heat 1 tbsp of oil and fry the cardamom, cinnamon, cloves and fennel until aromatic.
Add the sliced onions and sauté until golden brown. Add the cashews and fry for a minute.
Now add the ginger garlic paste and the tomatoes and cook until the tomatoes are mushy.
Let the mixture cool down and then transfer it into mixer jar. Grind the mixture to a smooth paste.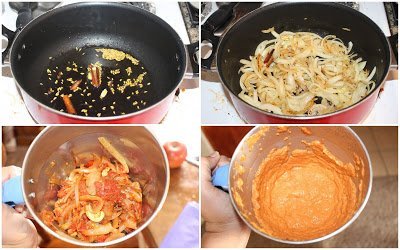 To make the subzi –
Heat 2 tbsp of oil and/or butter in the same pan. Add the ground masala paste and fry in low flame for 4 to 5 minutes or until the oil separated from the masala.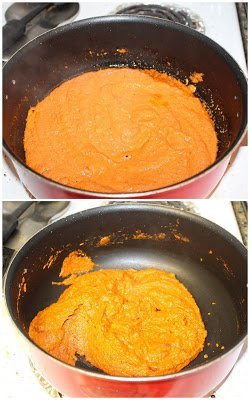 Next add turmeric powder, red chili powder, Dhania Jeera powder and salt and mix well.
Add the peas along with a cup of water and cook until the peas are tender. I used frozen peas, so it took me about 10 minutes to cook the peas in low flame.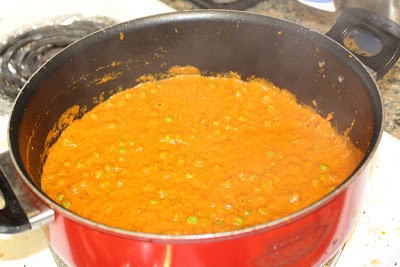 Add the fried tofu pieces and cook in low flame for about 10 more minutes. Adjust the consistency of the subzi by adding more water if needed.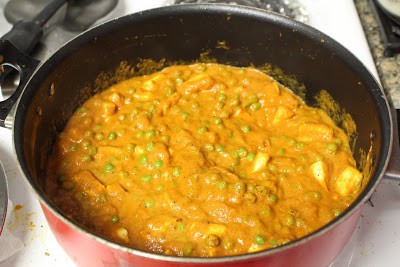 Garnish with cilantro and serve hot with roti.