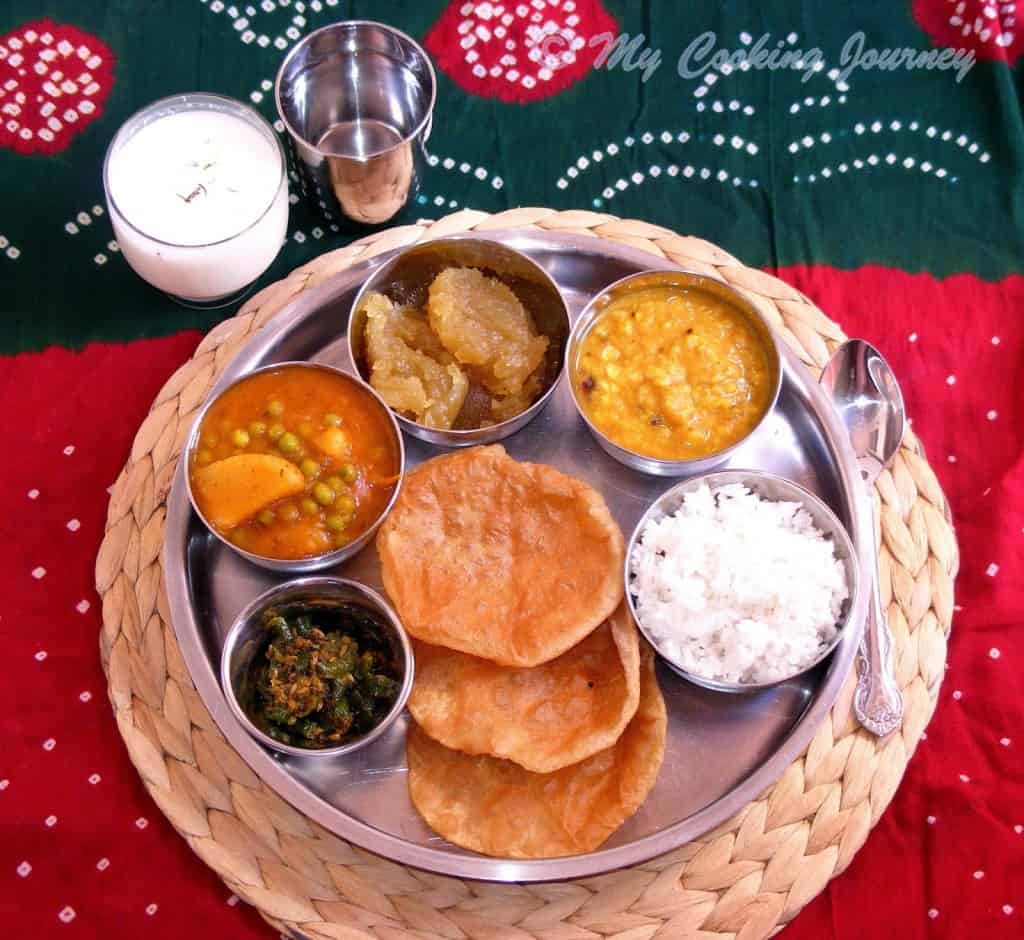 Uttar Pradesh holds a very special place in my heart. I spent a good part of my child hood in Kanpur and Lucknow and spent time with some amazing people. Our life there was very simple and it was one of the best yet. When we went to UP, none of us knew Hindi. I was like 6 yrs old and did not matter to me until it came to school and all of a sudden I had to deal with this tremendous Hindi learning. I found it very hard initially in spite of learning Hindi in the school in Chennai. Our house owners (couple of places) are someone that we will never forget in life. They supported us immensely starting from helping my mom learn new language to teaching us all about the place, knitting and food.
We always lived in suburbs, since my dad worked for an electrical company and his projects were outside the city. Cool morning, hot days followed by quiet evenings were something we got very used to. In a blink of an eye, if someone asks me to go back to that phase of my life, I would be very happy to do so.
One of our house owners were the Bajpai's and they were strictly no onion, no garlic eating family. I remember many occasions where I was invited for morning breakfast to their house for Kanya Pooja. I always came back home and talked about how yummy the food was. I remember very clearly that their daughter used to bring her food down to our house and ask my mom to give her a piece of onion and then would eat it.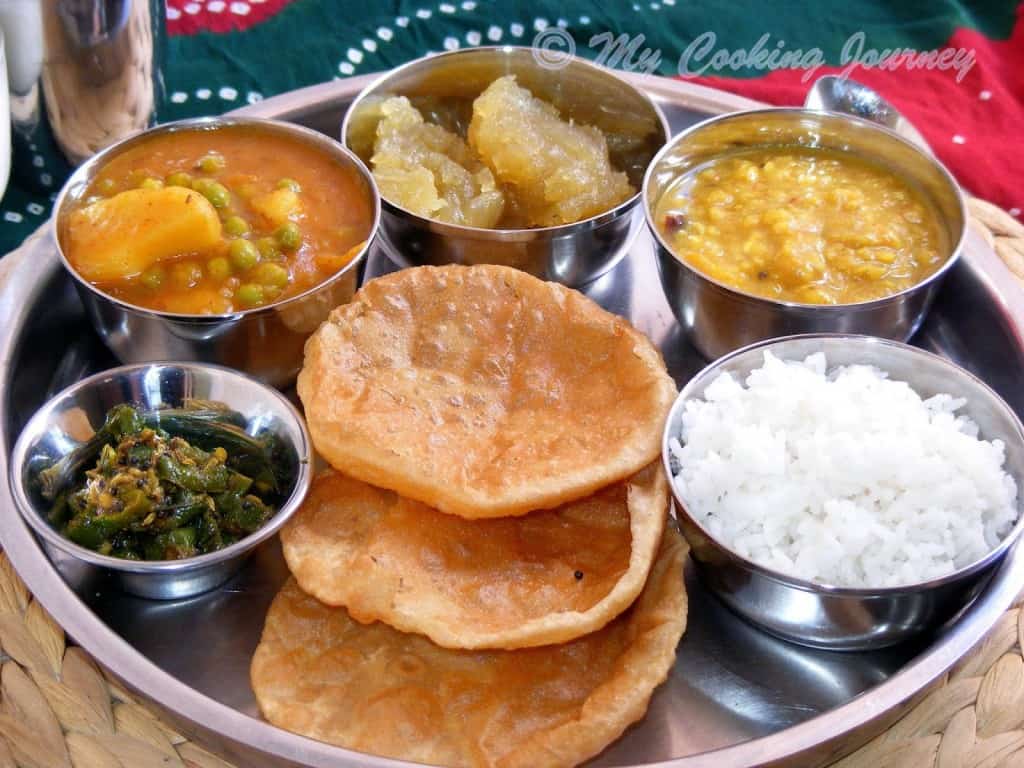 Our trip to Benares was very frequent. Anyone who came to visit us had to go to Benares, so year after year we would be making a trip. Each and every trip was memorable and it made us want to go back more. In spite of the crowd, there is some magic to the air and people there that made us love the place. One of my very favorite was the late night milk that we drink after taking a walk along the Ganges. The milk was boiled in the wide heavy pan and it kept simmering. At the end of the day, the simmering milk was almost close to the Khoa flavor and that was my favorite.
My parents were always foodies. They exactly knew where to go for good food when we are travelling and to this date they are the best source of information. After living a good part of our life in UP, our family was one such where we made loads of rotis and subzis along with the South Indian meals. Making chappatis is an art and my mother learned it from the best source and she passed it on to me. Our typical week here now has at least three days of roti's.
Something that I have to mention is our long train trips year after year back to Chennai for summer vacation. We always used to plan the trip with 3 or 4 other Tamil speaking families and we go back together after the exams. The amount of fun we used to have during the trip is something I am afraid my kids would never experience. Our initial years had us carrying the earthen pot with long neck as a water bottle which followed by few years of the Milton water cooler. We used to carry loads of food to keep us filled up for the 2 days train journey and (more), but still would end up buying all sort of goodies that were sold in the platform and in the train. As we neared Chennai, the train would invariably take an unexpected long wait near the basin bridge station (because invariably the trains would arrive late and it has to wait to get signal clearance). I would be so eager to see my grandparents and rest of the family that I will be fighting with everyone to get a window seat to look out. After a long painful wait, the joy of the train moving and slowly approaching the Chennai station always got my heart pumping. I would fight to be the first one to spot who has come to the station to pick us up (remember we had no cell phones those days and our last communication with the family was at least 3 days back).
In one such train trip going back to Kanpur from Lucknow, I fell off the upper berth (I was not sleeping, but playing in the upper berth with my friends). I broke my left wrist (which we were not aware of then) and was in immense pain for the remainder of 2 complete days of our trip. My mother who thought that I had a sprained wrist massaged me with tiger balm and iodex and thanks to that, I also ended up dislocating the broken bone. That was one miserable trip back.
This post of Mini Thaali From Uttar Pradesh, has bought back many memories from my childhood. It is a dedication to all the people I knew during my stay in one of the most lovely place. I made a mini Thaali for the state. The thaali has no onion, no garlic dishes that is typical of what I ate during special occasions. I have to extend my special thanks to Anjana aunty of Maayeka who has some wonderful North Indian recipes in her space. All her dishes are no onion, no garlic recipes and my thaali was inspired by her recipes.
The Menu Today For Mini Thaali From Uttar Pradesh is –
I have posted the recipes individually for ease and please click on the pictures below each dish to take you to the recipe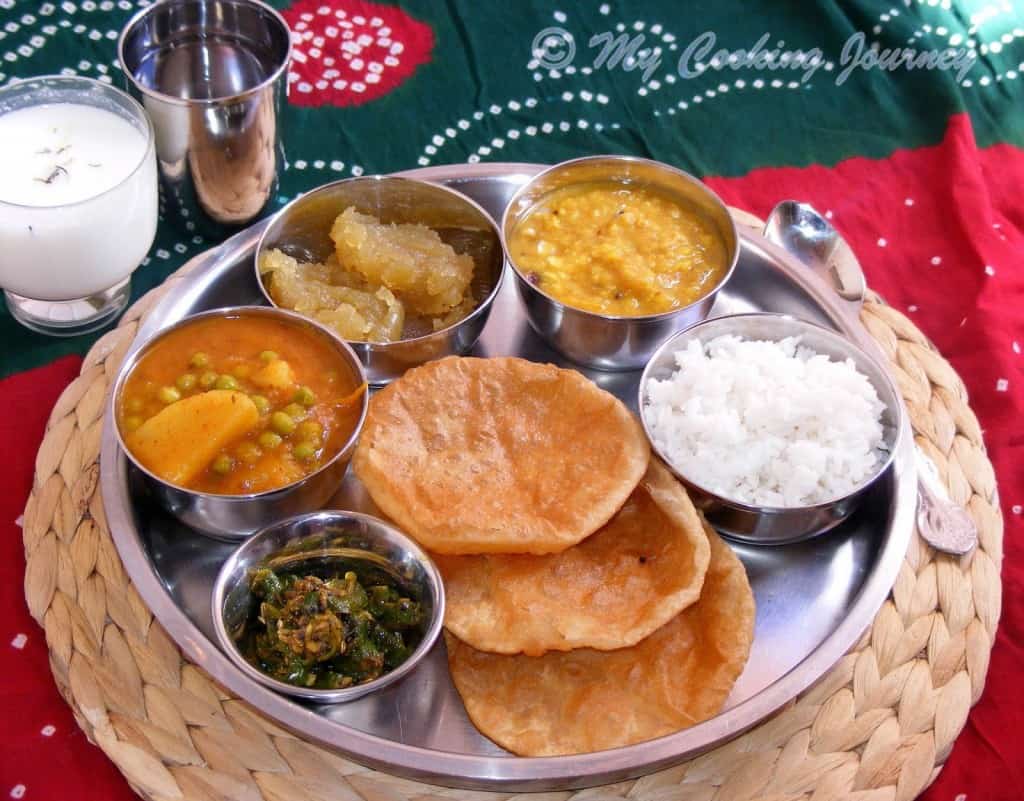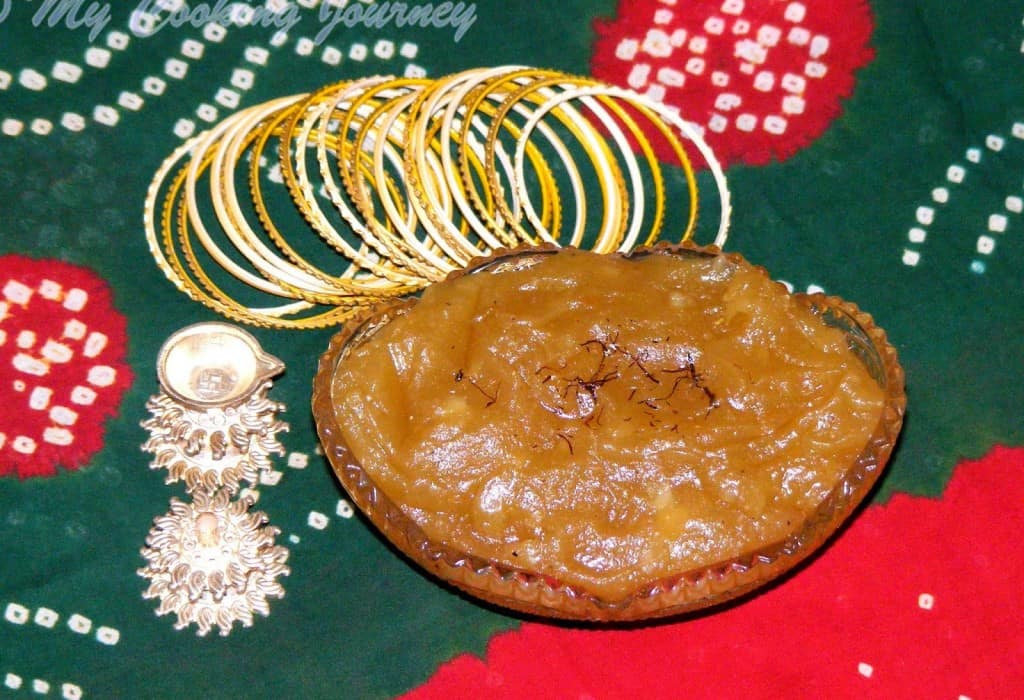 This is a very quick halwa and made during fasting. Navarathri is one time when this is frequently made in the UP houses. This halwa could also be made with sweet potatoes instead, which is what I am going to try next. Be sure to fry the potatoes in ghee in low flame to ensure that all the raw smell of the vegetable goes away.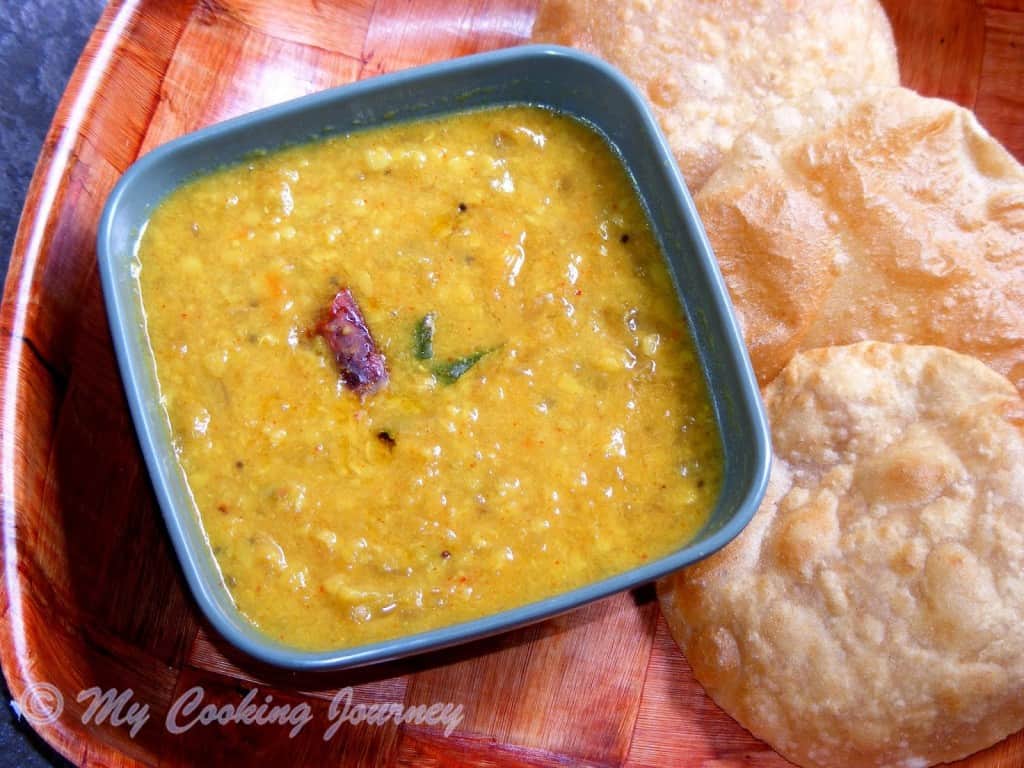 This recipe is made with tuvar dal which is the one frequently used in the South Indian cuisine for making sambhar and rasam. The seasonings are very simple and add a lot of flavor to the dal. I have used raw mango to add the tangy element to the dal. If raw mangoes are not in season, then omit that and add lemon juice at the end to the dal.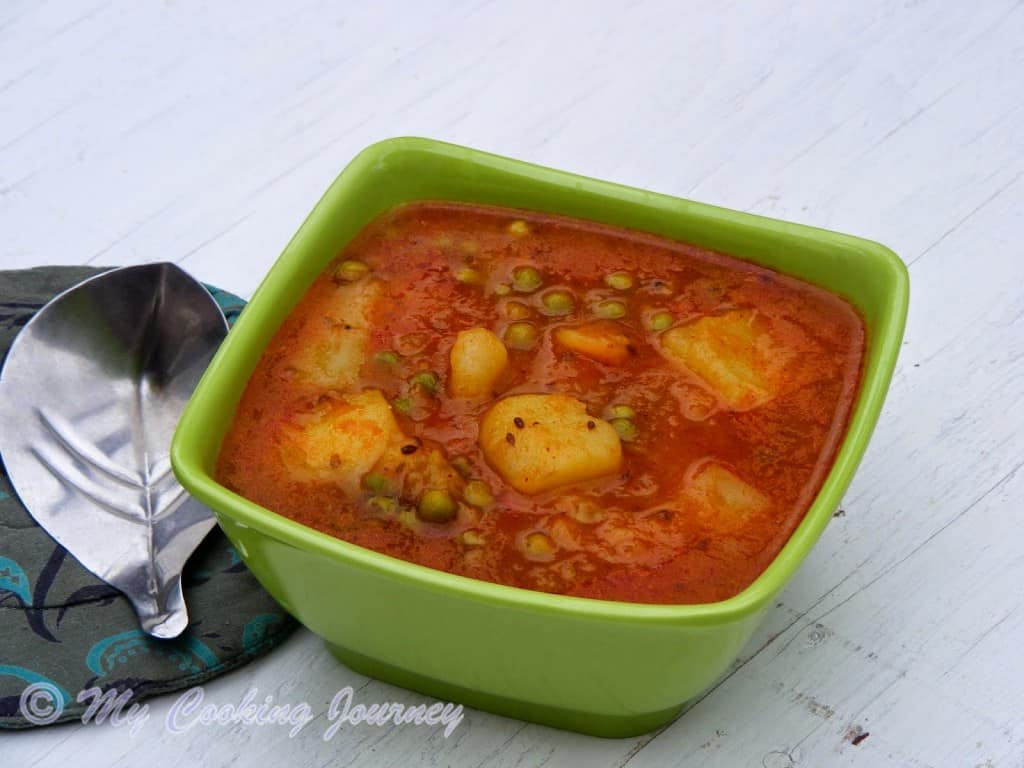 A very simple recipe which combines potatoes and peas in a tomato based gravy. This is one recipe that always amazes me with its flavor. This is a perfect example of how bringing together simple ingredients gives way to wonderful flavors.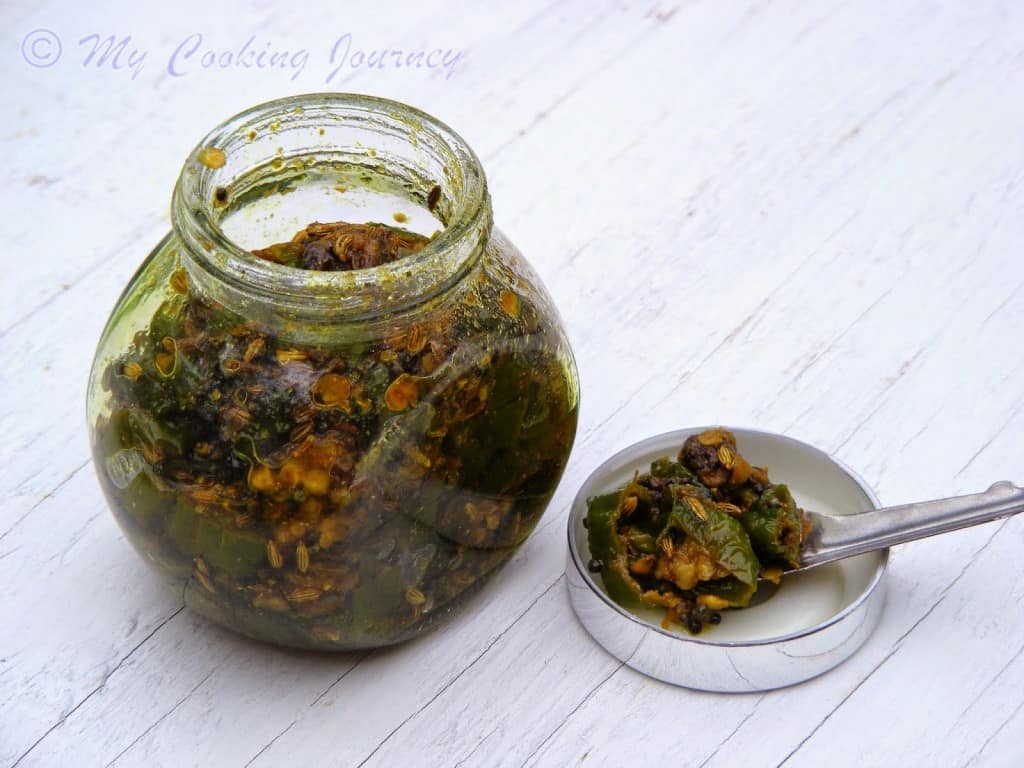 I was always a fan of green chili pickle and this one tops my list. I will be planting extra chilies this year to make this as often as I can. Simple and quick to make, this pickle is a perfect accompaniment with dal and chawal or poori and subzi.
Deep fried Indian bread, which is absolutely kid's friendly.
Sweet lassi made with yogurt, cream and saffron threads. Blend together all the ingredients and you have a magic in your hand. It is the perfect drink for the hot summer.