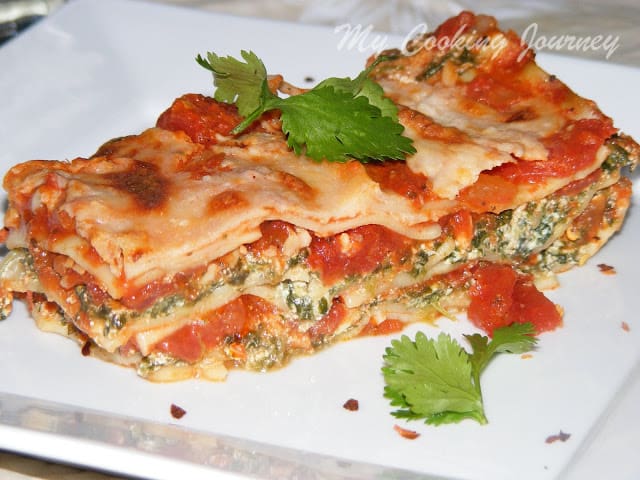 Being vegetarians, it is very hard to eat Lasagna in restaurants. Most of the restaurants serve the lasagna with meat sauce and the only option for us to eat it is to make at home. This is a very simple Spinach And Ricotta Lasagna recipe that can be assembled well in advance and can be cooked just before dinner. I love to make this for parties, especially because of the comfort of being able to make it ahead of time and also because it is very filling dish. I also see it as a way to get more greens into kids' meal.
I made this lasagna with spinach and ricotta, but of you prefer you could use different vegetables to layer it. I used my basic marinara sauce to layer the lasagna. I make the tomato sauce ahead of time to help quicken the cooking process. Also I layer the lasagna and leave it in the refrigerator until I am ready for dinner and bake it just before dinner time.
Preparation time – 3o mins
Cooking time – 1 hr for lasagna plus 1 hr for tomato sauce.
Difficulty level – medium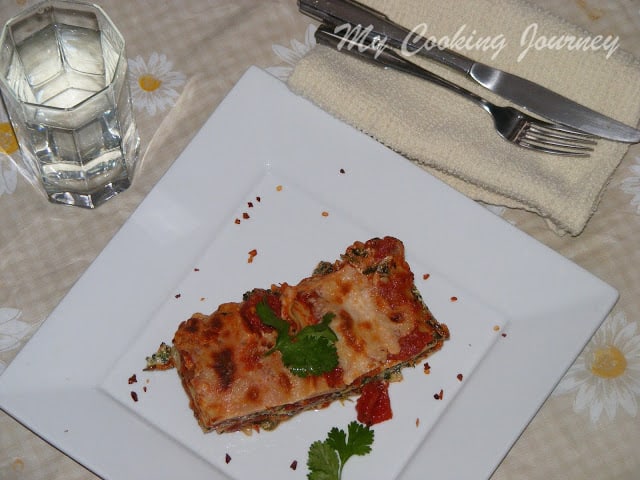 Ingredients to make Spinach And Ricotta Lasagna – Serves 6 (makes 1 – 13 x 9 inch pan)
Lasagna sheets – 12 (uncooked)
Marinara sauce – 1 recipe ( about 5 cups)
Chopped Spinach (frozen) – 2- 10 oz packages
Ricotta cheese – 1 ½ lbs
Onion – 1 small (chopped)
Garlic – 2 cloves (chopped)
Nutmeg – ¼ tsp
Parmesan cheese – ½ cup (grated)
Mozzarella cheese – 2 cups
Olive oil – 1 tbsp
Salt – to taste
Freshly grated black pepper – to taste
Crushed red pepper – to taste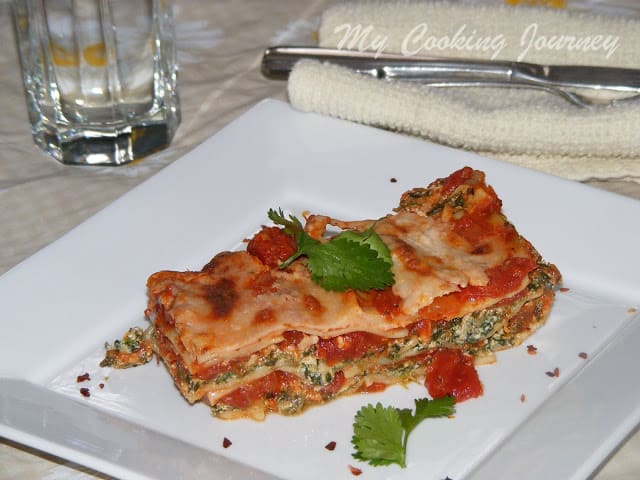 Procedure to make Spinach And Ricotta Lasagna –
To make the spinach and ricotta filling
In a medium pan, heat the oil. Add the minced garlic and sauté for a minute. Now add the chopped onion and fry until light brown.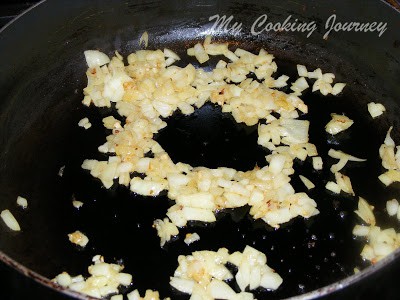 Add the chopped spinach and let it cook for few minutes. Make sure that you cook the spinach down until all the water has evaporated. Add salt and pepper to taste.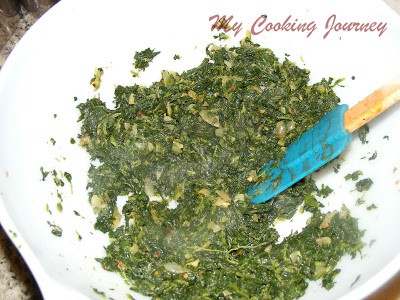 Transfer the mixture to a large bowl and let it cool down. Once it comes to room temperature add the nutmeg, ricotta cheese and the parmesan cheese. Mix well and keep aside.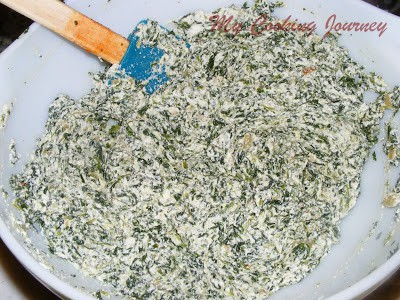 Cook the pasta –
Heat a large pot of water and add the lasagna sheets to it. Follow the manufacturer's direction and cook the lasagna until ¾th done. The sheets should be cooked but still have a bite to them. Do them cook them entirely since, they would also cook in the oven.
Remove the sheets and run them under cold water. Layer the sheets in a kitchen towel until ready to use.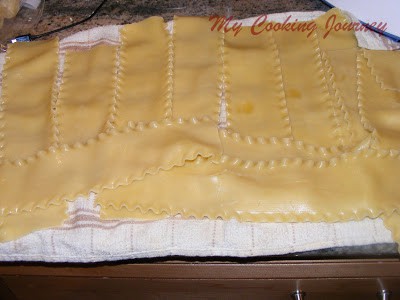 To assemble the lasagna –
Preheat the oven to 350 F.
Spray a 9 x 13 baking dish with cooking spray. Layer the bottom with about ½ cup of marinara sauce.
Now lay 4 pasta sheets over the tomato sauce, slightly overlapping one another.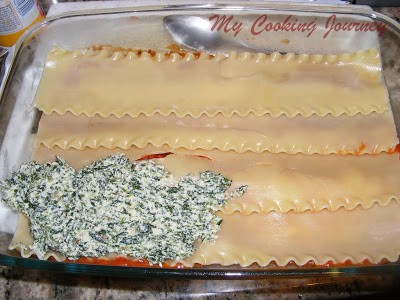 With a spatula, spread half of the spinach ricotta mixture over the pasta.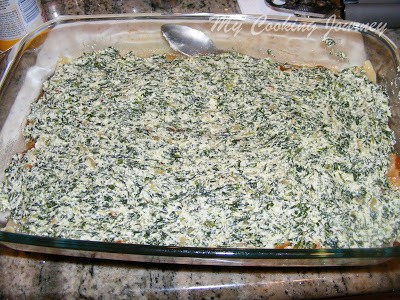 Now add ⅓rd of the tomato sauce and spread it all around.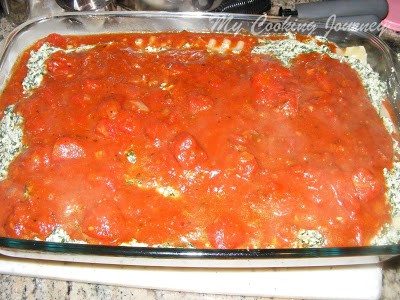 Now again layer with 4 pasta sheets and repeat the spinach layer and the sauce layer.
Finally add the last 4 pasta sheets and then add the remaining tomato sauce.
Spread the mozzarella cheese evenly on the top and bake it covered for about 30 mins.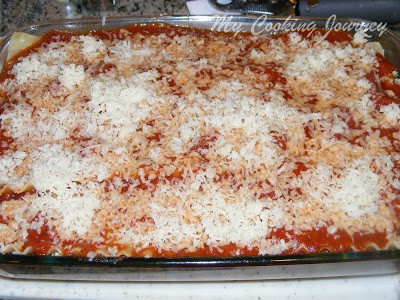 Then open the cover and cook it for 15 more minutes until it is bubbling at the edges and the cheese is all melted. Place it under broiler for few seconds to brown the top layer.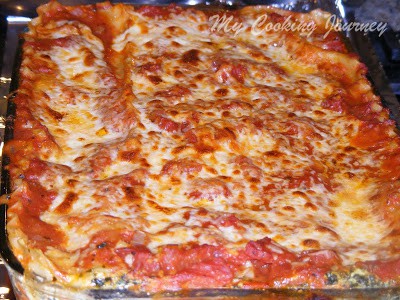 Remove it from the oven and let it set for about 15 to 20 minutes, before slicing it.
Notes and observations –
The lasagna can be assembled up to a day ahead of time and refrigerated until ready to bake.
The assembled lasagna can also be frozen for about 4 months. Thaw it in the refrigerator and bring it to room temperature before baking.
The spinach filling can also be substituted with vegetables to make it vegetable lasagna.