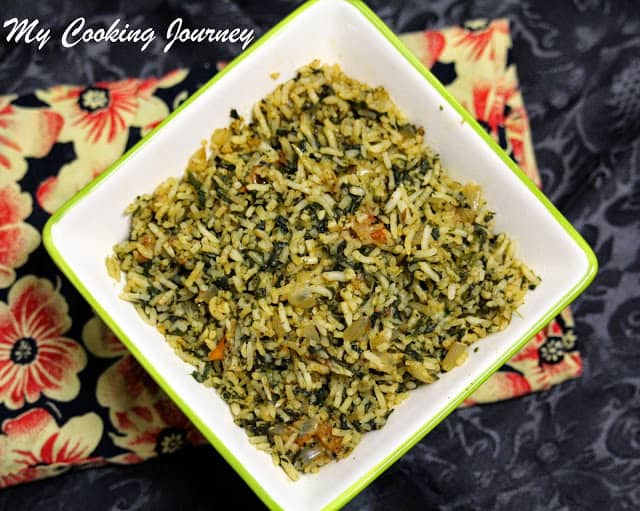 I just love making one pot meals on week nights. I like including different vegetables in the rice and it is easy to feed the kids everything in one bite. I had bookmarked this recipe from Sapana's space and I loved the garlicky flavor in the rice. The rice was so simple to make and it had quite a bit of spinach in it. All it needed was some plain yogurt on side.
We had been to an air show today and had lunch out there. I absolutely got no work done in the house and also had a baking planned for today. I wanted to make something that was quick and not too complicated for dinner and that is when I remembered this recipe that I had bookmarked. I always have frozen spinach in hand and hence this recipe was a quick one to make.
My kids were starving by dinner time and they really enjoyed the rice. I have no issues getting vegetables in for my older one, but my little one just to make it harder for me, would resist certain vegetables. Spinach is one such vegetable that he always complain does not look good to eat. Tonight it was a different story though. He thoroughly enjoyed the rice and not even once complained about the green color. I am going to make this a routing lunch box recipe starting next school year.
Preparation time – 15 minutes
Cooking time – 40 minutes
Difficulty level – easy
Recipe adapted from – Cooking With Sapana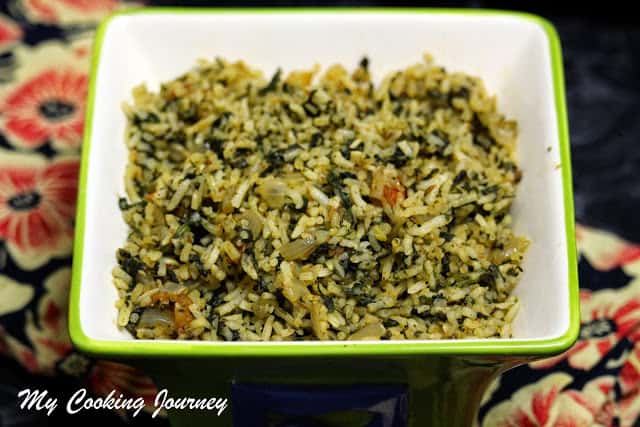 Ingredients to make Spinach Rice – Serves 4
Basmati rice – 1 ½ cups
Spinach (finely chopped) - 8 oz (I used chopped frozen spinach)
Onion – 1 (finely chopped)
Tomatoes – 2 (finely chopped)
Garlic – 3 or 4 cloves (minced)
Cumin seeds – 1 tsp
Red chili powder – 1 tsp
Dhania Jeera powder – 1 tsp
Garam masala – ¾ tsp
Salt – to taste
Oil – 2 tbsp
Procedure –
Cook the rice and then let it cool down a bit.
If using frozen spinach, thaw it in the microwave adding about 3 or 4 tbsp of water until it is soft. If using fresh spinach, chop it finely and then sauté in 1 tsp of butter or oil until it wilts and cooks a bit. Keep it aside. I did not puree the spinach as Sapana had suggested, but if you wish you could puree the spinach after you saute it or thaw it.
Heat oil in the pan and then add the cumin seeds. Once the seeds splutter, add the onions and sauté until translucent. Add the minced garlic and fry for a minute.
Now add the tomatoes along with salt and spices and cook until the tomatoes are mushy and the masala is aromatic.
Add the thawed spinach and cook it in low flame for about 5 minutes until all the flavors combine. If the mixture appears too dry, add about 1 tbsp or 2 tbsp of water and continue to cook.
Add the cooked rice and mix well. Cook further in low flame for 5 more minutes. Turn off the flame and serve with raita.