From my backyard to your kitchen.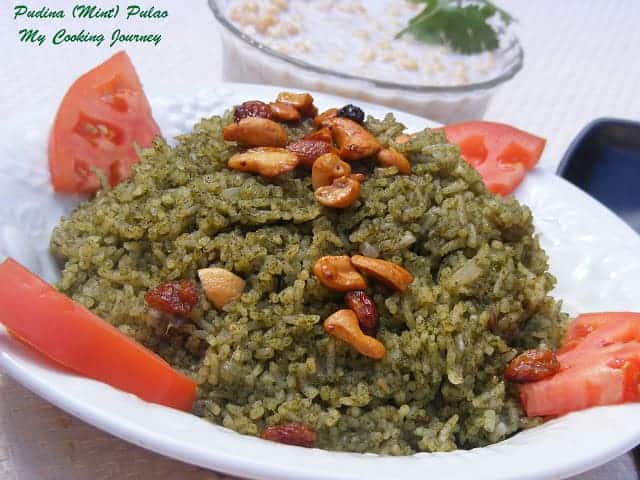 Me and my husband are both very passionate backyard gardeners. May and June are very busy time for us, because that's when we start getting all the vegetables in the ground and start all the prep work. In this section of "From my backyard to your kitchen", I am going to try to compile a series of recipes that I make from produce from my own Backyard.
The first produce in this series is Mint. It is sort of a very memorable produce from our garden, because it comes with a very interesting story. We planted one mint plant 6 yrs back when we started gardening. It was one of the very first plants to come into my garden. This one plant today occupies around 300 sq ft of our backyard. This year my husband is trying very hard to destroy the whole patch and it is been quite a task and we still are very much at a loss. Mint is a very potent plant and it grows like a weed. Despite couple of warnings when we were planting it, we planted it on the ground instead of a pot. This year I transplanted few to the pots. Hopefully if we manage to get all the mint out of the ground and let the place rest for a year, we should be able to use the space.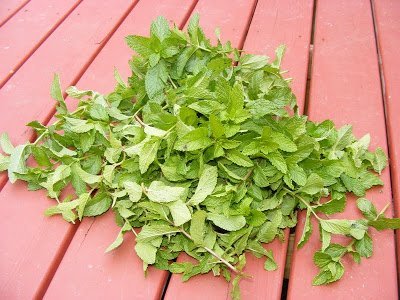 Preparation time – 10 Mins
Cooking time – 40 mins
Difficulty level – Easy
Ingredients to make Mint Pulao – Serves 4- 6
Mint – 1 bunch (Washed and leaves separated)
Basmati Rice – 2 cups
Green chilies – 3
Onion – 1 large or 2 small (thinly sliced)
Fresh coconut – 1/4th cup
Ginger garlic paste – 1 tsp
Cardamom (whole) – 4
Cinnamon – 1 stick
Bay leaf – 2
Star Anise – 1
Fennel seeds – 1 tsp
Roasted cashews and raisins – 2 tblsp each
Ghee – 2 tblsp
Salt – to taste
Procedure –
Wash the rice well and soak it in water for at least 30 mins.
Make a paste of Mint leaves, coconut, green chilies and half the onion. Try to make the paste thick by using less water.
Heat ghee on medium heat, add all the spices and sauté them.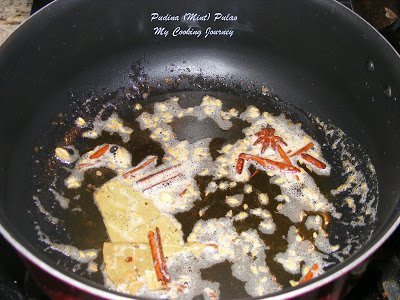 Then add the remaining onion, ginger garlic paste and sauté them for until they are slightly brown.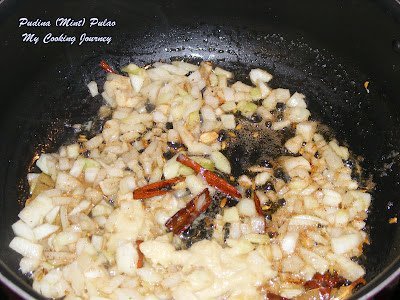 Now add the pureed mixture. Sauté until the paste thickens and changes dark green from bright green.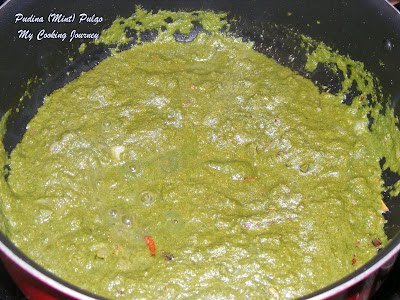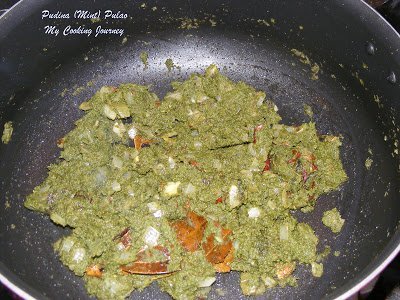 Add the soaked rice along with salt. Mix well and cook it in a cooker or stove top until done.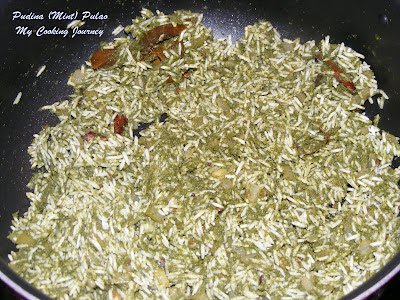 Add the fried cashews and raisins and serve the Mint Pulao hot with raita.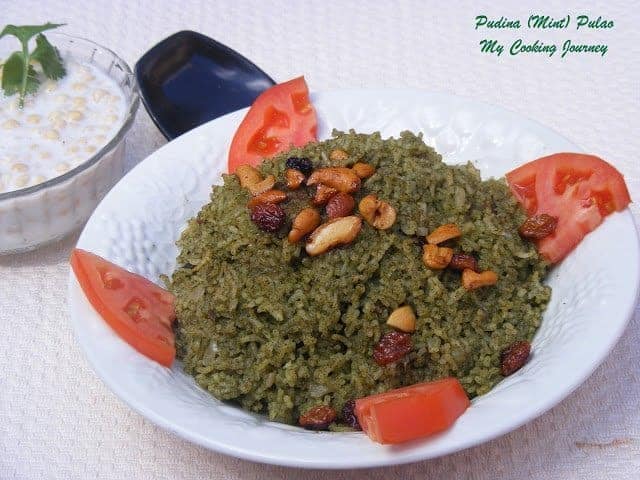 Preserving Mint
If you grow mint at home and want to save them for winter, you could do so by making a powder out of it. Wash the mint leaves and let them dry. Spread the mint leaves in microwave safe plate or flat container and microwave them for couple of minutes. Spread them again with your hands and again microwave it for couple of minutes. Do the process until the leaves are crumbly. Repeat the process with all the leaves. Powder them using a dry grinder and store it airtight in a glass container. This powder has a very long shelf life and you could use this as a dry spice in any of the preferred dishes.
You could also make a paste of the mint leaves and pour it into ice cube trays and then store them in freezer bags once frozen. This paste could be used in pulao or any dish that requires mint in wet form.
Happy Cooking!!!