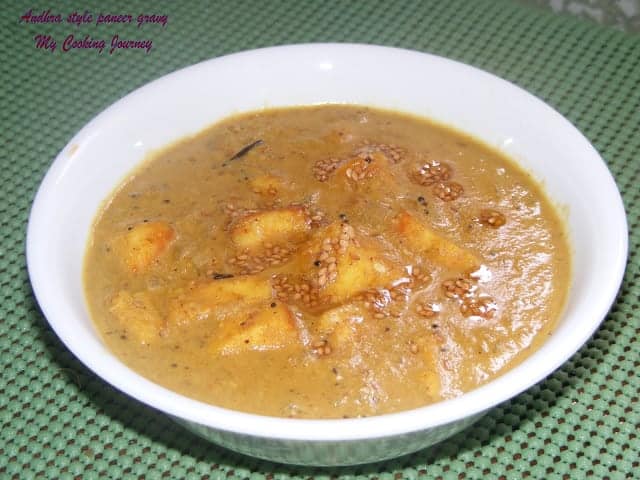 I am always on the lookout for any new kind of Paneer dish. I found this Andhra Style Paneer Gravy recipe from one of Tamil magazine insert that my mother had carefully saved for me. It was definitely a different dish from what I usually make. I did make a few changes to the recipe.
Preparation time - 10 mins
Cooking time – 30 mins
Difficulty level – easy
Ingredients to make Andhra Style Paneer Gravy – (Serves 4)
Paneer (Indian style cottage cheese) – 250 gms (cubed)
Onions – 2 (chopped)
Dried red chilies (Milagai vathal) – 2
Green chilies (Pachai milagai) – 2
Ginger garlic paste – 1 tsp
Tamarind extract – 3 tbsp
Red chili powder – ½ tsp (or to taste)
Turmeric powder – 1 tsp
Mustard seeds – 1 tsp
Methi seeds (Menthayam) – ½ tsp
Curry leaves – few
Ghee – 1 tbsp
White sesame seeds (ellu) – 2 tsp
Oil – 1 tbsp
Salt – to taste
Grind together –
Peanuts – 4 tbsp
Coconut (grated) – 2 tbsp
Yogurt (curd) – 2 tbsp
Coriander seeds – 1 tsp
Methi seeds (menthayam) – 1tsp
Cinnamon stick – 1 small
Cloves – 4
Cardamom – 4
Procedure to make Andhra Style Paneer Gravy -
Grind all the ingredients mentioned above with no water or very little water. Keep aside.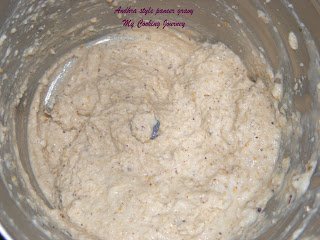 Heat oil in a wide pan and slightly fry the paneer cubes until light brown. Drain and keep aside.
In the same pan, heat more oil and season with mustard seeds, methi seeds and curry leaves. Then add the chopped onions, green chilies, red chilies and fry for few minutes until the onions are translucent.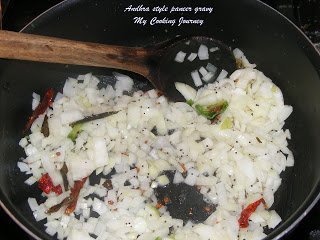 Next, add the ginger garlic paste, ground mixture, turmeric powder, chili powder and salt. Mix everything well and fry for few minutes (about 8-10 mins).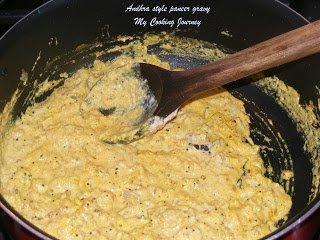 Now add the tamarind extract and about a cup of water and let the gravy boil for few minutes until the raw smell of tamarind goes away. Add the fried paneer cubes and let it come to a boil and then simmer for about 10 mins. Do adjust the consistency of the gravy based on your liking.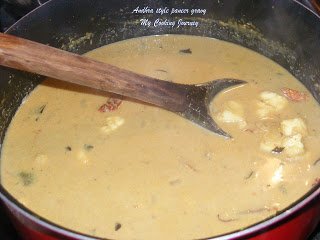 In the end, fry the sesame seed in the ghee and add it to the gravy.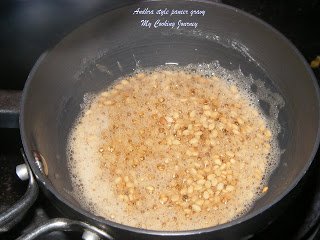 Serve hot with rice or rotis!!!