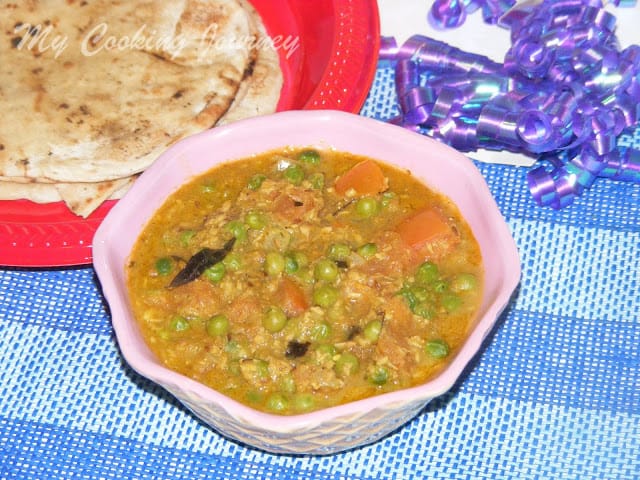 After my son's Birthday Party, I was pretty exhausted and also had left over's. One of such left over's was Pita Bread. So I decided to just use them as Naan (Indian bread) and wanted to make a side dish for it. That is how I made this gravy from a cookbook that I have had for over 15 years. Actually I do have the actual cookbook, but a photocopy of the book that my mother sent from India. This recipe goes towards my second day of blogging Marathon under the theme cooking from a cookbook. This book is called 'A compendium of recipes (vegetarian) and the author of this book is Vatsala.R. Kettay. This book has several Indian recipes and also some continental recipes.
Usually I make a quick peas masala with onions and tomatoes to pack for lunch. This Mutter Tomato Gravy recipe though is very different from what I use and it does take some time to make it. The flavors were spot on and were passed by the critics in the house, except my little one who does not like peas. I really think now even liking or disliking certain vegetables is passed on genetically. I used to be a peas hater when I was young. I mean I still do not like peas, but I can tolerate it in recipes as long as it is not in abundance. As a parent I do believe that kids have to eat all their vegetables and there is no getting away from it, except when it comes to peas. So I just gave him more tomatoes and sneaked some peas in with it.
Preparation time – 15 mins
Cooking time – 30 mins
Difficulty level – easy
Ingredients to make Mutter Tomato Gravy – serves 4-6
Green peas (shelled) – 1 cup
Tomatoes – 4 large (chopped)
Desiccated coconut – ½ cup
Onion – 1 (chopped) plus 1 (ground)
Slit green chilies – 4
Cumin seeds – 1 tsp
Curry leaves – few
Ghee/oil – 2 tbsp
Salt – to taste
Poppy seeds – 1 tsp
Garlic – 4 cloves
Green chilies – 2
Sesame seeds – 2 tsp
Ginger – 1 inch piece
Garam masala – ½ tsp
Turmeric powder – ½ tsp
Coriander leaves – ½ cup (chopped)
Mint leaves – ¼ cup (optional)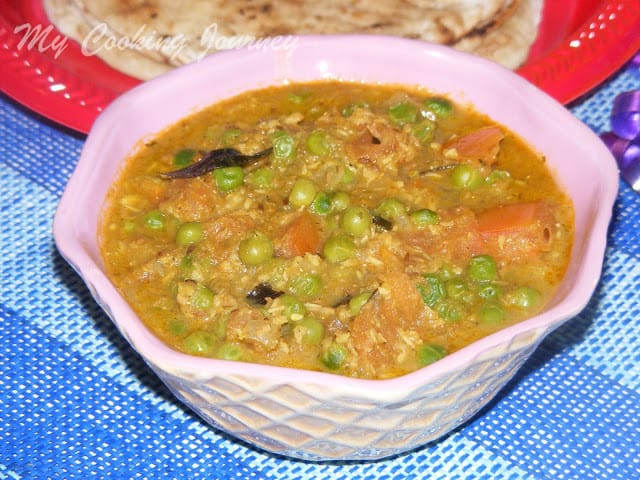 Procedure –
In a small pan roast the poppy seeds, garlic, 2 green chilies and sesame seeds in very little oil.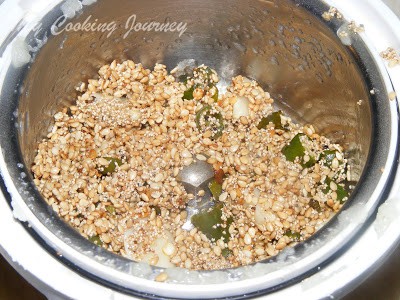 Now grind it into a smooth paste along with ginger, coriander leaves and mint leaves. Keep aside.
In a medium pan, heat oil and add the cumin seeds and curry leaves. Let it splutter and then add the chopped onion and desiccated coconut and fry till golden brown.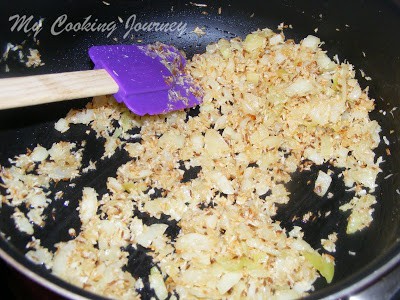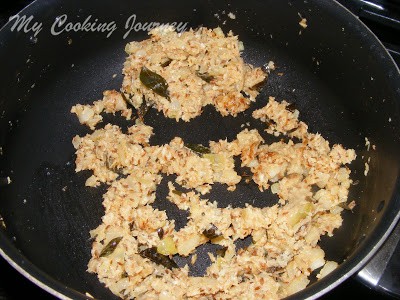 Now add the ground onion and sauté for 5-7 mins.
Next add the ground masala along with turmeric powder and garam masala and fry well.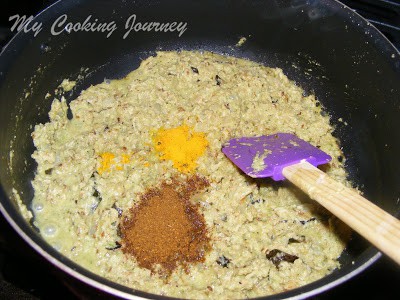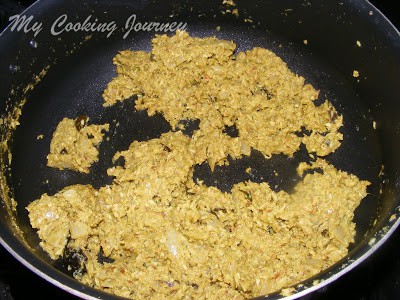 Once the masala starts to get aromatic, add the shelled peas and the tomatoes along with salt and let it come to a boil. Add enough water to bring the gravy into the required consistency. Let it simmer until the peas and the tomatoes cook.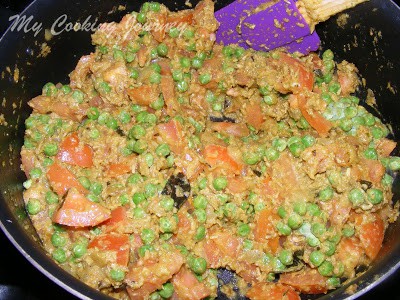 Serve hot with rice or Parathas!