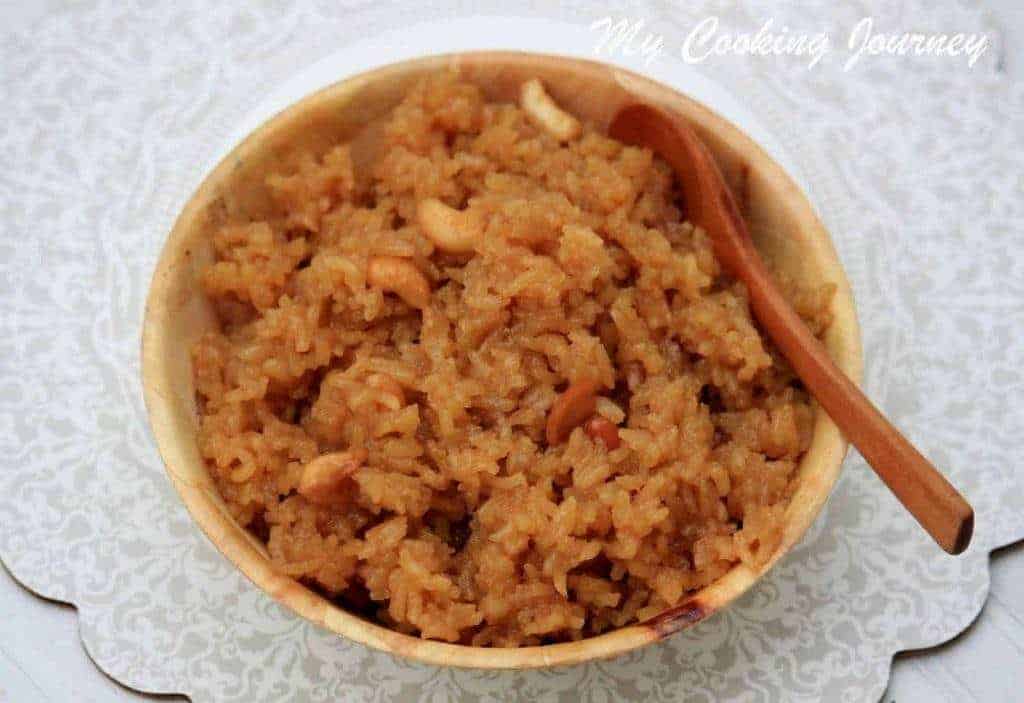 After the month long Baking Marathon, I am back to routine with my regular postings. Though I am having major withdrawal issues, I am happy to be cooking normal food. This week I will be blogging about prasadams that are famous in temples. How much ever we try it is very hard to bring that temple flavors at home. Even for a simple recipe like Thayir Saadham / Curd rice, what we get as a prasadam in temple is so flavorful as compared to the exact same thing that we make at home.
The first prasadam recipe that I have is called Aravanai. Aravanai can be easily mistaken for the more popular aravanai payasam that we gat as a prasadam in Guruvayoor temple or any temple in Kerala. This Aravanai though is slightly different and is offered to Sri Ranganathar and Thaayar. This is the last prasadam that is offered in the temple just before the god's are getting ready to go to bed. It is called the Palliarai prasadam and is offered around 10 PM. The devotees get to taste this prasadam quite late at night (close to 10.30PM).
The prasadam is very similar to chakkara pongal and made with rice and jaggery. For chakkara pongal we use a little bit of moong dal / payatham paruppu and make the rice very mushy. For the aravanai, it is important that the rice is separated and not mushy at all. Also there are no lentils used for this. My paati makes something similar during Aadi perukku and I used to love it. My mother never made the vellam saadham and always made chakkara pongal or akkaravadisal. So it was always my special request whenever I visited my paati (grandmother).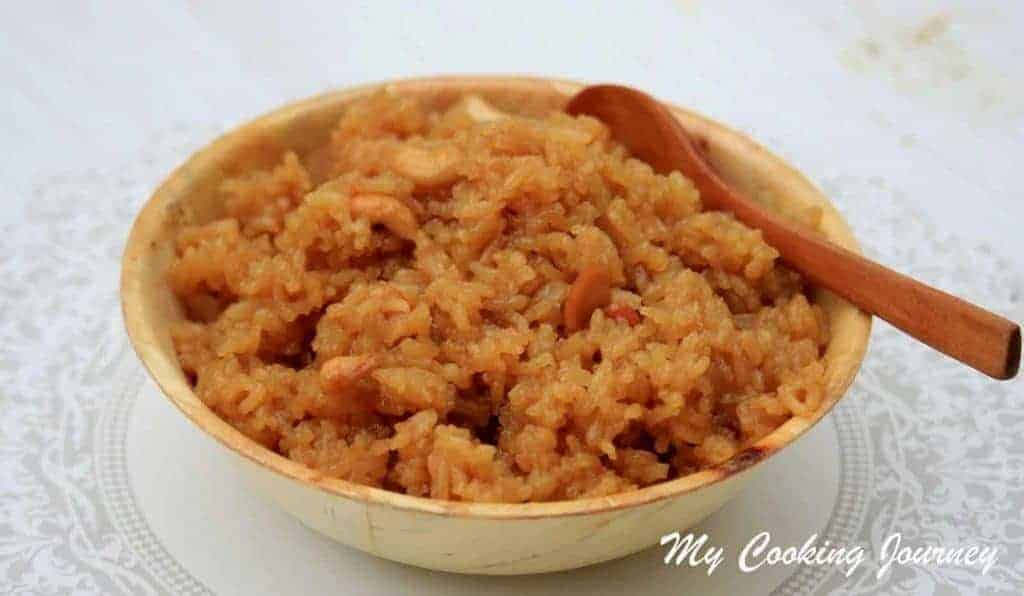 Preparation time – 10 minutes
Cooking time – 40 minutes
Difficulty level – easy
Recipe adapted from - Srirangam Radhu
Ingredients to make Aravanai - (serves 4-6)
Rice – ½ cup (uncooked)
Vellam / Jaggery – 1 cup
Cashew nuts – 10
Cardamom powder – ¼ tsp
Ghee – 3 to 4 tbsp
Procedure –
Cook the rice with required water and let it cool down to room temperature. Once the rice is cooked, add a teaspoon of ghee and spread it on a plate to cool down. Make sure that the rice is not mushy and the grains are separated.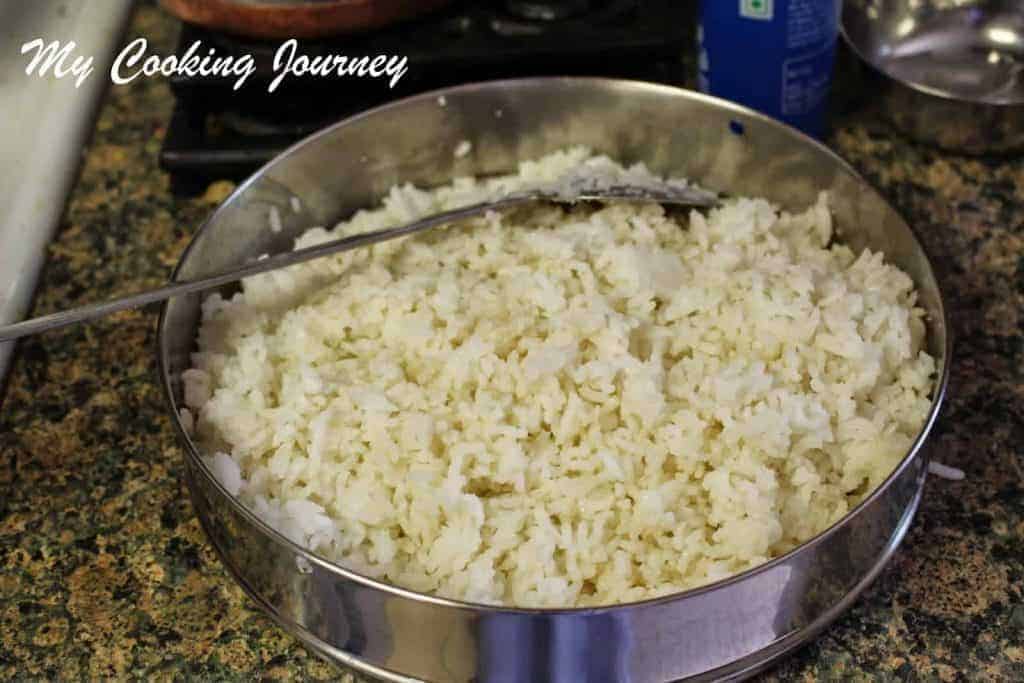 In a pan, heat a tsp of ghee and fry the cashews until golden brown.
Powder the jaggery and measure one cup. Add this to a heavy bottomed pan along with ¼ cup of water.
Cook the mixture until the vellam dissolves and comes to a syrup consistency. For making this sweet we need the syrup to come to soft ball stage. This means that when you pour a drop of the syrup to a bowl of water and roll it in between your hands, it should form a ball and not become stringy.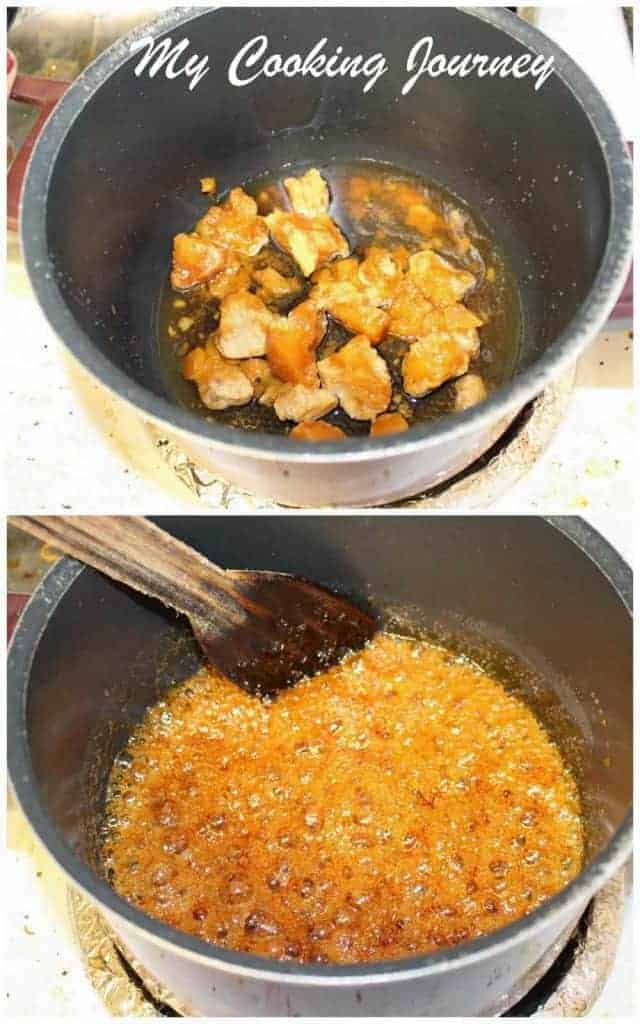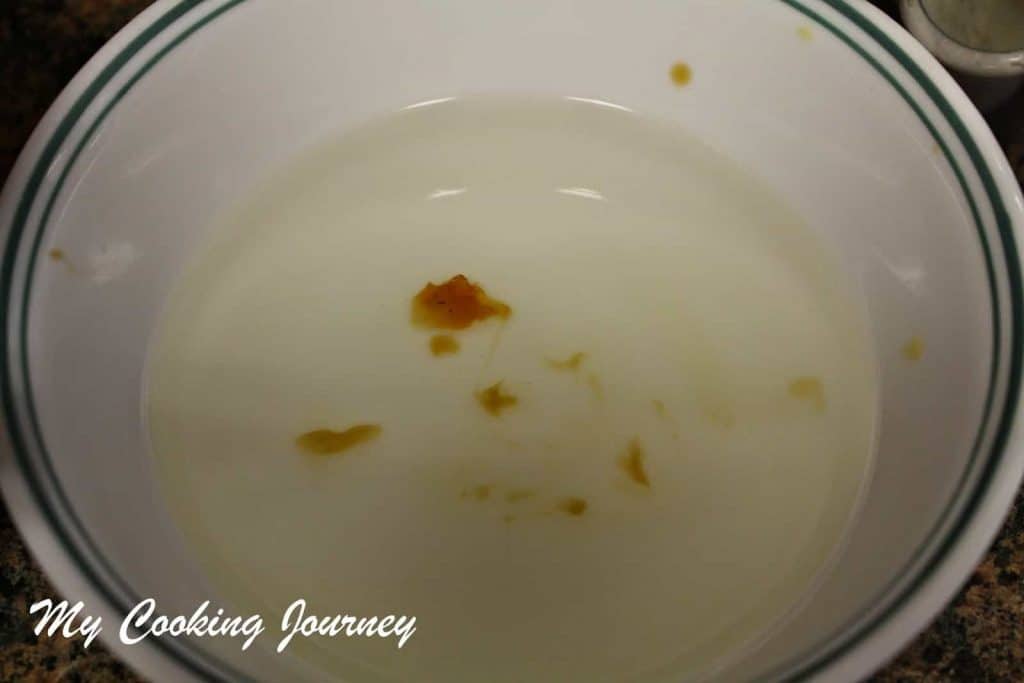 At this stage, add the cooled down rice and mix well.
The mixture will liquefy quite a bit once the rice is added. Keep cooking it on medium flame until the mixture thickens.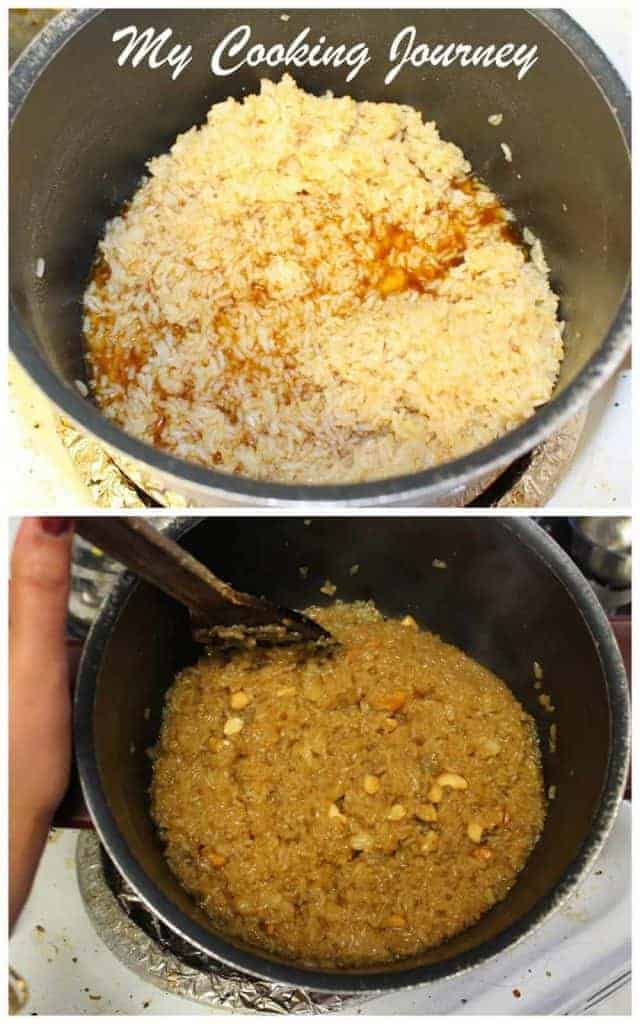 Add about 2 tbsp of ghee when it cooking. Once the mixture comes together and becomes thicker, add the fried cashews and cardamom powder. Mix well and turn off the flame.
I like the aravanai when served warm. This can also be served at room temperature or reheated before serving.