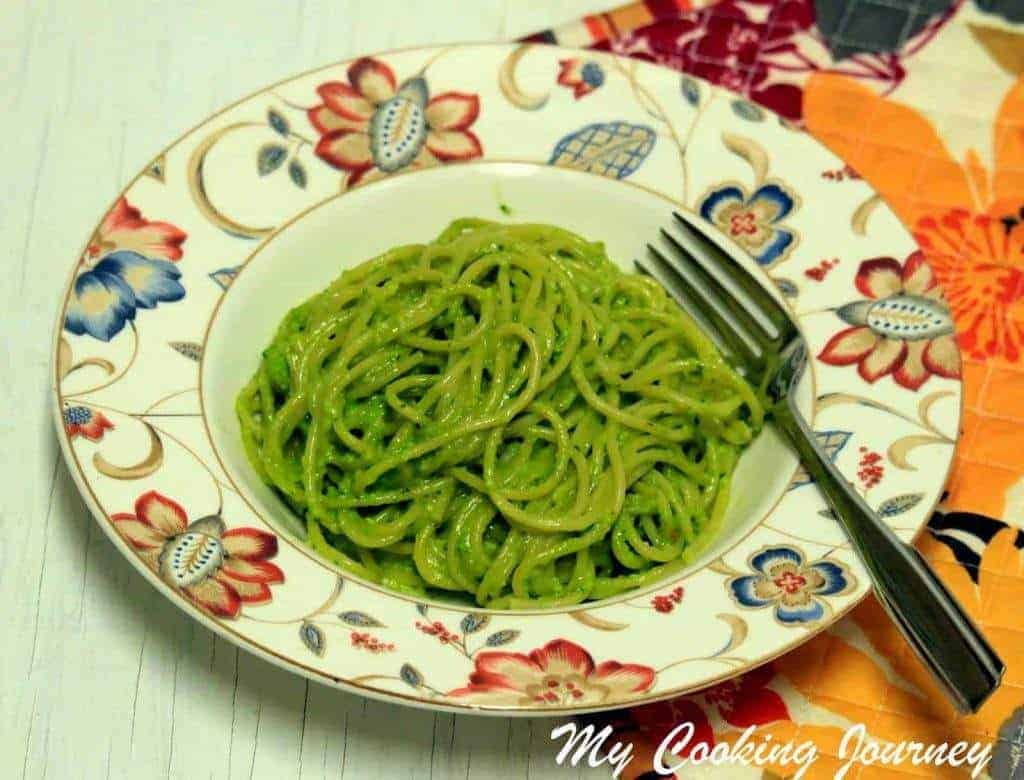 Pesto is a sauce that originated in Genoa in the Liguria region of Northern Italy. This is such an aromatic and bright sauce that is not cooked and made with fresh basil leaves, garlic, pine nuts, olive oil and parmesan cheese. The sauce lasts for up to a week in the refrigerator or can be frozen for future use.
The best part of spring and summer is having abundance of basil. We grew a lot of basil in our backyard garden back in NY. But, I have never made pesto before. I always had some reason or other and never made it until this week. I was determined to make pesto for the pasta with different sauces series and hence there began my basil hunt. Spring is not quite here yet, but little did I know that I would end up searching for basil in 3 different stores with no luck. My husband finally had to tell me to stop looking for it and just decide on some other sauce, but I was very reluctant. Finally I found this small pack that hardly had a cup of basil leaves (and was so expensive).
Now with basil and pine nuts in hand, I was all set to make the pesto. But in the back of my mind I kept thinking my little one is definitely not going to eat the pasta when he sees the green sauce and wanted to have a back up. I made some regular marinara for him, just in case!
Pesto is made and I call him for a taste test. He tastes it and is very quiet for a couple of seconds (which feels like forever to me). I am eagerly waiting for him to say, I don't like it Amma! And then I hear, Mmmm! I LOVE IT.....This is the best sauce you have made in my whole life. I was shocked and dumbfounded and had no words. He ate his whole dinner without a word and when I was editing the pictures tonight, he saw it and said again, this is the best sauce I have ever tasted.
So guess what, my small apartment balcony is going to have a basil plant for sure!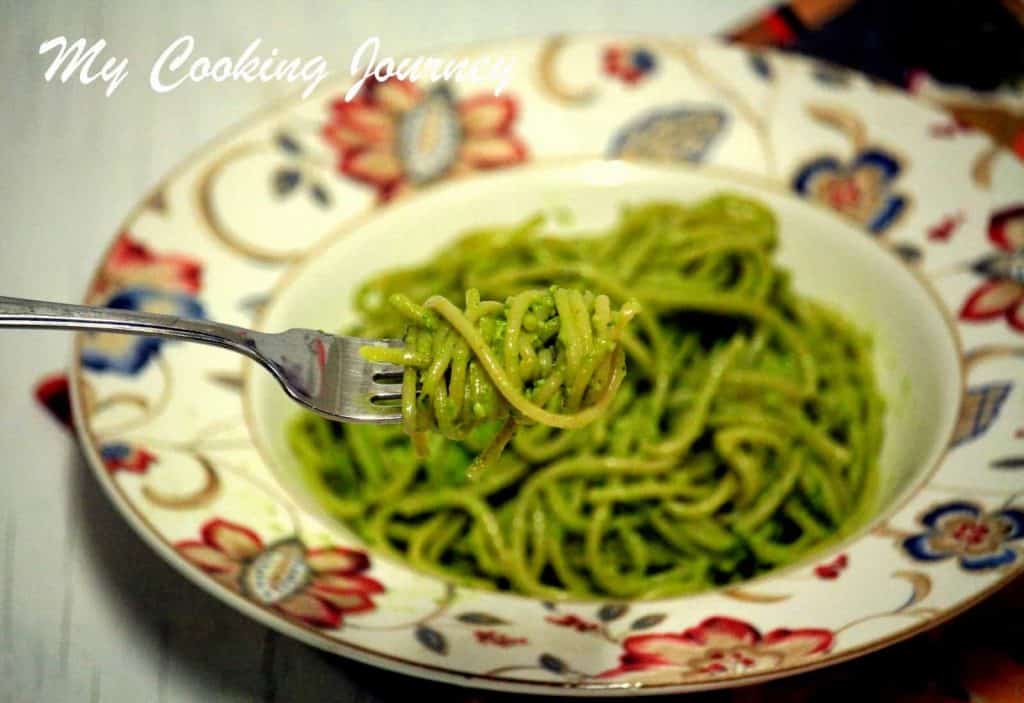 Preparation time – 5 minutes
Cooking time – none for the sauce, 20 minutes for pasta
Difficulty level – easy
Ingredients to make Basil-Pine Nut Pesto – serves 3
Basil leaves – 1 cup (packed)
Pine nuts – 2 tbsp
Garlic – 1 clove
Extra virgin olive oil – ¼ cup
Salt – to taste
Freshly grated parmesan cheese – 3 – 4 tbsp
Spaghetti – ½ lb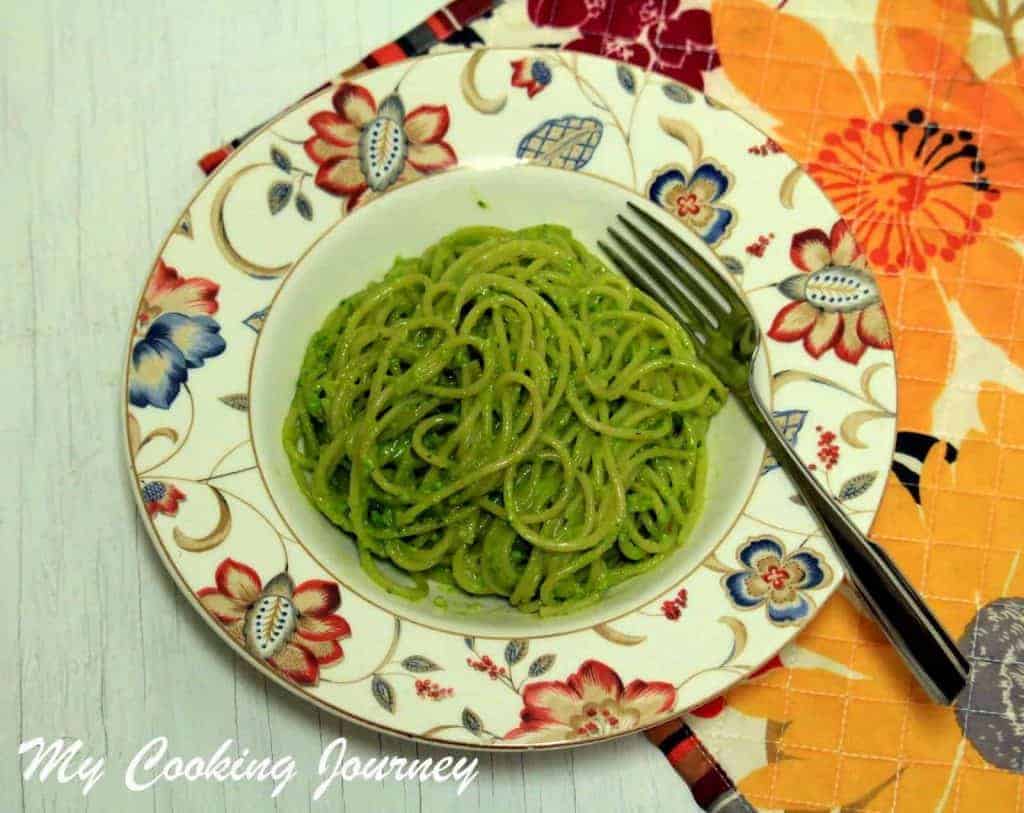 Procedure –
Place the basil, pine nuts, garlic, salt and half of the olive oil in a blender and blend until the mixture is smooth.
Add the cheese and the rest of the olive oil and blend until smooth and creamy.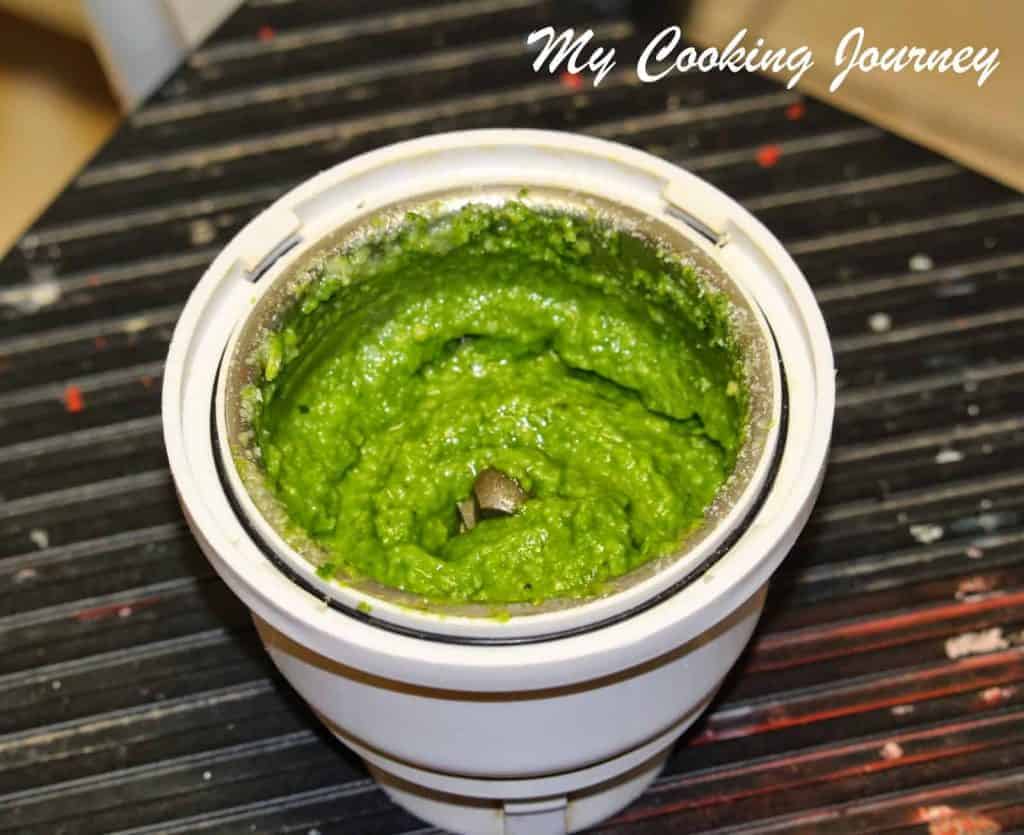 Meanwhile, cook the pasta based on the package instructions. Reserve ¼ cup of pasta water and then drain the pasta in a colander.
Mix half of the pesto with the spaghetti and add few tbsp of reserved pasta water. Add more pesto if needed and serve!
The Basil-Pine Nut Pesto can be stored in the refrigerator for up to a week. If storing, add a thin layer of olive oil on top to prevent discoloration.