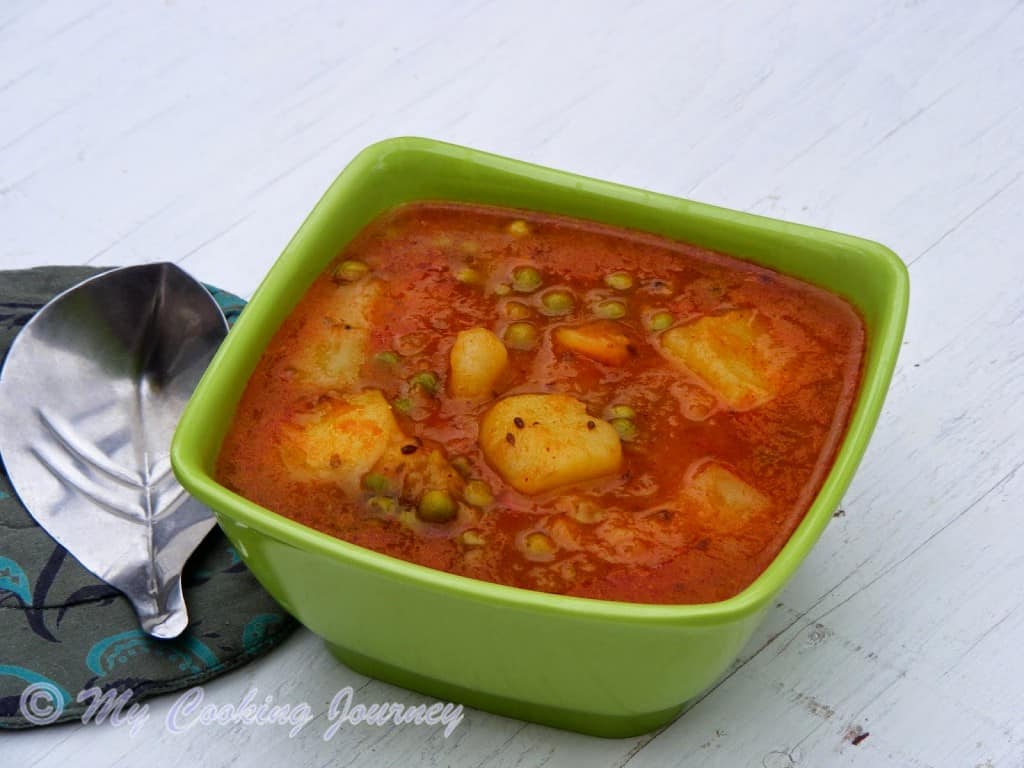 This is a subzi from Uttar Pradesh that is very close to my heart. I lived about 6 years of my life in Kanpur and I was exposed to many North Indian recipes because of that. My mother who is a great cook also learned a lot of her cooking when we lived in UP and hence very often cooks North Indian food along with the traditional South Indian food.
We lived in a rental house and the owners of the house did not eat onion or garlic. All their recipes were no onion and no garlic and it still amazes me how much flavor they got in their dishes. I remember very clearly that their daughter used to bring her food down to our house and ask my mom to give her a piece of onion and then would eat it.
This is one of the very frequently made dishes in their house and I have had the luxury of eating this finger licking simple dish very often. I saw a video of this recipe and tried and it turned out really good. It uses very basic and few ingredients and is very quick to make. I made this dish as a part of my UP Thaali. Do check out my other recipes that I made for the Thali. This is a very famous combo with Poori!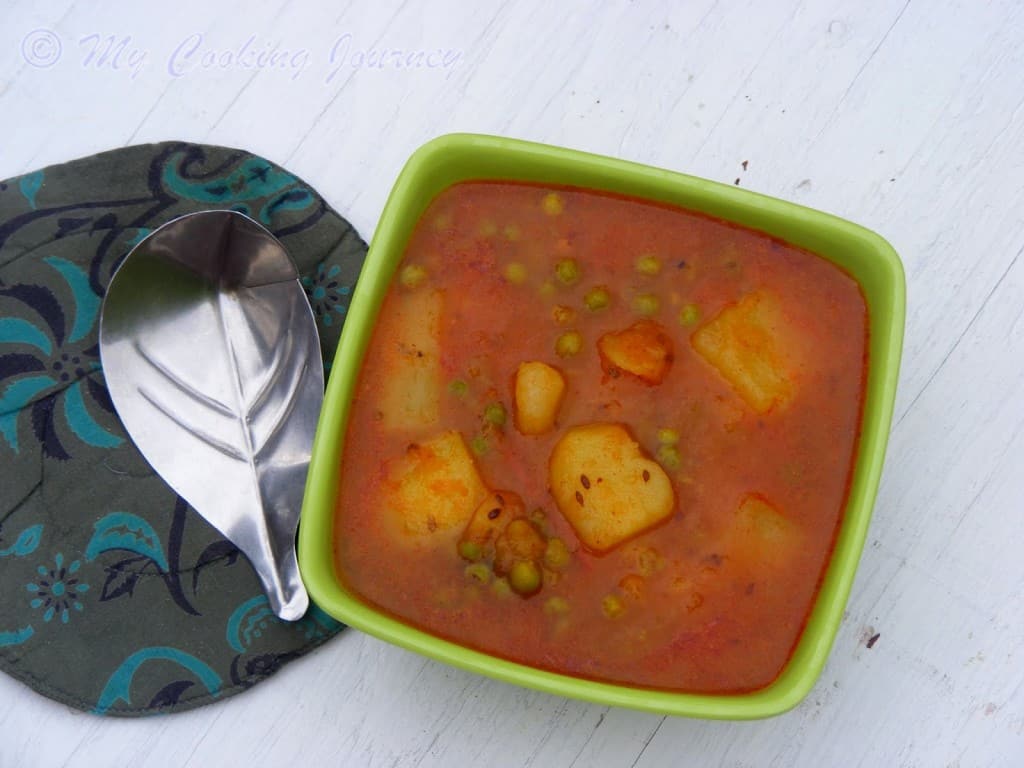 My other recipes in the thali –
Aloo Ka Halwa
Hari Mirch ke tipore
UP style Tuvar Dal with raw mangoes
Poori
Rice
Kesar Malai Lassi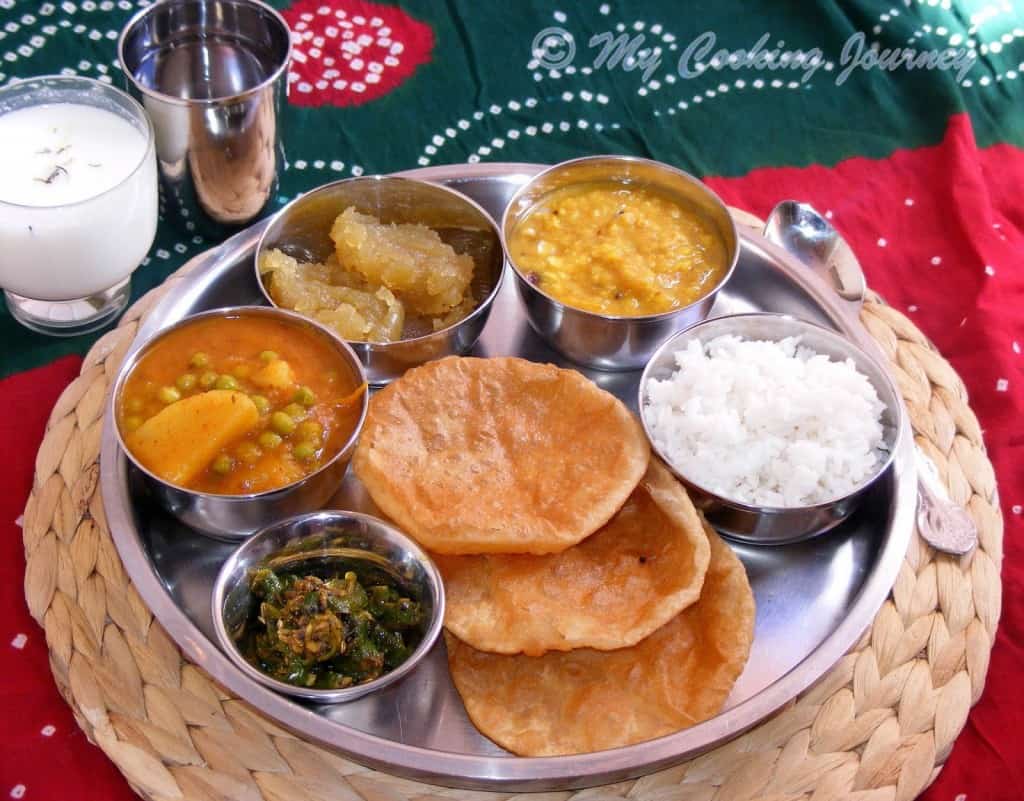 If you are looking to make more recipes with fresh or frozen green peas, definitely try these recipes –
Matar Ka Nimona / Green Peas Curry
Chura Matar / Flattened rice with Green peas
Green Peas Pilaf / Matar Pulao
Matar Kachori / Kachori stuffed with green peas
Benarasi Aloo Matar / Potato and Green peas curry
Shahi Aloo Matar / Potatoes and Green Peas in rich Tomato gravy
Matar Paneer / Paneer and Green Peas Curry
Matar Tofu / Tofu and green peas Subzi
Preparation time – 10 minutes
Cooking time – 40 minutes
Difficulty level – easy
Recipe adapted from – Chowder Singh
Ingredients to make Benarasi Aloo Matar – (serves 4-6)
Potatoes – 4 (peeled and cut into large pieces)
Green peas – 1 cup (I used frozen)
Tomato – 4 (Washed and slit)
Oil – 3 tbsp
Jeera/cumin seeds – 1 ½ tsp
Turmeric powder – ½ tsp
Red chili powder – 1 ½ tsp (I used Kashmir red chili)
Salt – to taste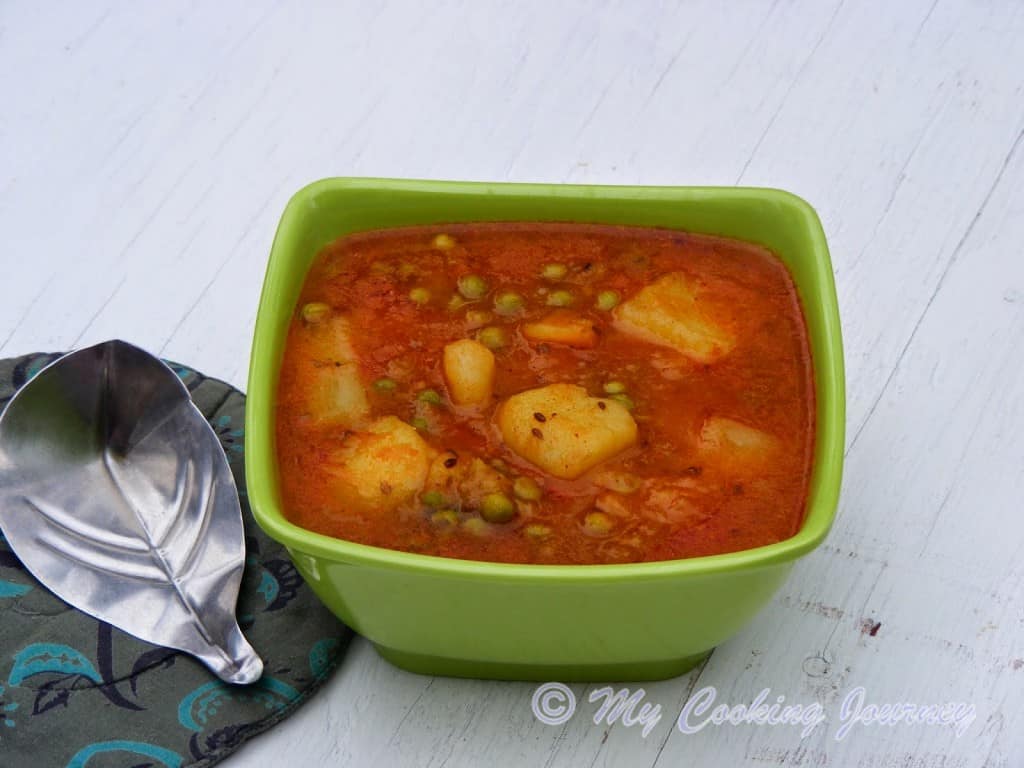 Procedure to make Benarasi Aloo Matar –
In a large pot, add the peeled and chopped potatoes, whole tomatoes (slit) and the green peas. Add about 3 cups of water, or enough to cover the vegetables and place it on medium heat. Let the vegetables cook. After about 1—12 minutes, you will notice that the potatoes are cooked and the tomatoes are soft.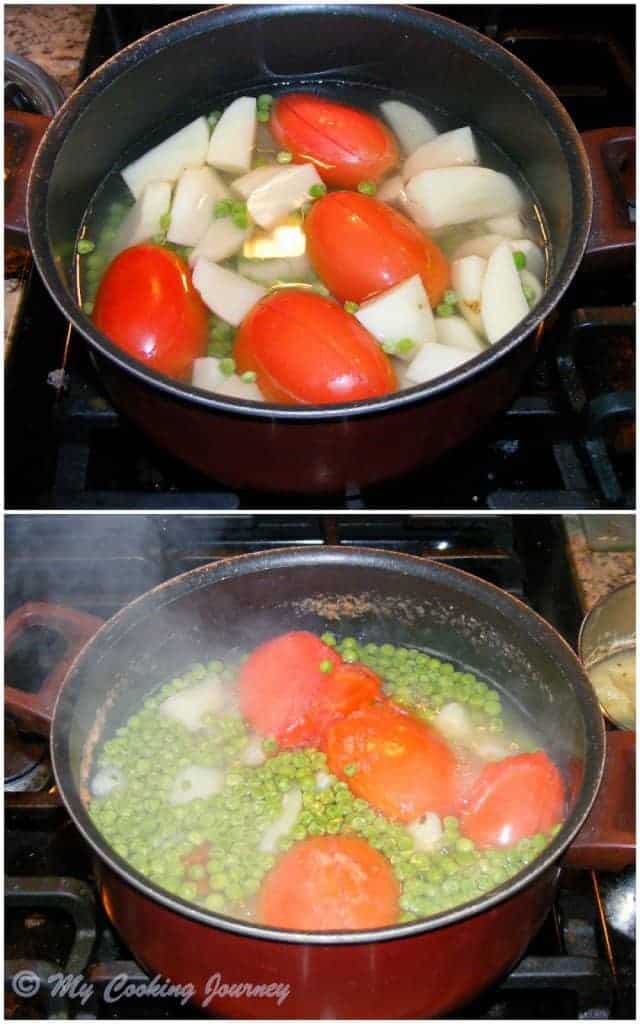 At this stage, remove the tomatoes using a slotted spoon and transfer it to a blender. Also drain the cooked vegetable water in a bowl and keep aside.
In a kadai or a wide pan, heat the oil. Add the cumin seeds and let it splutter. Now add the turmeric powder and the red chili powder and mix well.
Add the drained water to the pan and let it come to a quick boil.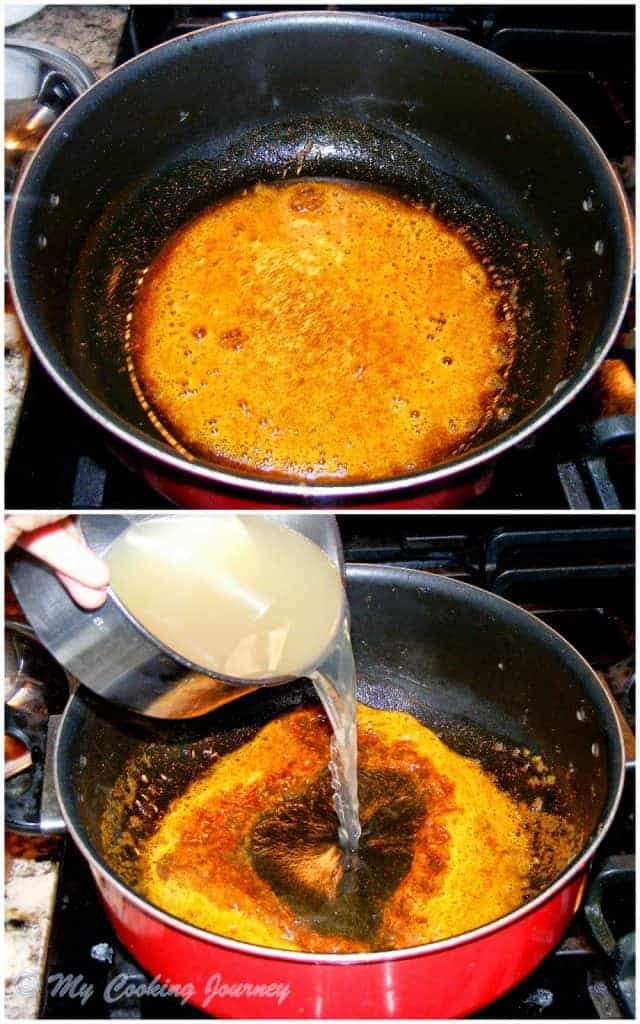 Next add the cooked vegetable and salt and mix well.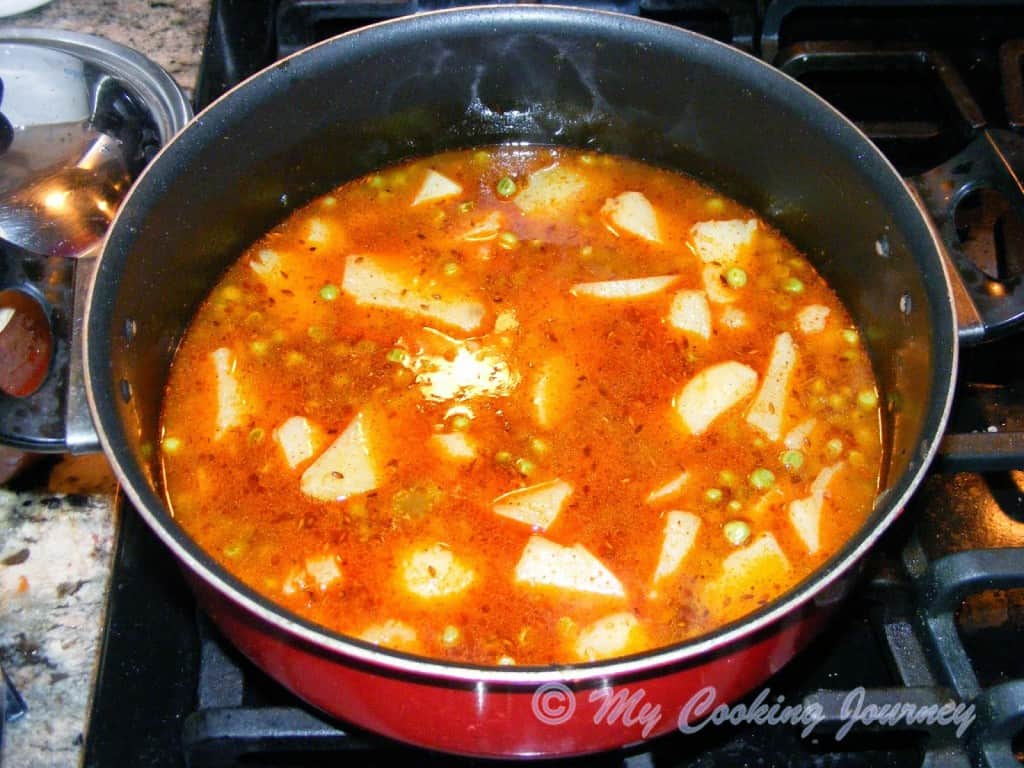 In the meantime, blend the cooked tomatoes in the blender and make it a puree. Add this puree as well to the vegetable and let it cook further, covered, for about 6-8 minutes.