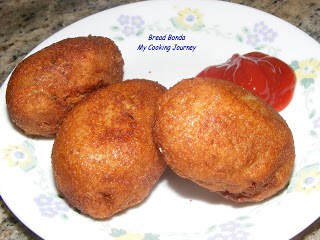 This is a very fulfilling and tasty snack that is sure to please everyone. Bread bonda was one of the first snacks that I learnt to make when I was just beginning to cook. I have to admit that when I made this now, almost 12 yrs later, I realized how sloppy I used to be. Experience truly makes a person perfect. I proved this to myself making this bread bonda.
I used the classic potato filling to stuff the bread, but you could use your imagination to make any filling that you like. Only thing to make sure is the stuffing is not very soggy. I truly thank all my readers for using my blog as a reference and once again any comments and thoughts from you would be appreciated.
Preparation time – 10 Mins
Cooking time – 20 mins plus time taken to deep fry the bondas
Difficulty level – easy
Ingredients to make Bread Bonda - Makes around 12 Bondas
Bread slices – 12 (I used wheat bread)
Potato – 3 (peeled, boiled and mashed)
Onion – 1 (finely chopped)
Peas (Optional) – ⅓ cup (cooked or if using frozen thawed)
Green chilies (optional) – 2 (finely chopped)
Turmeric powder – ½ tsp
Dhania jeera powder – 1 tsp
Garam masala powder – ½ tsp
Chili powder – ½ tsp
Mustard seed – ½ tsp
Urad dal – 1 tsp
Asafetida – a pinch
Salt – to taste
Oil – 2 tsp plus more for deep frying
Procedure to make Bread Bonda –
To make the filling
Boil the potatoes, peel it and mash it well. I used the microwave to boil the potato. This ensured that the potato was dry and was not too soggy.
In a sauté pan, add 2 tsps of oil and season with mustard, urad dal, green chilies and asafetida. Then add the finely chopped onions along with turmeric powder, chili powder, dhania jeera powder, garam masala and salt.
Once the onions are sautéed well, add the peas and let it cook for couple of more mins. Then add the mashed potatoes and sprinkle just enough water to make a dry filling.
Keep it aside to cool down for a while.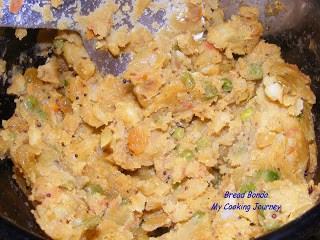 To make the Bondas
Take the bread slices and remove all the four side crust.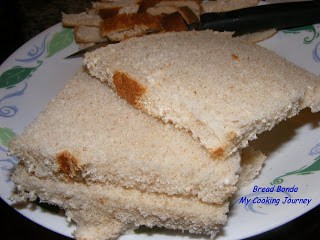 Sprinkle some water on each slice of bread and press it in between your palms to squeeze out the extra water. Make sure that the bread slice is thoroughly wet, but at the same time not soggy.
Place around one and half tablespoon of filling into each wetted bread slice and cover it up. Roll it well to make sure the sides are sealed.
Do the same with all the bread slices. In the mean time, heat oil in a frying pan to deep fry the bondas.
Once the oil is hot enough drop 3-4 bondas into the oil and deep fry it until golden brown. Drain on a paper towel and serve the bread bonda hot with ketchup or hot sauce.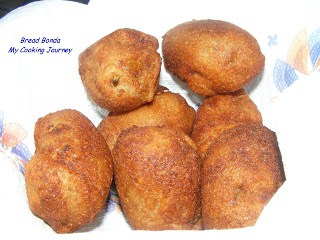 Notes and observations
I used to make this with white bread, but lately I observed that making it with wheat bread yielded crispy bondas and it does not soak too much oil.
When making a large number of Bondas for a party or a gathering, you could roll out the bondas ahead of time and then cover it with a wet paper towel or kitchen towel. This way they are ready to fry just before serving.