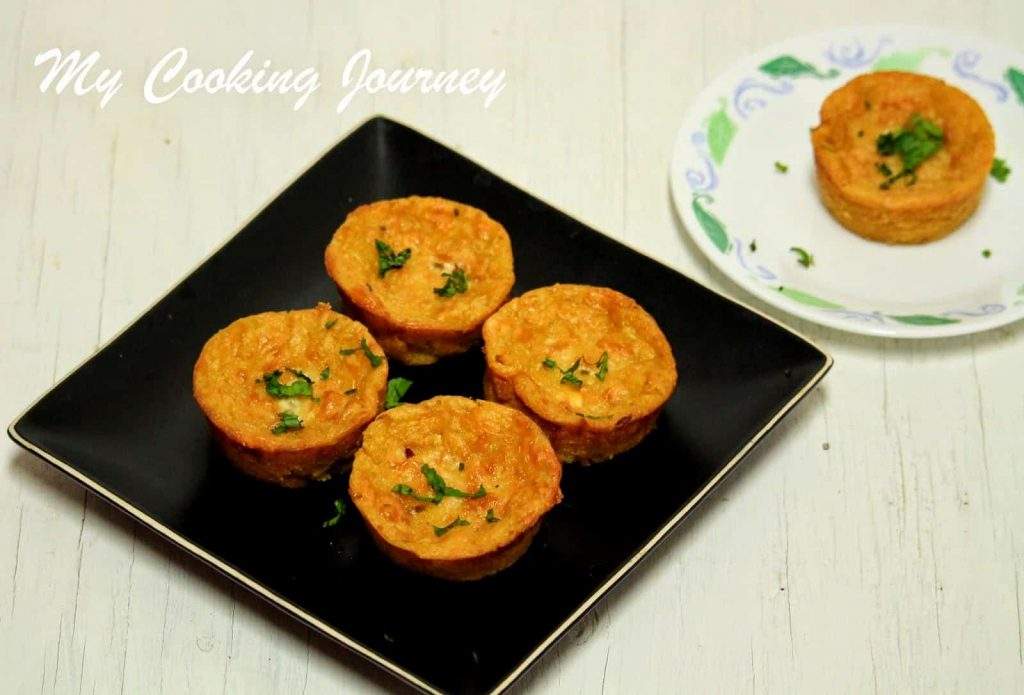 Evening snacks are always a challenge when there are kids in the house. Lately I have been noticing that any snack I want to make is sweet. This recipe was suggested to us last month in one of the baking groups I am in and I made it right after I saw it as it was a savory recipe. I had made it just after the kids came home from school. The whole house smelled cheesy (in a good way) and as my husband was entering the house he said that he loved whatever was cooking.
I had made 6 muffins and I was able to just have a taste of it so I could write about it when writing the recipe. My kids and husband enjoyed it thoroughly and this is one recipe that they have requested to make often. The recipe is pretty simple and takes just few minutes to get it prepared. The original recipe had just the carrots with some herbs mixed in as is. I sautéed it along with onions and added some garam masala to give it an Indian twist.
Priya had suggested some marvelous muffin bakes for the Home Bakers Challenge and I am so glad I tried this out. Do try out these muffins and feel free to add a bit of any other vegetable you have in hand. I will be adding some corn and bell peppers next time. The muffin was pretty filling with the cheese in them, so it was perfect to keep the kids filled up through the evening.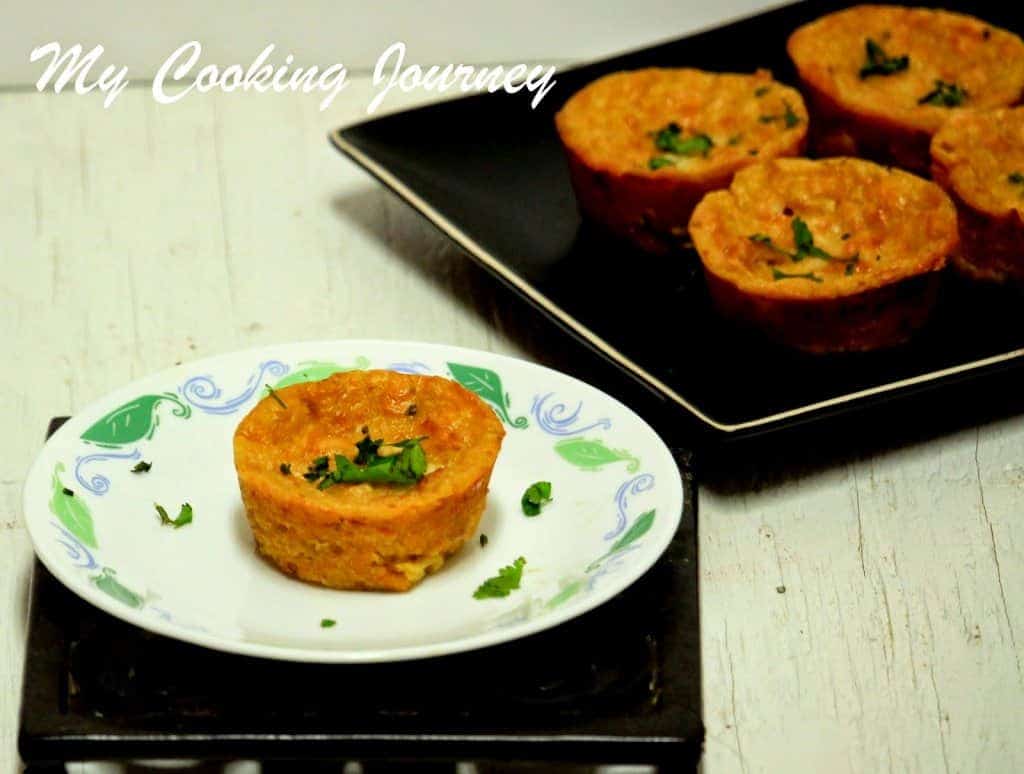 Preparation time – 15 minutes
Cooking time – 20-25 minutes
Difficulty level – easy
Recipe adapted from – Saffron Trail
Ingredients to make Carrot and Cheese Muffins – Makes 6 muffins
All purpose flour – 1/3 cup
Whole wheat flour – ¼ cup
Baking powder – ½ tsp
Baking soda – a pinch
Salt – ½ tsp (optional)
Carrot – 1 medium (shredded fine)
Onion – 1 small (chopped fine)
Garam masala – ¼ tsp (optional)
Habanero Cheddar cheese (can use any spiced cheese or plain cheddar or paneer) – ¼ cup plus a tbsp more for sprinkling on top
Vegetable oil – 1 tbsp
Plain yogurt – ½ cup
Vinegar – 1 tsp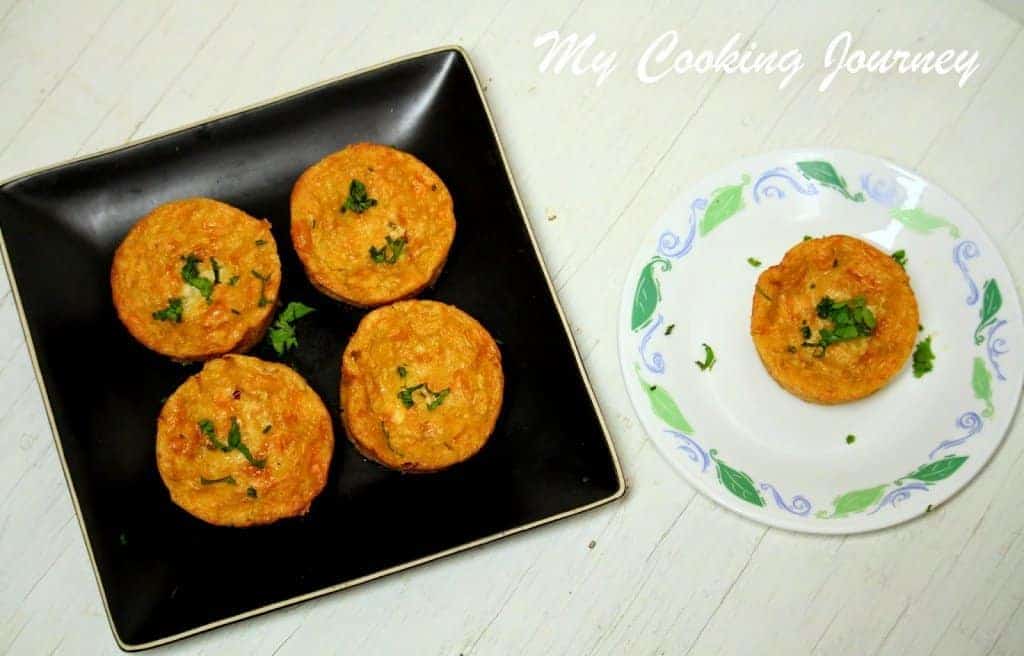 Procedure –
Heat the oil in a pan and sauté the onions until golden brown. Add the grated carrots and fry for about 2-3 minutes. Add the garam masala and salt (if using) and mix well. Turn off the flame and keep aside to cool.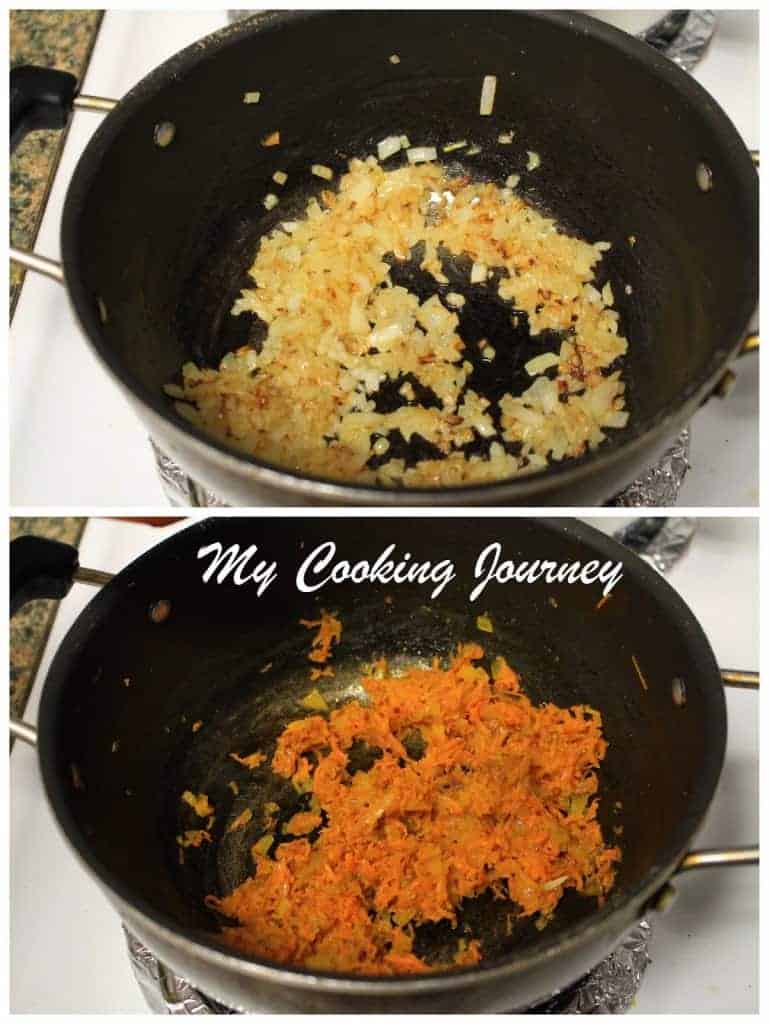 Grate the cheese fine and keep it aside. I used a spicy cheddar cheese with habanero. You could use any kind of cheddar cheese or even paneer in the recipe. I would not use mozzarella cheese just because of its stringy nature.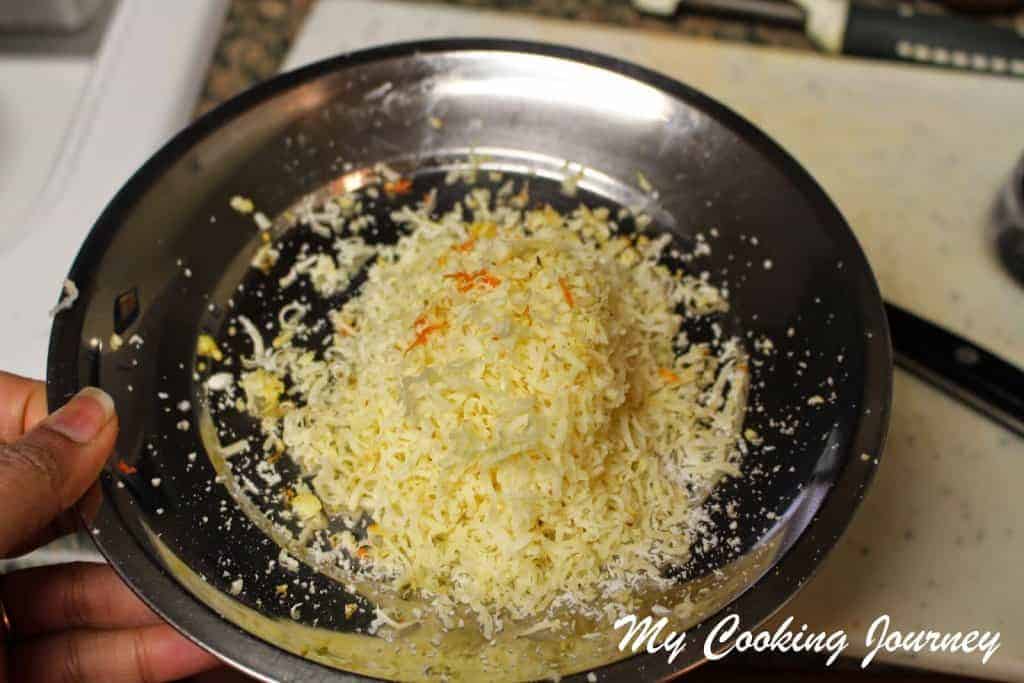 In a bowl whisk the yogurt and add the vinegar to the yogurt and mix.
In a wide bowl, mix the flours, baking powder and baking soda. Add the cooled vegetable mixture to the flours and also add the whisked yogurt and cheese. Mix gently. If needed add 2 or 3 tbsp of water to bring the batter to the right consistency. I did not need any water.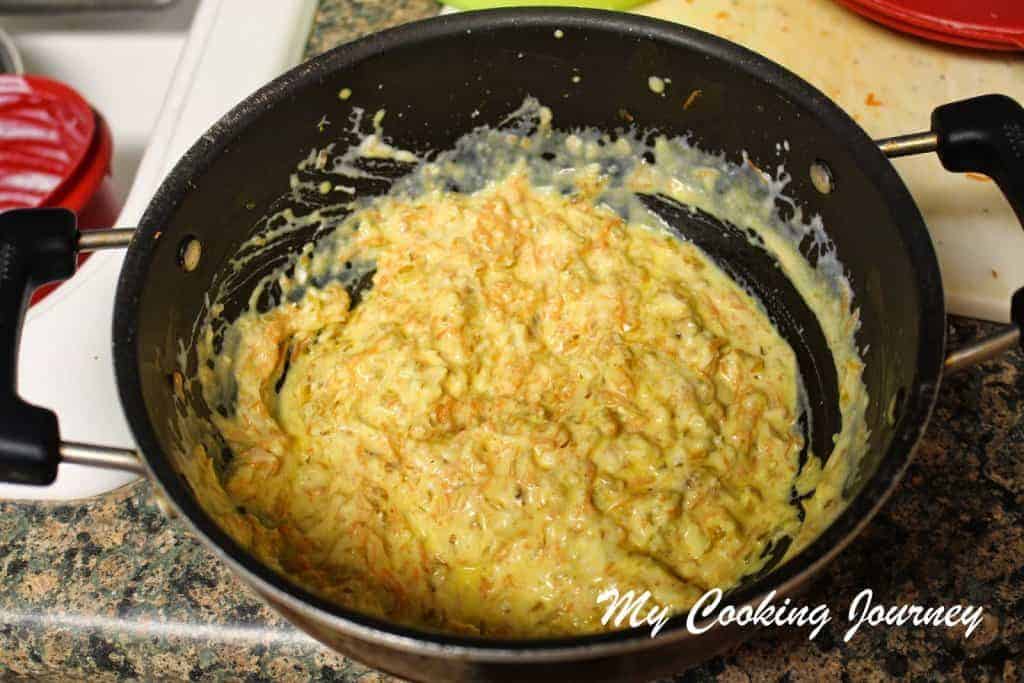 Carefully divide the batter into muffin mold. Top with the reserved cheese.
Preheat the oven to 350 F and bake the muffins for about 20-25 minutes. Remove from the oven and let it cool for about 5 minutes in the mold.
Carefully unmold them and serve the Carrot and Cheese Muffins warm!