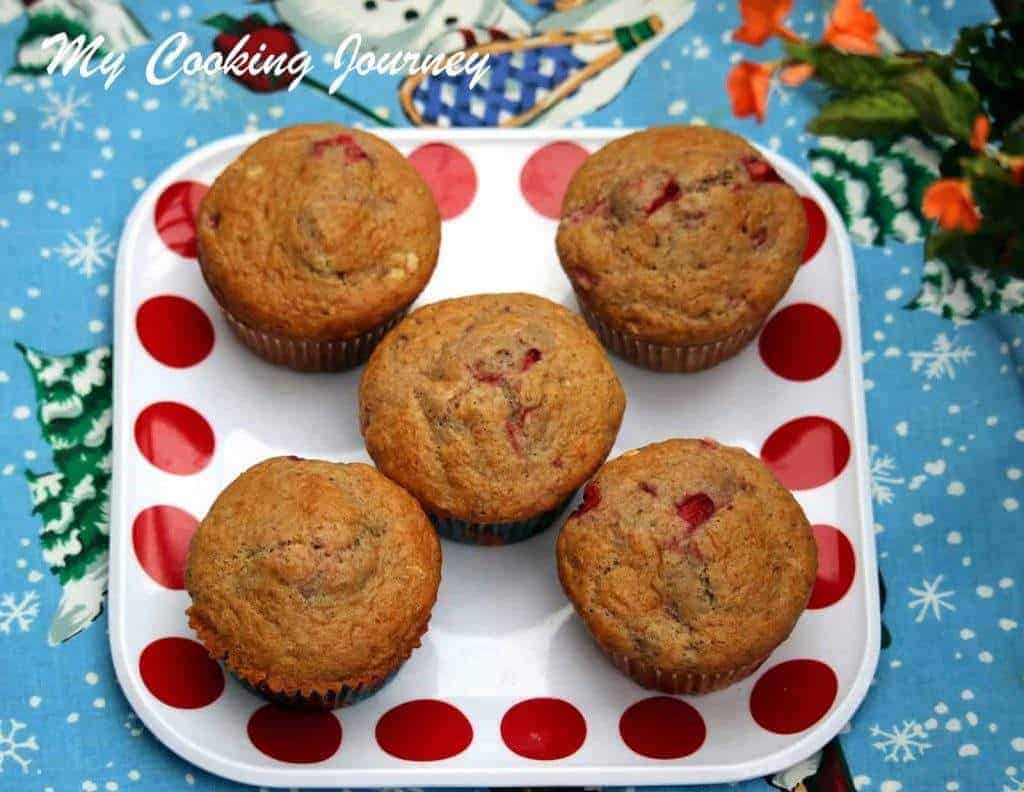 I love baking muffins, eating muffins and spreading out muffins. Muffins are one of the best after school snack in which I can sneak in fruits and vegetables (not that I have to, but still do). My boys love strawberries and be it the season or not, we always buy tons of it. Spring is our favorite because we get to pick our own strawberries, east loads of it and then freeze the rest to make goodies for the next couple of months.
These muffins were very mildly sweet. If you prefer sweeter muffins, increase the sugar by about ¼ cup. I have made it egg less and also used part wheat flour. The texture of the muffin was amazingly soft and crumbly. I still think fresh strawberries would work best in the recipe, but if you have loads of frozen berries, go ahead and use them.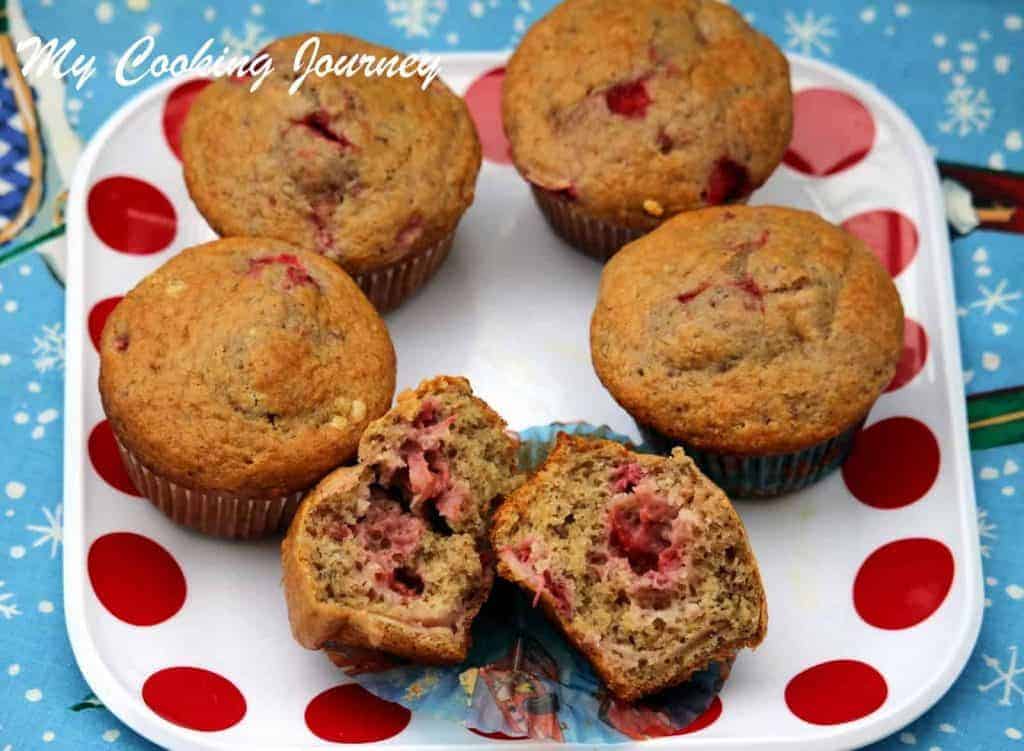 Preparation time – 5 minutes
Cooking time – about 25 minutes
Difficulty level – easy
Ingredients to make Strawberry Muffins – (makes 12 muffins)
All purpose flour – 1 cup
Whole wheat flour – ¾ cup
Flax seed meal – 2 tbsp
Sugar – ½ cup (was very mildly sweet, increase it to ¾ cup if prefer sweeter muffins)
Baking powder – 1 ½ tsp
Baking soda – ½ tsp
Salt – ½ tsp
Milk – ¾ cup
Yogurt – ¼ cup
Vegetable/canola oil – ¼ cup
Strawberry (fresh or frozen) – 1 cup (chopped)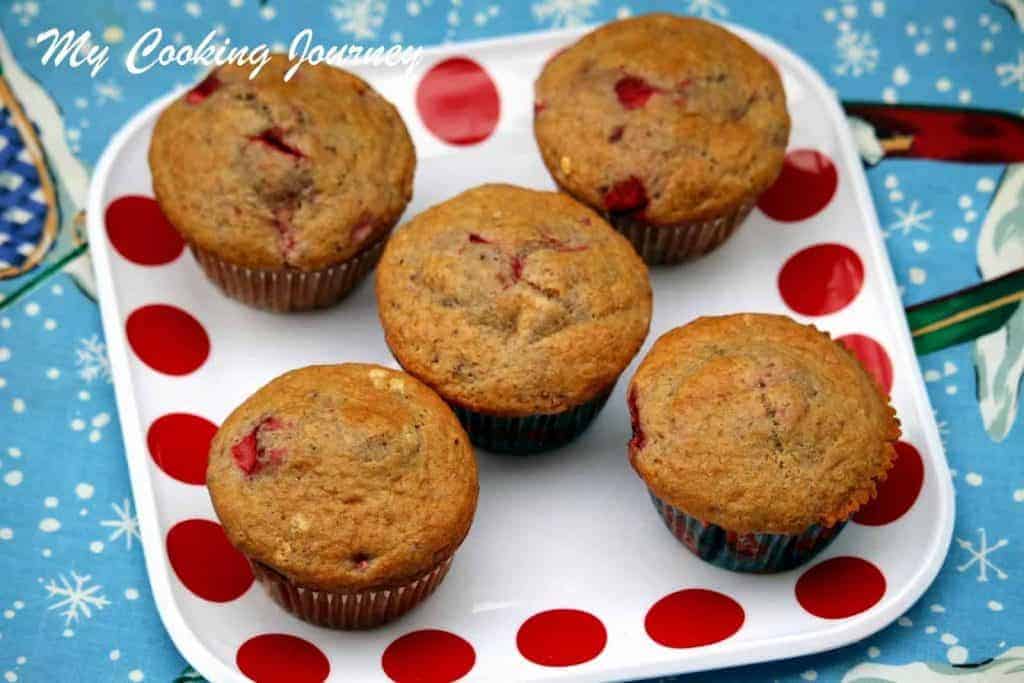 Procedure –
In a bowl, mix the dry ingredients together. Add the chopped strawberries to the mixture and give it a toss.
In a measuring cup, measure out the liquid ingredients and whisk well.
Add this to the dry ingredients and mix gently. Do not over mix, just mix until well combined. Add a tbsp or two of milk more if the mixture appears too dry.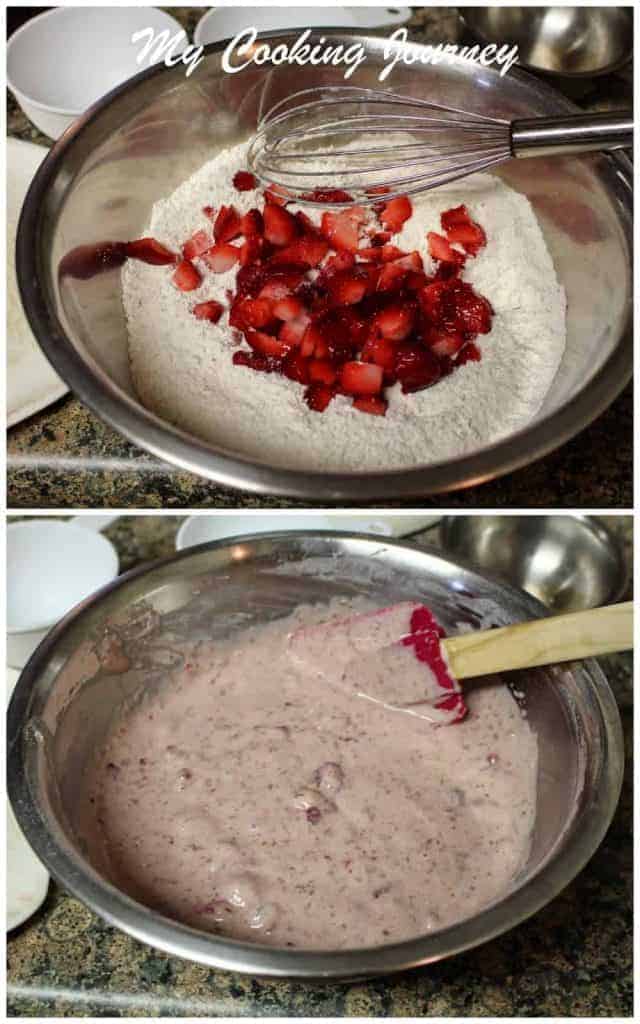 Preheat oven to 375 F. Prepare a muffin tin by greasing it or placing liners and then greasing it.
Fill the prepared tins with the batter until ¾th.
Bake in the preheated oven for 20 – 25 minutes or until the toothpick inserted in the center comes out clean. It took me 22 minutes.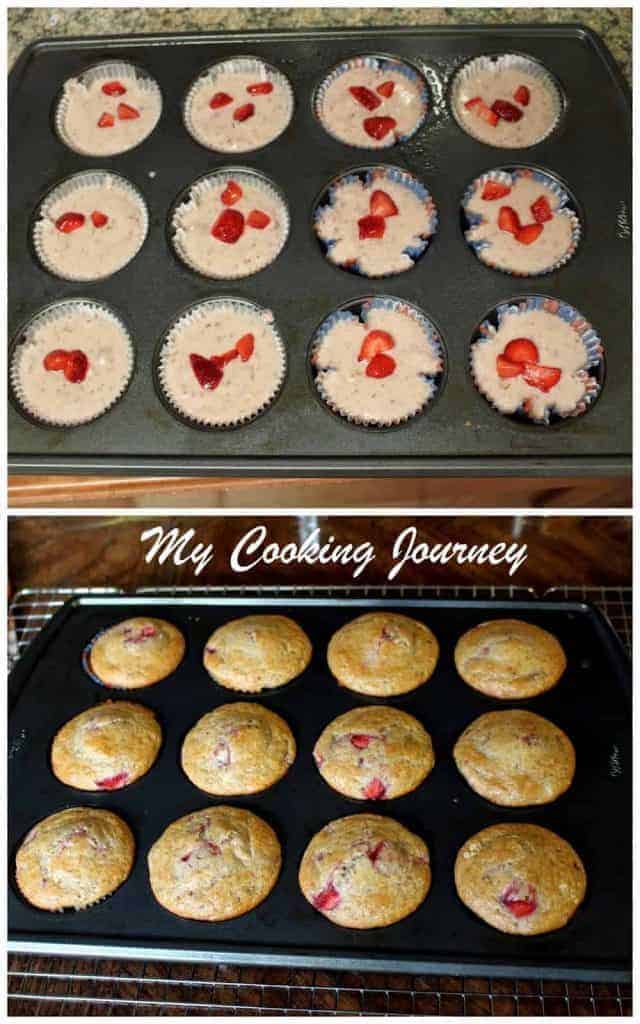 Let the Strawberry Muffins cool in the tin for about 5 minutes and then cool completely on a rack.