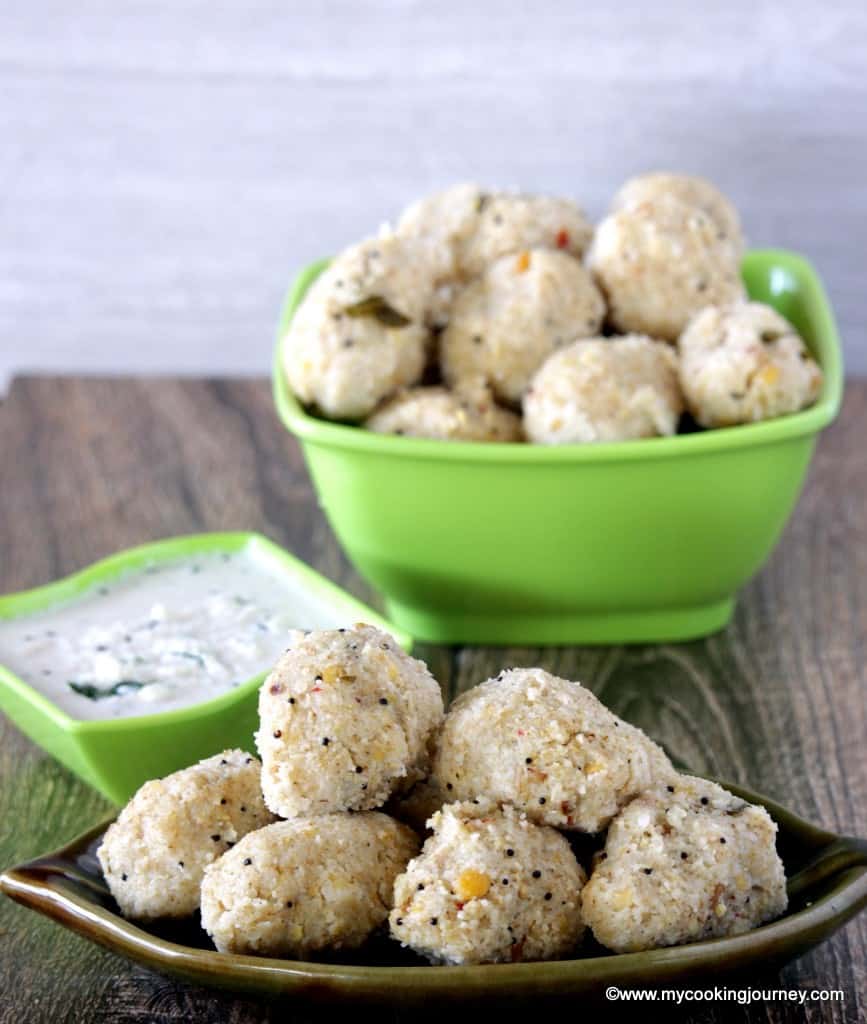 Godhumai rava or broken wheat or lapsi is a grain that I personally feel is highly underused in my family. My dad to begin with would eat anything made with rice rava, but would hesitate if I say that is made with godhumai rava. I am very eager to make few dishes for him to try when he comes here, so he can actually see that it is equally (if not more) tasty as rice products.
I love godhumai rava and would not hesitate even for a second to make anything with it. When thinking of a suitable tiffin or snack with godhumai rava for the alphabet G, I remembered this pidi kozhukattai. I have never tasted it before with broken wheat and thought why not try to make the regular pidi kozhukattai using broken wheat. The procedure is very similar to how you would make arisi upma, except you use godhumai rava instead of rice rava and then go a step ahead and steam the prepared upma. Double cooking / steaming the grain makes it very healthy and easy to digest. Also it gives a change from the usual upma.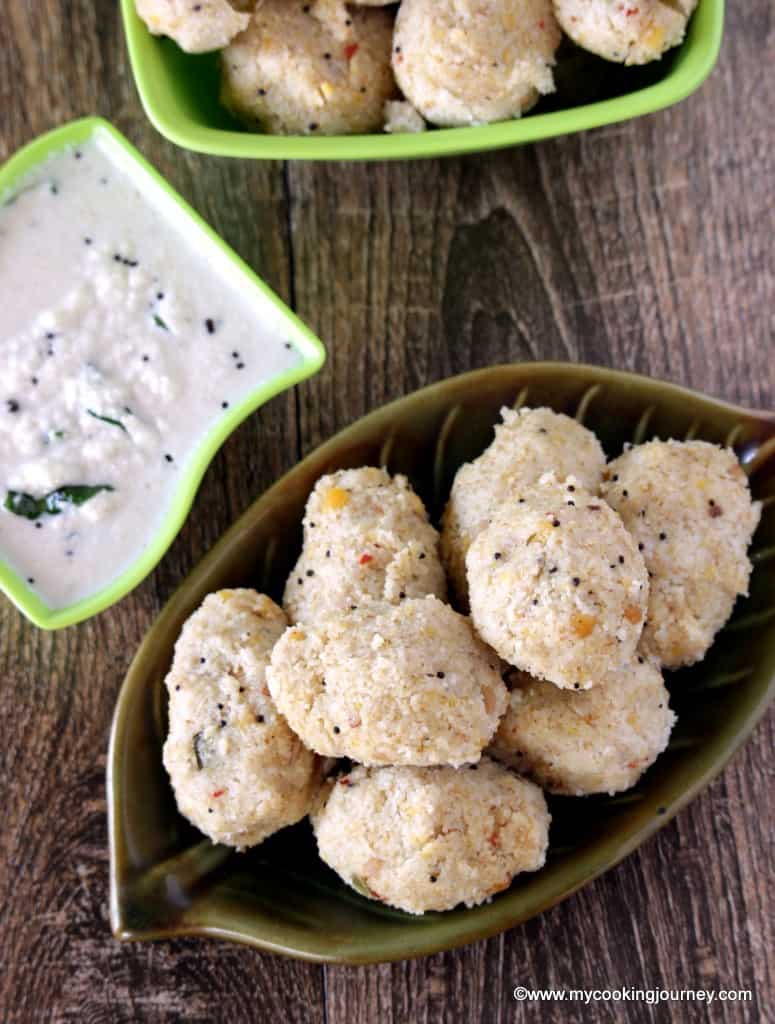 When looking to buy the godhumai rava, this is the first time I noticed that they have numbers mentioned on the pack based on the size of the rava. #1 is the large rava, # 2 is medium sized and #3 is the smallest of all. I had initially bought the medium godhumai rava and then realized that it is going to take way longer to cook. So I went back again to the Indian store and bought the smallest rava.
I had a chance to explore more of this whole grain when groups of people worked on recipes for World diabetes day. Also I had made Oats Pongal for that particular post, but later made Godhumai rava idli and godhumai rava upma. I have also used bulgur to make an African salad and Bulgur black bean burger patty.
Lapsi, a very famous dessert made with broken wheat is something I enjoyed a lot. Now this recipe goes to my collection of recipes made with broken wheat.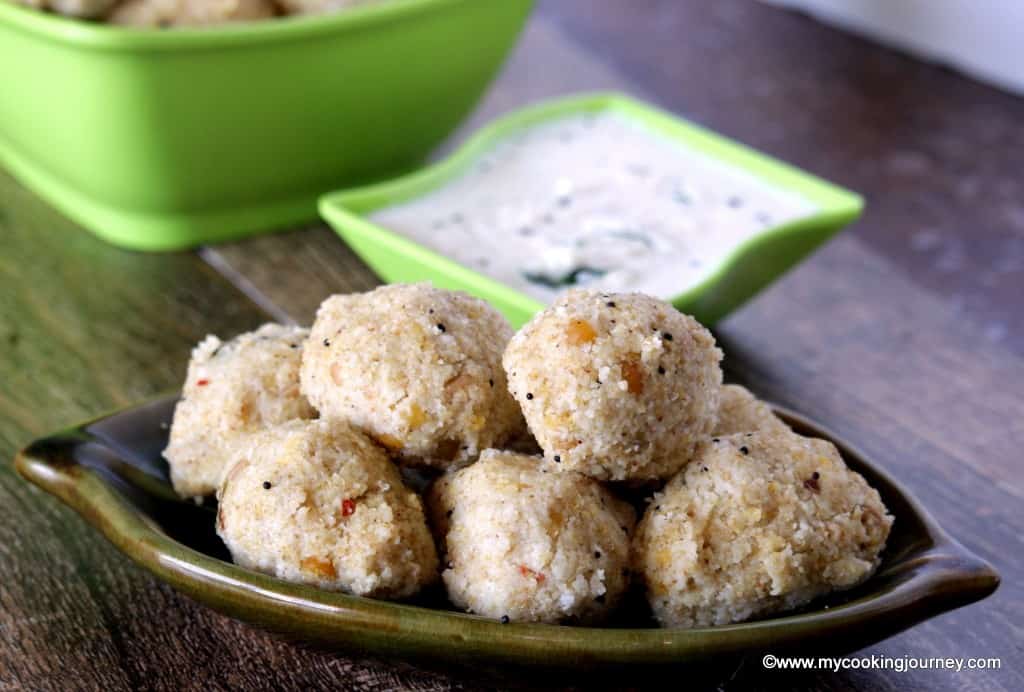 My other recipes from this series –
A – Athirasam
B – Badam Burfi
C – Chettinad Masala Cheeyam
D – Dosai Milagai Podi
E – Ellu Urundai
F – Fruit Kesari
Preparation time – 10 minutes
Cooking time – 45 minutes
Difficulty level – easy
Ingredients to make Godhumai Rava Pidi Kozhukattai – Makes about 25
Godhumai Rava / Broken wheat / lapsi – 2 cups
Water – 4 cups
Kadalai paruppu – ¼ cup
Red chilies – 3 or 4
Coconut – ¼ cup (grated)
Salt – to taste
To season –
Oil (preferably coconut oil or gingelly oil) – 3 tbsp
Mustard seeds – 1 tsp
Ullutham paruppu / urad al – 2 tsp
Kadalai paruppu / channa dal – 1 tsp
Green chilies – 2 (chopped finely)
Curry leaves – few
Asafetida -1/4 tsp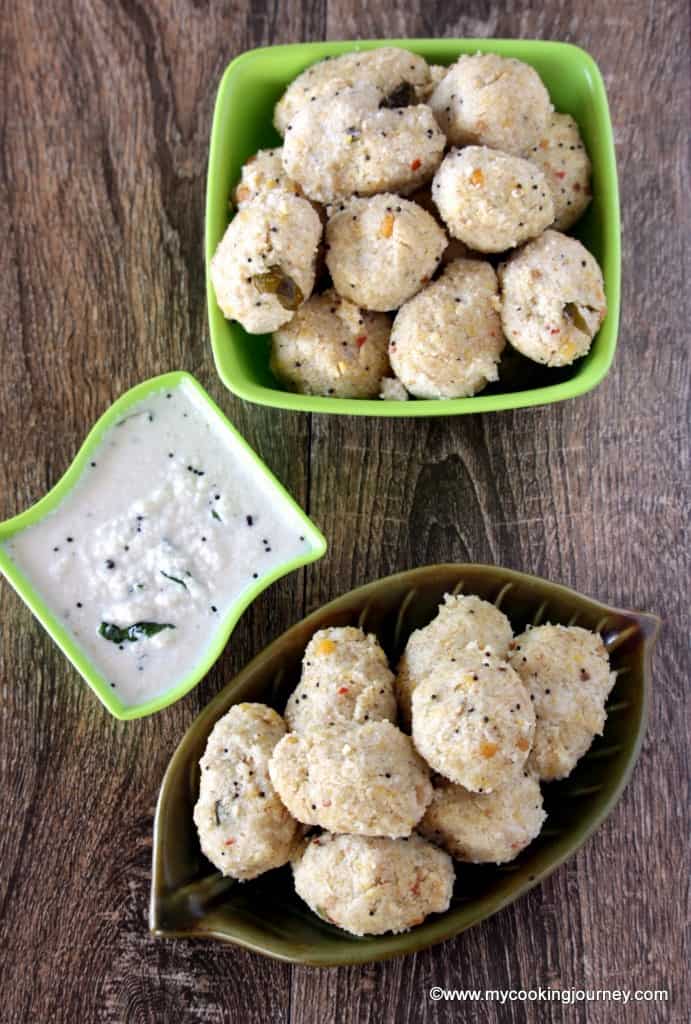 Procedure –
Soak the ¼ cup of Kadalai paruppu / channa dal and red chilies for about 30 minutes and then grind into a coarse paste.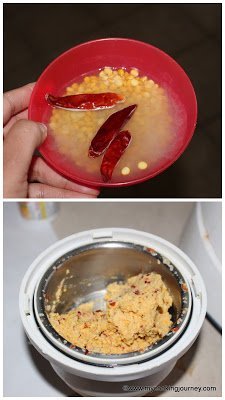 Dry roast the godhumai rava / broken wheat until it is aromatic. Keep stirring as it could burn easily.
Remove the roasted godhumai rava on a plate and return the pan to the heat. Add oil and fry the seasoning ingredients.
Add the ground channa dal paste and give it a quick stir.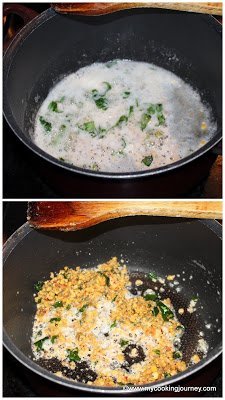 Now add 4 cups of water, grated coconut and the salt needed. Let the water come to a boil.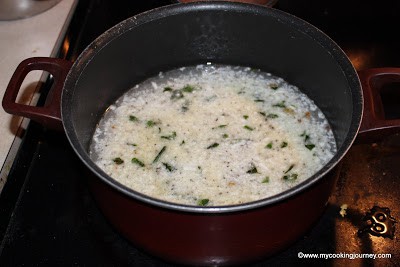 Slowly add the roasted wheat and mix well. Reduce the flame and cover the pan. Let the wheat cook until it soft and the water evaporates. This will take about 5 – 7 minutes in low flame. If you feel that the rava has not cooked and it is getting too dry, sprinkle some water and continue to cook. Depending on the size of the rava, it will take less time or longer time to cook. I used the smallest of the available and it took me only 5 minutes to cook.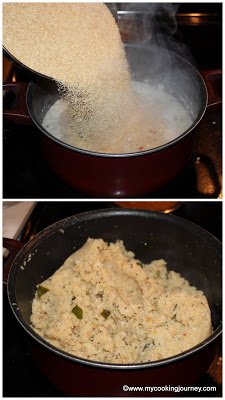 Turn off the flame and cover the pan and let the mixture cool down enough to handle. Then start making tight balls out of the mixture. Don't wait until it is completely cold as it will become dry and will be hard to make the balls. Do it when the mixture is still warm. If it still appears dry, wet your hands with little water and then form tight balls. In my family we make sort of oval shaped balls. Depending on your liking, you could also shape them as round balls.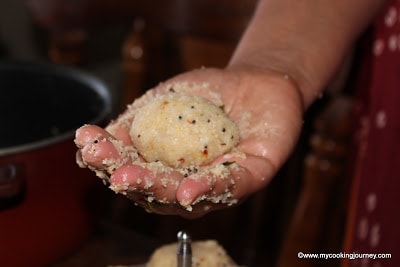 Arrange the balls on a steaming plate and let it steam for about 8 to 10 minutes. You will notice that the kozhukattais are very soft right after steaming. Let it sit out for few minutes before you transfer them to a bowl.
Repeat the same with the rest of the cooked wheat. I served it with some coconut chutney.