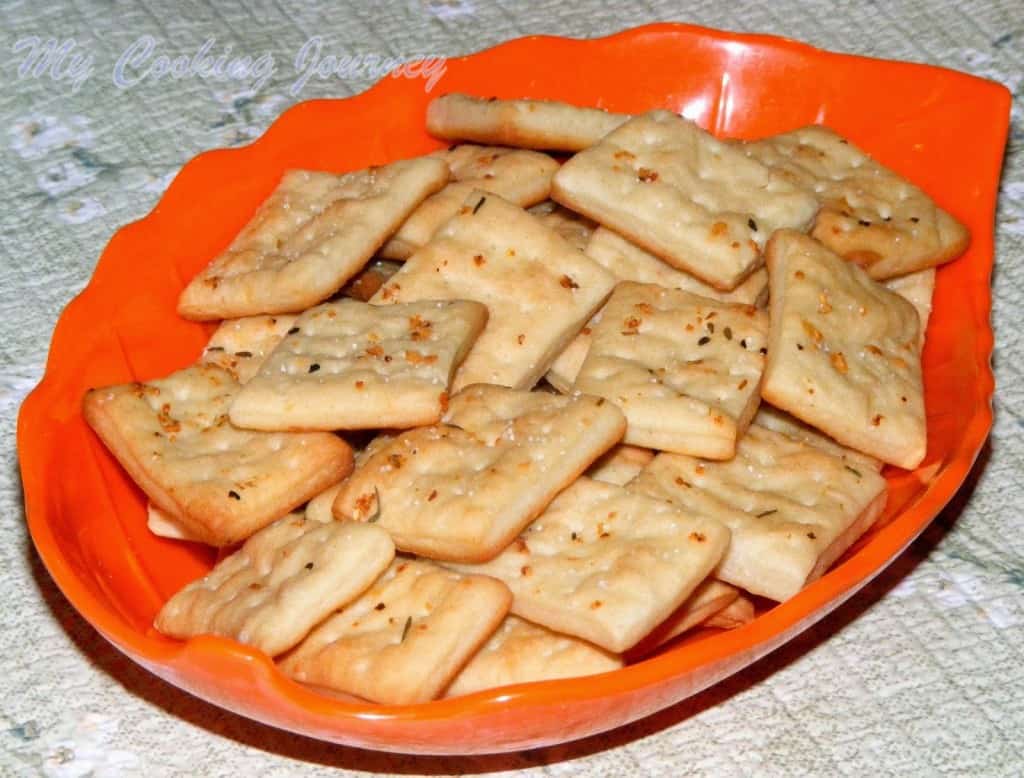 When Swathi shared the recipe for this month's Baking Partner's challenge, I was very excited. I have never made a saltine cracker before and these little salted crackers are my little one's favorite. My husband and my older son have a sweet tooth and more often than I would like I end up making many sweet cookies. This time to bake something specifically for my little one was very exciting. Thanks Arthy for choosing this delicious cracker recipe.
A saltine or a soda cracker is a thin, crispy square cracker made with flour, yeast, baking soda and a little fat. This cracker contains very less fat and sugar and it was perfect with a little cheese on top. I had a container of mixed herbs that I used in the crackers and I also used a bit of salt to sprinkle.
Saltine crackers are something that is usually eaten as a home remedy to settle an upset stomach or to get rid of nausea. It is also often eaten by pregnant women to keep their morning sickness in bay.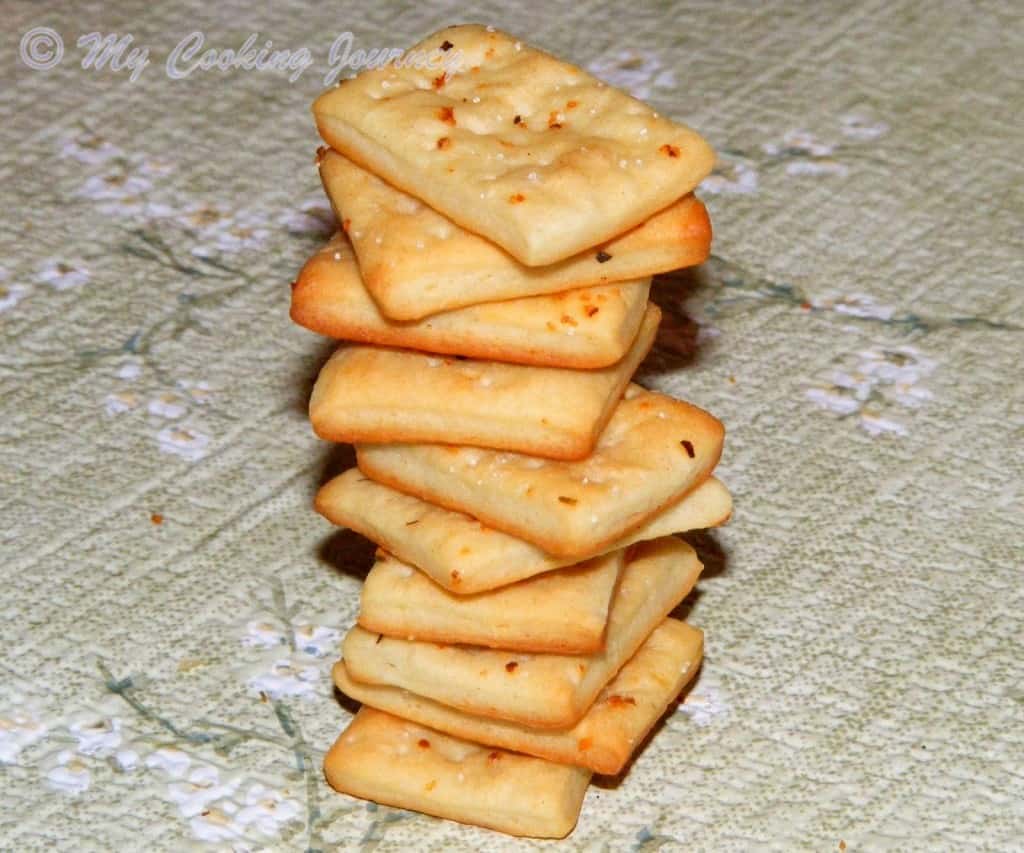 Preparation time – 20 minutes plus overnight to refrigerate the dough
Cooking time – about 10 minutes per batch
Difficulty level – easy
recipe source - King Arthur flour
Ingredients to make Saltine Crackers – (makes about 40-50, 1 inch crackers)
Dry ingredients –
All purpose flour – ¾ cup
Salt – ¼ tsp
Baking soda – little less than ¼ tsp
Sugar – ½ tsp
Instant yeast – 1 tsp
Cream of tartar – little less than ¼ tsp (could be substituted with 3 drops of vinegar)
Wet Ingredients –
Water – 3 tbsp plus a little more to make the dough
Butter – 1 tbsp
Oil – 1 tbsp
For the topping –
Mixed herbs – 1 tbsp
Salt – 1 tsp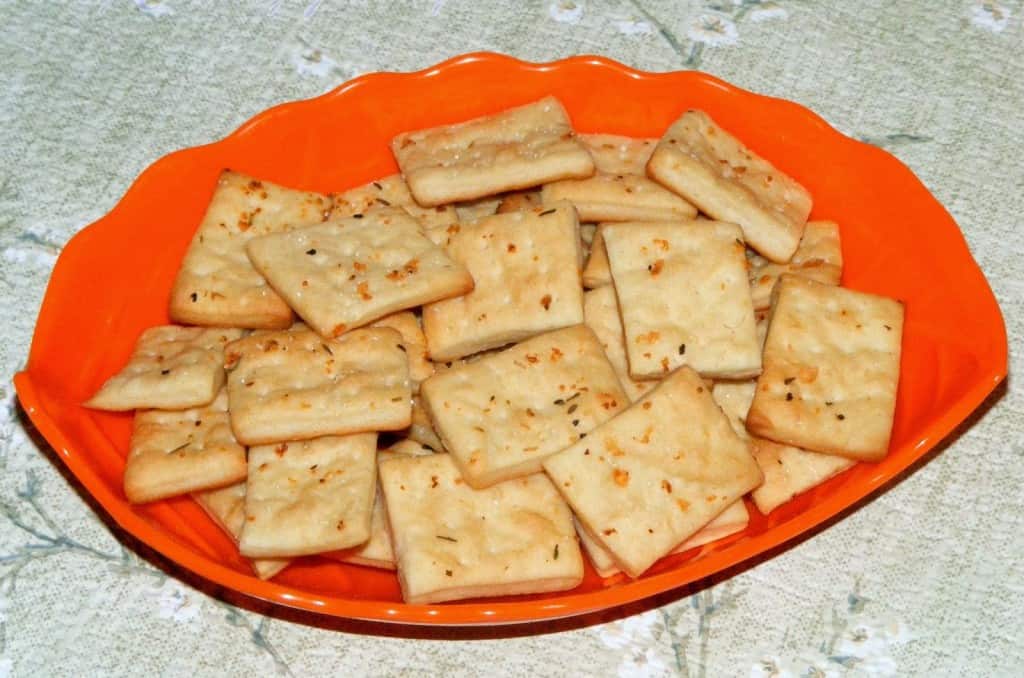 Procedure to make Saltine Crackers –
Combine all the dry ingredients in a bowl of a food processor or any other bowl. I used my food processor to make the dough, but you could make it by hand or use the stand mixer.
Combine the 3 tbsp of water, butter and oil in a sauce pan and gently heat them until the butter dissolves. Let this mixture cool down until it is lukewarm and then add it to the food processor bowl and start to make dough.
Keep adding a tbsp more of warm water until they come together to form sticky dough. Knead for a minute more and then transfer it to greased container and refrigerate overnight.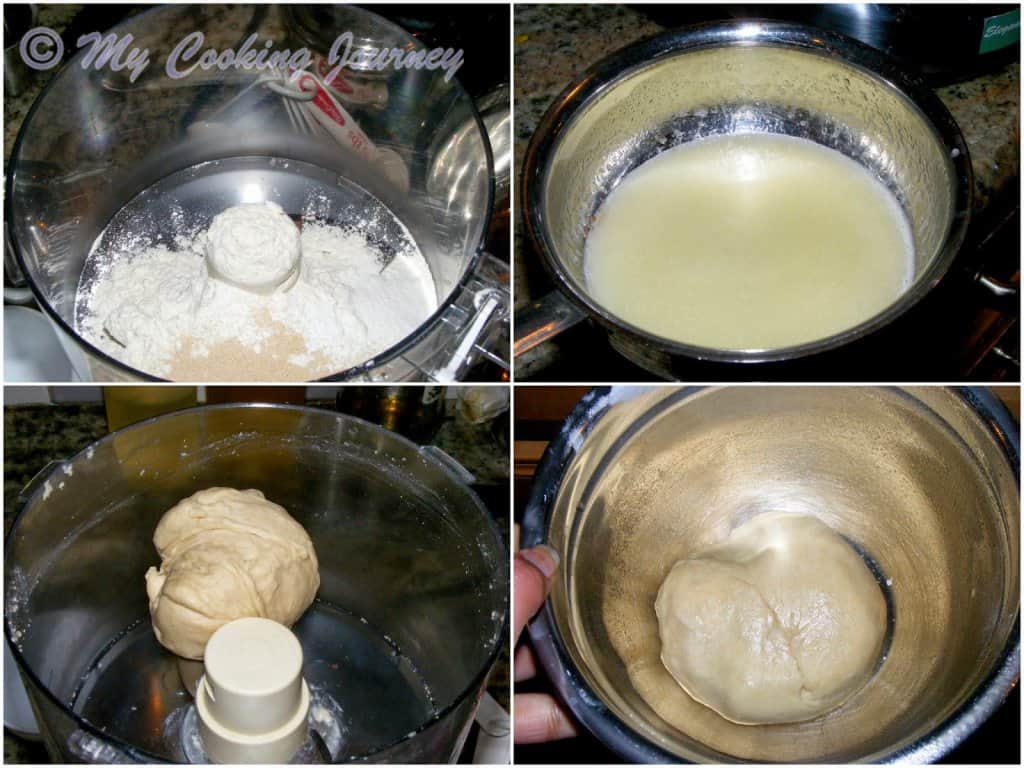 The next day, the dough would have risen just a little. Bring it back to room temperature and then transfer it to your floured work surface.
Form a rectangle by hand and then start to roll the dough out into a rectangle. Make sure to dust the work surface liberally to enable you to roll the dough out. I rolled mine out to about a 12 x 9 rectangle.
Now fold one side of the dough towards the center and then fold the other side over the first one. Refer to the pictures below.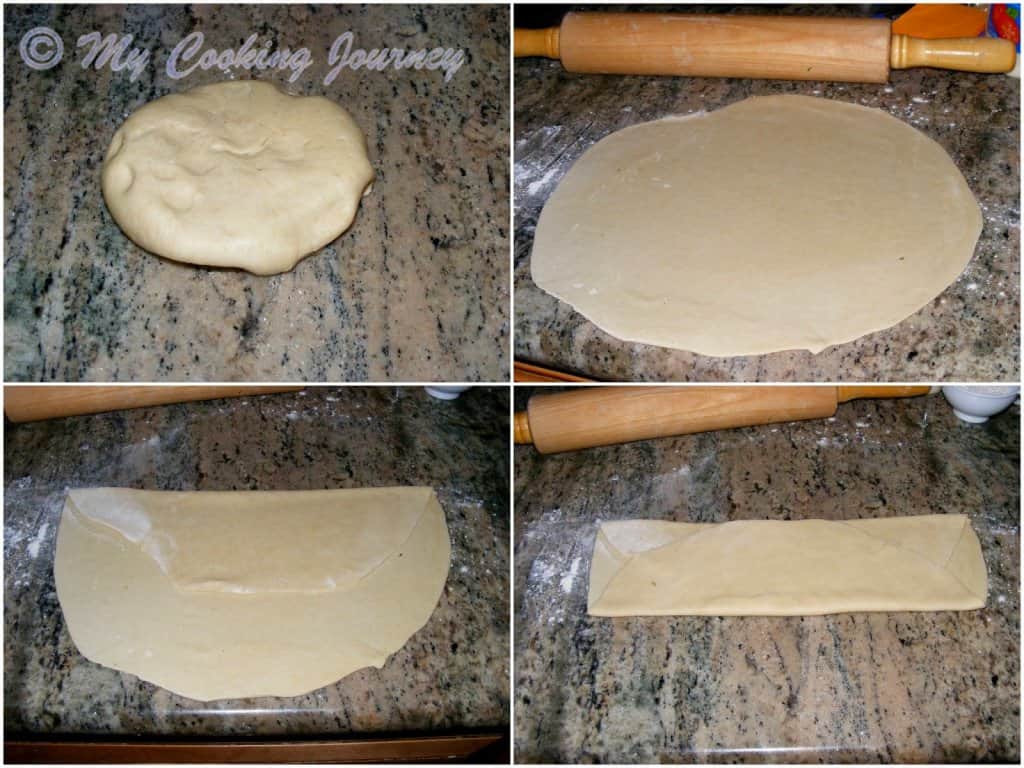 Now roll this folded over dough to a rectangle as thin as possible. I rolled min out to about 14 x 12 inch rectangle. It is important that the dough is rolled out very thin.
Meanwhile preheat the oven to 425 F and line a baking sheet with parchment.
Sprinkle the rolled out dough with salt and the herbs and then gently press it in using the roller.
Using a ruler to guide you, cut the dough into 2 inch squares. The pizza wheel came in very handy to cut the dough.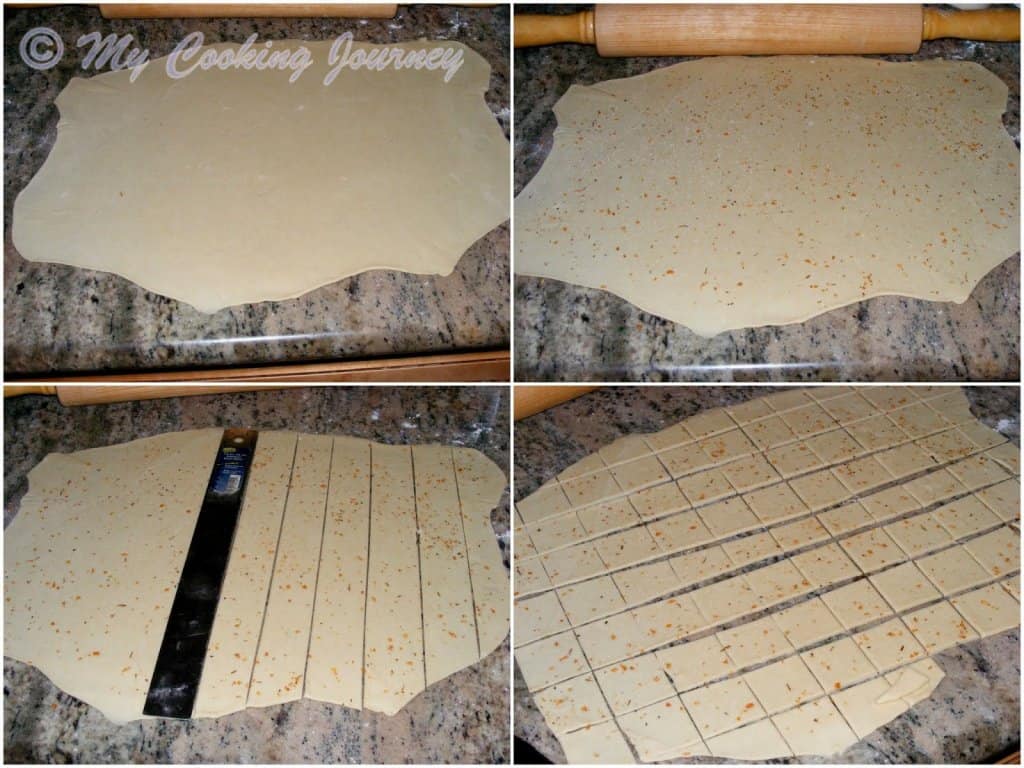 Transfer the cut pieces of dough on to the prepared parchment sheet. You could lay them as close as possible, since the crackers would not spread upon baking. The crackers actually shrink a bit when baking. Prick each cracker atleast 2 times with a fork. This would avoid the crackers from puffing up when baking.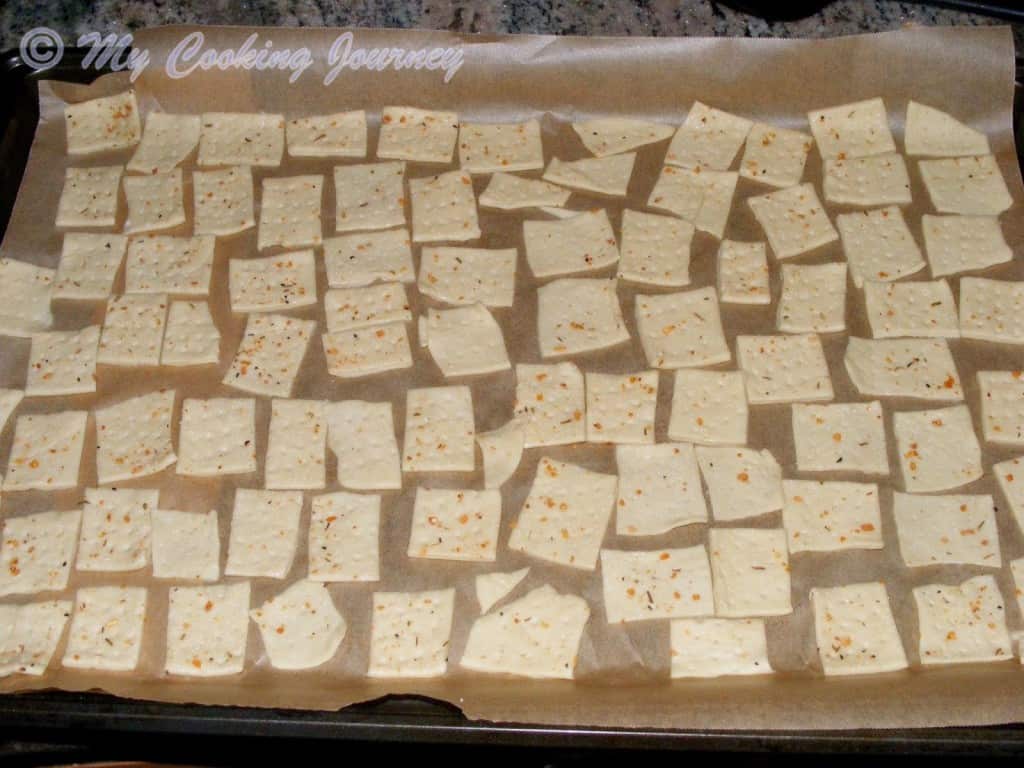 Bake in the preheated oven for about 8-10 minutes until the edges start to turn light golden brown. Start watching them from about 7 minutes. Mine were done in exactly 8 minutes.
At the end of the baking period, turn off the oven and leave the oven door open. The crackers would remain in the oven and continue to cool in the racks. This enables them to retain their crispness. Once the crackers are completely cooled down, transfer them to an airtight container.
These crackers disappeared entirely right after I clicked them. They were pretty addictive!