A delicious Paneer / Cheese stuffed Savory bread shaped as Honey comb. These easy to eat pull apart rolls are perfect as appetizer or as a side with soup.

Khaliat Nahal or the Honey Comb Bun is a common Middle Eastern confectionery which is typically filled and then glazed with sweet syrup. There are savory versions of the bun as well (which was what I made).
The recipe makes about 18 small buns that can be easily peeled off and eaten. They were perfect for my kids because they really enjoyed peeling the buns off and eating. My 3 yr old who is generally a little picky about what he eats also loved eating this and in fact I was able to make this his dinner as well along with ours with a bowl of soup.
I baked Honey Comb bun as a part of We knead of bake bread for the month of September, but was not able to post it on time. I am posting this recipe this month for my third day of blogging marathon under the category Kids delight – Nutritious food for sports enthusiasts. The reason I chose the Honey Comb Bun recipe for the theme is because my kids loved this. I made the savory version of the Honey Comb bun which was filled with paneer (cottage cheese). This bun kept with a bowl of hot soup worked great as our dinner.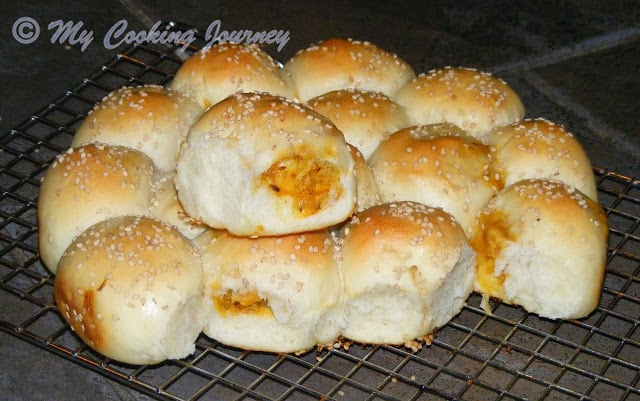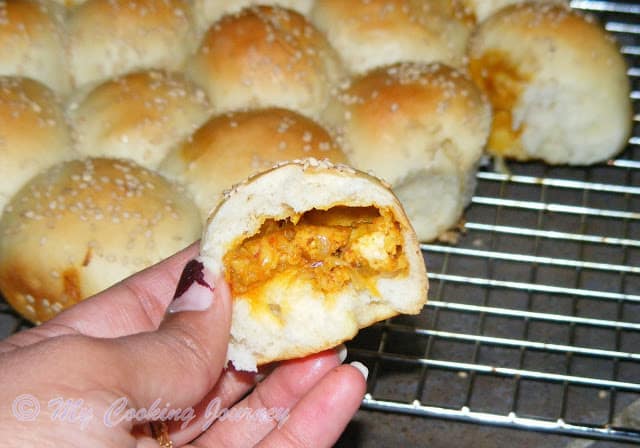 Preparation time - 15 mins plus 2 ½ hrs rising time
Cooking time - about 40 mins
Difficulty level - Medium

Ingredients to make Honey Comb Buns – (Makes 18 small rolls)
For the dough –
All purpose flour – 2 ½ cups
Luke warm milk – 1 cup
Instant yeast – 1 ½ tsp
Sugar – 1 tsp
Salt – 1 tsp
Butter (melted) – 40 gms
Milk – 2 tablespoon (for brushing on top)
Sesame seeds (white) – 2 tablespoon (for sprinkling on top)
For the filling –
Onion – 1 (medium) – Chopped finely
Garlic – 2 cloves (minced finely)
Cumin seeds – 1 tsp
Paneer (grated) – 1 cup
Oil – 2 tsp
Chili powder – ½ tsp
Turmeric powder – ½ tsp
Dhania jeera powder – ½ tsp
Salt – to taste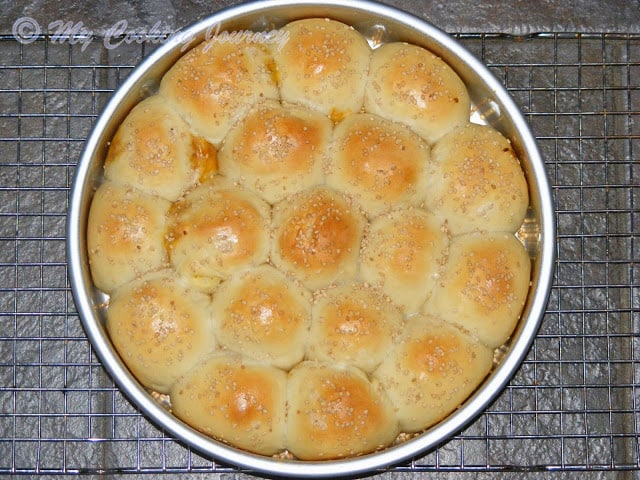 Procedure to make Savory Honey Comb bread –
To make the dough –
Combine the milk, sugar and yeast in a small bowl and keep it aside for 5 to 10 mins.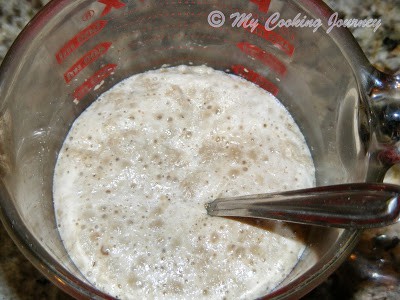 In the bowl of a food processor or stand mixer, add 2 cups of flour, salt and melted butter. Make sure that the butter has cooled down a bit before adding it to the rest of the ingredients. Mix it a couple of times to blend.
Now add the proofed yeast to the flour mixture and knead it well adding more flour (the remaining half a cup) until you get smooth and elastic dough which is not sticky. I used all the 2 ½ cups of flour to get the right consistency for my dough.
Shape the dough into a ball and place it in a well oiled bowl, turning it once to coat completely with oil.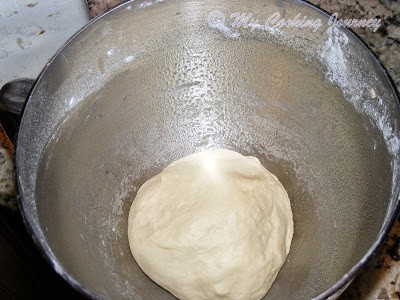 Cover and let it rise in a warm place until double in volume, for about an hour.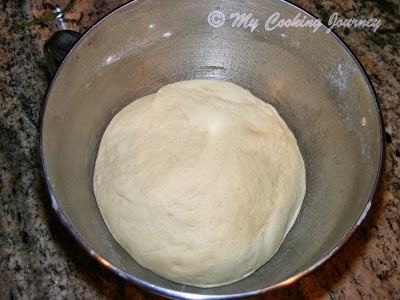 To make the filling –
Heat oil in a wide pan and add the cumin seeds. Let it fry for few seconds and then add the minced garlic. Fry it for a minute.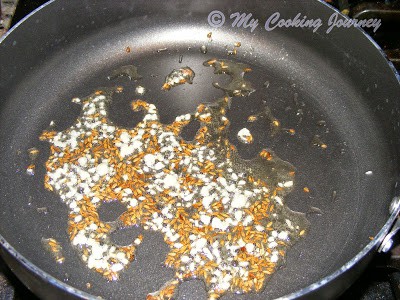 Now add the onions and sauté until golden brown. Add all the spices and the salt. Mix well. Now add the crumbled/grated paneer and mix well to combine.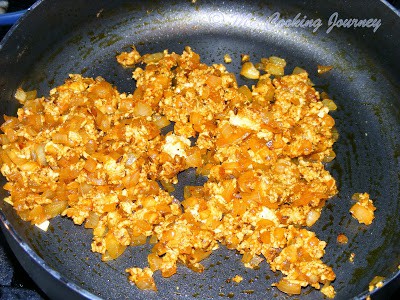 Keep it aside to cool down.
Assembly –
Once the dough has double in volume, drop it on to the work surface and divide the dough into two.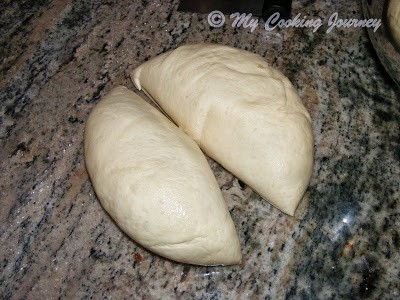 With your palm, roll out each of the halves into a rope about 9 inches long.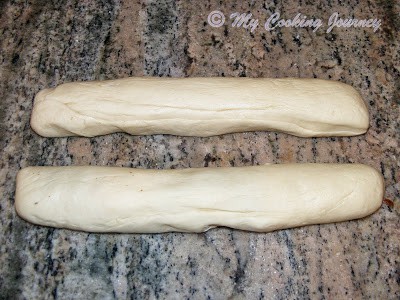 Now cut each rope into equal one inch pieces to get 18 pieces in all.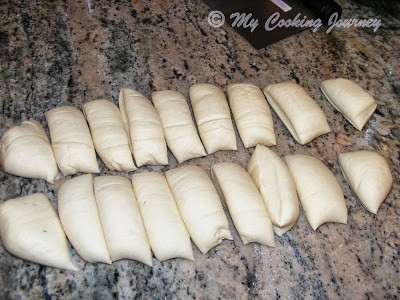 Take each piece and flatten it in your palm. Now add about 1 teaspoon of filling into it. Pull up the sides and cover the filling. Pinch the seams tightly. If you have made kozhukattai (modak), this is more like that.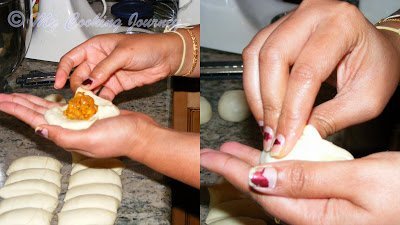 Smoothen each of the filled piece into a round ball.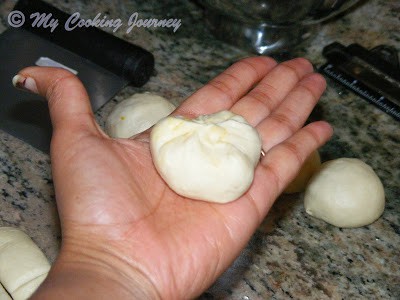 Place these in a well oiled 9 inch or 10 inch round cake tin. Repeat the same with the remaining 17 pieces. When arranging, place the balls in a concentric circle to get the honey comb effect.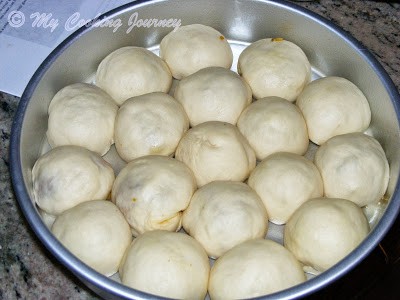 Cover with a towel and let it rise for about 30-40 mins.
Brush the tops of the rolls with milk and sprinkle the sesame seeds over this.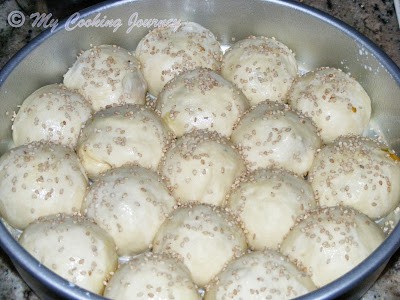 Bake the buns at 350 F for about 25 mins.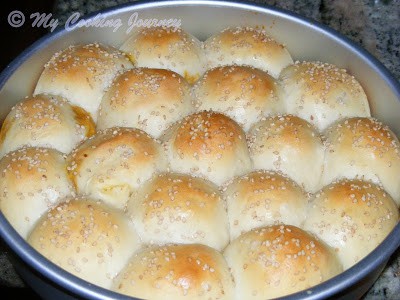 Let it cool in the tin for about 5 mins and then cool it on a wire rack.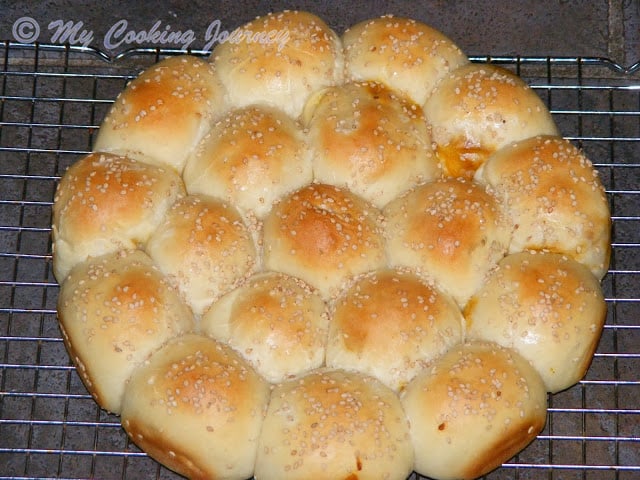 Serve Honey Comb Buns as a snack with tea/coffee/milk.