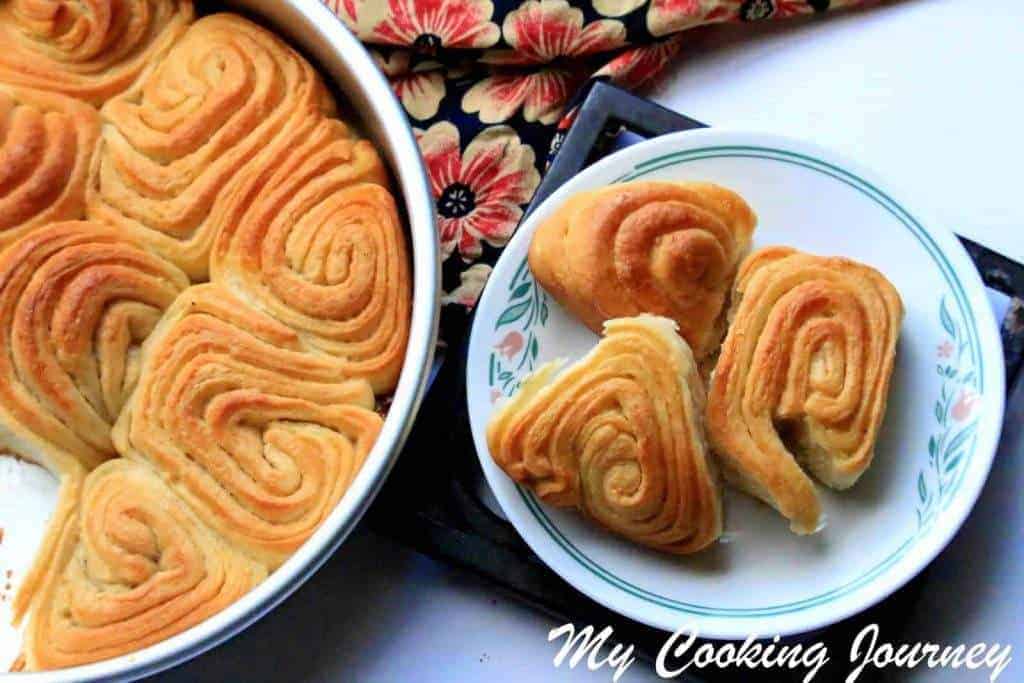 Today is the last day of our Month long Baking Mega Marathon – 'Fire Up Your Ovens' and I am very happy about all the different bakes I made and learned along the way. I have now got the "baker's itch" and it is going to be pretty hard not baking this often. This marathon gave me a chance to learn several sandwich loaves recipe as well as savory bakes and dinners. I have a new bookmark created that is now loaded with recipes from fellow bakers doing this marathon and we might need a month long marathon just to clear the folder.
Today's bake in fact is from one of the bookmarks that I made from Nalini's blog. I just loved these Sweet Swirl Buns at the first sight and wanted to make it soon (did not realize I would make it this soon). I have already made savory swirl buns in the series and this one is swirled as well but in a different technique. This swirl technique might not work with heavy fillings. These buns are mildly sweetened with layers of butter and sugar.
With this sweet bun I am ending my marathon for the month. As much as I am excited to get back to my regular cooking and posting, I will be missing the regular bakes. I have already made a list of baking pans and equipment to request to my husband for Mother's day.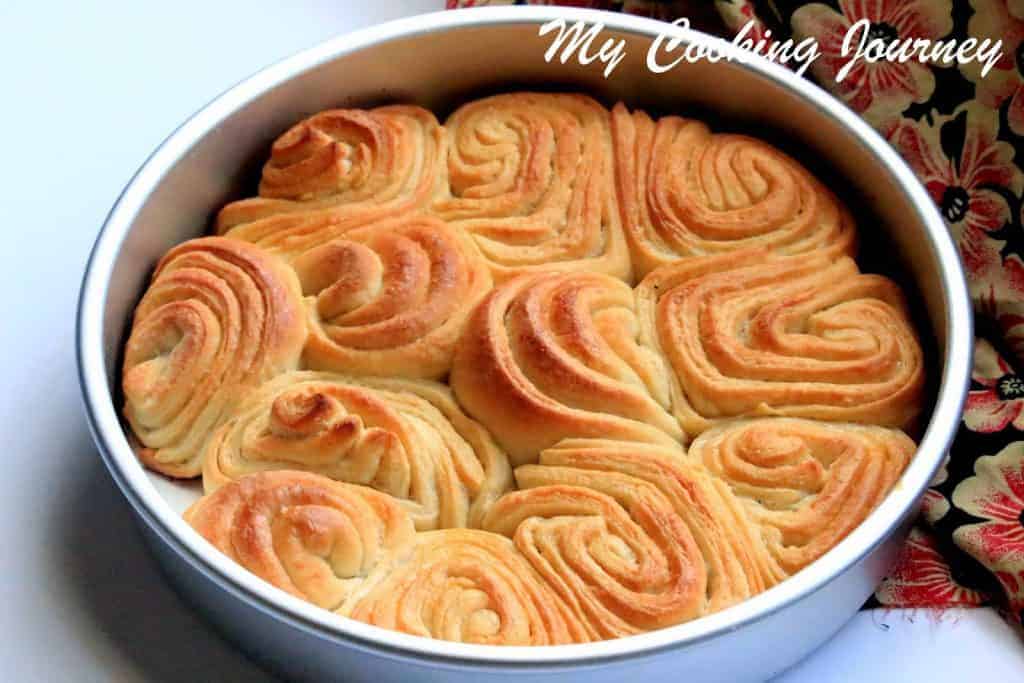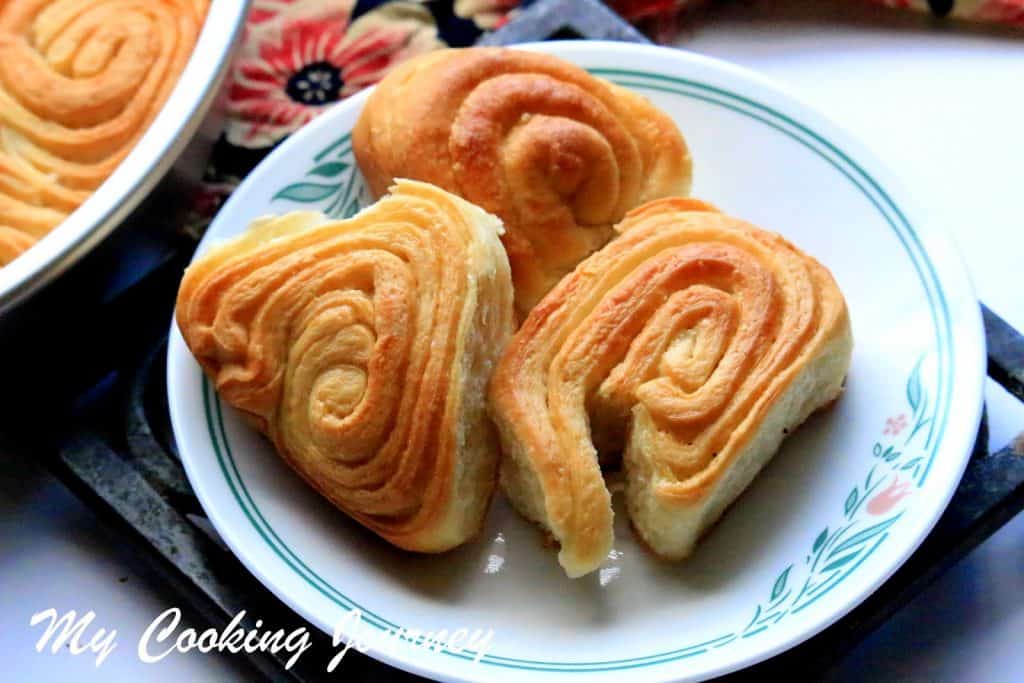 Preparation time – 20 minutes plus 3 hours of inactive time
Cooking time – about 25 minutes
Difficulty level – medium
Recipe adapted from - Nalini's Kitchen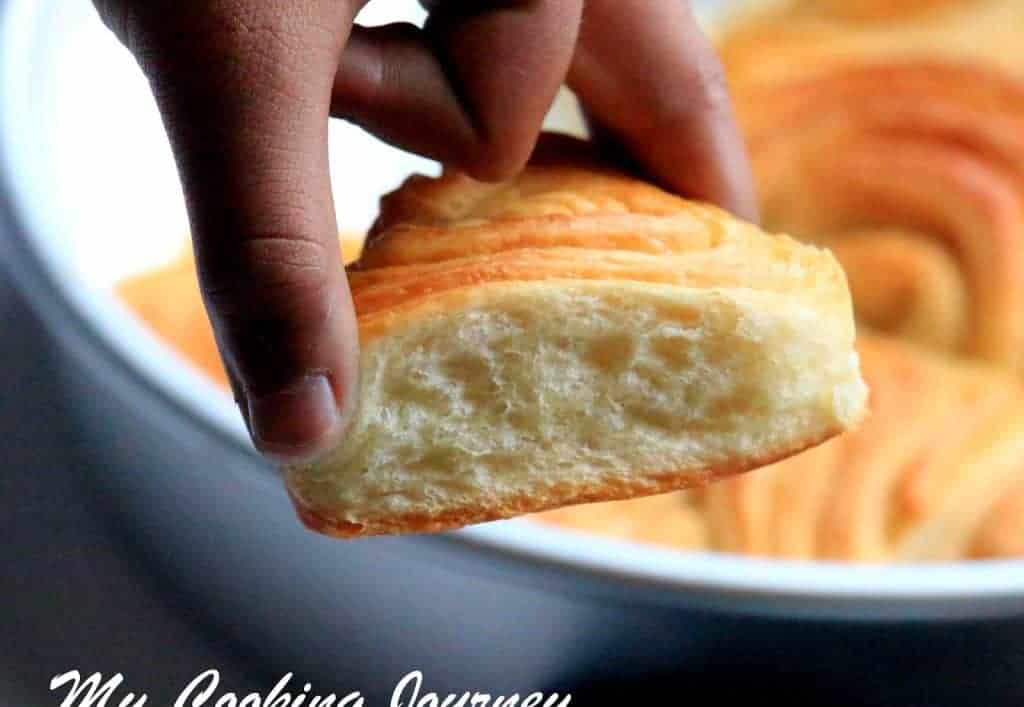 Ingredients to make Sweet Swirl Buns – Makes 12 buns
For the dough –
Bread flour – 1 ¾ cups (can be substituted with all purpose flour)
Instant yeast – 1 tsp
Sugar – 3 tbsp
Salt – ½ tsp
Unsalted butter – 4 tbsp (melted)
Vanilla extract – 1 ½ tsp
Warm milk – ½ cup
For the filling –
Butter – 2 tbsp (softened)
Sugar – 4 – 5 tbsp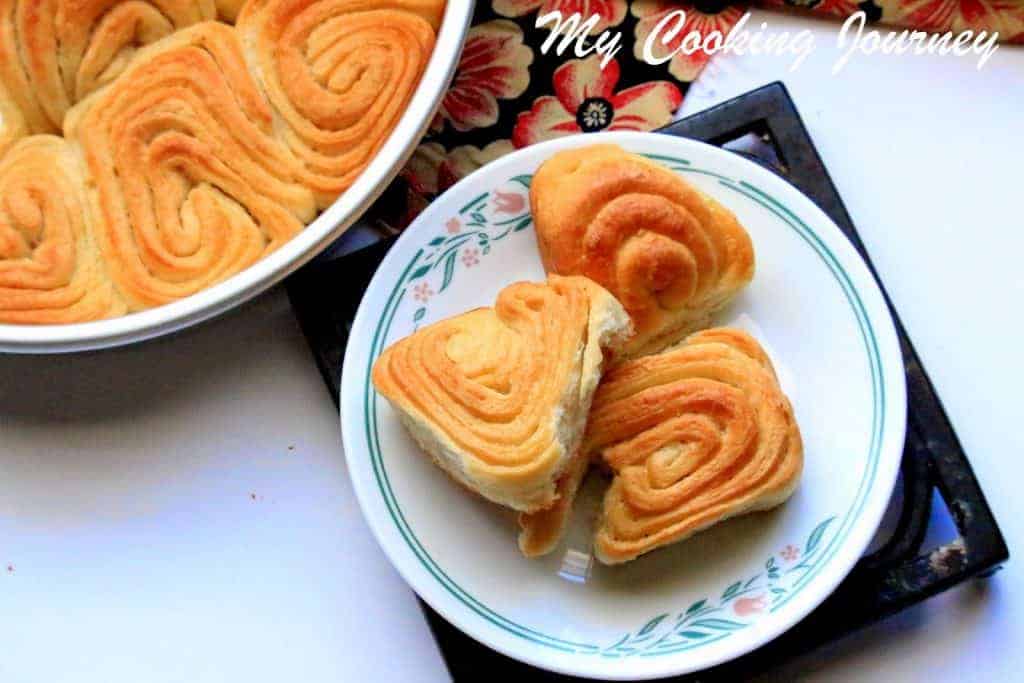 Procedure to make Sweet Swirl Buns –
To make the dough –
Combine the flour, yeast, sugar and salt in the bowl of the mixer.
Add the vanilla to the warm milk and mix.
To the mixer bowl, add the butter and run the mixer at low. Slowly add the milk mixture and form wet dough.
Turn the mixer on medium speed and knead the dough for about 8 – 10 minutes or until it is smooth and soft.
Place the dough in an oiled bowl and cover with plastic wrap. Let it rise in a warm place for about 1 ½ hours or until double in volume. Since this is slightly sweet dough, it takes a little longer than the regular bread dough to rise. So do not be concerned.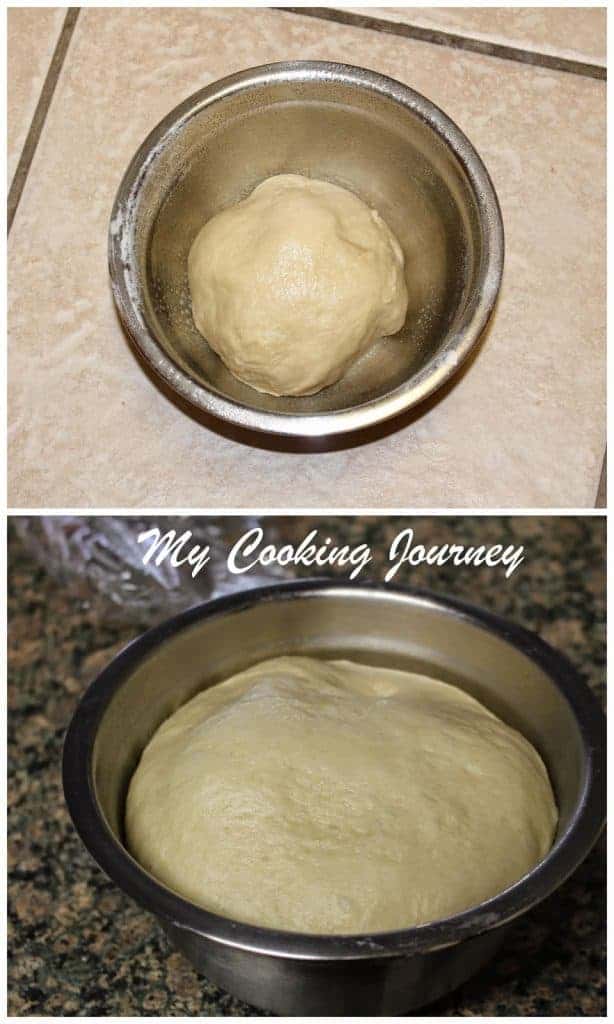 Shaping the Sweet Swirl Buns –
Grease a round baking tray with butter and keep it ready.
Once the dough has risen, punch it down gently and divide into 2 equal parts.
Working with one part at a time, divide it into 4 parts.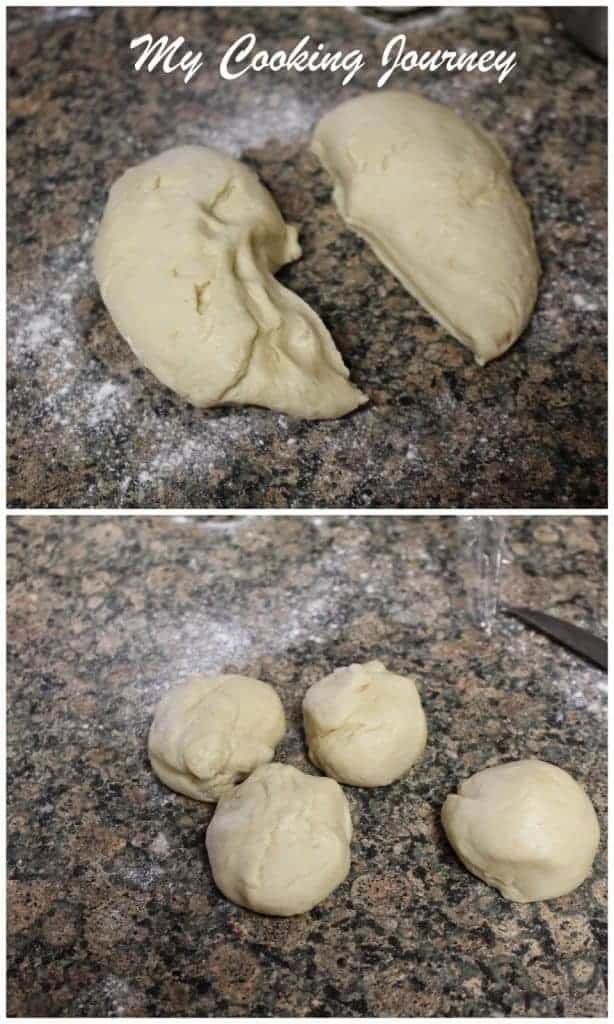 Roll out one part on a floured surface into a rough 5 – 6 inches circle.
Brush the circle with softened butter and sprinkle about ½ tbsp of sugar evenly over the whole dough. Move it to a side and repeat the same with the remaining 4 balls.
Layer the rolled dough disc one on top of another. Now roll them together in a jelly roll style into a tight roll.
Cut the log into 6 even pieces with a sharp knife and place them on the greased baking pan leaving a little space between each roll.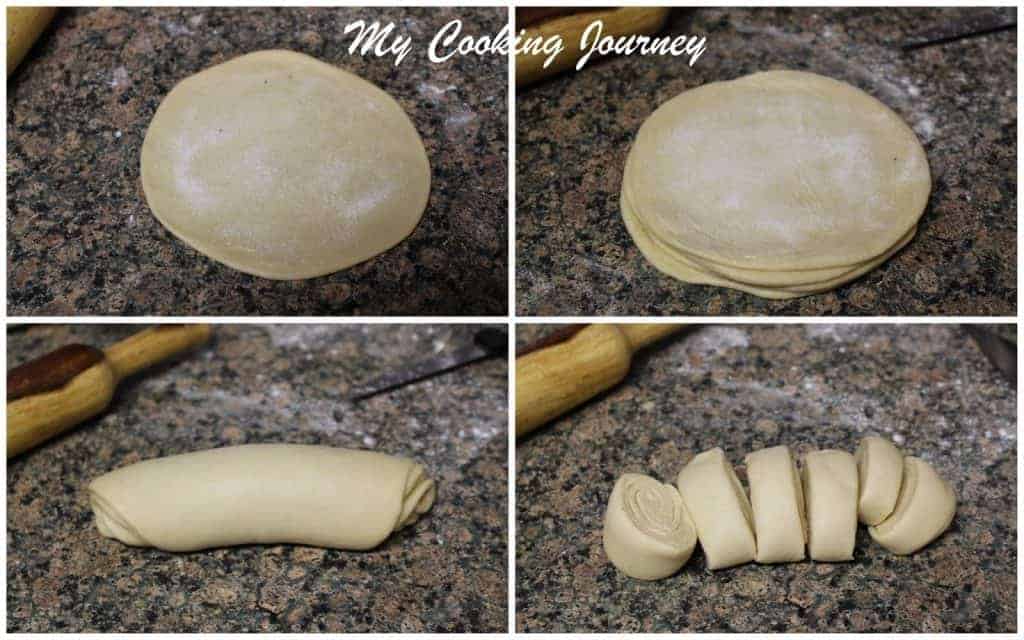 Repeat the same with the other half of the dough and in the end you will have 12 buns/rolls.
Cover the shaped buns and let it rise again for about 1 ½ hours. You will notice that once they rise, the buns are all puffy and occupy the whole baking tray.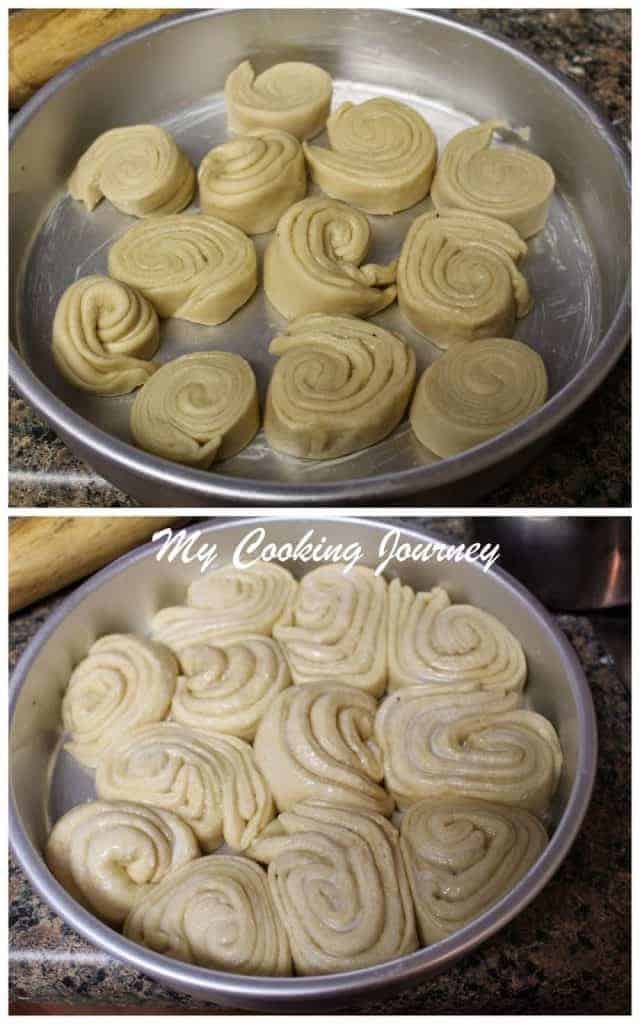 Baking –
Preheat the oven to 350 F.
Once the buns have risen, brush them with milk and bake for about 20 -25 minutes. Mine took exactly 25 minutes.
If you notice that the buns are becoming dark too quickly, cover the tray with aluminum foil and continue to bake.
Let the Sweet Swirl Buns cool in the pan placed on a rack and then peel away and enjoy!