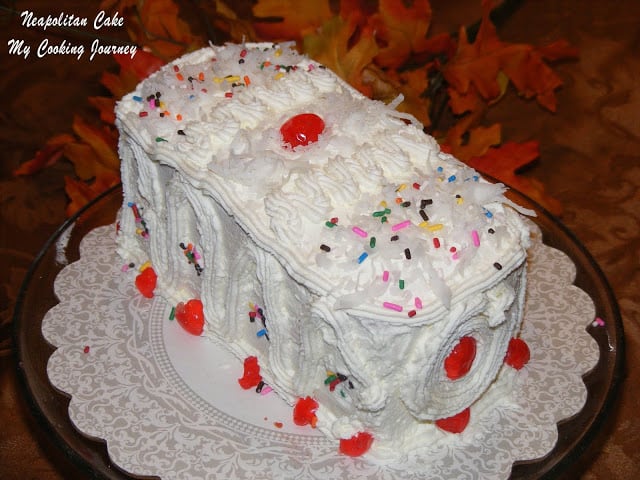 December is the month for baking cakes and cookies. Here I am with this month's challenge from the Baking partner's. We had three different cake recipes that we could choose from and I chose this particular Neapolitan cake for its very festive colors and theme. Also as this is my first challenge with the group, I wanted to try something new that I have never made before and this cake had few techniques that were new to me.
This recipe, The Neapolitan Christmas cake was suggested by Suja of
Kitchen corner
. Thanks Suja for introducing us to a great recipe. This recipe is from the 'Family
Circle-Best Ever Cakes and Cookies' Book. The recipe is a little bit time consuming, but trust me, it is a must try cake.
Preparation time – 30 mins
Cooking time – 30 mins
Difficulty level – Medium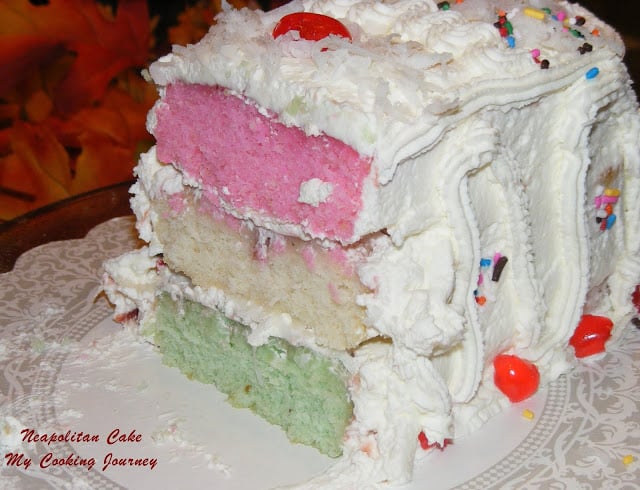 Ingredients to make Neapolitan Cake –
For the Neapolitan cake –
Cake flour(not self rising)- 1 cup * ( Substitution: see notes)
Ground almonds – ½ cup
Baking powder – 1 tsp
Salt – ¼ tsp
Egg whites – from 8 eggs (about 1 cup)
Cream of tartar – ¼ tsp
Granulated sugar – ¾ cup
Almond extract – ¼ tsp
Green and red food coloring – to get the preferred color in the cake batter
Notes *
Cake flour Substitute: For 1 cup cake flour: 2 tablespoon cornstarch + rest of all purpose flour/Maida.
Easiest way to make it is by putting cornstarch in a cup then fill up the cup with all purpose flour.
Filling and topping –
Corn starch – 2 tbsp
Heavy cream – 2 cups
Confectionary sugar – 2 tbsp
Strawberry jam – ¼ cup
Coconut flakes (sweetened) – ¾ cup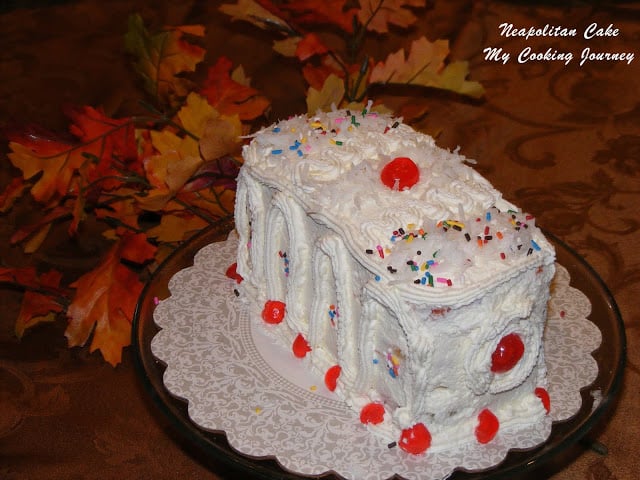 Procedure to make Neapolitan Cake –
To make the cakes –
Preheat the oven to 350 F. Coat three 8 ½ X 4 ½ loaf pans with non stick spray and keep aside.
To make almond flour – use about ½ a cup of blanched and skinned almonds and pulse it slowly in a food processor/chopper until you get a smooth flour. I bought a bag of blanched skinned almonds and used to make my almond flour. If blanching the almonds yourself, make sure that the almonds are really dry before pulsing it.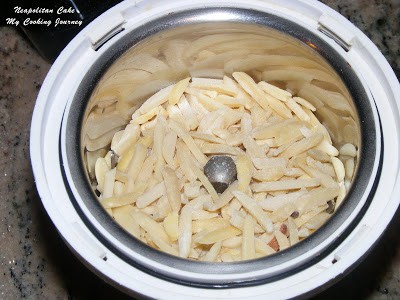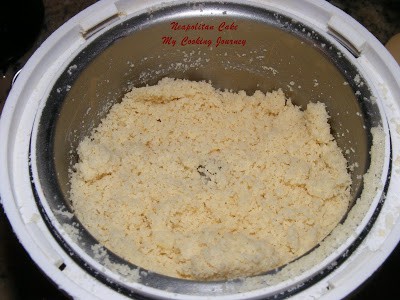 Whisk together the cake flour, almond flour, baking powder and salt.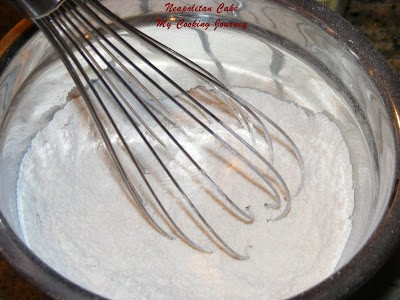 In a mixer, beat the egg whites until foamy. Now add the cream of tartar and beat it more. Now gradually add the granulated sugar to the egg whites and beat it in medium speed until stiff peaks form. A confession to make here – I have never beaten egg whites before and I had no idea that I had
to add the sugar really slowly, like about a tbsp at a time and beat it really well. My egg whites never formed any peaks. I still decided to proceed with it and my cake did come out quite well. So do not panic if you make the same mistake as me, but if you have never done this before, take some time to watch some tutorials of google.
Once the egg whites are beaten and peaks are formed, sprinkle half the flour and fold it in. Now add the remaining flour and fold it in gently. Now add the almond extract and slowly fold it in.
Divide the batter into 3 different bowls. Add the food coloring to 2 of the batter and mix it. Keep the third batter white. Pour the batter into the prepared pans and bake them for about 12 Min's. My cakes took
about 18 mins.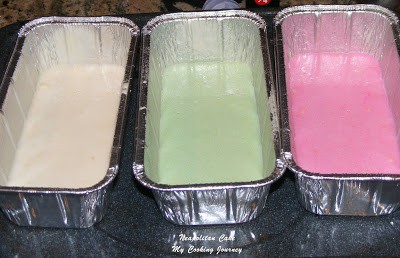 Keep an eye on them and test them for doneness. Invert the cakes onto wire racks and let it cool entirely.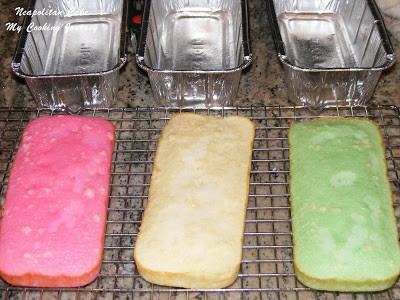 To prepare the filling and topping –
With a mixer on medium speed, beat the heavy cream until it thickens and becomes frothy
(about 2 mins). Now add the confectionery sugar and the corn starch and beat it until stiff peaks form (about 2 more mins).
It really helps to keep everything cold when making the whipped cream. Keep the bowl and whisk in the freezer fir about 10 mins to chill and also leave the heavy cream in the refrigerator until ready to whip.
The original recipe used gelatin to stabilize the cream, but since we don't use gelatin i used corn starch to stabilize. It worked great and my frosting held up really well.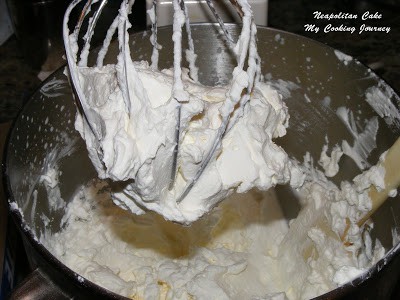 To assemble the cake –
Place the green cake on the platter and spread about 2 tbsp of strawberry jam evenly over the cake.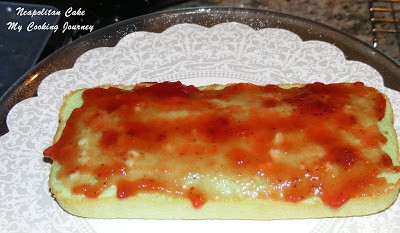 Now spread about 1/3 of the whipped cream and sprinkle with coconut flakes. Place the white cake on top of this and repeat the same process.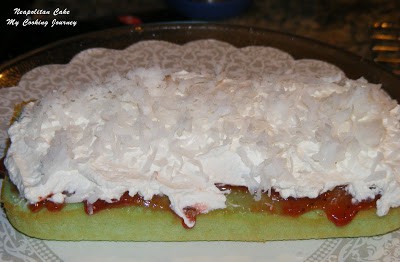 Then place the pink/red cake on top. Layer it with the whipped cream and cover the entire cake. Sprinkle the remaining coconut and decorate as you wish.
Refrigerate the Neapolitan Cake for about 45 mins to firm up the whipped cream and enjoy.