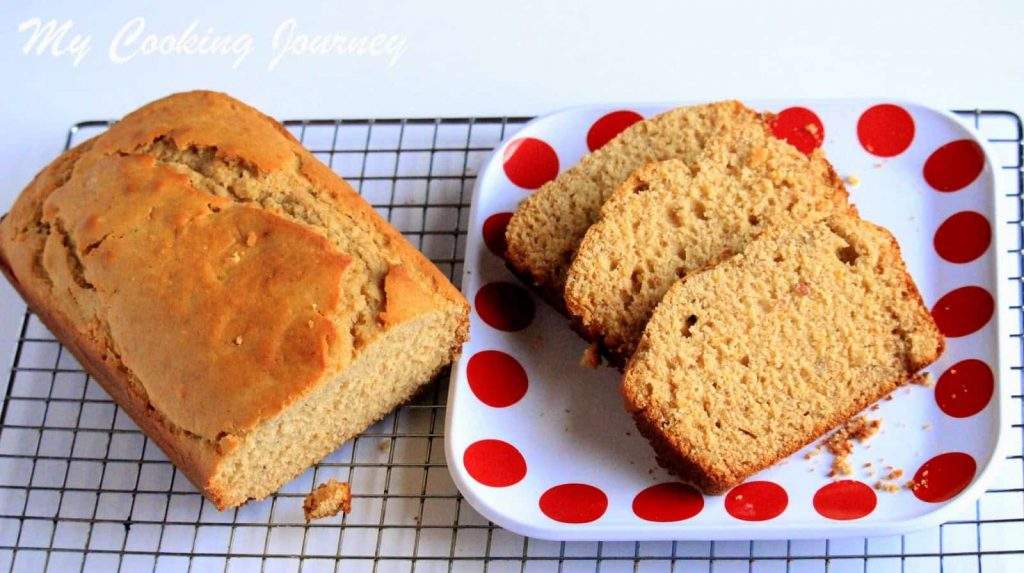 We are almost nearing the end of our mega marathon and I have to say this was the first month long marathon that I was quite relaxed and sort of well planned. I had a clear idea about what kind of bakes I wanted to do and my bakes mostly included breads and dinners. I did have empty spaces every here and there in my list and the last week was pretty much empty.
The Honey Nut Bread that I made today was planned in the morning, baked in the afternoon, pictured in the evening and drafted at night. It is a very simple loaf with simple flavors. I love to use honey in the bakes as a sweetener and this bread is made only with honey. Recently I had been to the local farmers market and I saw this recipe in one of the local honey farm's booth. I did make few changes to the recipe and used a bit of whole wheat flour along with the regular flour. The texture of the bread was really good and I am going to be using 50 % whole wheat flour next time.
The bread has heavy tones of honey flavor. The orange zest helps a lot to lower the flavor, so I would highly recommend using some sort of citrus zest to cut down on the heavy honey flavor. Also I used finely chopped almonds in the recipe to bring some crunch.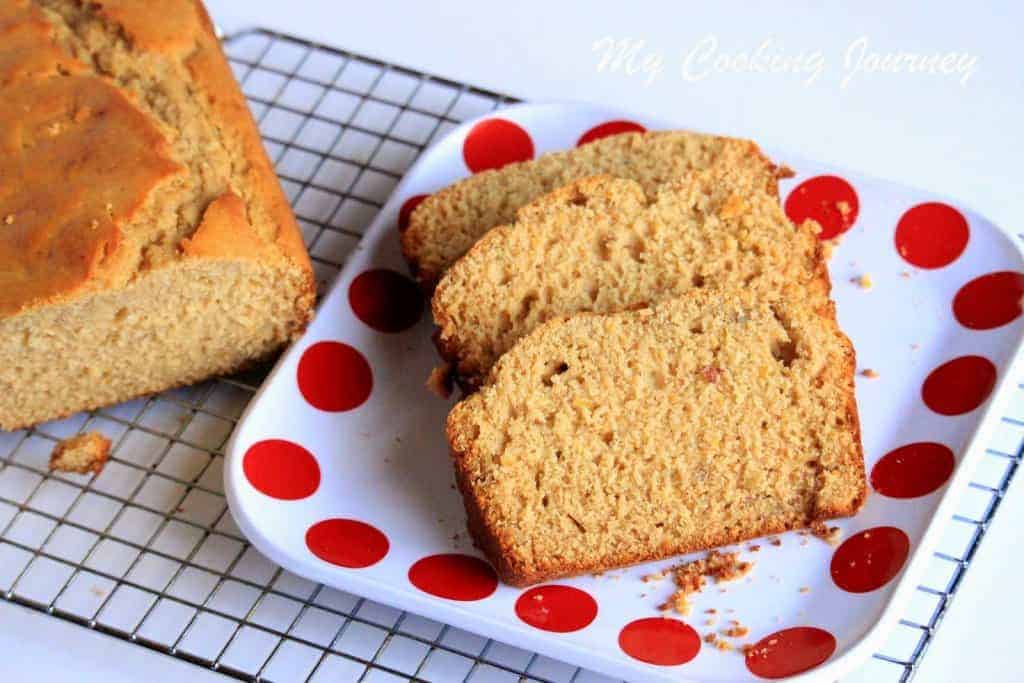 Preparation time – 10 minutes
Cooking time – 50 – 60 minutes
Difficulty level – easy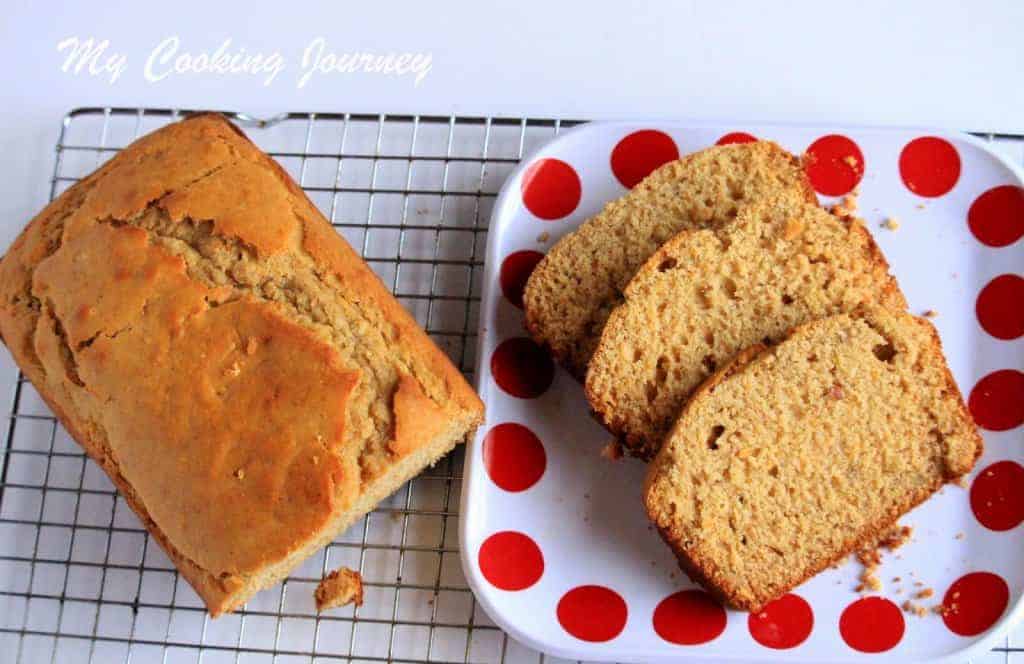 Ingredients to make Honey Nut Bread – Makes 1 loaf (9 x 5)
All purpose flour – 2 cups
Wheat flour – ½ cup
Baking Powder – 3 tsp
Salt – ½ tsp
Honey – ¾ cup
Butter (unsalted) – ¼ cup (melted)
Milk – 1 cup
Egg – 1 large
Orange zest – 1 tsp
Almonds – ½ cup (finely chopped)
Procedure –
Preheat the oven to 350 F. Grease and flour a 9 x 5 loaf pan.
In a large bowl combine the egg, milk, honey and orange zest and mix well. I used a whisk to combine everything together.
In another bowl, sift the flours, salt and baking powder.
Add the dry ingredients to the wet ingredients and mix until smooth.
Add the nuts and stir to combine.
Pour the batter into the prepared loaf pan. Bake for 50 – 60 minutes or until the tooth pick inserted in the center comes out clean. It took about 55 minutes for me.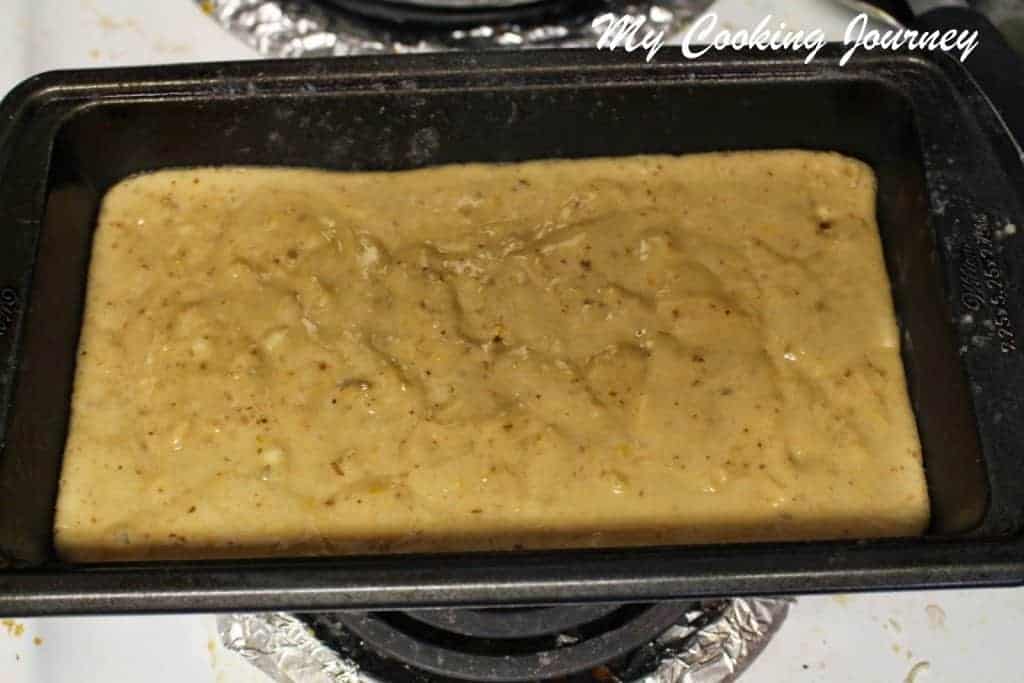 Cool the Honey Nut Bread on a rack completely before slicing.