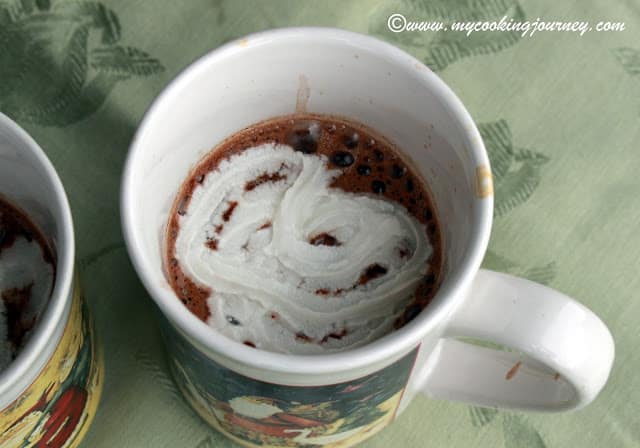 The weather has taken a turn and it has become chilly. The summer weather has spoiled us and all of sudden when the fall kicked in, it makes us realize that winter is around the corner and we need to get ready for it. Last couple of days has been quite chilly with no sunshine and this hot chocolate as an after school drink was perfect to warm up the little ones before they got ready for their evening drill.
I usually take the easy way out and make hot chocolates from mix. I had bookmarked this recipe from the Food 52 site for this week's blogging marathon, but was not sure if I was going to make it. When the weather appeared very gloomy last evening, I decided this is what I was going to give my kids when they came back from school. I had measured out all the ingredients and kept it ready to make t as soon as they came home. When the chocolate was melting, the aroma reached my little one's nose who is huge chocolate lover (taken over his father) and he didn't have patience since then to wait for it to be done.
When I told him that I had to take pictures before he would drink it, he got really upset and kept whining all along. Finally I took just few pictures and had to give in to his whine. But the moment he had his first sip, his face brightened up and he announced that he loves it. That is when I realized that it is so easy to make the hot chocolate from scratch and we can always control the amount of sugar that went into it.
I used semi sweet chocolate chip morsels and it was so handy and easy to use for the recipe. It melted very quickly and it saved me time by not having to shave/chop the chocolate. Make sure you use good quality chocolate and cocoa powder.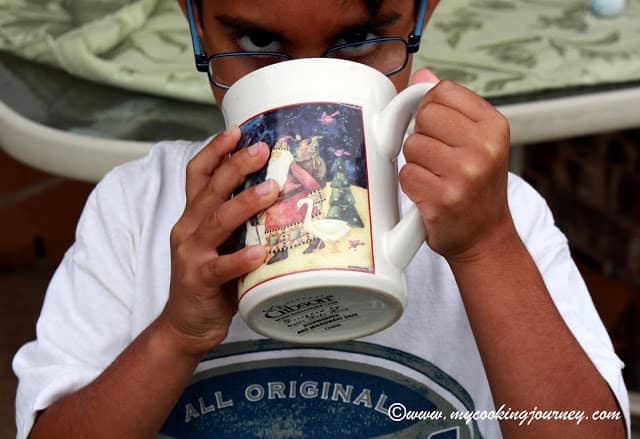 Preparation time – 5 minutes
Cooking time – 10 minutes
Difficulty level – easy
Recipe adapted from – Food 52
Ingredients to make Hot Chocolate – Serves 2
Milk – 2 cups (I used 2 % milk)
Semi sweet chocolate or chips – 2 oz
Cocoa powder – 2 tbsp
Sugar – 4 tbsp (more or less as per your taste)
Salt – ¼ tsp
Whipped cream – to top (optional)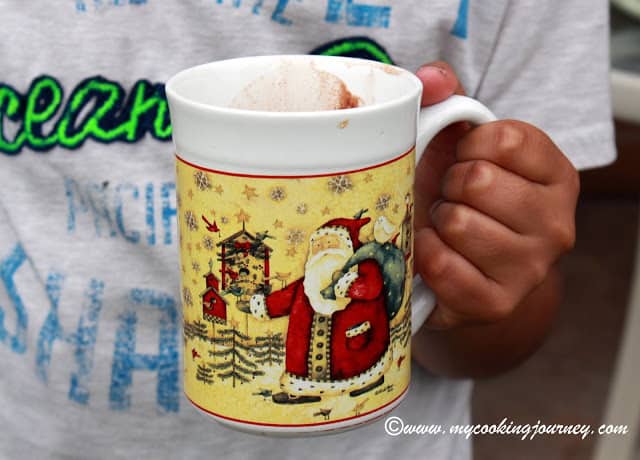 Procedure –
Add about a cup of milk in a sauce pan and add the chocolate chips and cocoa powder. Heat it gently and keep stirring to melt the chocolate.
Add sugar, salt and the rest of the milk and heat it until the desired temperature is reached. I only heated it mildly as my kids were too impatient to wait for it to cool. If I was making it for us, I would have let it come to the boiling point and then served.
Top with whipped cream and serve!