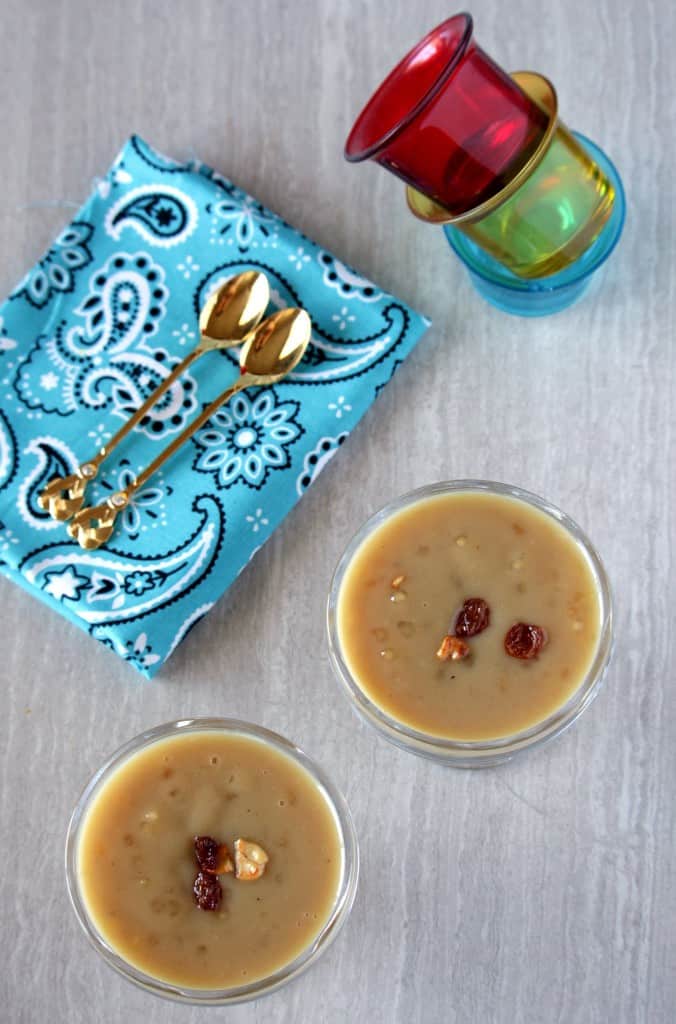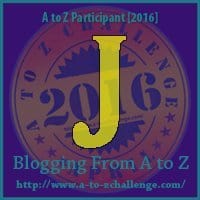 Even before I talk about the recipe or the choice for today, I have a confession to make. I have never made Jevvarasi payasam in my life though it is one of my favorite. I have to say, I have made it several times and failed miserably. Usually I either cook the jevvarasi too much to make it all dissolve or curdle the milk and most of the time, I do both.

My amma, patti, attais, friends and fellow bloggers have given many suggestions to make it right, but I just could not. When I was choosing a recipe for the alphabet J, I was sort of stuck on making something with jevvarisi. Even though it is a highly processed ingredient, I like few things made out of it like jevvarisi vadam, jevvarisi upma, jevvarisi vadai and most importantly this payasam. The only thing I have successfully made before with amma's help is the jevvarisi vadam. We both made the vadam 3 years back when she had come here.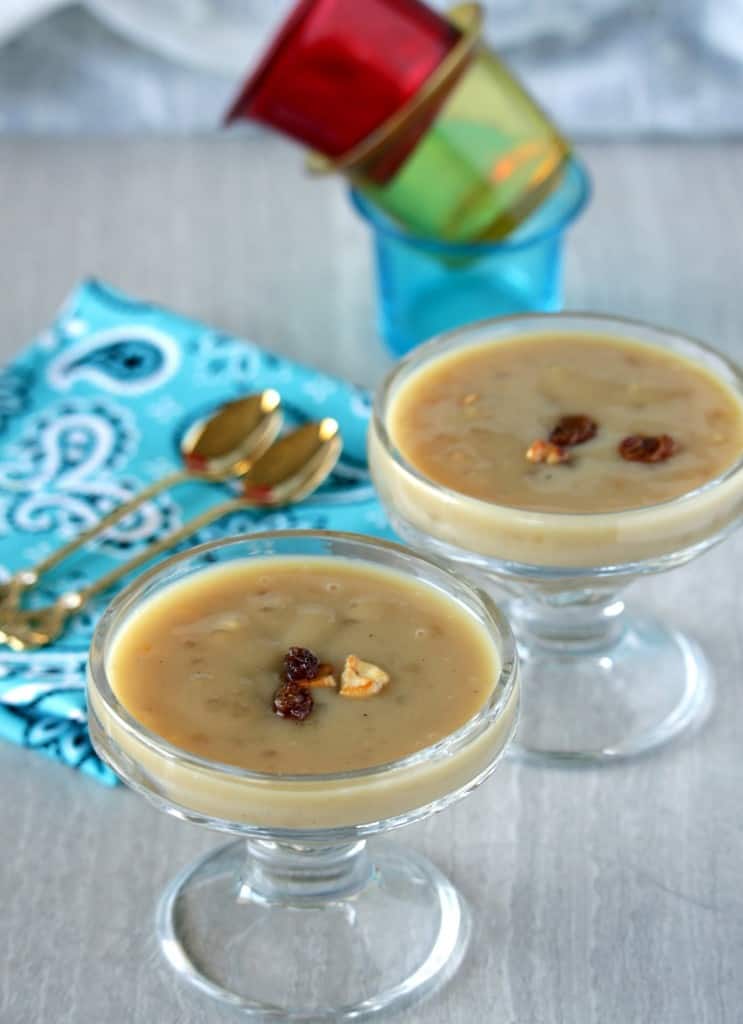 I was thinking of making it, but the weather is still quite cold. I will definitely be making it this summer though to make the best out of Oklahoma's hot summer. But for now, I had to choose some other recipe. The jevvarisi vadai and upma are more Maharashtrian origin and made commonly during the fasting days. Jevvarisi payasam is something I ate growing up and I used to love it. Even now when I go to India, I ask my patti or attai to make this payasam as I have never made it here.
I had to make this payasam work this time and hence I chose the vegan (almost vegan) route and used coconut milk. I am little comfortable with coconut milk, because I know that I won't curdle it as easily as regular milk. Since I was using coconut milk, I chose to add jaggery instead of sugar. It was a wonderful choice and I love the earthy flavor of jaggery along with the coconut milk. Unfortunately, because of my failures, my kids have not developed a liking for this payasam and they were not too keen on the texture of this payasam.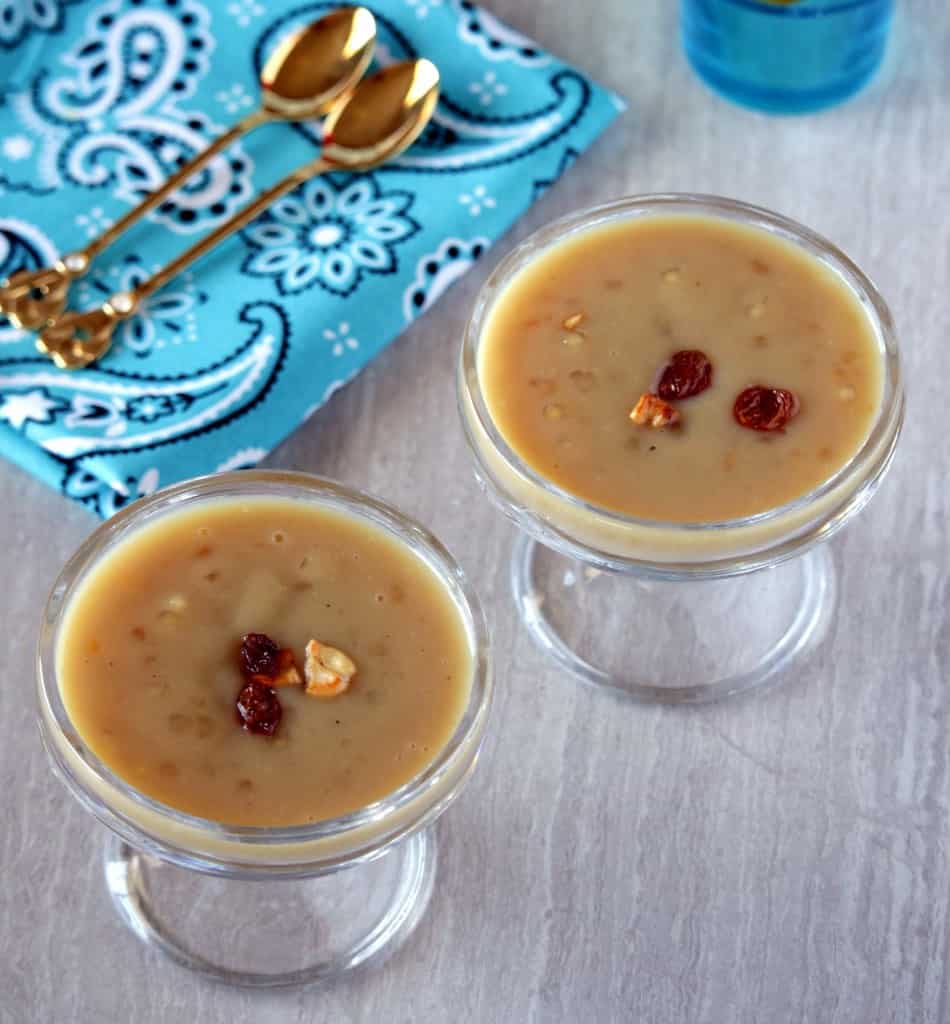 My other recipes from this series –
A – Athirasam
B – Badam Burfi
C – Chettinad Masala Cheeyam
D – Dosai Milagai Podi
E – Ellu Urundai
F – Fruit Kesari
G – Godhumai Rava Pidi Kozhukattai
H – Homemade Rice flour
I – Inji Marappa
Preparation time – 10 minutes
Cooking time – 40 minutes
Difficulty level – easy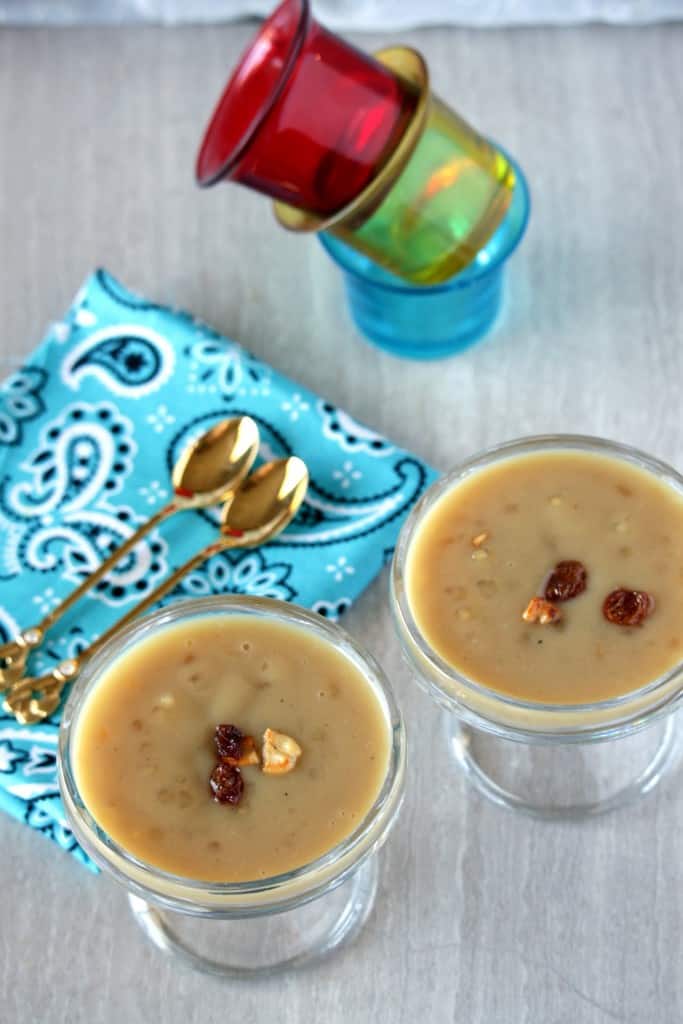 Ingredients to make Jevvarisi Payasam – Serves 4
Jevvarasi / Sago / Sabudana – ½ cup
Jaggery – ½ cup
Coconut – ¾ cup (grated) or about 2 cups of coconut milk
Cashews and raisins – few
Nei / ghee – 2 tsp
Cardamom powder – ¼ tsp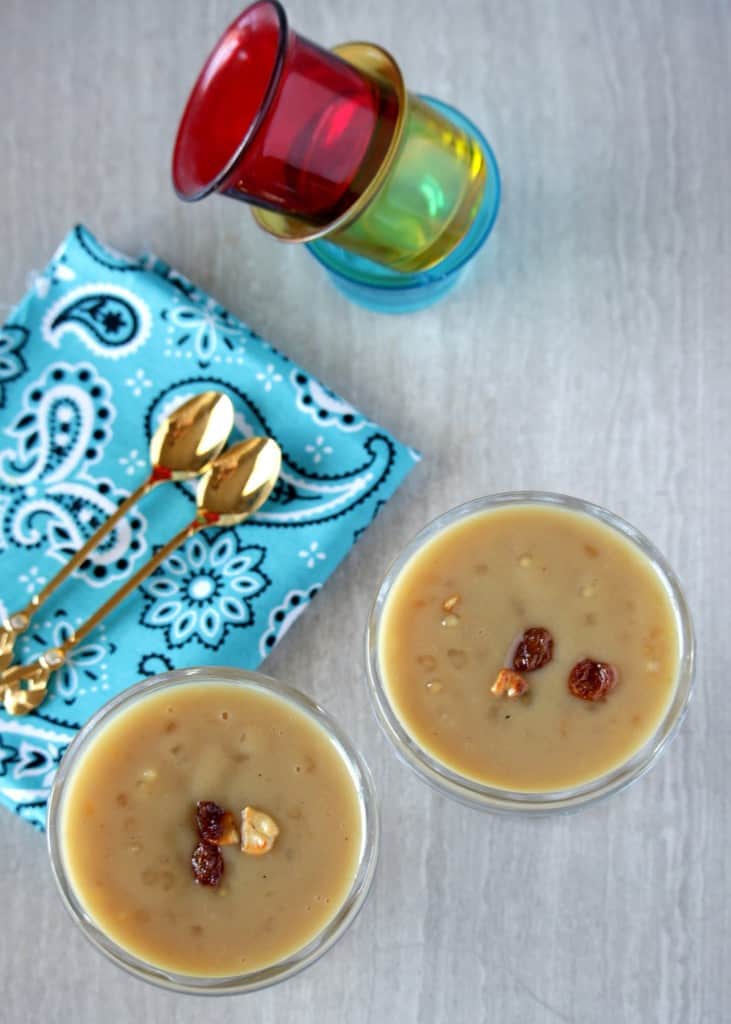 Procedure to make Jevvarisi Payasam –
To make coconut milk – In the blender, add the coconut and ¾ cup of water and grind well. Strain the coconut in a fine mesh strainer. This will be the first milk / thick coconut milk. Now return the ground/squeezed coconut to the blender and add about ¾ cup of water again. Grind it well and strain once more. This will be the second milk / thin coconut milk.
In a heavy bottom pan, add the ghee and fry the cashews and raisins until golden brown. Remove them on a plate.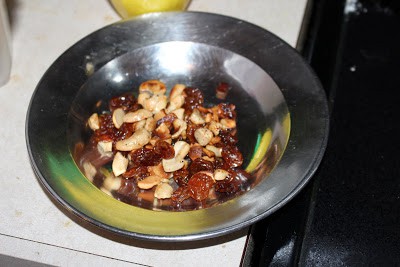 In the same pan, add the jevvarasi / sago and fry it for about 2 to 3 minutes until it puffs up slightly.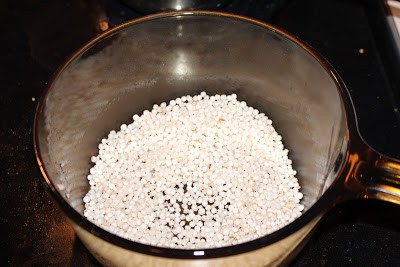 Add the jaggery and about ½ cup of water in a pan and make syrup. Strain
the jiggery if there is impurity and keep it ready. It is not important
for the syrup to thicken.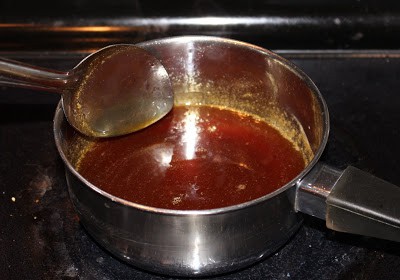 In the meantime, boil about 1 ½ cups of water to a rolling boil. Slowly add this boiling water to the fried sago and mix.
Cook the jevvarasi in medium flame until it is very soft and appears transparent on the edges. By experience if I let the sago become translucent entirely, it becomes very mushy and loses the shape. So I cook it only until it start to become transparent on the edges.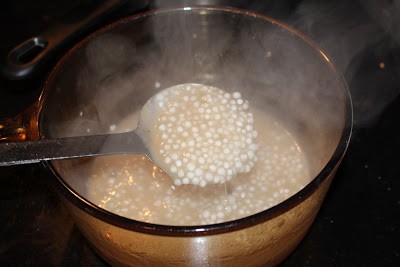 Now add the jaggery syrup to the cooked sago and cook for 5 more minutes.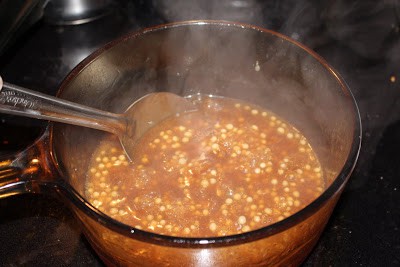 Turn the flame to low and add the second / thin coconut milk. Boil the payasam for about 5 minutes.
Now add the cardamom powder and the first / thick coconut milk. Simmer for one more minute and turn off the flame. Garnish with the fried cashews and raisins and serve.
Notes and Observation –
Cooking the sago is a challenge. I have many times cooked it too much and made it into mushy mass rather than having pearls. This time, I made sure I cooked it only until it becomes transparent along the edges. So this way it cooked further with the jaggery and coconut milk and came to the right consistency at the end.
I am very scared to use regular milk with jevvarasi as I have always curdles the payasam (I have tried for years using many techniques). The fear of curdling is low when using coconut milk. Just make sure you always cook in low flame after adding the coconut milk and not to boil long after adding the first milk.
This is a vegan version of the payasam. Instead of frying the cashews and the raisins in the ghee, use coconut oil.