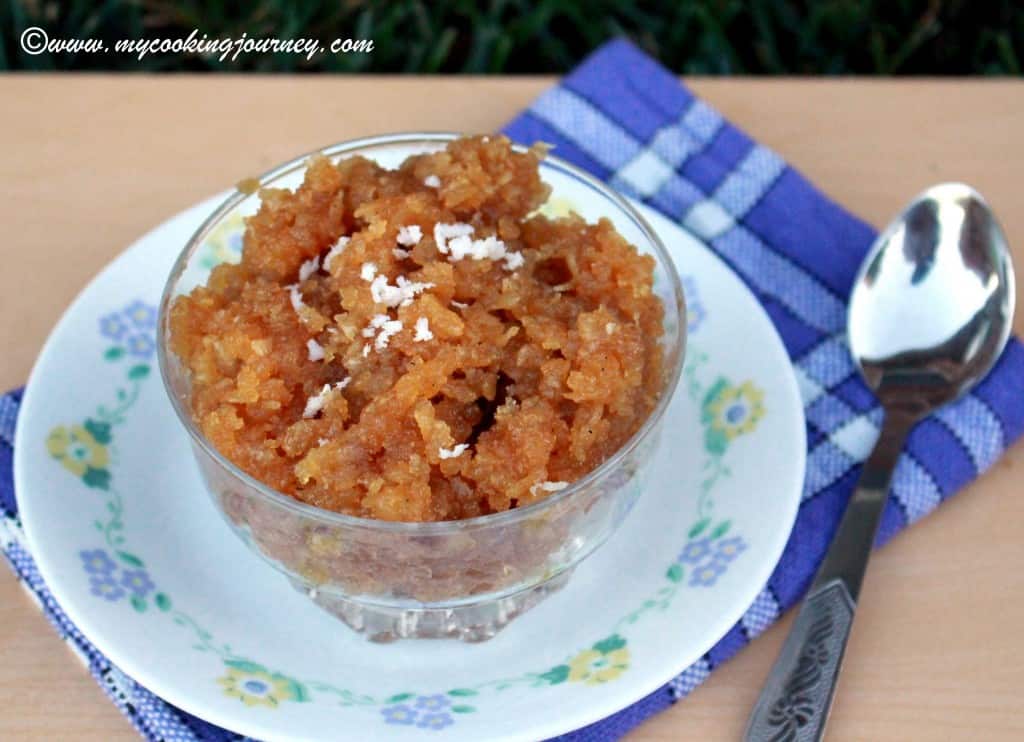 Navarathri is in full swing and we are having lot of fun having people over and also visiting others golu. On the days when I have friends for dinner, the menu is elaborate. There are days in between when it is quiet and I make something simple for neivedhiyam. One such simple recipe is this vellam aval suggested by my mother to make as neivedhiyam along with sundal. I already have a no cook version of vellam aval in the blog that is my all time favorite. This recipe is a little more elaborate, but worth the effort.
Blogging has really been taking a back seat for a while now as it is crazy with all the festivals and Diwali practices for the kids. I am hardly finding time to sit and write even though all my dishes are cooked and photographed. My last week's theme for BM was desserts and this is the third recipe I made for that. I am a little late posting it, but did not want to miss on the fun and hence posting it a week later.
After a long break, I participated in the Shhhhh Cooking Secretly challenge. This month my partner, Amrita Iyer who blogs at
The Food Samaritan
gave me two ingredients – Coconut and Cardamom, to work with. I used both the ingredients in this recipe. Thanks Amrita for choosing two festive ingredients to work with.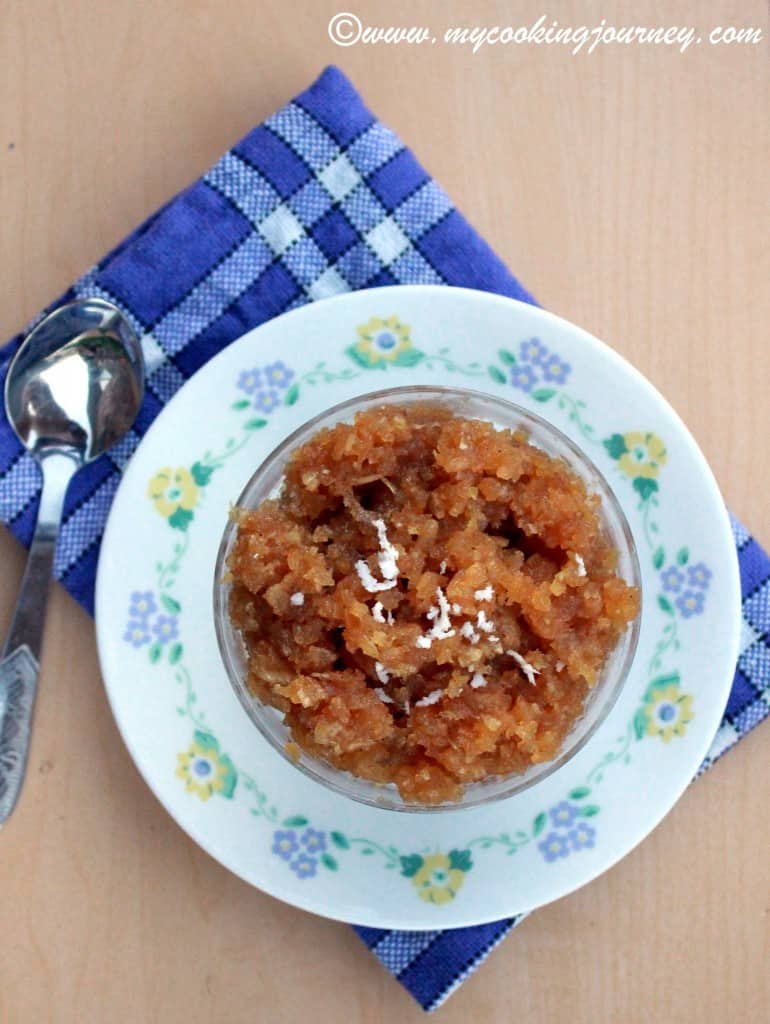 Preparation time – 15 minutes
Cooking time – 30 minutes
Difficulty level – easy
Ingredients to make Vellam Aval – serves 4
Aval / poha / Beaten rice flakes – 1 cup
Jaggery / vellam – ¾ cup
Coconut – ¼ cup (grated)
Cardamom powder – ¼ tsp
Ghee – 2 tbsp
Cashew nuts – few (optional)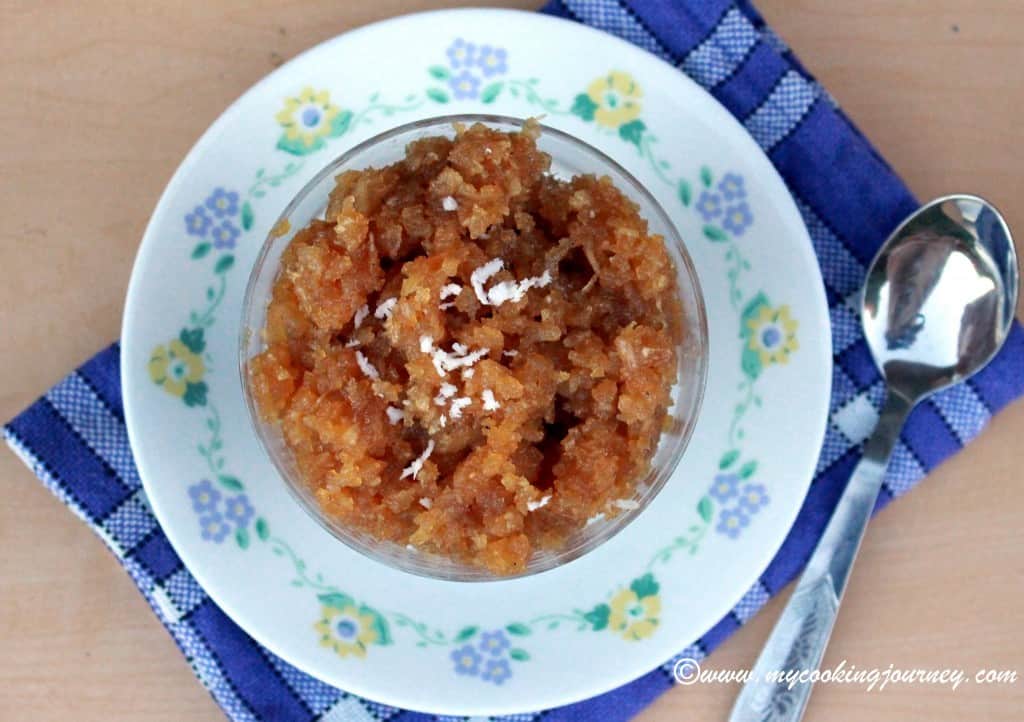 Procedure –
Wash the poha / aval well in running water couple of times and then drain the water entirely. Let it sit for about 10 minutes to soften a bit. I used thin poha and hence it became soft very quickly. If using thicker variety, you might want to sprinkle some water every now and then and let it soak a little longer.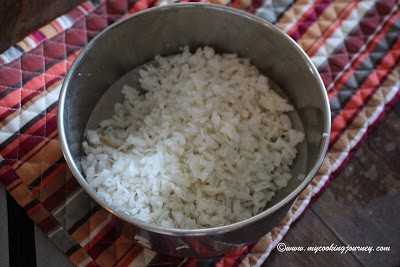 If using cashew nuts, heat a pan with about a tsp of ghee and then roast the cashews. Remove it and keep aside.
Measure the jaggery in the same pan and add just enough water to cover the jaggery. I added about ¼ cup of water. Let the jaggery melt and come to a boil. If needed strain the syrup and then bring it back to boil. Make thick syrup out of the jaggery. There is no hard and fast rule of how thick the syrup should be. If it is thick syrup, there is less stirring after we add the aval / poha, but there is no going wrong in the recipe.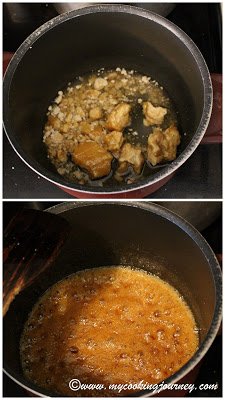 Now add the grated coconut and the softened aval / poha to the syrup and stir well to coat. Add the cardamom powder and mix well. The mixture will liquefy a bit and then will begin to thicken again. Add the ghee and stir until the mixture starts to leave the sides of the pan.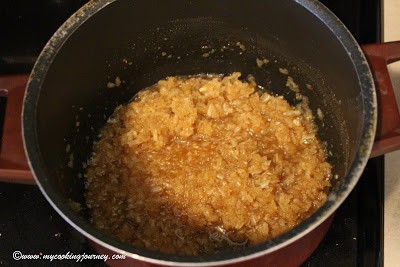 Turn off the flame and garnish with cashews and roasted coconut (optional).