It was my husband's star Birthday yesterday and I was aware of it only in the morning when my MIL calls from India to wish him. I absolutely had no idea what special to cook. Also, my day was packed with kids activity and I had no time to do anything fancy. That's when my mother as a lifesaver mentioned over the phone that she had few carrots in the house and had made carrot kheer. Tada, I got the idea as to what to make for the evening. My kids loved it and had couple of cups of the kheer down their tummy even before my husband got to it. So here's the recipe for a very simple carrot kheer, which can turn out to be your pleasant surprise for any occasion.
Preparation time – 10 mins
Cooking time – 30 mins plus time to pressure cook the carrots
Difficulty level – easy
Ingredients to make Carrot Kheer -
Carrot – 7 or 8
Milk – 3 cups
Evaporated milk – 1 can (optional)
Sugar – 1 cup (or as per taste)
Saffron thread – few
Cashews & raisins (fried in ghee) – 2 tbsp (Optional)
Procedure –
Peel the carrots and cut them into small slices. Pressure cook the carrots until cooked (3-4 whistles) with about 1 cup of milk.
Once cooked, let it cool down a bit and then grind it into smooth puree using an immersion blender. If using regular mixer grinder, wait until the carrot/milk mixture has cooled down considerably. (You would not want a full kitchen clean up)
Transfer this puree to a heavy bottom pan and return it to flame. Add the sugar and mix it well.
Now add the evaporated milk and the remainder of the milk and let it come to a boil. Then simmer it for about 15 mins.
Meanwhile, dissolve the saffron strands in a little bit of warm milk. Once the kheer simmers, add the dissolved saffron thread and take it off the flame.
Garnish with the nuts.
Serve cold!!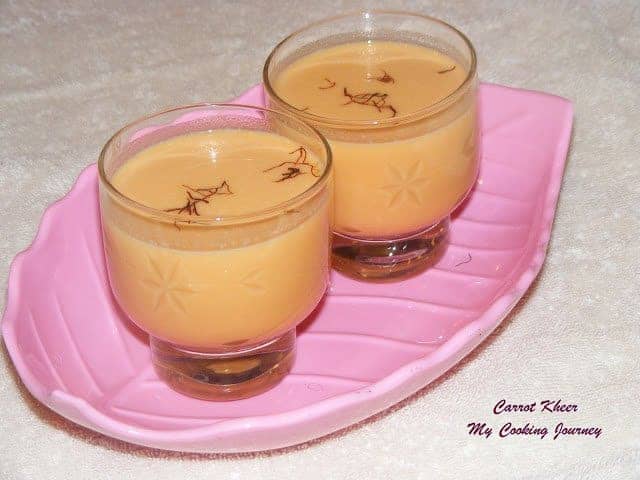 Notes and observations -
Evaporated milk adds a subtle richness to the kheer. If unavailable add about a cup of milk more to the already mentioned amount.
I did not add any nuts to the kheer, since I prefer clean flavors in my dishes.
Also if preferred cardamom powder can be added, but again it would meddle with the flavor of the carrot and hence I avoided it.