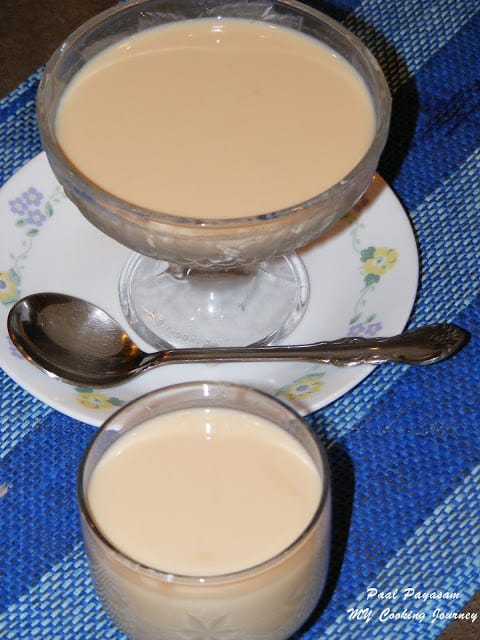 In my book of recipes, paal payasam/Rice pudding belongs to the meal for the kings. I love paal payasam and I keep it very simple and basic with just 3 ingredients. The earthiness of the rice with the purity of milk makes this a heavenly dessert.
Last night after dinner, I was casually telling my husband how stuffed I was and that's when he asks me how I am going to have the paal payasam when I am so stuffed. I replied to him that I always have place in my
tummy when it comes to paal payasam. He laughed and told me this story of Tenali Raman who is known for his wits and intelligence. The story goes like this…Tenali Raman was invited for a feast in the kingdom and he ate a large meal. After meal the king asked him if he would be able to have the paal payasam since he ate so much.
Tenali Raman astonished the king by drinking a huge portion of the payasam. When the king questioned him how he was able to do it in spite of having such a large meal, Tenali Raman replied to the king, Your majesty, when you are walking in the streets, people make way for you leaving whatever they are doing. The same way my stomach makes way for the king of the food which is the Paal payasam. I was so happy that this story indeed did justify my feeling that this payasam is the king of food.
The method I follow to make the payasam is the cooker method. This method ensures that the payasam has that condensed feeling that you only get when it is cooked for a long time over the flame.
Picture showing the deep pink color of the payasam against the regular milk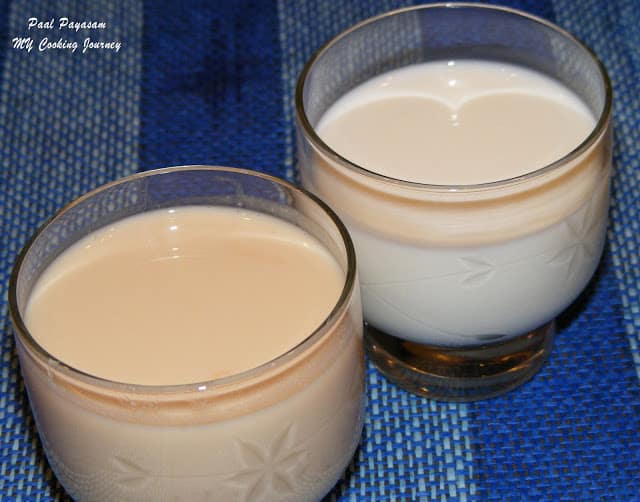 Preparation time – none
Cooking time – 1 hr
Difficulty level – easy
Ingredients to make Rice pudding – makes around 5 cups of payasam
Milk – 6 cups
Rice – ¼ th cup (washed)
Sugar – 1 cup
Procedure-
Wash the rice and add to a large stainless steel vessel that can be placed inside the cooker. In the same vessel measure and add the milk.
Now place this inside a cooker and place the whistle. Keep the heat on high and let it build pressure. Once you hear one whistle reduce the flame entirely and leave it simmer for 30 more mins.
At the end of 30 mins, turn off the heat and let the pressure release in the cooker.
Once the pressure is released, transfer the payasam to a non stick pan and then add the sugar. Mix it well and cook it further for 30 more mins, stirring occasionally.
You would notice that now the payasam is deep pink in color and it would taste like it has been cooked for several hours.
Enjoy the Rice pudding as is or if you prefer you could garnish with some nuts and raisins.