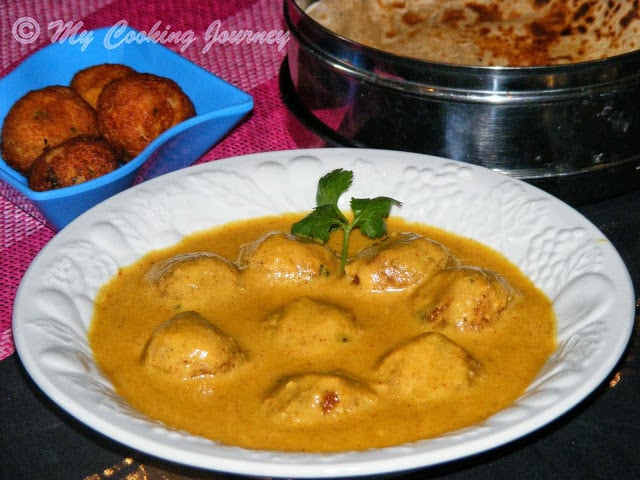 This week we are beginning our usual three day marathon with a specific theme each week. My theme for the week is cooking recipes of my Favorite Celebrity chef. All three days it has to be a different chef. It is going to be so hard for me to choose the three I really like because I have quite a few favorites. The first chef I chose is Chef Sanjeev Kapoor. I loved watching Khana khazana even as a young girl and I still do. He is one chef that I can never grow tired of.
This recipe has been in my recipe book for a very long time and I have just made it once or twice before. I made this today after a very long time and I was wowed by its flavors. I think I wrote this recipe from one of his TV show episodes. The procedure is little lengthy but the flavors are very clean and simple. Earlier I have made the mistake of dropping the fried koftas in hot gravy and I have seen it disappearing right in front of my eyes. Now that I am slightly more refined, I keep my koftas and gravy separately and just before serving add it to the warm gravy.
This kofta after frying freezes very well. To bring it back to life, just heat it up in the oven and then add it to the gravy. I freeze any left over koftas and on days when I have a little excess gravy (from any subzi), I add this koftas to it. Also I have changed the recipe a little bit here and there. I have noticed in the past that the gravy is never sufficient. So I have included tomatoes in the recipes which are not a part of the original recipe. Also I replaced one potato with a sweet potato. Adding sweet potato made the koftas a little bit sweeter which we loved.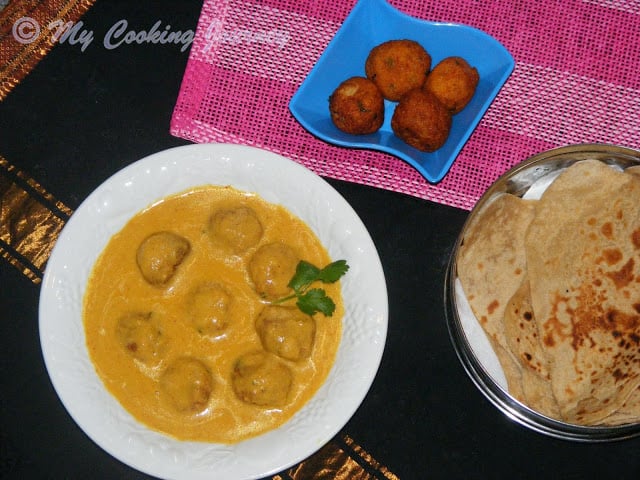 Preparation time – 20 mins
Cooking time – 1 hr 30 mins
Difficulty level – medium
Ingredients to make Kofta Noor Jahani – Serves 6-8
To make the koftas –
Potato – 1
Sweet potato – 1 (if not available use 1 more potato)
Paneer – 200 gms (grated)
Green chilies – 2 (finely chopped)
Cilantro – a handful (finely chopped)
Corn flour – 2 tbsp
Raisins – ¼ cup
Salt – to taste
Oil – to deep fry the koftas
For the gravy
Onions – 3 large
Ginger garlic paste – 1 tbsp
Oil / butter – 3 tbsp
Turmeric powder – 1 tsp
Chili powder – 1 tsp
Garam masala – 1 tsp
Cashew nuts – ¼ cup
Tomato – 2 large
Fresh cream – ½ cup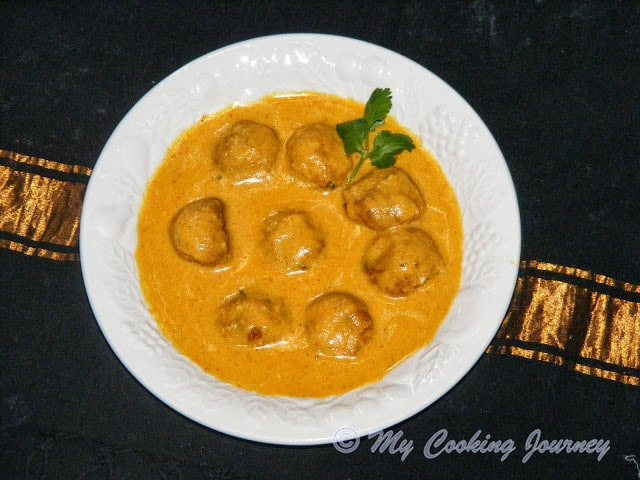 Procedure to make Kofta Noor Jahani –
To make the koftas –
Boil the Potato and sweet potato, peel them and mash them. Grate the paneer and add it to the mashed potato.
Add chopped green chilies, cilantro and salt to the mixture. Also add the corn flour and mix it to form smooth dough.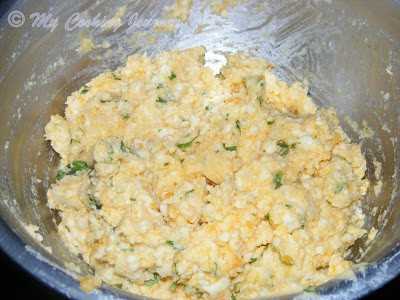 Make small balls out of the dough and stuff each of the balls with 2 or 3 raisins. Close the balls and keep it aside.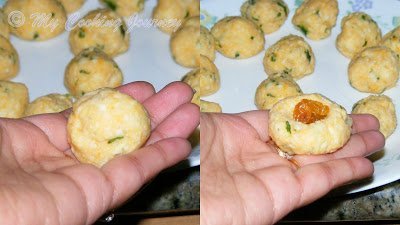 Heat sufficient oil in a pan and deep fry these koftas until they are golden brown. Add only 3-4 koftas at a time when frying. Overcrowding the pan lowers the temperature of the oil and koftas could break apart.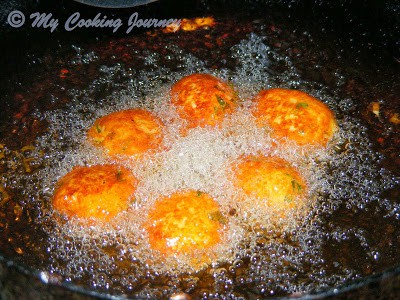 Drain them on a paper towel lined tray and keep aside until ready to serve. Also the koftas could be kept warm in the oven until ready to serve.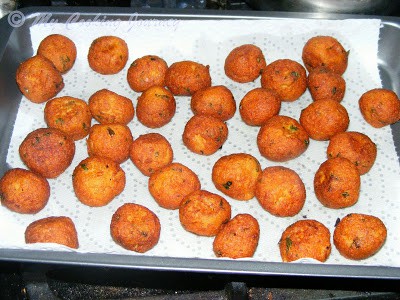 To make the gravy –
Chop the onions into quarter and cook it in a pressure cooker until mushy with just ¼ cup of water. Once cooled a bit grind it into a smooth paste.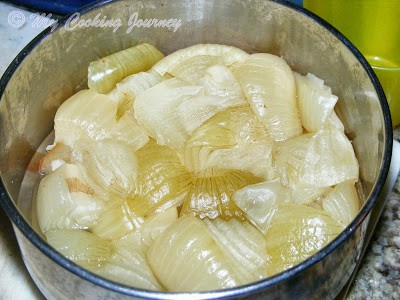 Soak the cashews in warm water for about 15 mins. Grind it into a paste with the tomatoes and keep aside.
In a wide pan, add the oil/butter and heat it. Add the ground onion paste and sauté till the onions are pink.
Now add the ginger garlic paste and continue to sauté.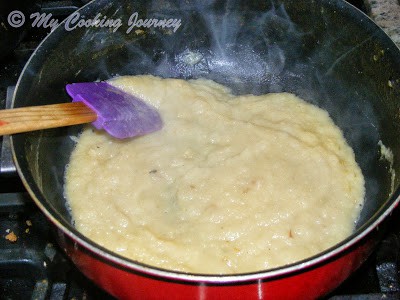 Add the turmeric powder, red chili powder and cook for 2 more minutes.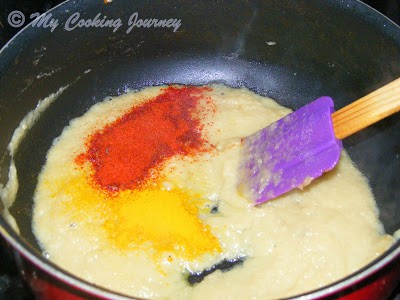 Now add the cashew-tomato mixture and sauté it till the oil floats on top. At this stage the gravy would be thick and bubbly, so stir constantly to avoid it from sticking to the pan.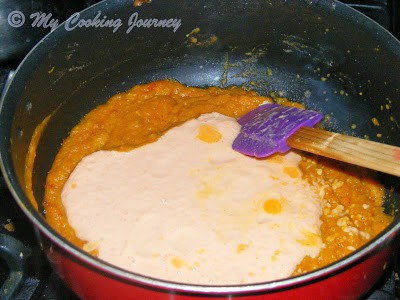 Now add the salt, garam masala and a cup of water and simmer for about 10 mins.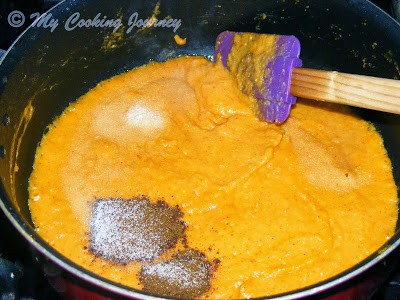 Add the cream and heat it through. Do not let it boil after adding the cream.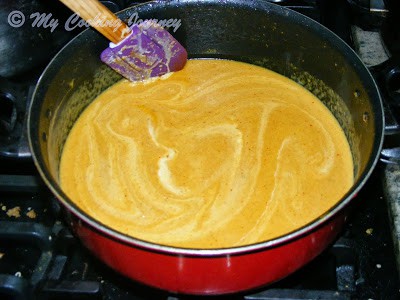 To serve –
When ready to serve, place the koftas in the serving dish and add the warm gravy on top. Add just enough gravy to immerse the koftas.
Serve the Kofta Noor Jahani with parathas or rice!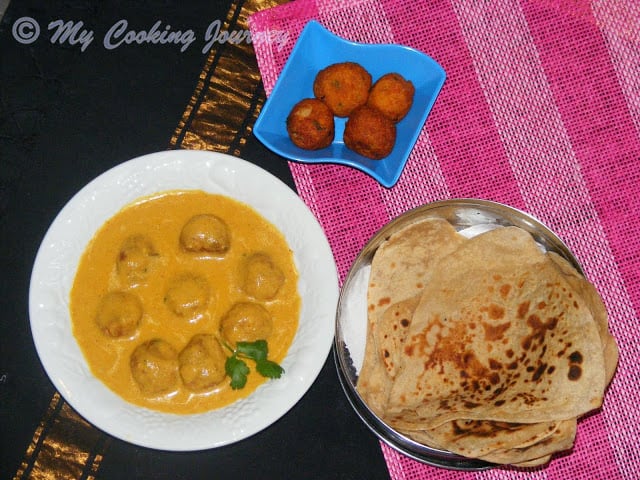 Check out the Blogging Marathon page for the other Blogging Marathoners doing BM#33