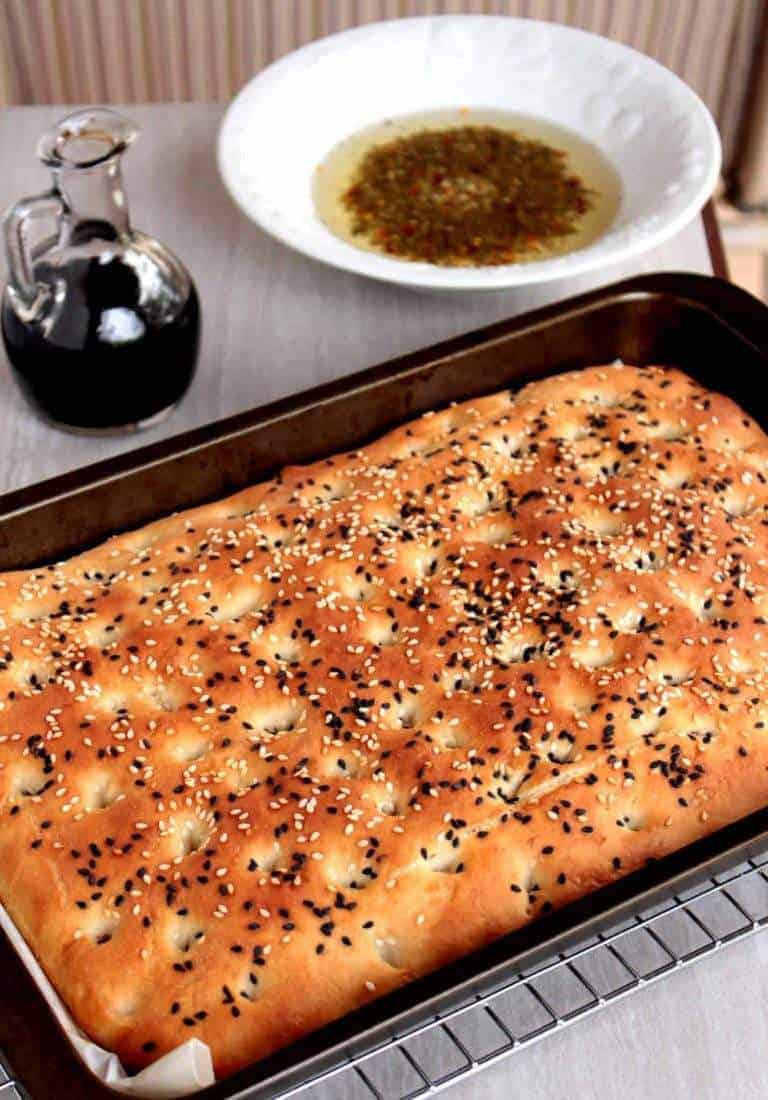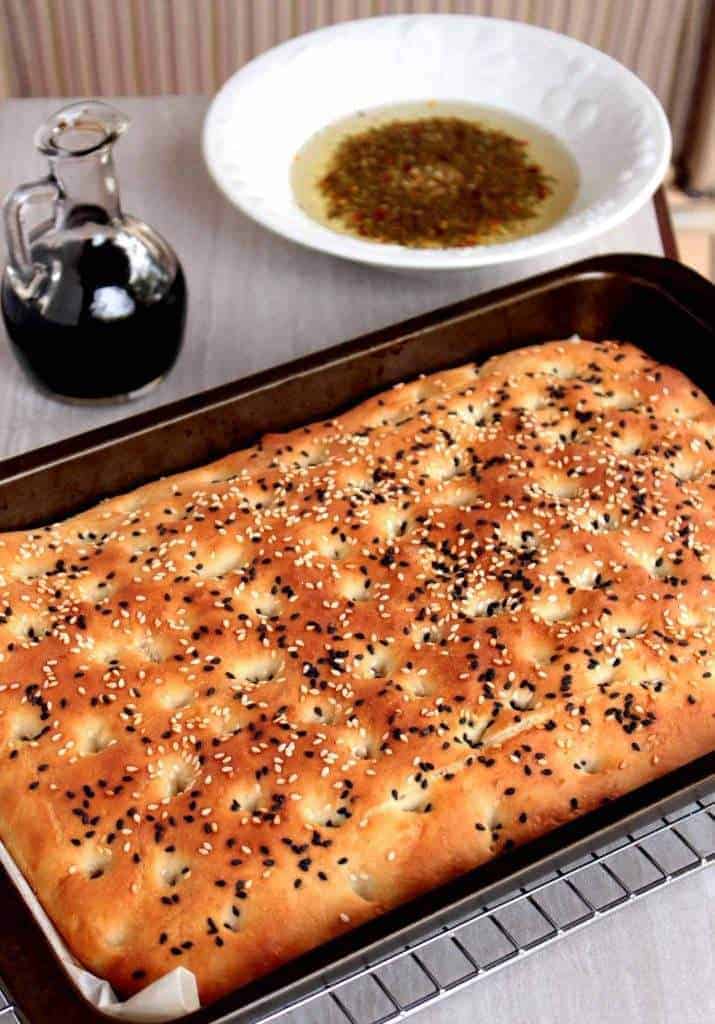 I really should be thankful for my wonderful, food loving husband for helping me find these delicious and different breads for my blog. When looking to bake for the alphabet L, I wanted something savory. We have had enough of the sweet breads and pastries and we no longer had any appetite for it this week. That is when my husband found this vegan and very simple bread called Lagana, which is baked for the Clean Monday, the first day of Lent before Easter.
This traditional Greek bread is made dairy free as it is used for fasting and hence it is a great vegan flatbread. If you are new to baking, I would absolutely recommend trying this recipe out. It is one of the easiest bread recipe and a great way to make friends with yeast. The procedure is very straight forward with very basic ingredients. There is no specific shaping technique involved in the recipe. Make the dough, let it rise, dump it on a pan and stretch. Then the bread is baked and served. The bread tastes great by itself, and if served with the herbed Olive oil (shown in the pictures), it just tastes out of the world. I will be sharing the recipe for the herbed olive oil soon.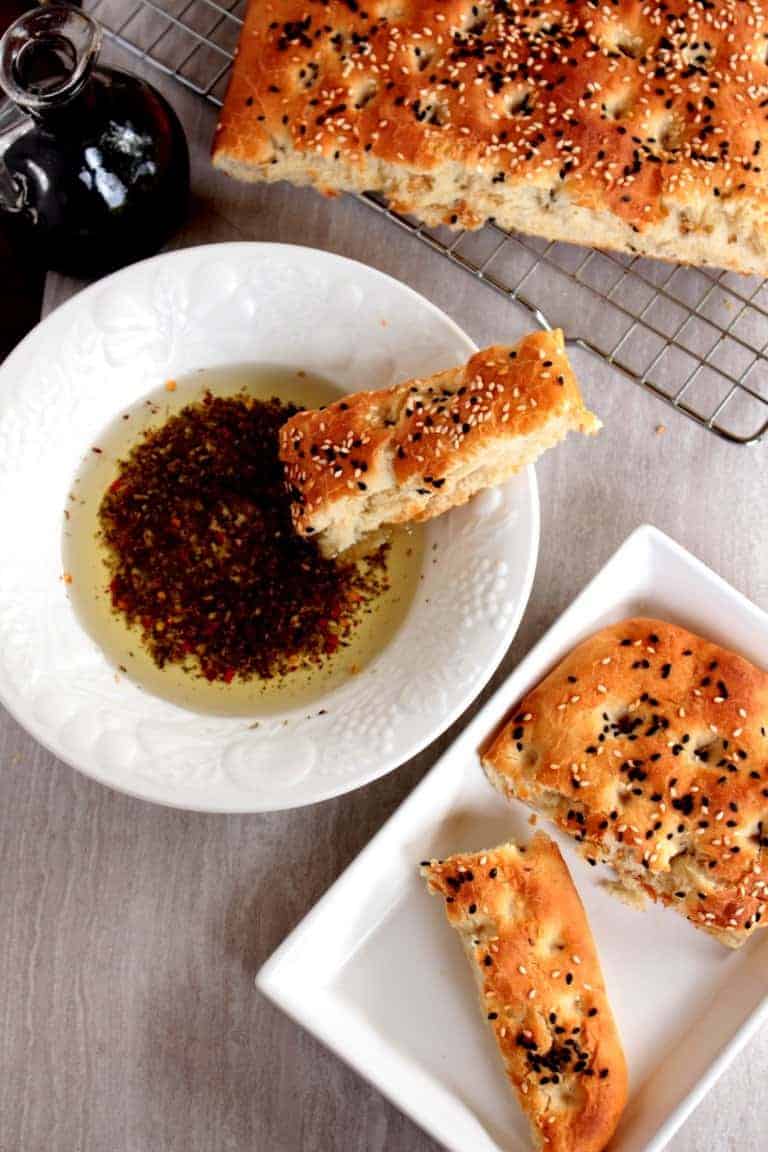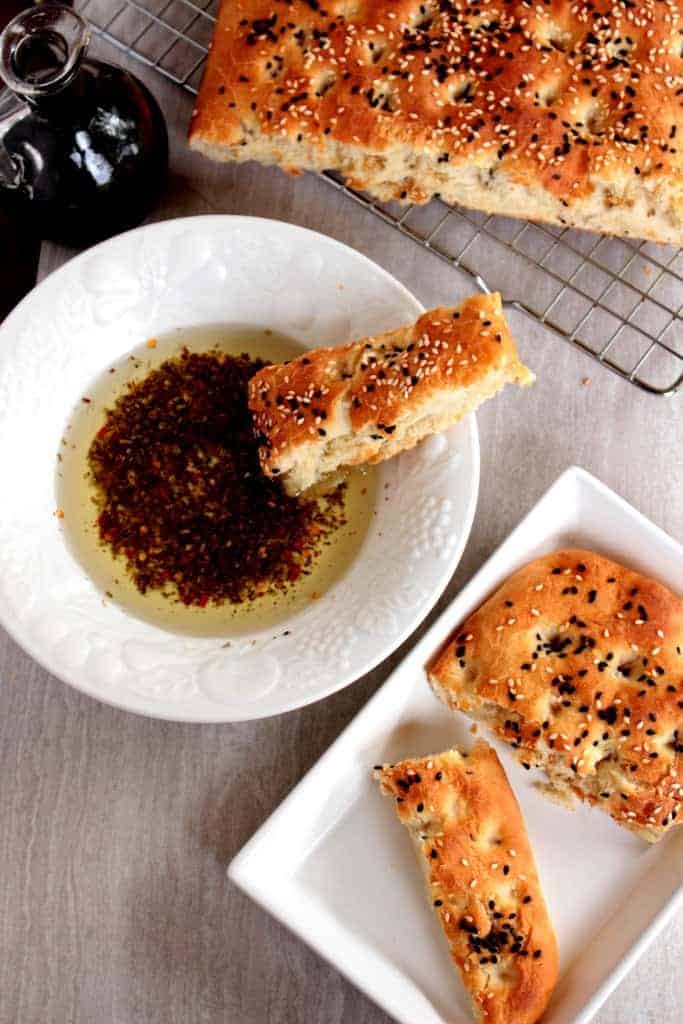 I have used both black and white sesame seeds on top of the bread. We love sesame seeds and I have used quite a bit in the bread. If you are not a fan of sesame, you could skip it or use any other herb of your choice to top the bread. This bread is very similar to the Italian Focaccia, which happens to be one of my other favorite bread. I have used strong bread flour to make the recipe, but I will be trying it soon with half whole wheat and half bread flour.
For this A-Z baking around the world, I have had all the posts scheduled for 6 AM in the morning. I had the bread baked, clicked and all ready to go couple of days ago. Little did I know that I would not have time to write the post and my day will turn out as crazy as today.
My oldest was scheduled to have a oral surgery this morning at about 9.30 AM. He has an extra tooth growing inside his gums, horizontally disrupting his other normal teeth. It is a simple procedure, but he would be going under complete anesthesia and that scared me a bit. We were delayed quite a bit in the doctor's office as his earlier procedure took longer than expected and my poor boy was waiting almost 2 hours until about 11.30 until they took him in. He was already tired, starving and stressed, but luckily the team put him at ease right away and got done with the procedure very quickly. I was hoping to come back by 11 AM and get done with the post, but we didn't come back until 1 PM.
I got him a milkshake on our way home and then got him comfortable. He slept for couple of hours and then woke up feeling hungry and sore. Finally after I was able to get him something to eat, he settled down a bit and I got around typing the post. What a day it was and I am hoping that the poor guy gets some sleep at night and not have too much pain. Well, he is not going to be eating bread anytime soon and I have to figure out different soft foods to feed him for the next few days. Thankfully, he thoroughly enjoyed eating this bread before the surgery.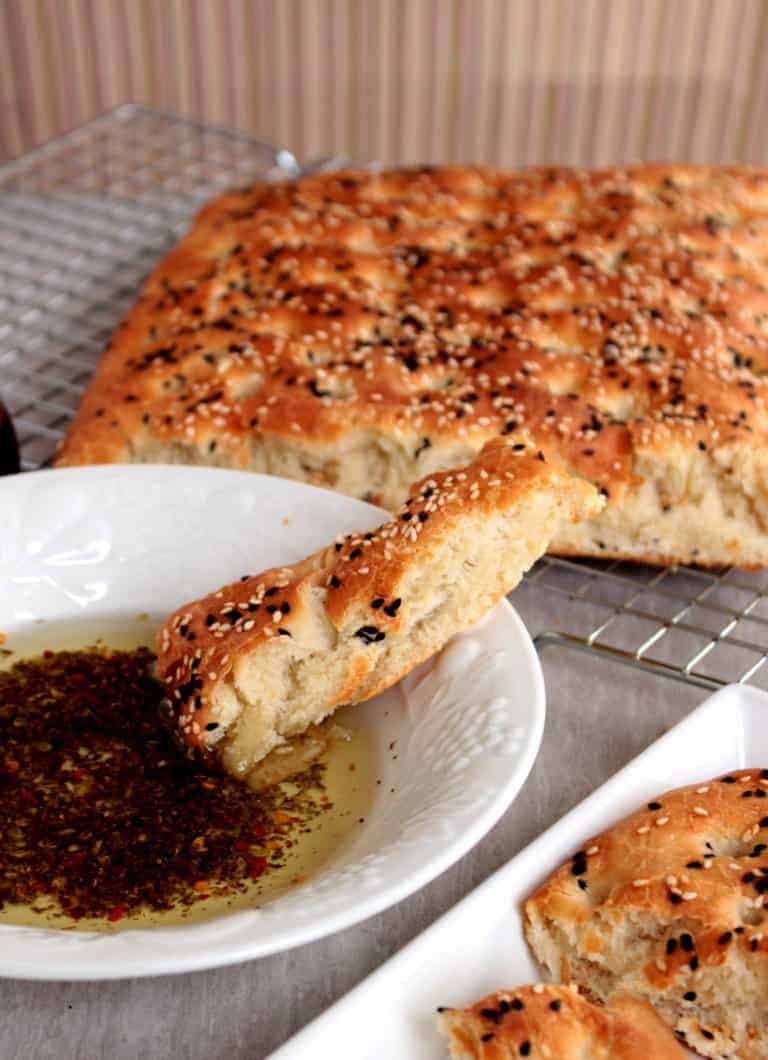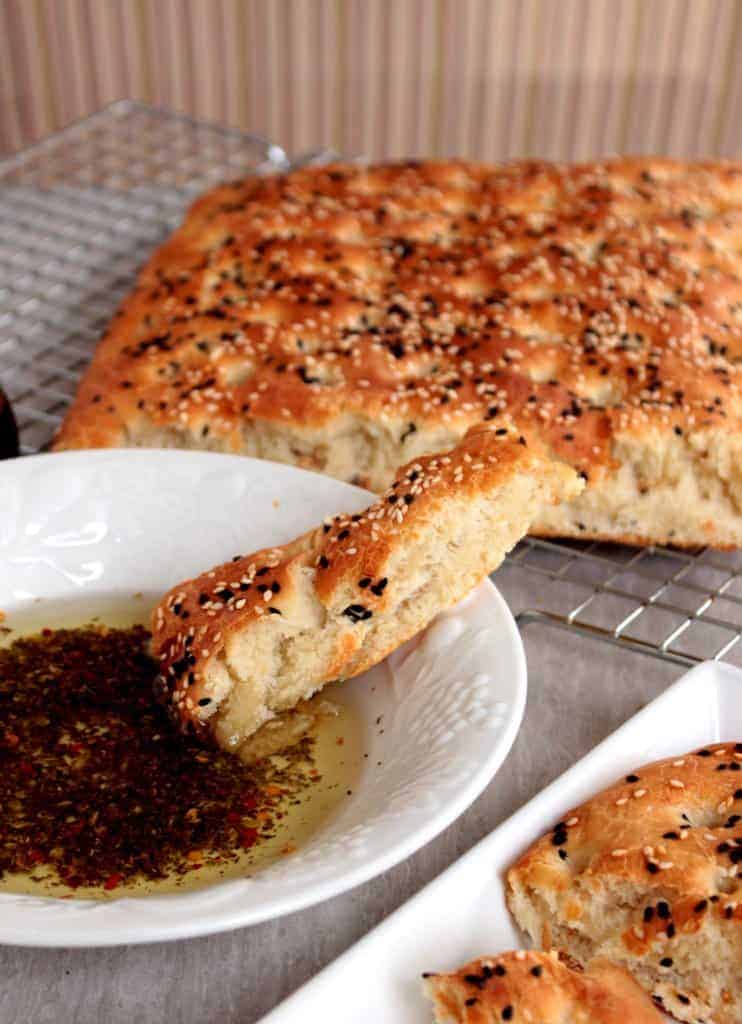 My other bakes in the A – Z Baking around the World Marathon –
A for Almond cookies from China
B for Bretzel Rolls from Germany
C for Chocolate Cupcakes with Chocolate Buttercream Frosting from USA
D for Danish Cookies from Denmark
E for Empanada from Argentina
F for Franzbrötchen from Germany
G for Grissini from Italy
H for Hot Cross Buns from England
I for Irish Freckle Bread from Ireland
J for Jan Hagel Cookies from Netherlands
K for Kiffles / Kiflis from Hungary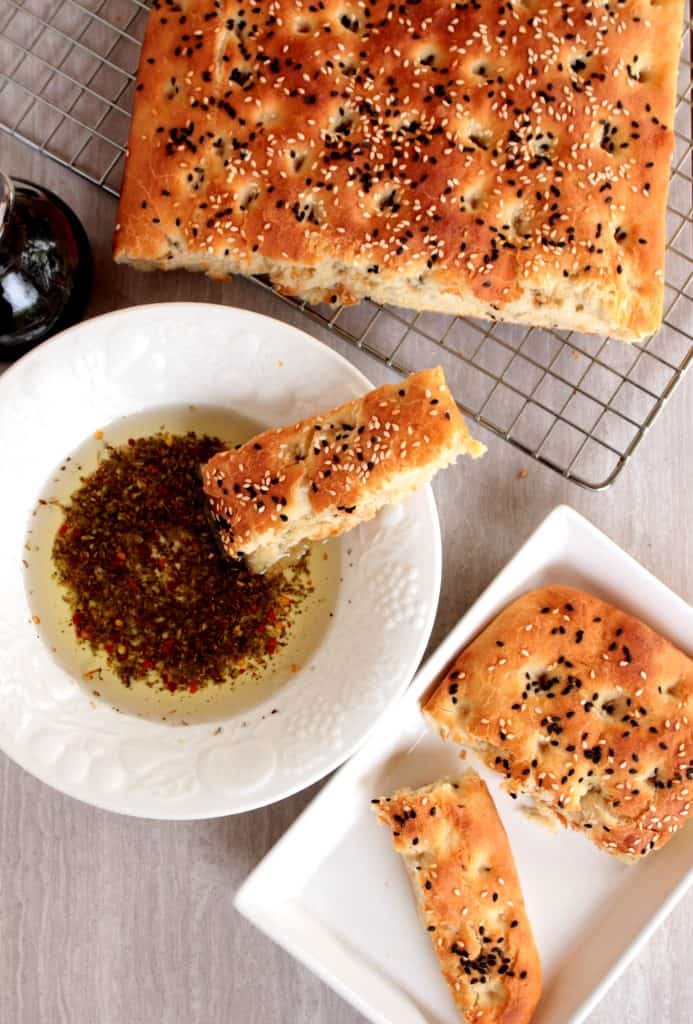 Preparation time - 15 minutes plus 2 hours of resting time
Baking time - 25 to 30 minutes
Difficulty level - easy
Ingredients to make Lagana Bread - Makes 1, 8 x 12 bread
Bread flour - 3 cups
Active dry yeast - 2 1/4 tsp
Sugar - 1 tsp
Salt - 1/2 tbsp
Luke warm water - 1 cup
Olive oil - 2 tbsp (plus more to grease the pan)
Sesame seeds - 4 to 5 tbsp (I used white and black sesame seeds)
Sugar wash - sugar 1 tsp plus water 2 tbsp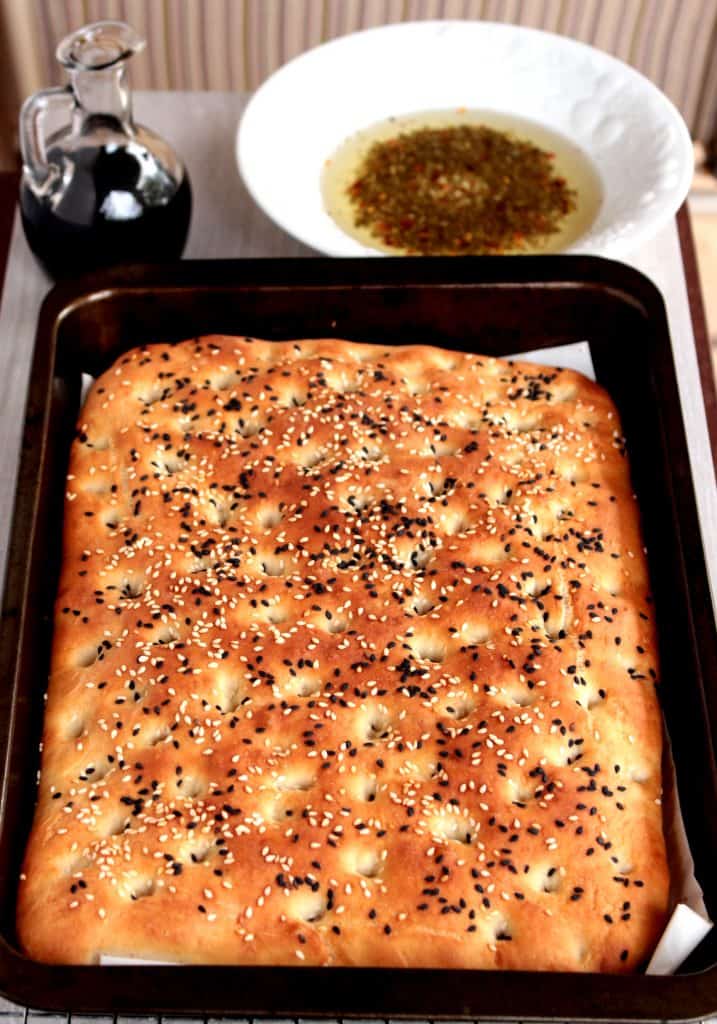 Procedure to make Lagana Bread -
To make the dough -
In a bowl, combine the yeast, sugar and lukewarm water. Mix it well and let the yeast proof for about 5 to 10 minutes. The yeast mixture would be very bubbly at the end of the 10 minutes. If not, the yeast might have become inactive. Discard this mixture and start with a fresh batch of yeast.
I made the dough in my stand mixer. Add the flour, salt and olive oil to the bowl. Mix it a bit and then add the yeast mixture to the bowl.
Knead the dough until it is very soft and not sticky. The dough will be on the softer side, but should not be sticky. Add more liquid or flour to get to the right consistency.
Grease a bowl and place the dough in the bowl to proof. I usually grease the mixer bowl and place the dough in it. Cover it with plastic wrap and then with a kitchen towel and place it in a warm, draft-free place. Mine took about an hour and a half to double in volume.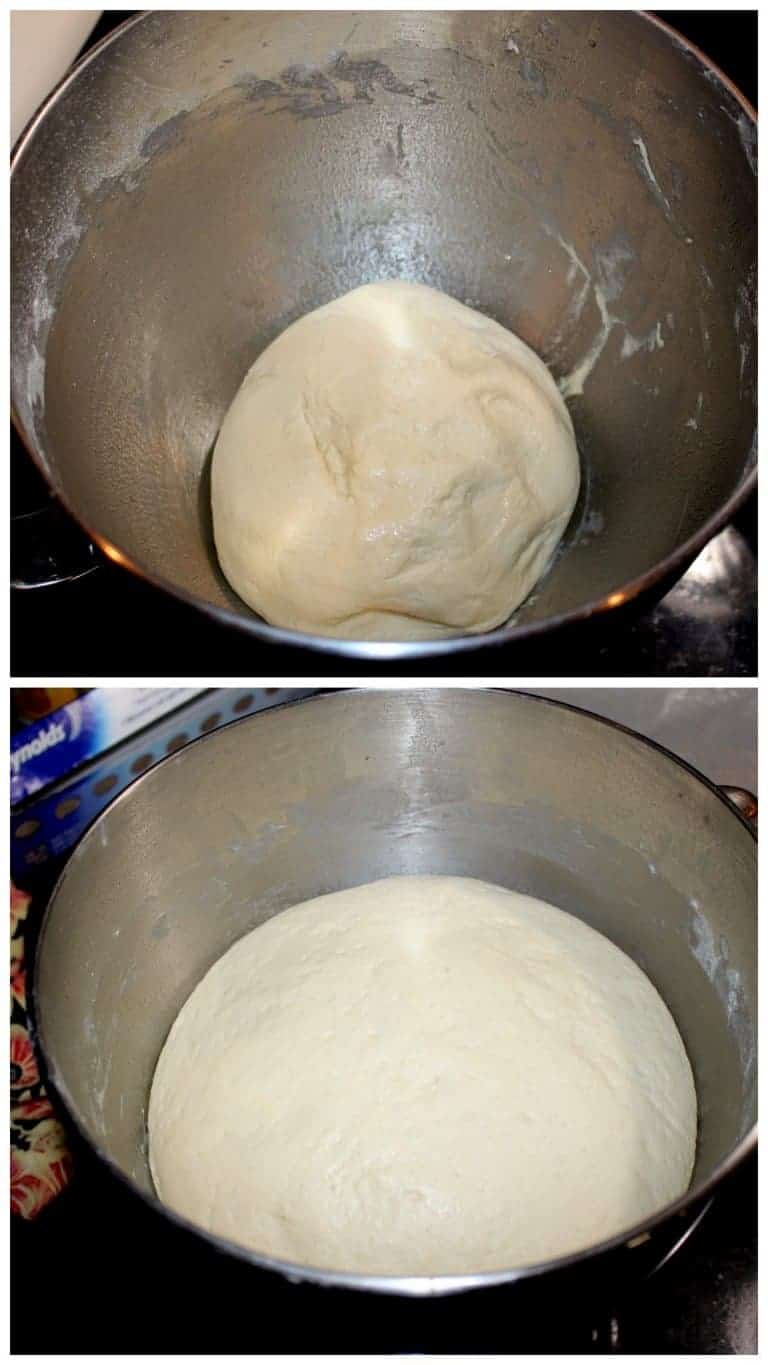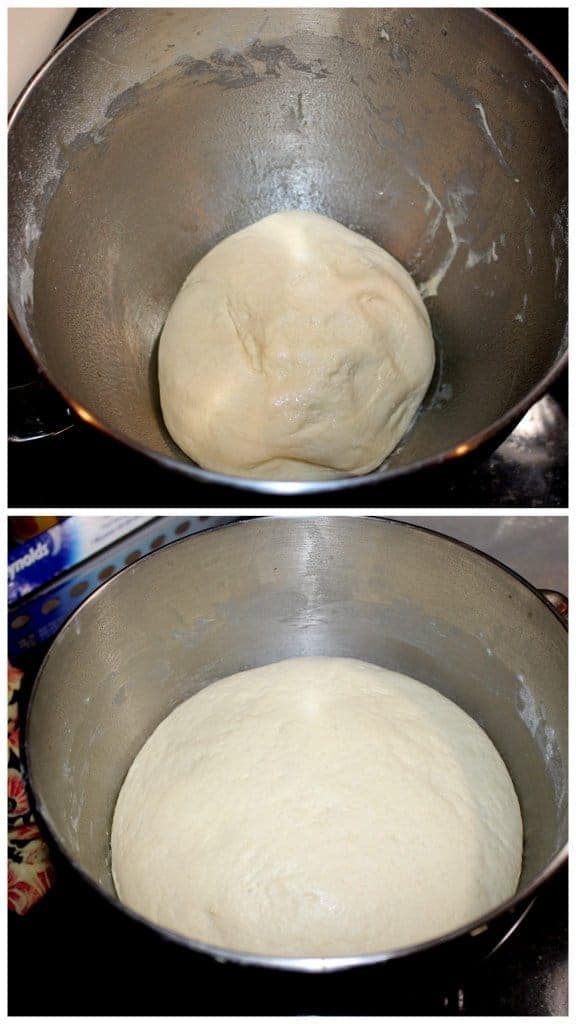 To shape the bread and bake -
Grease a 8 x 12 rimmed baking pan with olive oil.
Punch the proofed dough gently and place it on the pan. Using your hand, stretch the dough and spread it all across the pan.
If you find it hard, you could gently roll the dough and then spread the rest in the pan. Traditionally, the dough is spread using the hands. Try to keep it even thickness all around.
Mix the sugar and water for the sugar wash and using a pastry brush, brush this over the surface of the bread.
Sprinkle the sesame seeds over the bread and then cover it with plastic wrap and a kitchen towel.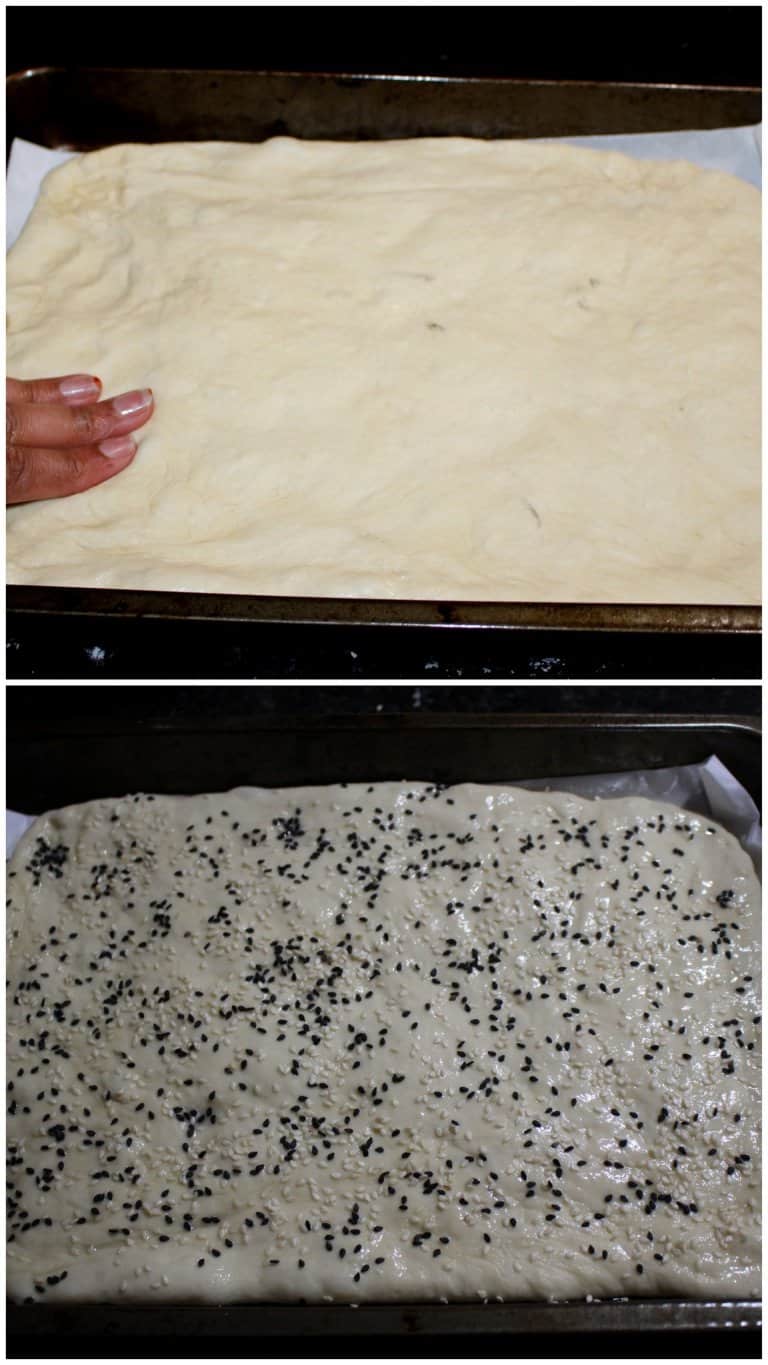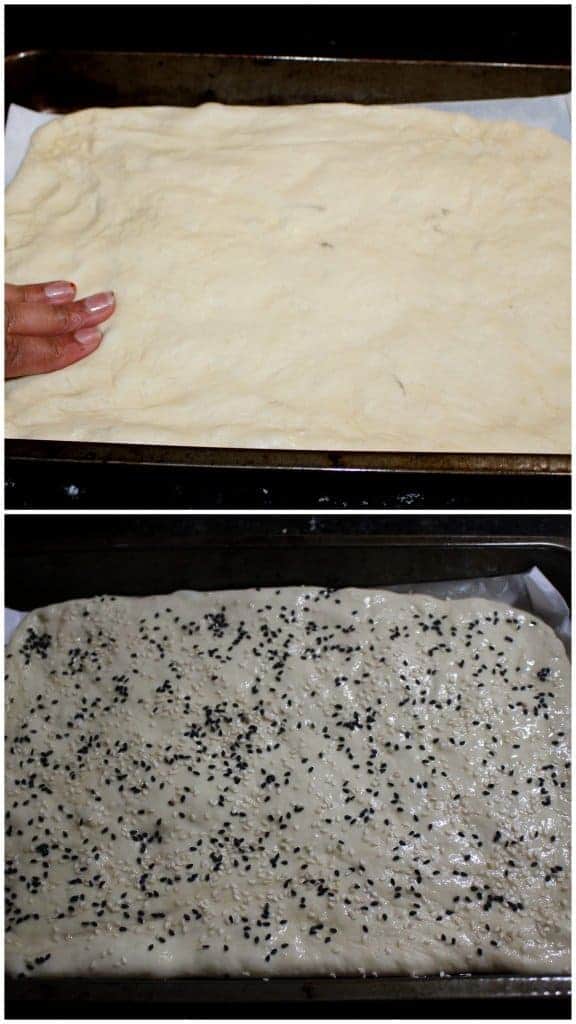 Let the dough rest for about 30 to 40 minutes or until it is puffy.
At the end of the resting time, preheat the oven to 400 F.
Once the dough is ready, using your fingers, makes deep grooves onto the surface of the dough. Take care not to pierce the dough. Just make deep, gentle marks.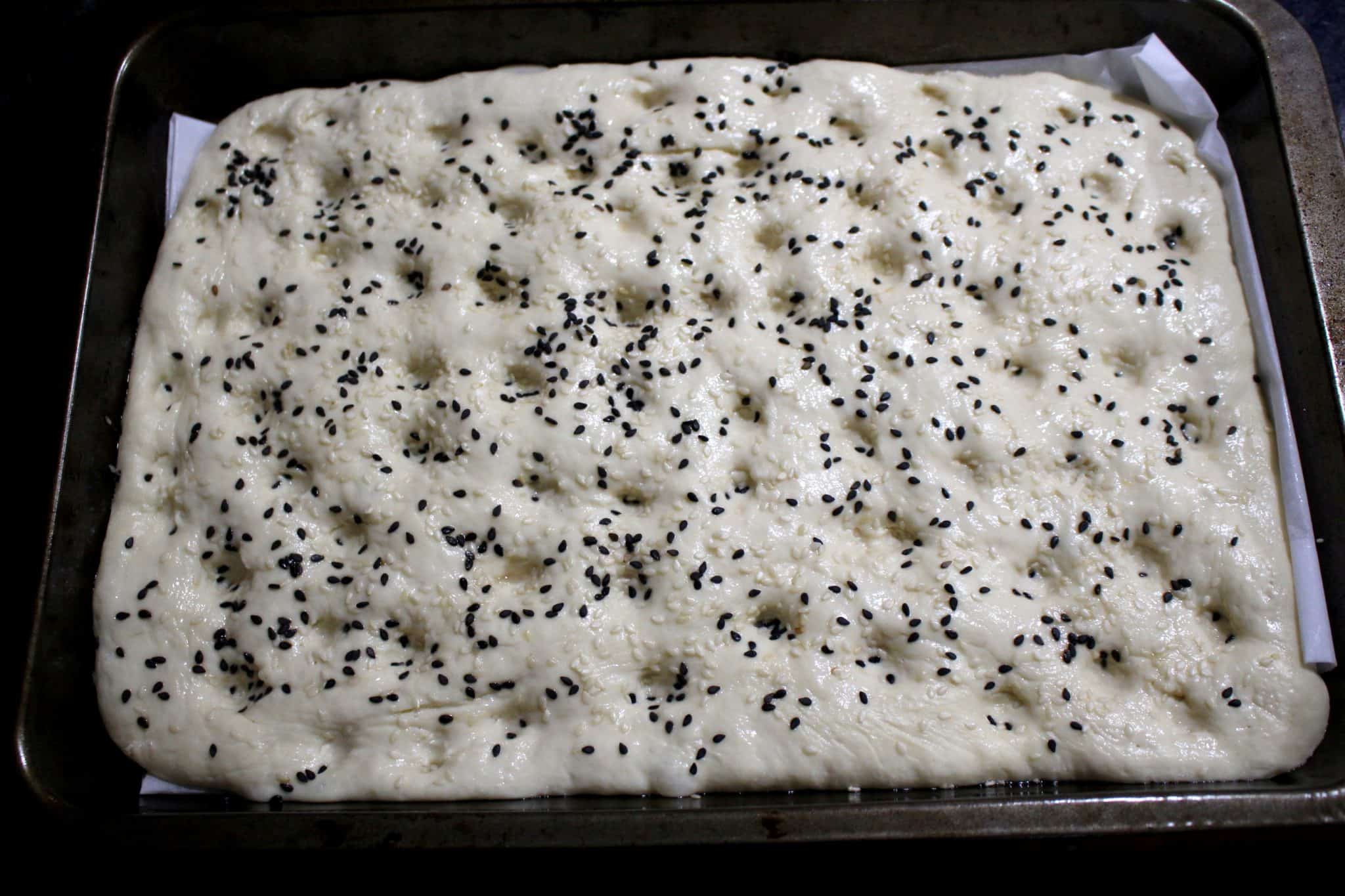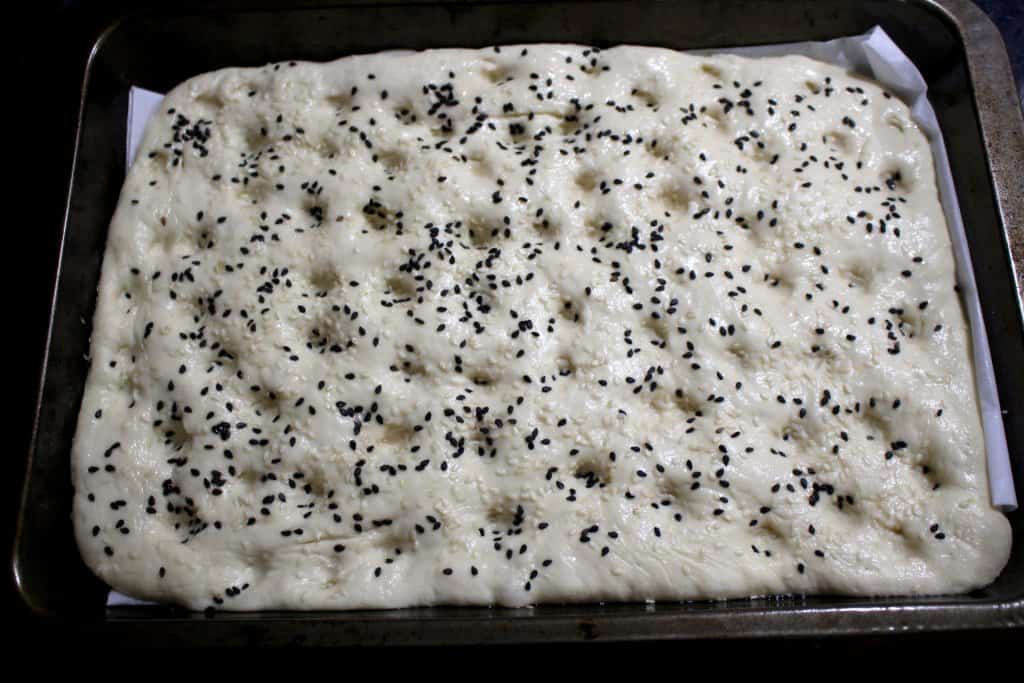 Bake for about 25 to 30 minutes or until the bread is deep golden brown and sounds hollow when tapped.
Let it rest in the pan for about 5 minutes and then remove it on a rack to cool.
You could slice the bread in about 10 minutes.
Serve with herbed oil.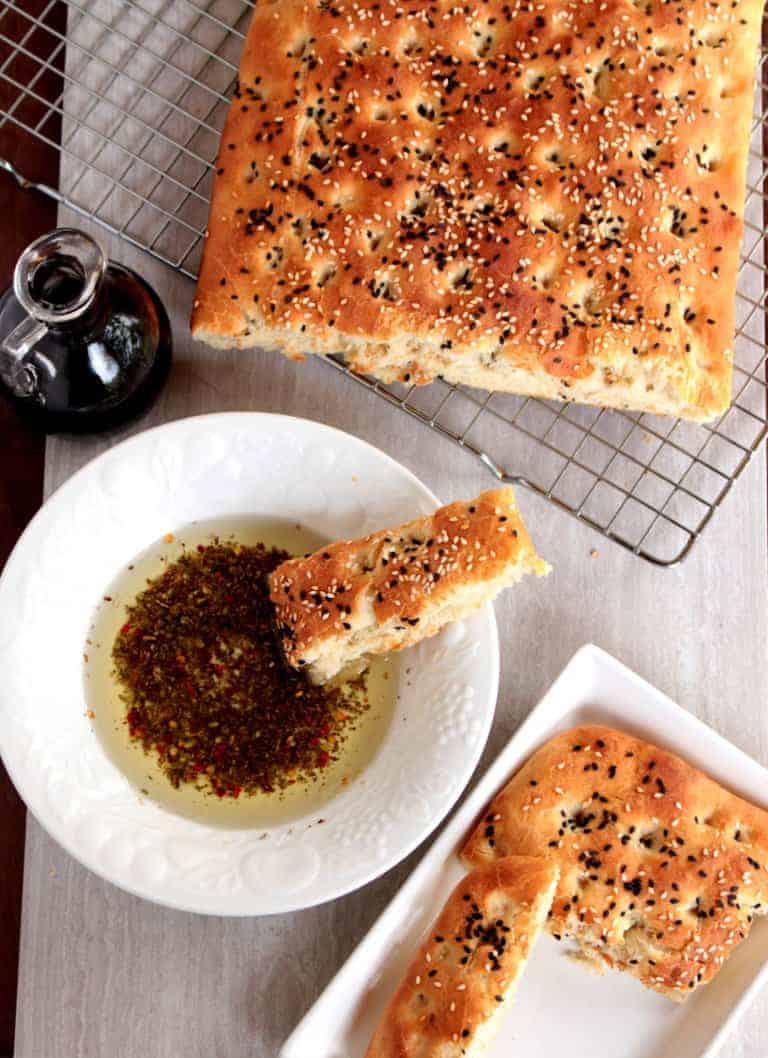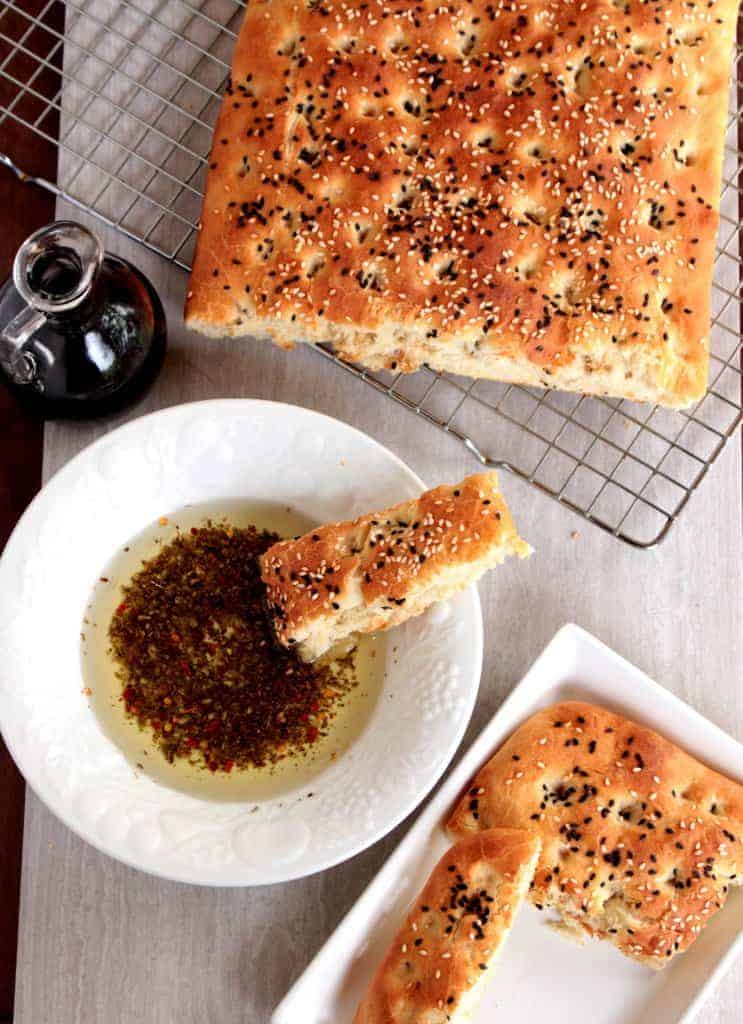 If you like this recipe, pin it below -