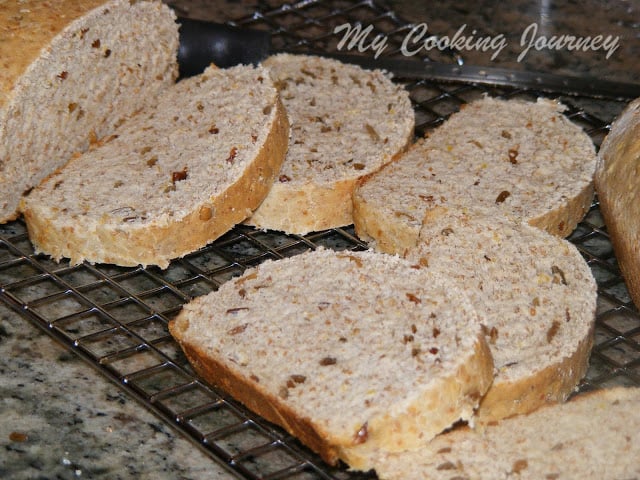 My family is huge bread loving one. We love bread in any shape and form. We love Multigrain Bread that we buy from the stores. Yes, the bread is very healthy, but apart from that the main reason we keep going back to eating it is the texture. We love the grainy texture and really like the crunch that we get from the pumpkin/sunflower seeds.
When I saw this bread on Nivedhanam Sowmya's space, I wanted to try it right away. Like she mentioned this bread was really out of this world. Had the perfect flavor and texture that I was looking for in the bread.
Choosing the different grains totally depends on your comfort level. You could both choose individual grains and mix them or you could buy the 6 or 10 grain hot cereal mix which is what I did. These are not the quick cooking 6 grain breakfast cereal, but rather a mixture of whole grain that could be cooked as a breakfast option. I bought the Bob's red Mill, 10 grain hot cereal that contains stone ground high protein hard red wheat, rye, triticale, oat bran, oats, corn, barley, soy beans, brown rice, millet, and flaxseed.
This Multigrain Bread stores very well in the room temperature for about 3-5 days and they freeze very well for up to a month.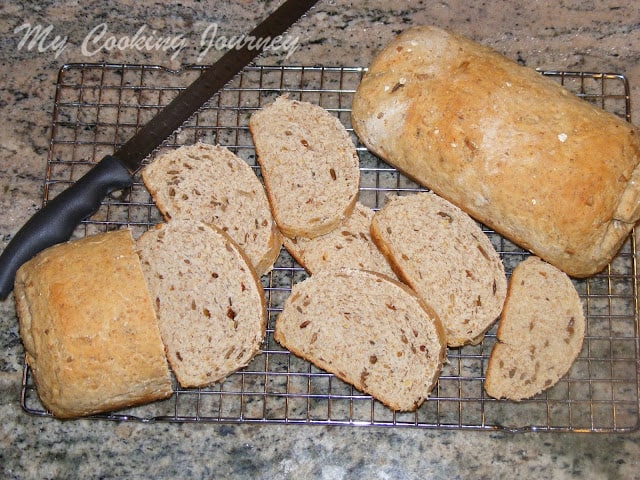 Preparation time – 2 hrs plus more if needed to rise
Cooking time – 40 mins
Difficulty level – Medium
Ingredients to make Multigrain Bread– (makes two 9 x 5 loaves)
10 Grain or 6 Grain hot cereal mix – 6 ¼ Oz/1 ¼ cup (I used the 10 grain Bob's red mill hot cereal mix)
Boiling water – 20 Oz/ 2 ½ cups
Unbleached All Purpose flour – 15 Oz/3 cups (plus more for dusting)
Whole Wheat Flour - 7 ½ ounces /1 ½ cups
Honey - 5 tablespoons
Unsalted Butter (melted) - 4 tablespoons
Instant Yeast - 2 ½ teaspoons
Salt - 2 teaspoons
Pumpkin Seeds or Sunflower Seeds (Unsalted) - ¾ cup
Rolled Oats or Quick Oats - ½ cup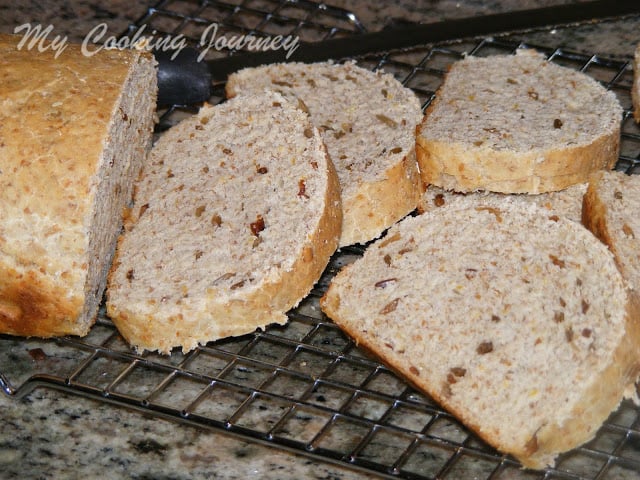 Procedure –
Place the cereal mix in the bowl of the mixer and pour the boiling hot water into it. Mix it well and leave it aside to cool down to about 100 F. Do mix it once in a while when cooling for even cooling down. Once the mixture cools down, it will resemble a thick porridge in consistency.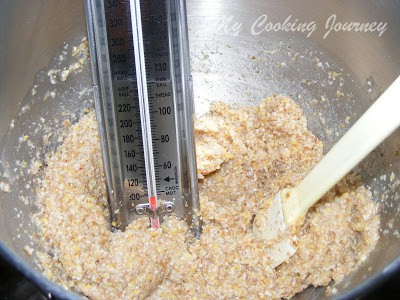 Whisk the Wheat flour and APF in a bowl and keep aside.
Once the cereal mixture has cooled to 100 F, add the honey, butter and yeast and mix to combine.
Attach the dough hook to the mixer and start mixing the ingredients. With the mixture on low, add the flour ½ a cup at time and mix well to form dough. This takes about 2-3 mins.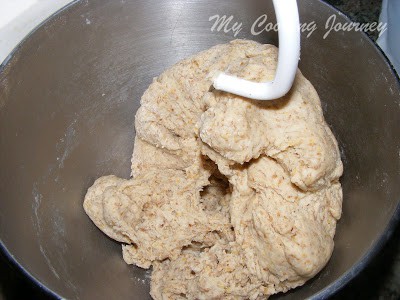 Cover the bowl with plastic wrap and let it rest for about 20 mins.
After 20 mins, add salt and knead again on medium speed until the dough clears the sides of the bowl. This will take about 5 mins. If the dough seems to be too sticky and does not clear the sides of the bowl, add couple of tbsps of APF and keep kneading. Knead for additional 5 mins.
Then add the pumpkin or the sunflower seed and knead for 15 more seconds.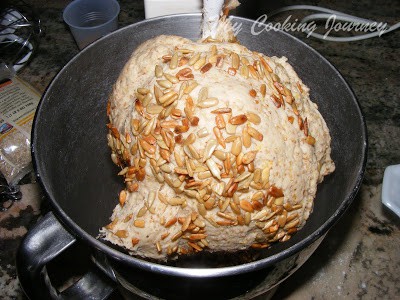 Then transfer the dough to a floured surface and work with your hands to incorporate the seeds well into the dough.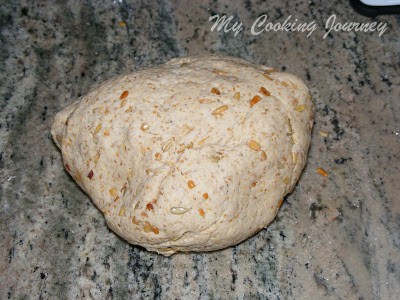 Form a tight ball with the dough and place it in a well oiled bowl to rise. Cover with plastic wrap and let it rise until doubled (about 45 mins to 1 ½ hrs).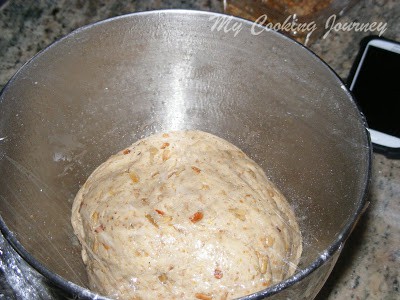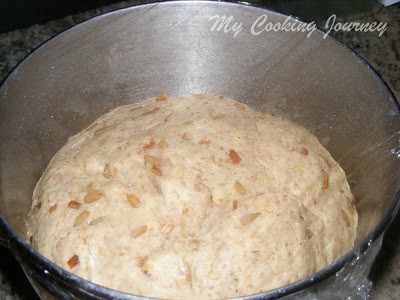 Preheat the oven to 375 F and spray two standard loaf pans with nonstick cooking spray.
Transfer the raised dough to a floured work surface and form a 12 by 9 inch rectangle.
Cut the dough into two crosswise with knife or bench scrapper.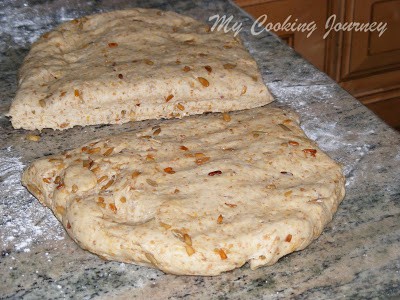 We would shape each half into one loaf of bread. To shape it we do an envelope folding of the dough.
Stretch the dough to form a rectangle. Fold one third of the dough over the rest of the dough.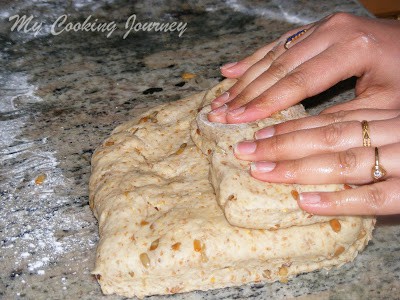 Now fold the other one third over the already folded side.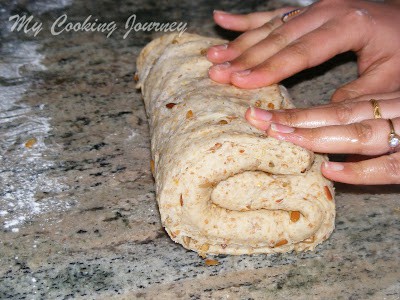 Now fold it into half one more time and seam the edges.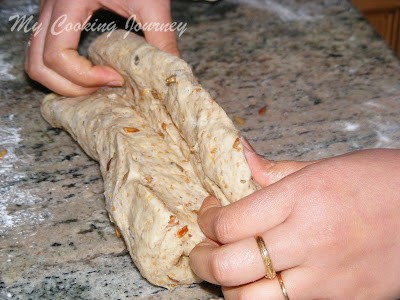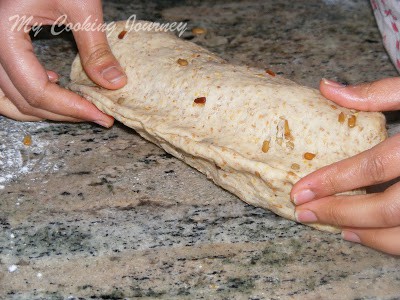 Place it in the oiled baking pans seam side down.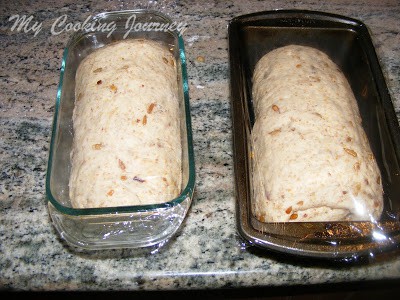 Coat the loaves with oats and cover it lightly with a plastic wrap. Let it rise until it doubles in size (about 40 mins to an hour).
Bake in the preheated 375 F oven for about 30 -40 mins. The loaves would sound hollow when tapped on the bottom.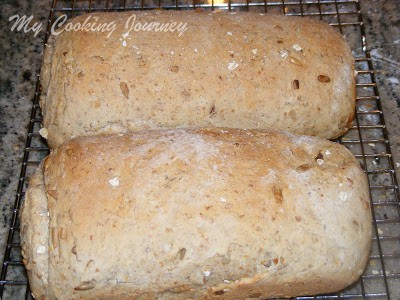 Let the Multigrain Bread cool completely on a rack for about 2 hrs before slicing it.