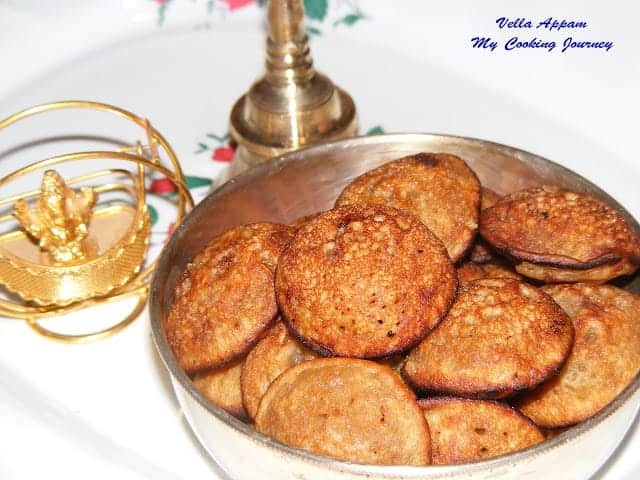 Appam is a traditional South Indian sweet made as Neivedhiyam/Offering to the god during several festival and Pooja's. There is couple of different ways to make them and this Nei Appam recipe is one of them. The recipe here is very easy and can be made in a jiffy. Having an Appam pan or Appakkarai makes the job very easy and it ensures less usage of ghee. If one does not have the Appam pan, you can always deep fry the appam in ghee (preferred).
Preparation time – 15 mins
Cooking time – 30 mins
Difficulty level – easy
Ingredients make Nei Appam – makes around 30 Appam
Wheat flour – 1 cup
Rice flour – ¼ cup
Jaggery (powdered) – ¾ cup
Banana – 2 small ones or 1 big
Coconut gratings – 2 tbsp
Cardamom powder – 1 tsp
Ghee – ¼ cup or more if deep frying
Procedure –
Heat about a cup of water and add the jaggery to the hot water. Let the jaggery dissolve.
Once the jaggery dissolves and the liquid comes to the room temperature, add the rest of the ingredients and mix well using your hands. Mash the banana in the mixture and make a thick batter (like idli batter)
Once the batter is ready, heat the appakkarai and add about a tsp of ghee in each section. Pour the batter into each hole about ¾ th full.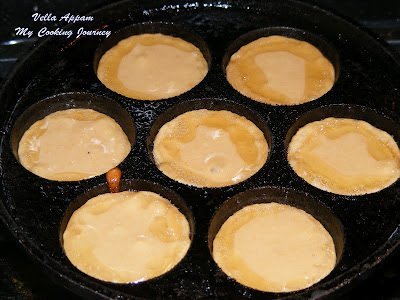 Let it cook on medium heat one side and then turn it over to the other side.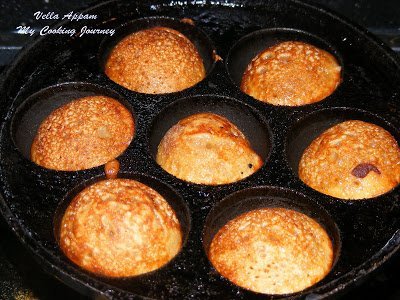 Let it cook on the other side for about a minute and then transfer it to container.
Add more ghee if needed and make the next batch.
Enjoy the Nei Appam warm or in room temperature:)