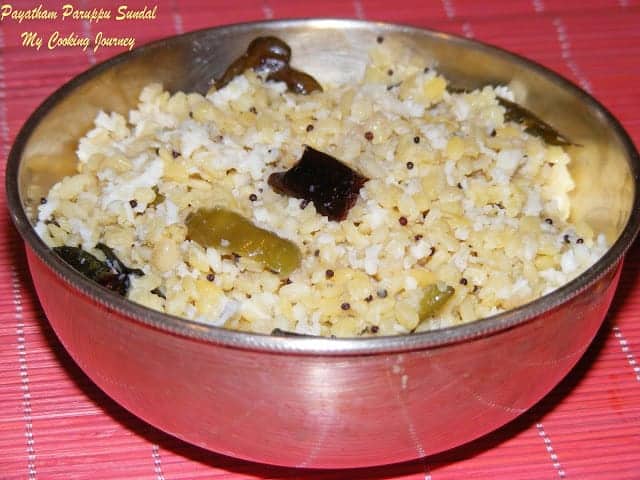 Navarthri is around the corner and this is the time when there is no shortage of protein in any kitchen. I love navarathri and having people over for golu. It is that time of the year when we get to see innovations in every household which comes out in their setting up the golu.
Tomorrow is going to be the day, when the whole household is going to be hustling around in the name of setting up the golu. My kids are very excited about their farm that they are going to be setting up. In the meantime, I decided to get some heads up and started making the Sundals today, so I can post it before navarathri starts. I am going to try to put different sundal recipe for each of the day.
Today I made the basic and easiest of the sundal. We had no vegetable left for our dinner (I had made seppankazhangu roast), as we wiped down the whole bowl for lunch. So, this is what I served my kids for dinner with their rice. Apart from being the sundal for navarathri time, this recipe is excellent as a quick salad or kosumalli.
Preparation time – 10 mins
Cooking time – 20 mins
Difficulty level – easy
Ingredients to make Payatham Paruppu Sundal – (serves 4)
Moong dal/payatham paruppu – 1 cup
Coconut (grated) – ¼ cup
Green chilies – 2 (cut length wise)
Red chilies – 2
Mustard seed – 1 tsp
Asafetida/hing – a pinch
Curry leaves – few
Oil – 1 tbsp
Salt – to taste
Lemon juice – from ½ a lemon (optional)
Procedure –
Wash the dal and cook it in enough water until the dal is just cooked. You should be able to break it with your fingers, but should not feel mushy. One way to achieve that would be to add salt when cooking the dal. Let the dal cook for about 6 mins and then at this point add the salt and let it cook for about 6 more mins. Do keep checking to make sure it still had a crunch to it.
Drain the cooked dal in a colander and keep aside.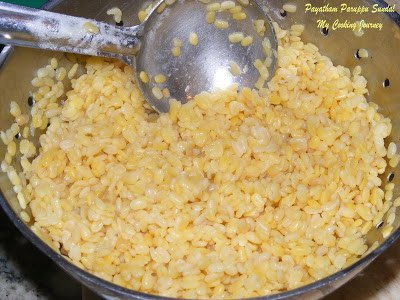 In a kadai, heat some oil (I used gingelly oil). Once it heats up, add the seasonings (mustard seeds, red chilies, green chilies, asafetida and curry leaves).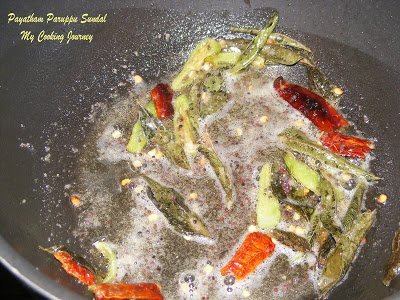 Now add the cooked dal and mix it well.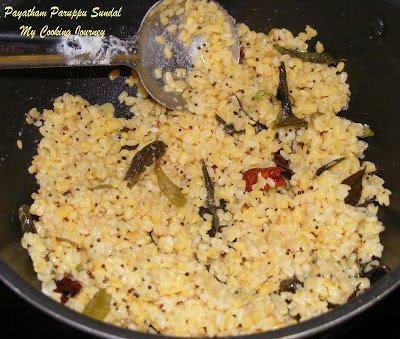 Now add the grated coconut and mix well. Cook for 2 more minutes and then take it off the flame. Once it cools down a bit, add the lime juice.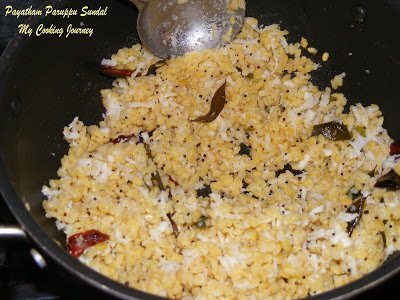 Serve the Payatham Paruppu Sundal as is like a snack or with rice.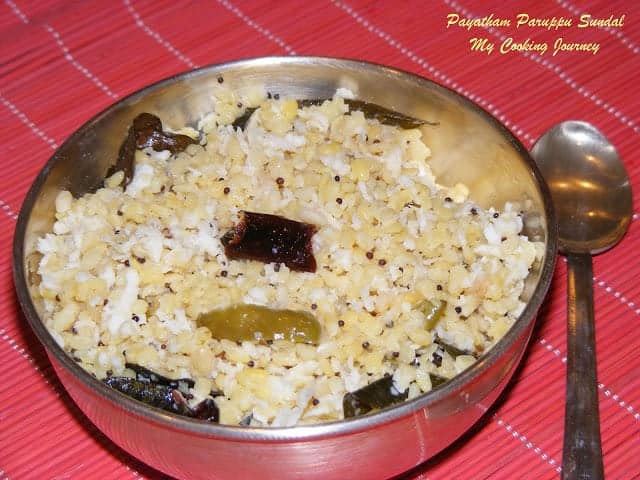 Wishing all of you a very Happy Navarathri!!!