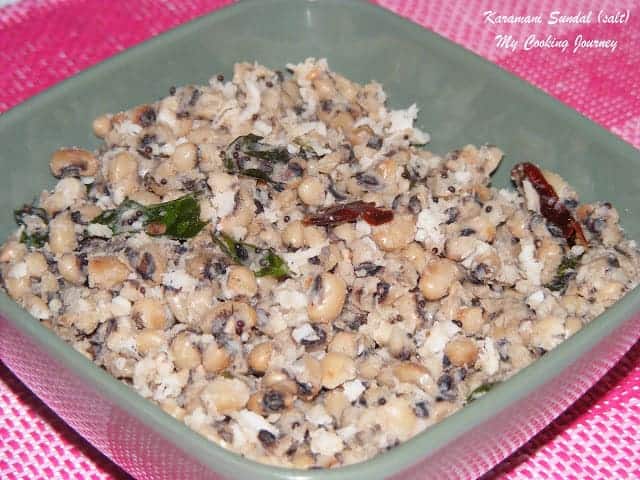 Karamani Sundal is yet another famous sundal made during navarathri. I generally make sweet sundal out of Karamani and this time I thought I will make the salt variation. The preparation is pretty similar to the Moong dal sundal, except for this requires and little bit more of prep work.
Preparation time – 15 mins plus couple of hours to soak the karamani
Cooking time -40 mins
Difficulty level – easy
Ingredients to make Karamani salt sundal – (serves 4)
White or black karamani/cowpeas/black eye beans – 1 cup (I used White karamani)
Coconut – ¼ cup (grated)
Gingelly oil/any cooking oil – 2 tsp
Mustard seeds – 1 tsp
Green chilies – 2 (slit length wise)
Red chilies – 2
Curry leaves – few
Asafetida – a pinch
Salt – as needed
Procedure to make Karamani salt sundal –
In a pan, dry roast the karamani for about 8-10 minutes or until a nice aroma comes.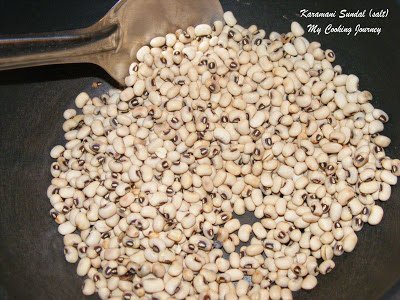 Soak the roasted karamani for about 2 hrs. Then pressure cook it with required salt and enough water for up to 1 whistle. Do take care not to overcook the karamani. You can also cook it in an open saucepan. If cooking in a saucepan, add enough water and bring it to boil. Let it cook in medium heat until tender and cooked. At this stage add the salt and then let it cook for 5 more mins, so that the beans get a chance to absorb the salt. Do not add the salt in the beginning if cooking in a saucepan. This will cause the beans to take much longer time to cook.
Once the karamani is cooked, drain it in the colander and keep aside.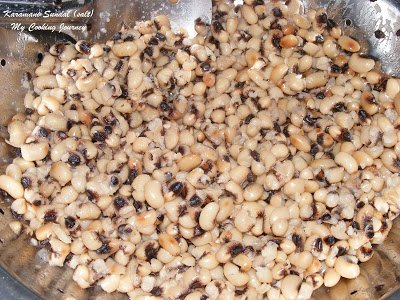 In a pan, heat the oil. Add the seasoning (mustard seeds, green chilies, red chilies, curry leaves and asafetida). Fry it well and then add the drained beans. Give it a good mix.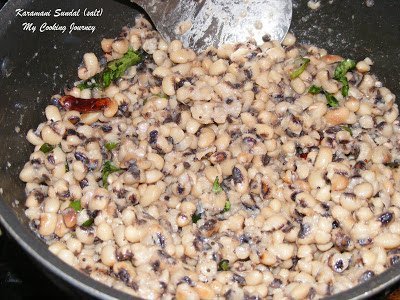 Now add the grated coconut and mix it well. The sundal might appear a little wet when hot, but will become separated once cooled.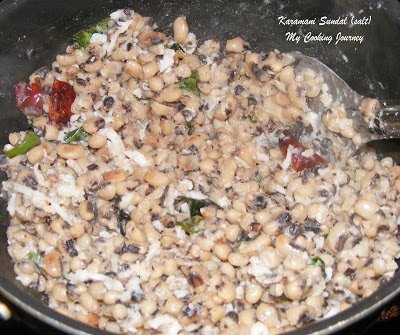 Serve warm. Tastes great as a snack or goes well with rice.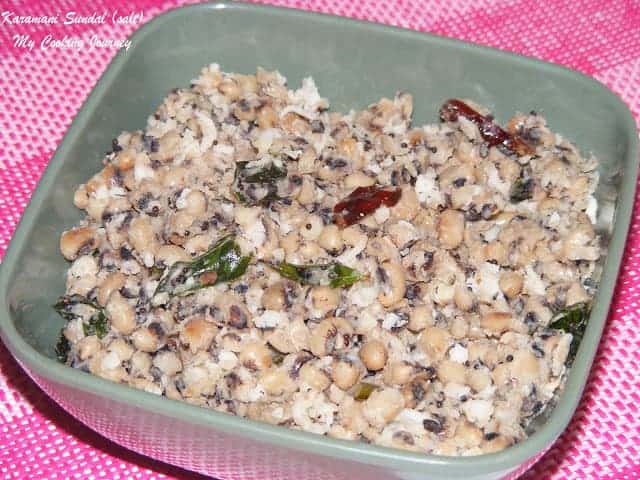 Check out my other NAVARATHRI RECIPES HERE