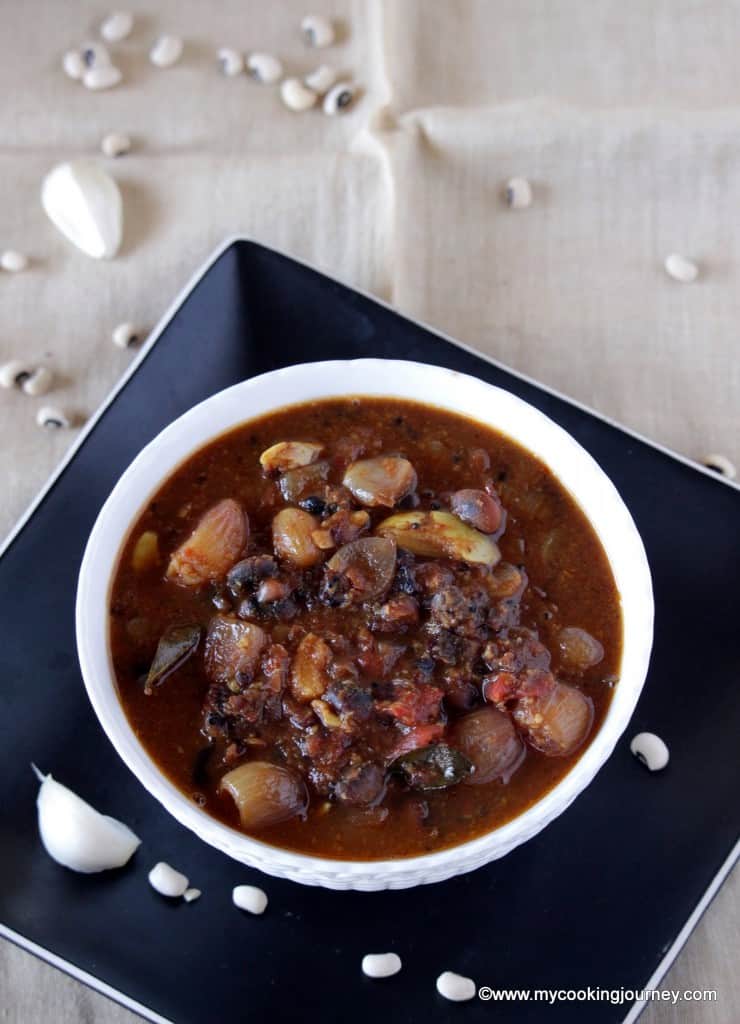 I absolutely love making different kinds of kuzhambu. Lately I have been cooking a lot with karamani / black eyed peas. Growing up I only ate a couple of dishes with karamani in it, like the Karadayan Nombu adai and the karamani sweet sundal. Then when I developed a liking for it, I have made savory sundal, subzi, and even vadai with it.

This kuzhambu was on my bookmarked list for a while now from Nalini's blog. I am big lover of Kara kuzhambu and this was something similar to it. Growing up in a garlic free house, I now have the freedom to cook with as much as garlic I like, since my husband and son both loves garlic. My oldest one tops the list by physically eating cloves of garlic from the cooked dish (I still cannot do that).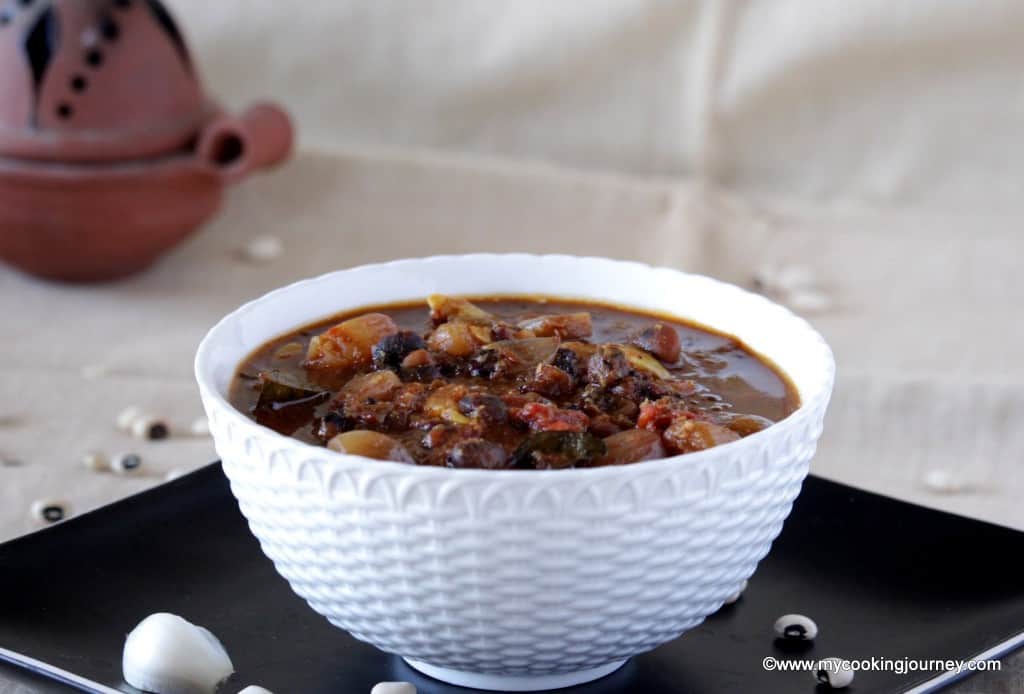 This kuzhambu is very hearty and wholesome and I loved the tanginess from the tamarind as well the tomatoes. I added a bit of fennel to the recipe and also used jaggery at the end for that sweet, sour and spicy feel. It is just that amma uses jaggery in most of her kuzhambu / sambhar and I do the same. This recipe is for the bookmarked theme for this month's Blogging Marathon.
Preparation time – 15 minutes
Cooking time – 30 minutes
Difficulty level – easy
Recipe adapted from – Nalini's Kitchen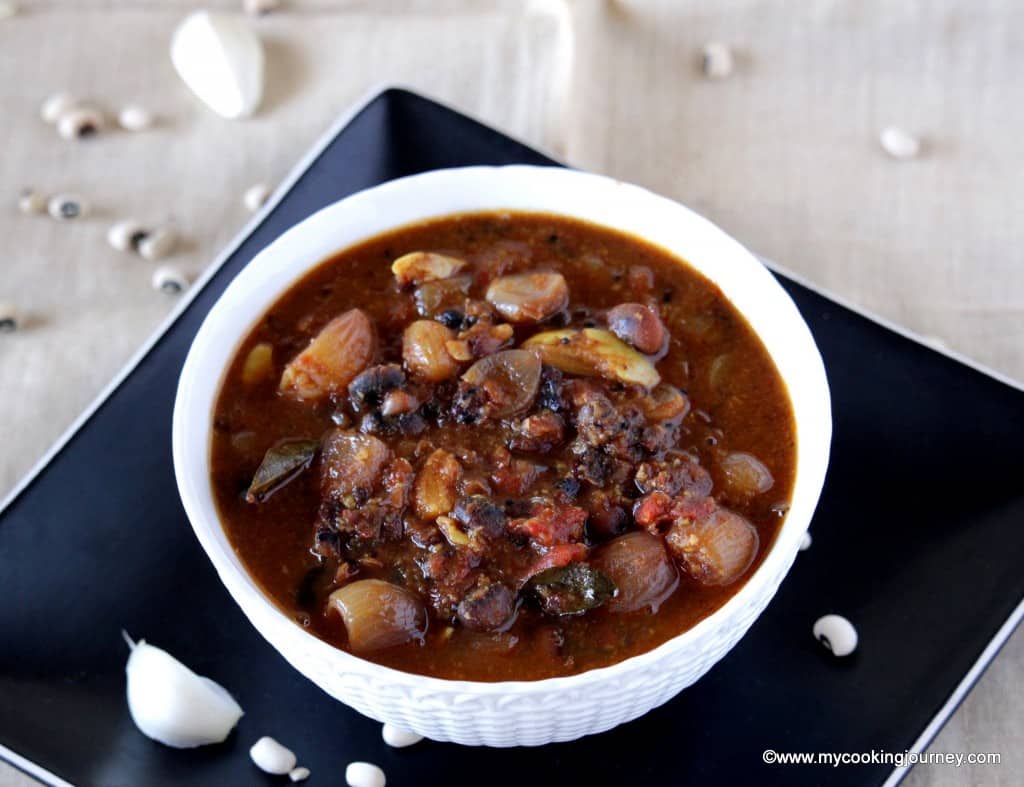 Ingredients to make Karamani Kara Kuzhambu – Serves 4-6
Cow peas / Karamani – 1/2 cup (I used the large ones)
Small onion / regular onion – 1 cup
Garlic – 8-10 cloves
Tomatoes – 2
Tamarind – as big as a lemon
Sambhar powder – 1 tbsp
Coriander powder – 1 tsp
Jaggery – a tiny piece
Salt – to taste
Curry leaves – few
To grind together –
Red chilies – 3
Coconut – ¼ cup (grated)
Cumin seeds / jeera – 1 tsp
To season –
Oil (preferably gingelly oil) – 2 tbsp
Mustard seeds / Kadugu – 1 tsp
Vendhayam / Fenugreek seeds – 1 tsp
Fennel seeds / sombu – ½ tsp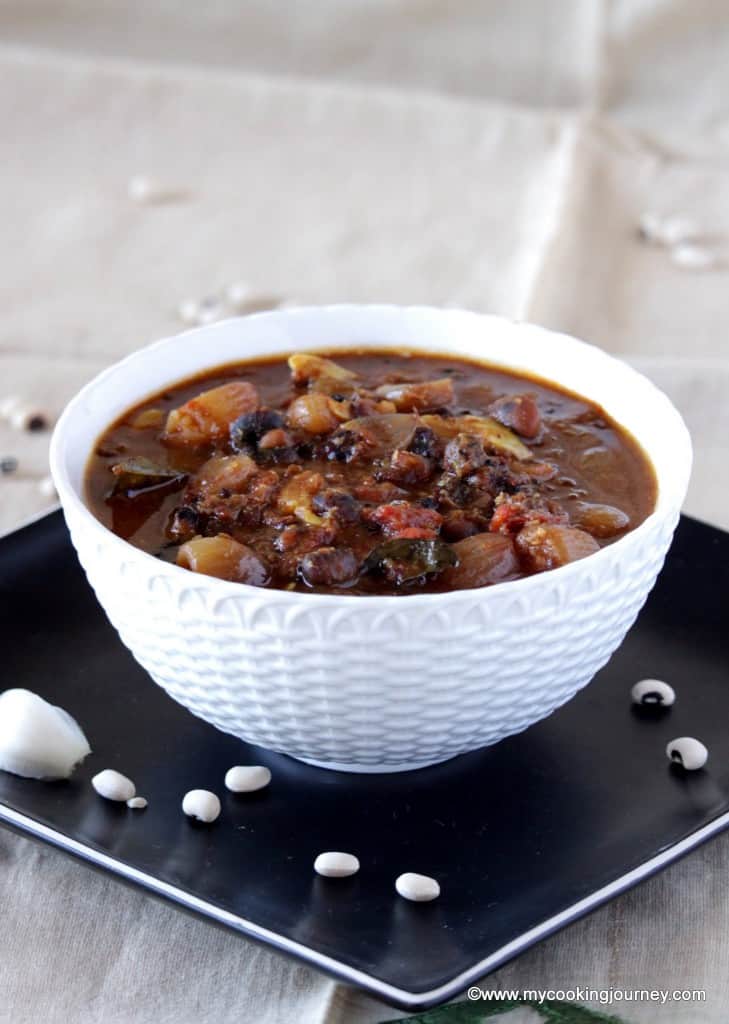 Procedure to make Karamani Kara Kuzhambu –
Dry roast the karamani / black eyed peas until they turn light brown in color and become aromatic. Cook it in enough water until it is soft, but not mushy. I cooked it in pressure cooker for one whistle, but you could do it on stove top as well.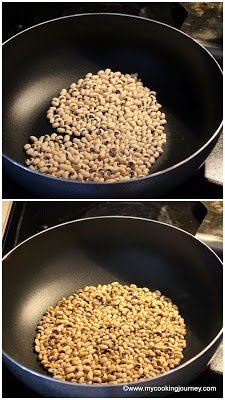 Soak the tamarind in hot water and then extract the juice. I used about 2 ½ cups of tamarind juice for the recipe.
Grind the ingredients (red chilies, coconut, cumin seeds) mentioned to a smooth paste and keep it aside.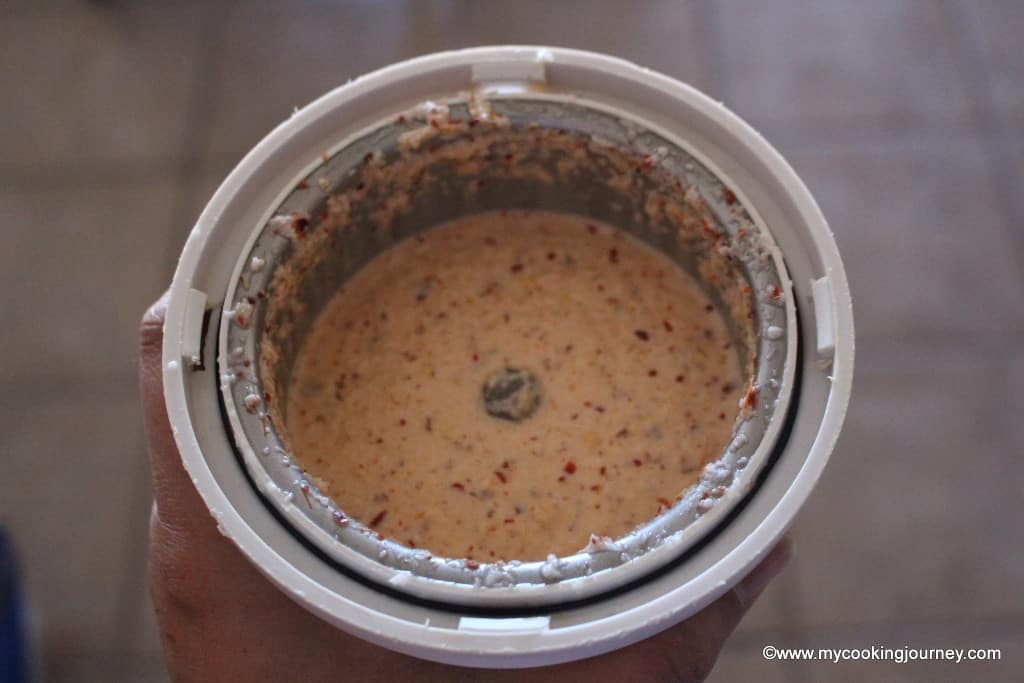 In a pan, heat the oil and add the seasoning ingredients. Let the seeds splutter.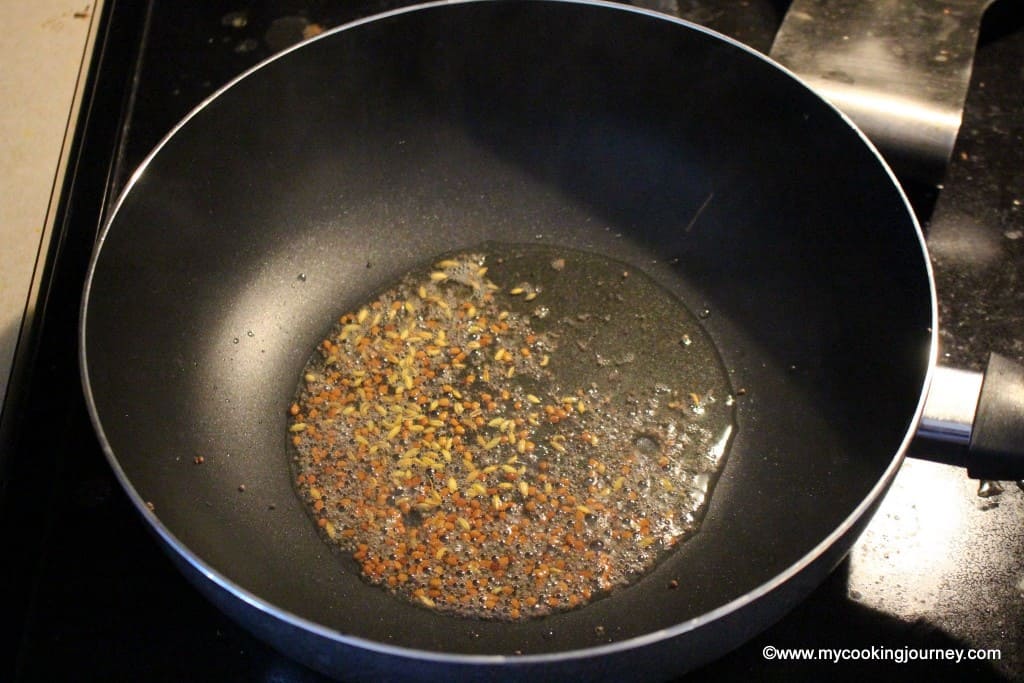 Add the pearl onions and garlic and sauté until it is slightly soft.
Now add the tomatoes and cook until the tomatoes are mushy.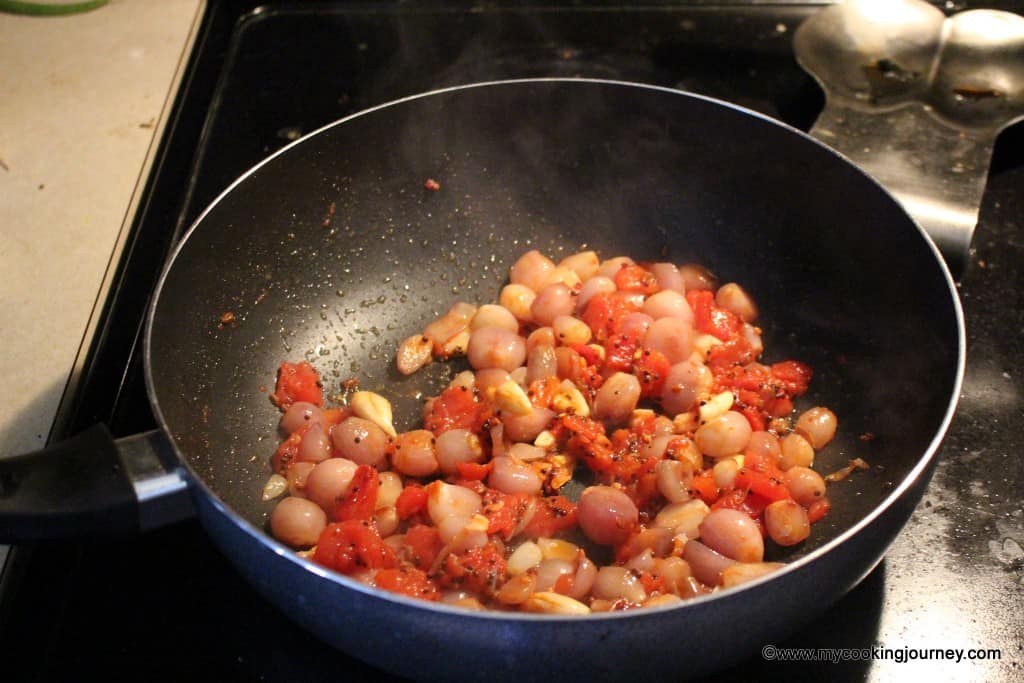 Add sambhar powder, coriander powder and salt and mix well.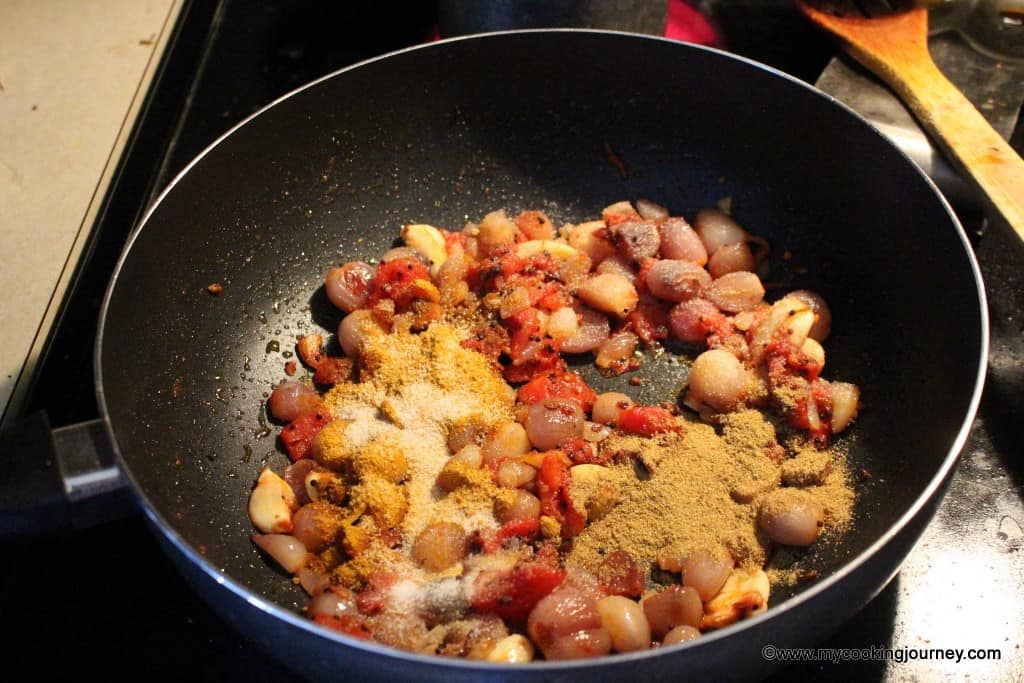 Add the extracted tamarind juice and curry leaves and let it come to a boil. Let the kuzhambu simmer until it thickens.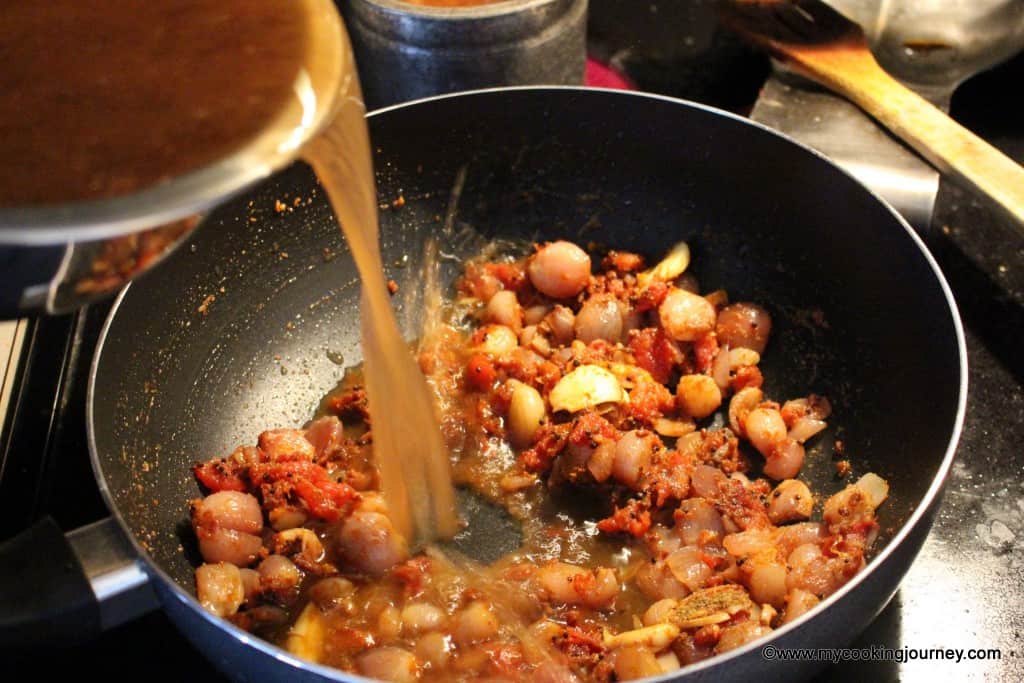 Now add the ground mixture, cooked karamani and jaggery and let it come to a gentle boil. Simmer for about 8-10 minutes and then take off the flame.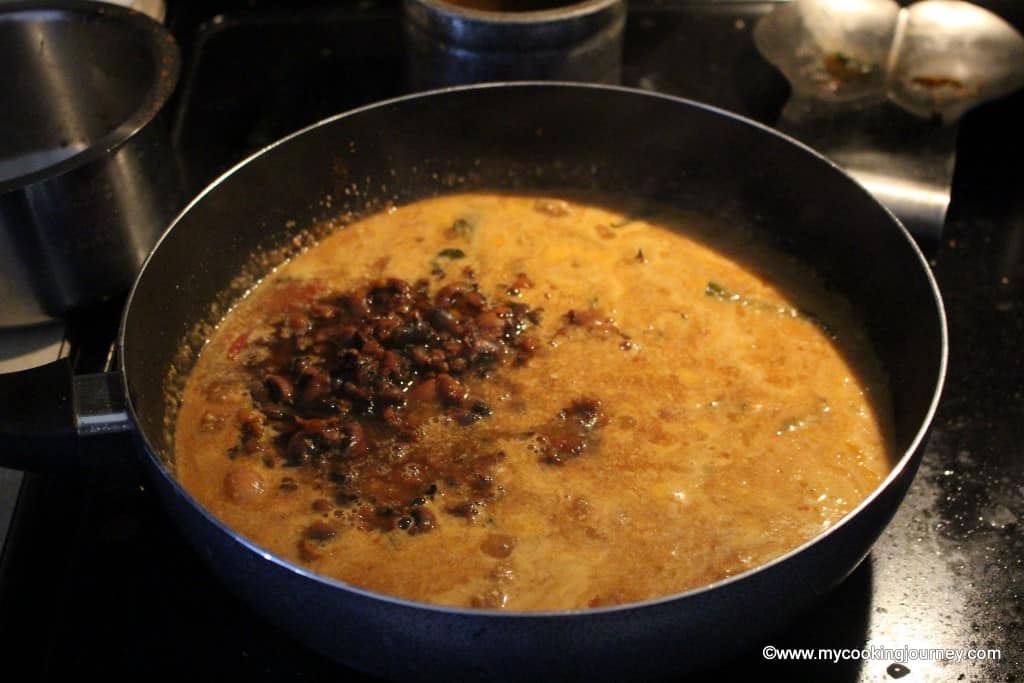 Serve with hot rice and dollop of ghee.