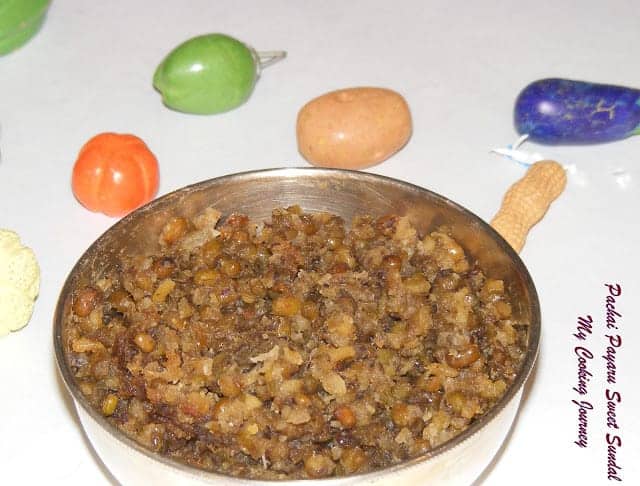 This is my second Sundal recipe for Navarathri. Since the first recipe, Moong dal sundal, was a savory version, I thought I would do this Pachai Payaru Sweet Sundal . Whole moong dal is very nutritious and making this as a sweet sundal will be a sure hit with kids.
Preparation time – 10 mins plus couple of hours for soaking the dal
Cooking time – 30 mins
Difficulty level – easy
Ingredients to make Pachai Payaru Sweet Sundal – serves 4
Whole Moong dal/ Pachai payaru – ¾ cup
Jaggery – ½ cup
Coconut – ¼ cup (grated)
Cardamom powder – ½ tsp
Sugar – 1 tsp
Salt – a pinch
Ghee – 1 tsp (optional)
Procedure -
Dry roast the whole moong until fragrant. This should take about 8 mins. Do keep stirring when roasting the dal because they tend to burn easily. You will notice that the color changes from green to brown. At this point take it off the flame.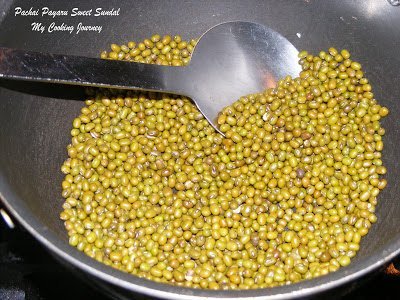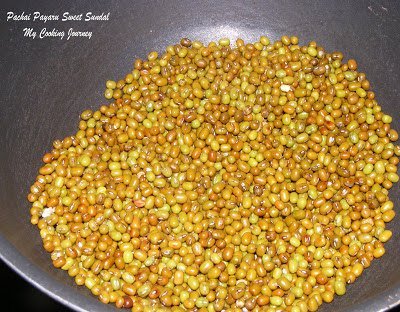 Wash the fried dal and soak it water for about 1-2 hrs.
Boil the soaked dal in enough water for about 15 – 20 mins until the dal is cooked. The dal should be mushy when crushed in between the fingers. At this stage drain it in a colander and keep aside.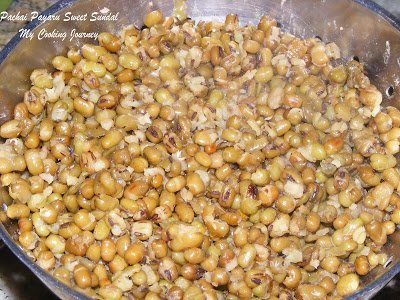 Measure the jaggery in a pan and add about ½ cup of water to it. Bring it a boil.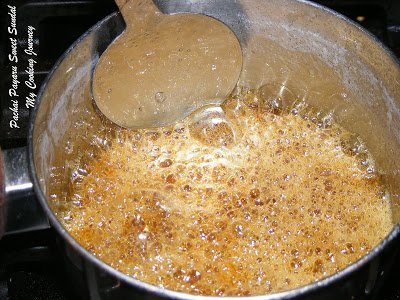 When you see that the jaggery is all melted and is foaming, add the coconut and the cooked dal. Also add the cardamom powder and mix well. At this stage also add the sugar. You will notice that once you add the dal the mixture becomes watery. Cook it for 5-8 more mins, until the excess water cooks out.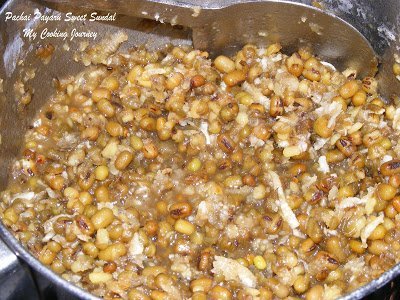 Now add the ghee (if using) and take it off the flame. You will notice that the sundal is little wet, but it will dry out and become separated when cooled.
Enjoy Pachai Payaru Sweet Sundal with friends and family!!!