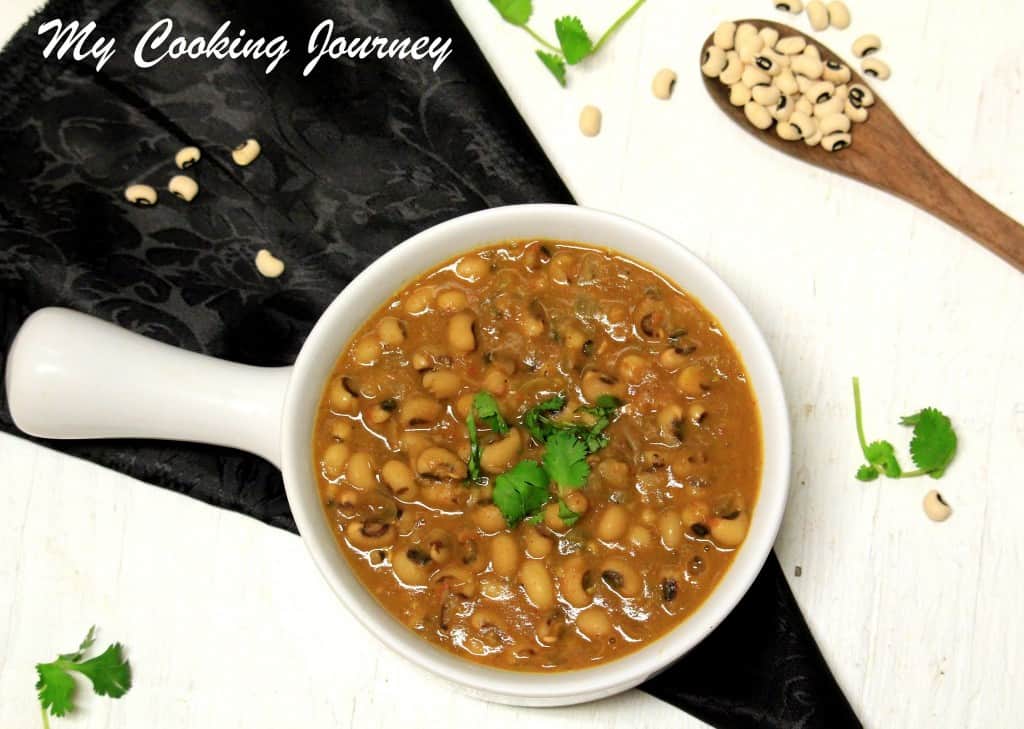 Lobia or karamani is my new found favorite among the many legumes we use. Couple of years back I used karamani also known as cow peas or black eyes peas for making the Karadayan Nombu adai or the sweet karamani sundal. Blogging has opened a whole new world of flavor and I have started using many ingredients that I have never used a lot before.
I have been making lobia vadai often now as it is very crispy in texture and also remains crispy for quite a while after frying. For Navarathri, I have also started making the salt sundal from karamani instead of just the sweet version (although my favorite of all the sundals is the sweet karamani sundal).
Lately this lobia subzi is something that I make a lot as it is very flavorful and also quick to make. It does not necessarily need the overnight soaking of the beans like the other beans need. I am often very forgetful and forget to soak the beans. This one needs just about 4 hours of soaking and it cooks perfectly well.
As a vegetarian, it is very important for me to use as many varieties of beans and legumes to provide the protein for my growing kids. I am also determined to use more of the legumes this year as a regular portion in their lunch boxes in some form of sundal.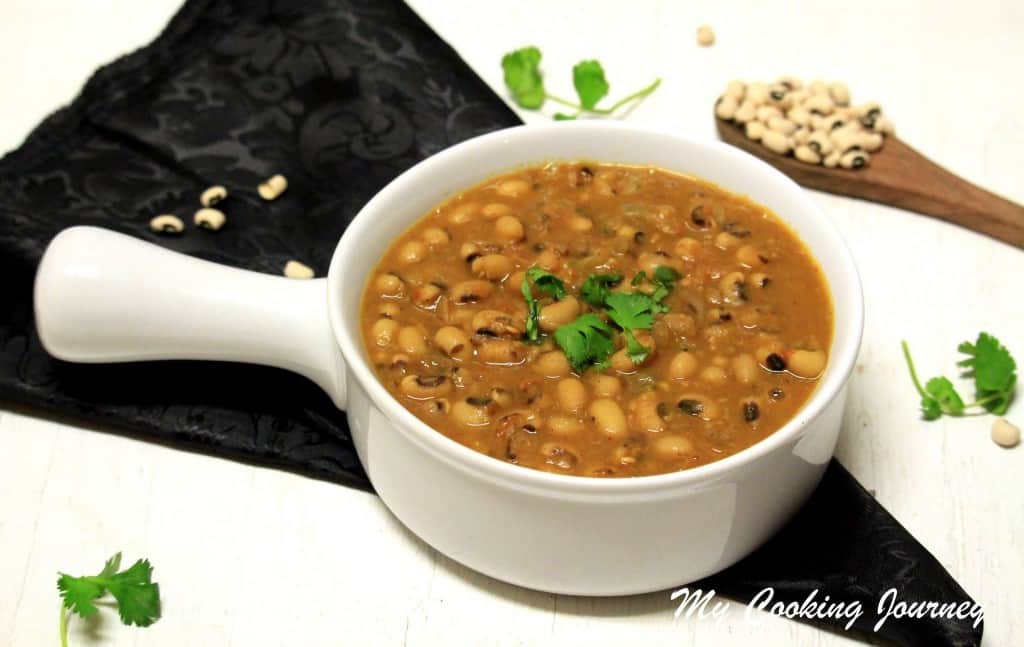 Preparation time – 15 minutes plus 4-6 hours of soaking time
Cooking time – 45 minutes
Difficulty level – easy
Ingredients to make Lobia Subzi – (serves 4-6)
Lobia / Karamani / Black eyed peas – 1 cup
Onion – 1 large (chopped finely)
Tomatoes – 3 (made into puree)
Green chilies – 2 (sliced)
Ginger garlic paste – 1 ½ tsp
Red chili powder – 1 tsp (adjust based on spiciness)
Turmeric powder – ½ tsp
Dhania Jeera powder / Cumin coriander powder – 1 tbsp
Garam Masala – 1 tsp
Bay leaf – 1
Cinnamon – 1 inch piece
Cumin seeds – 1 tsp
Oil – 2 tbsp
Salt – to taste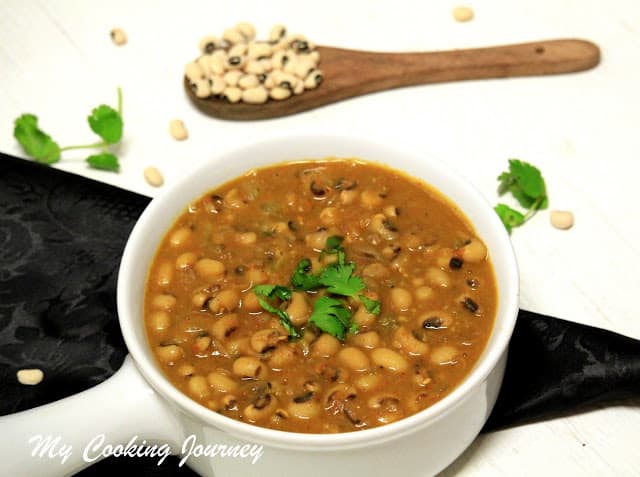 Procedure –
Soak the lobia / karamani in enough water for at least 4 hours. Soaking it overnight will work as well. Once the legume/bean is soaked, it will puff up and become almost double in size.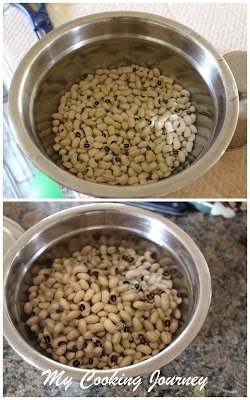 Wash the soaked beans and then add fresh water to cover the beans. Cook the beans in pressure cooker for about 3 whistles to cook until soft. Once the beans are cooked it should be very soft.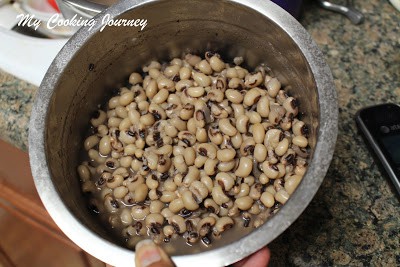 In a separate pan, heat 2 tbsp of oil and add the cumin seeds. Let the seeds crackle and then add the cinnamon and the bay leaf. Let it fry for about 20 seconds.
Add the chopped onions and fry until translucent. Then add the ginger garlic paste and green chilies and fry for a minute more.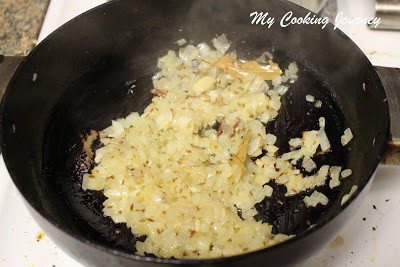 Now add the pureed tomatoes and all the dry spices (turmeric powder, dhania jeera powder, red chili powder, garam masala and salt). Fry the masala for about 5 minutes in medium flame or until it becomes aromatic.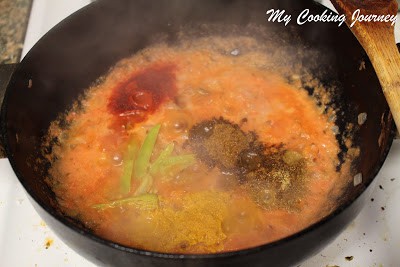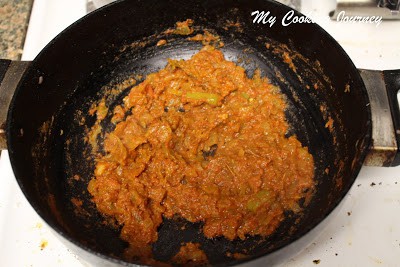 Add the cooked beans along with the water. If there is too much water, take some out. Always make sure that the beans are cooked just in enough water so as to not waste the nutrient cooking water.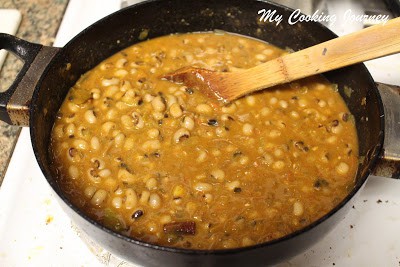 Mash some of the beans with the back of the ladle. This helps the gravy to thicken and come to the right consistency. Let the subzi simmer in low flame for about 8 – 10 minutes.
Garnish with fresh coriander leaves and serve the Lobia Subzi with chapatti or rice.