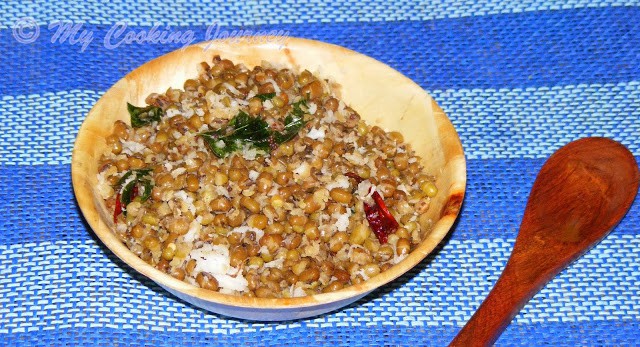 As much as I want to include lot of whole grains in my everyday cooking, I am unable to do so in regular basis. Navarathri is one occasion that every house hold in Tamil Nadu might get their whole year's worth of whole grain in their meals. This is one of the sundals that I made for Navarathri this year apart from few that I have already blogged about. Last year I tried the pachai payaru sweet sundal for the first time and we really liked it. So this year for Day 4 of Nvarathri I had made Pachai payaru sundal, the salt version. My cousin had visited us during Navarthri this year and we had loads of fun with them. Had made this sundal when they were here and it was enjoyed by all.
This is the recipe that I chose to make for Blogging marathon this week under the theme, Festival dishes with step by step pictures.
Preparation time – 10 mins plus 2 hrs to soak the payaru
Cooking time – 45 mins
Difficulty level – easy
Ingredients to make Pachai Payaru Sundal – (serves 4-6)
Pachai Payaru/Whole moong dal – 1 cup
Coconut – 1/3 cup (grated)
Oil – 2 tsp
Mustard seeds – 1 tsp
Red chilies – 3
Asafetida – ¼ tsp
Curry leaves – few
Salt – to taste
Lemon/lime juice – 1 tbsp (optional)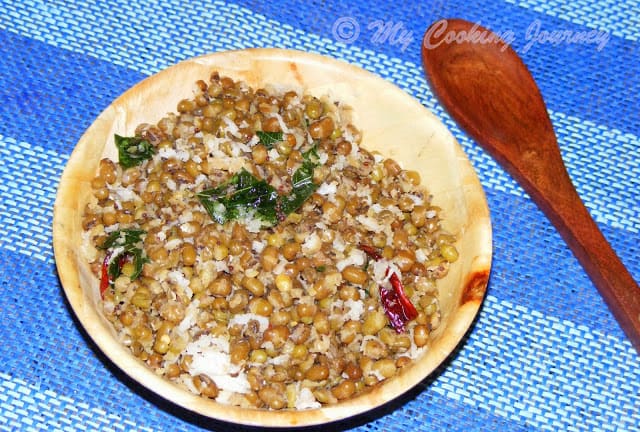 Procedure to make Pachai Payaru Sundal –
Dry roast the moong in a pan, until slightly brown and aromatic.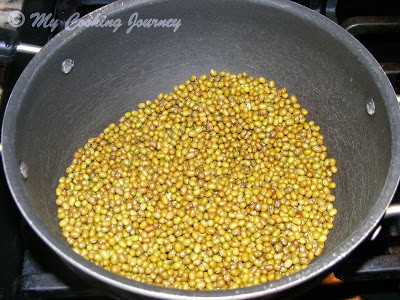 Soak the roasted moong in enough water for about 2 hrs.
Drain the water and then add more water to the pan. Cook the soaked Moong until slightly soft. At this stage add salt and continue to cook for 5 more minutes. You could do this in a pressure cooker as well, but I preferred to cook it directly since I had more control on the texture. Do not add salt in the beginning, else it would take too long to cook. Add salt during the last 5 mins, so that the dal would be cooked and still will have a chance to absorb the salt. Drain the cooked dal in a colander and leave it aside for few minutes to drain.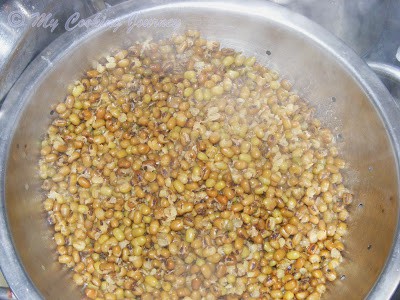 In the same pan, add oil and fry the seasonings (mustard seeds, asafetida, curry leaves and red chilies).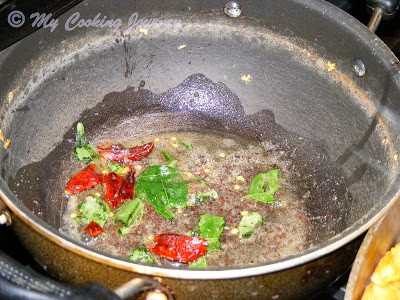 Now add the drained the moong and stir well. Add the coconut gratings and mix well.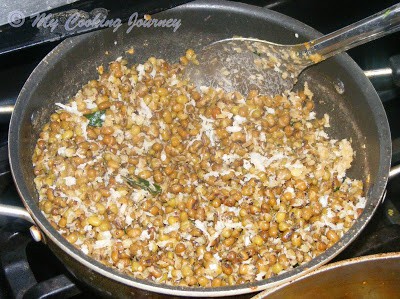 Take the sundal off the flame and add the lemon/lime juice if using. Mix well and serve.