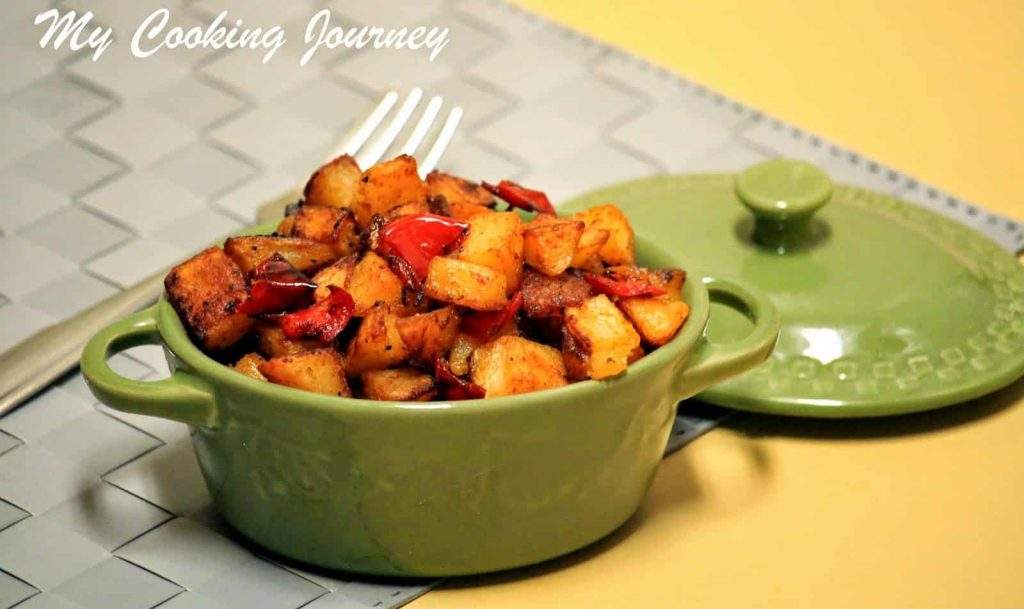 This month we are beginning our 50th edition of Blogging Marathon. I am so blessed to be a part of this amazing group started by Srivalli that ever keeps all the members motivated. I have learned so much from this group and still learning. Thanks to all the Srivalli and all the amazing members of the group. We are proud to say that we are one big virtual family who are always there for each other.
The theme that I chose for this week is 'pick a chosen Wikipedia category and make three dishes from it'. I chose to make Potato dishes from the category and hence will be posting 3 different potato based dishes this week.
Who does not like potatoes? It is a very versatile vegetable and is used in many different recipes. This Wikipedia list had some amazing potato dishes and I was tempted to try a lot of them. I shortlisted the dishes and made my list in such a way that I can serve along with dinner or as dinner itself.
The first recipe I have here is the very famous breakfast potatoes also called the home fries. When we travel, we love to have breakfast in local diners or small joints. I love that they can make the dishes based on your preferences. Being vegetarians most of the time we have to skip these potatoes because they are pan fried in bacon fat.
I made these potato home fries in the oven and also added some onion and garlic for flavor and red bell pepper for color. The sweetness of the onion and bell pepper along with the crispy potatoes were awesome. I did not make these for breakfast but served this along with cheese quesadilla for dinner. I am going to be making these with sweet potatoes next time. Also I added some chili powder for spice and roasted cumin powder for added flavor.
Red potatoes would work great for this as you don't have to peel the skin. It is traditionally made with the skin on, but since I did not have any red potatoes I made them with russet potatoes. I did peel the skin since they are quite thick. There are few recipes that calls to pre cook the potatoes until they are fork tender, but I chose not to since I have made French fries in the oven before and they worked great without any precooking.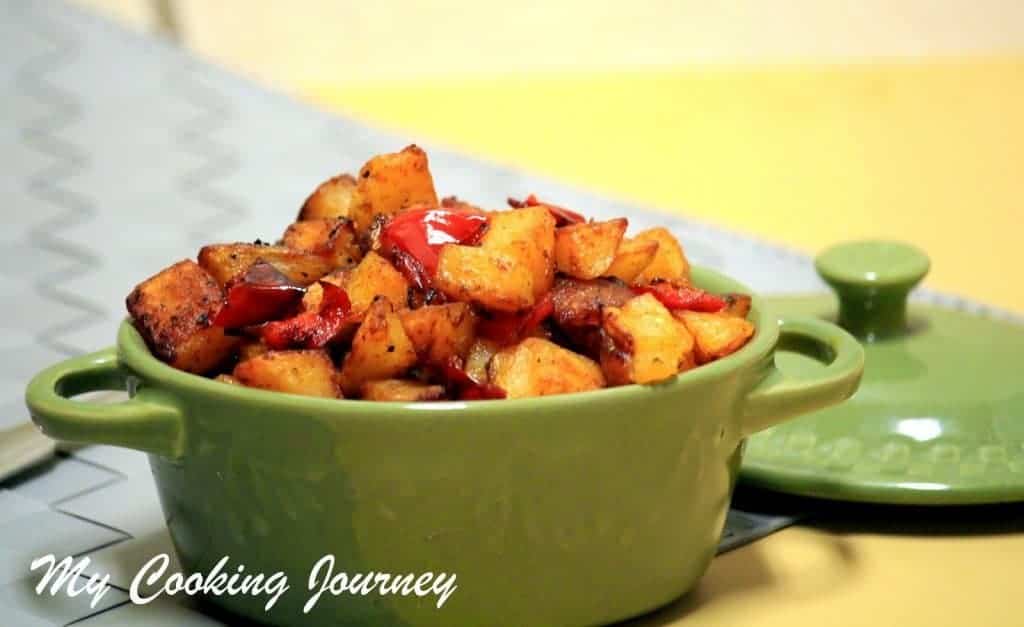 Preparation time – 10 minutes
Cooking time – about 30-40 minutes
Difficulty level – easy
Ingredients to make Potato Home Fries – serves 4 as a side
Potatoes – 4 large (I used russet, if using red potatoes use about 8)
Onion – 1 small
Red bell pepper – 1 (or use any colored ones)
Garlic powder – 1 tsp (or use fresh minced garlic)
Salt – to taste
Red chili powder – 1 tsp (optional)
Freshly ground black pepper – ½ tsp
Roasted cumin powder – ½ tsp
Olive oil or vegetable oil – 3 tbsp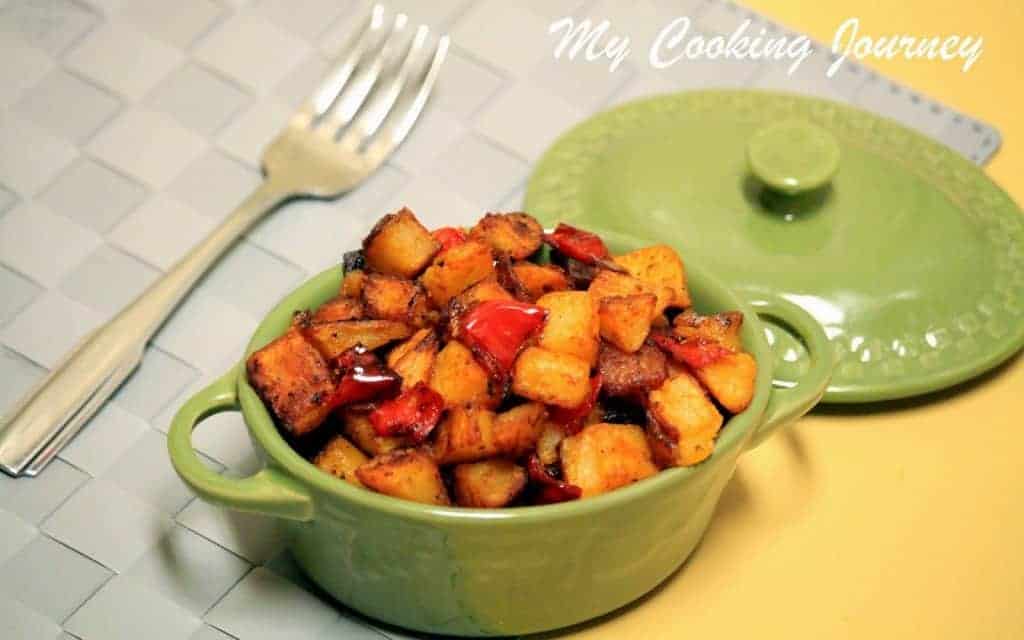 Procedure to make Potato Home Fries –
Wash and peel the potatoes and chop them into ½ inch cubes. Place them in a large bowl.
Wash and chop the bell pepper into ½ inch cubes as well and place in the same bowl. Chop the onion as well into cubes and drop them in the same bowl.
Add all the other ingredients to the bowl. If you do not mind few extra fat calories, you could substitute part oil with melted butter. I used all oil and not butter.
Using a spatula, mix everything in the bowl until well incorporated.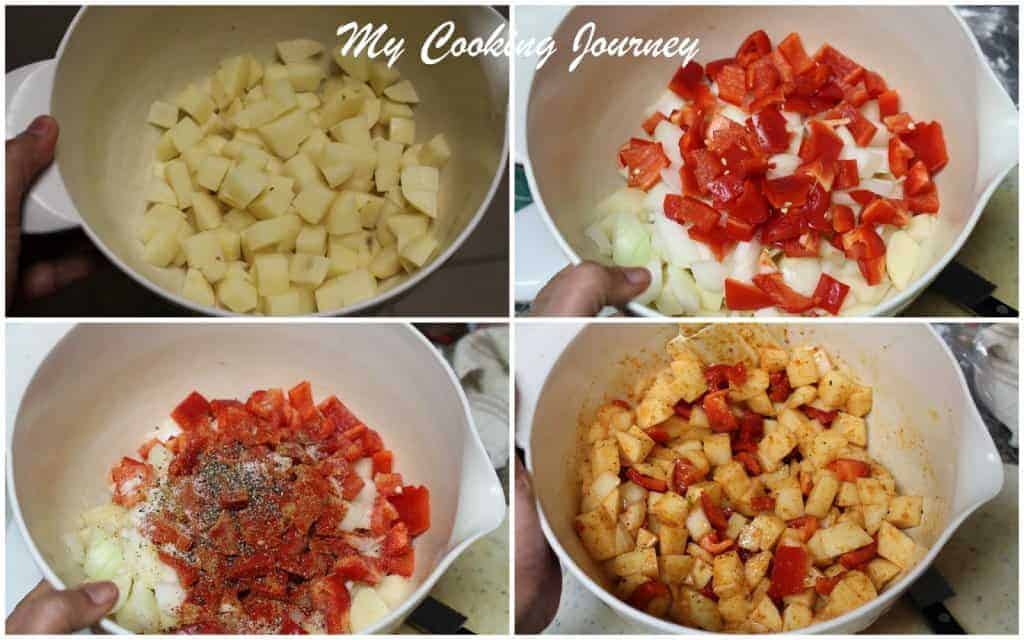 Meanwhile preheat the oven to 425 F. Line a large baking sheet with aluminum foil and grease the foil well.
Place the potato mixture in a single layer on the greased baking sheet and bake for 25-30 minutes.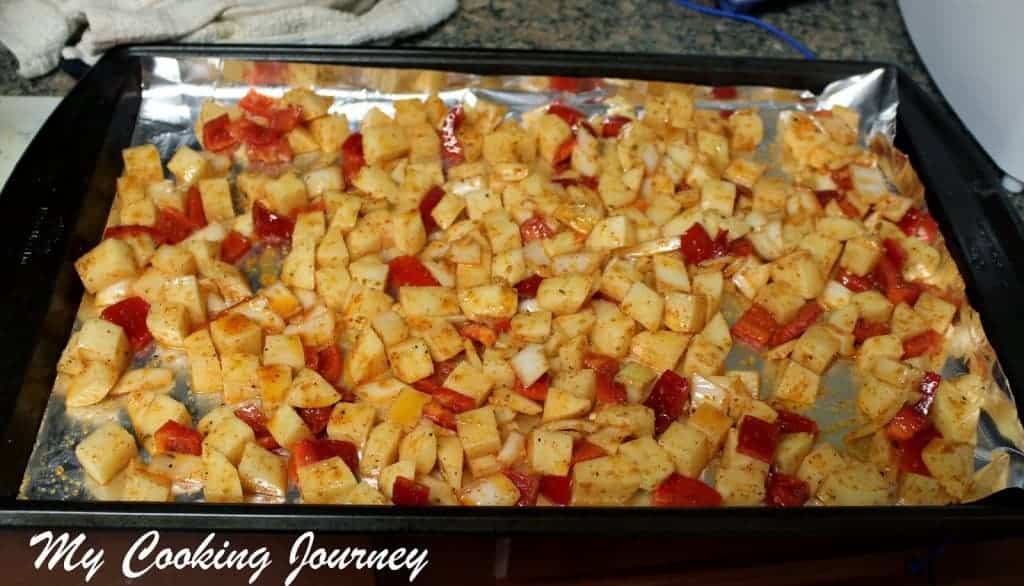 Make sure to check the tray every 10 minutes and turn the potatoes around to evenly bake on all the side. Once the vegetables are crisped up, remove it from the oven. Let t rest for couple of minutes and then serve these potato home fries !