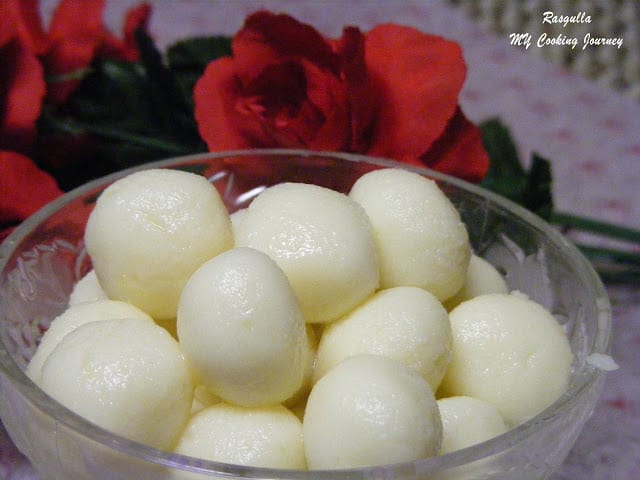 Hello friends,
I am so happy to be penning my 100th blog recipe today. My Cooking journey so far has been full of delightful events. I would like to take a moment to thank few people without whom this journey would not have been possible. First and foremost thanks to my dear Husband, without whom I could not have done what I enjoy doing. He has been a constant support for me, right from being my taster and my critic to encouraging my work each and every day. He is my website designer and my go to trouble shooter whenever problem arises.
My next thanks would be to my children. I love that moment when they say 'this is the best food I have ever eaten in my whole life' (and they say it almost every day). I have to say a special thanks to their patience. When it is dinner time, I suddenly remember that I have not yet taken pictures of what I made. I have to stop their meal and say, please let me take the pictures and they patiently wait for me to come and give them the food. Thank you Sarvesh and Pranesh!
A big thanks to my mother, who almost every day patiently clears my doubts and gives me substitutions for ingredients and tips when cooking. I have to say that my journey has influenced my parents to such an extent that my mother filters through cook books and my father patiently scans them and emails them to me. What else can I ask for as a daughter from my parents? Thank you Amma and Appa.
Last but not the least, a very big thanks to all of you who are reading my posts patiently and following me. Please continue to encourage my Journey as always and looking forward to hearing from you all.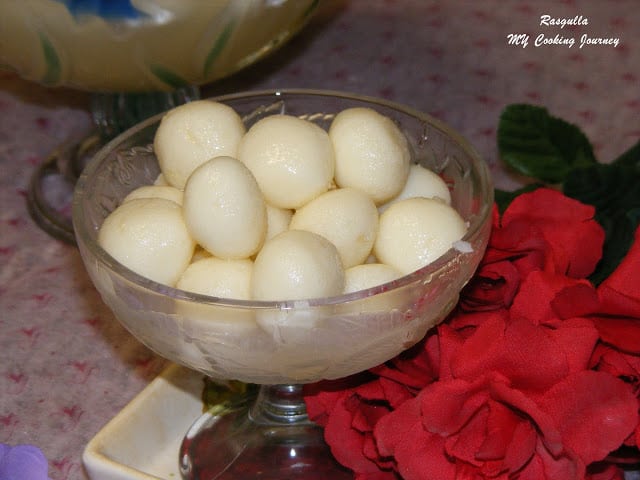 Now coming to this dish, Rasgullas is a dish that I have not made before. It is my favorite sweet and I always buy the cans from the Indian stores. Now that I have made it from scratch, I would never go back to buying them. I followed the recipe from Divya Pramil's blog, you too can cook Indian food and the outcome was fantastic. So here goes my 100th post and hope you enjoy it as much as I did.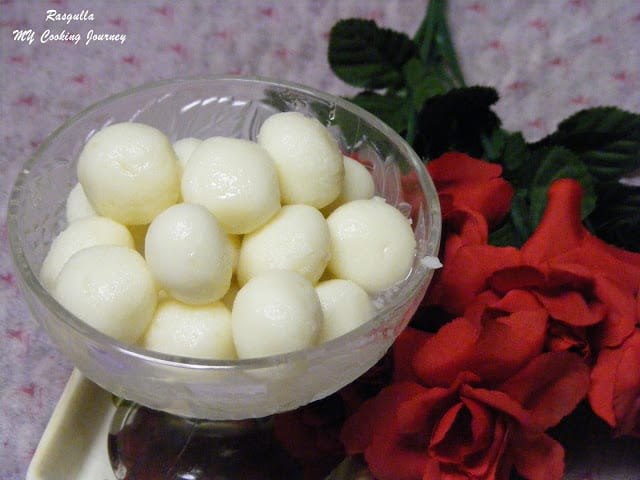 Preparation time – 10 mins Plus an hour to hang the paneer/chenna
Cooking time – 1 hr
Difficulty level – medium
Ingredients – Makes around 20 medium rasgullas
To make the Paneer/chenna –
Milk – 1 liter/1000ml
Lemon/lime juice – from one lime (about 3 tbsp)
Muslin/cheese cloth or any thin cloth – to strain the paneer
Colander – to drain the paneer
For the rasgullas –
Paneer – prepared from 1 liter milk
Sugar – 2 cups
Water – 3 cups
Cardamom powder – 1 tsp
Rose water – few drops (optional)
Procedure to make Rasgullas –
To make the paneer –
Boil the milk in a thick bottom vessel. Once the milk boils, reduce the flame and add the lemon juice little by little stirring well in between each addition.
In about 2-3 mins, you will notice the milk curdles and starts separating out. Wait till the milk curdles entirely and forms milk chunk of cheese and the remaining liquid, which is called the whey is clear. At this point take it off the flame.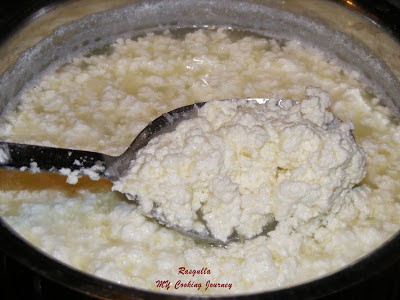 Mean while, line a metal colander with cheese cloth or any thin cloth. Drain the paneer on to it and wash it well under cold running water. Wash it until all the lemon smell goes away.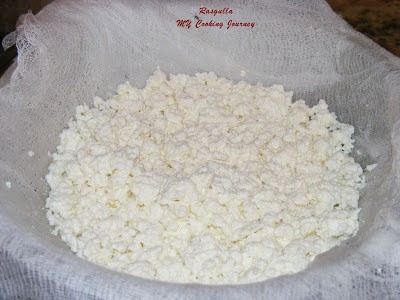 Squeeze the excess water from the cloth slowly and gently and hang it in the kitchen sink for about an hour.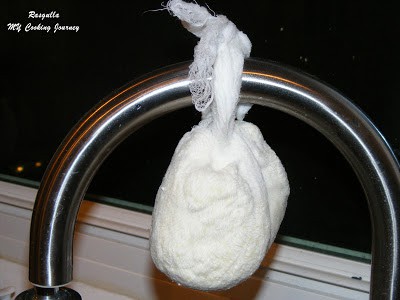 After an hour open the cloth and remove the paneer. Now the paneer is ready to start making the rasgullas.
To make the rasgulla –
The paneer that we have in the bowl will be crumbly in texture. We need to knead the paneer for at least 12-15 mins to make it into smooth dough. Use pressure to knead and I found the using my knuckles (the back of fingers) quite useful for this job. This step is very important, so do not rush this process. It is very important to knead the paneer to bring it to a smooth texture.
Now make small, smooth balls out of the paneer. Make sure that the ball is smooth and does not have cracks in it. Take a piece of paneer and place it in between your palms. Now apply pressure and make a ball and slowly release the pressure to smoothen it. Make around 20 balls and keep aside covered.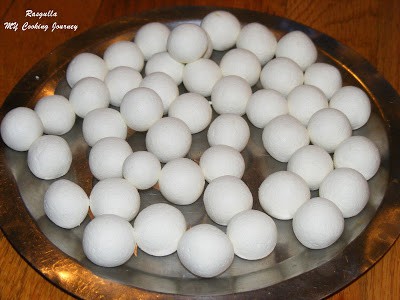 In a wide pan add the sugar and the water and bring it boil. Once it boils add the cardamom powder and the prepared paneer balls and cover it with an air tight lid. Let it cook in medium heat for 15 minutes.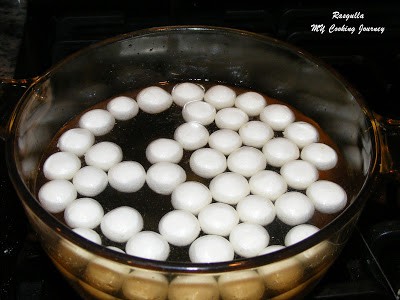 By now we can notice that the balls have doubled in size. At this stage if you feel that the balls do not have space to expand in the vessel, transfer some sugar syrup and few balls to another pan and continue to boil.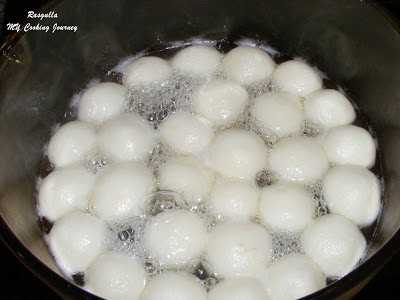 Paneer balls transferred to another vessel to ensure proper cooking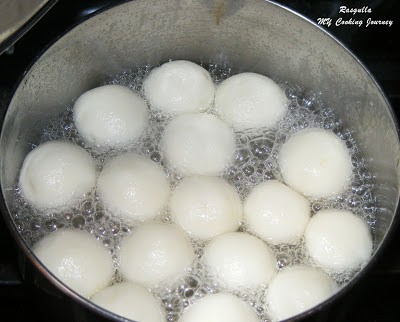 After 15 minutes, open the lid and let it cook for another 10 mins. Now take it off the flame and let it come to room temperature.
Refrigerate the Rasgullas and enjoy it cold, or if you are like me relish it when still warm.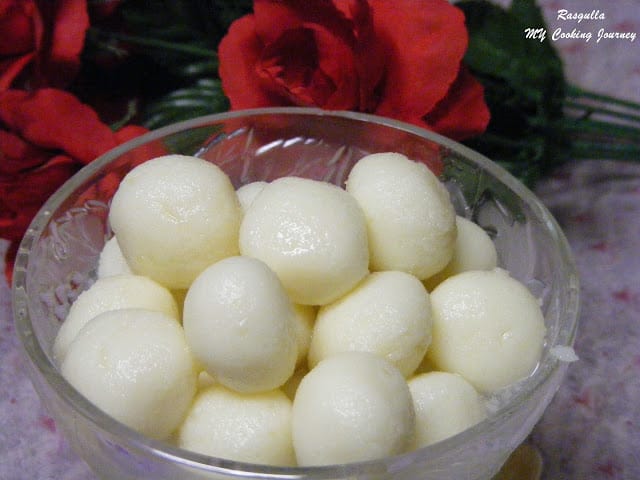 Notes and observations –
Drain the paneer well. This stage is important to remove all the moisture from the cheese to get good rasgullas.
Kneading the cheese is very important. Do not rush through this step.
When cooking, make sure the balls have enough space to expand. Otherwise they would not become large and hence will end up not being very spongy. I had this issue, because I made a big batch and I had to transfer it mid way to another pan.
I did not add rose water to the syrup, b'cos I like to keep the flavors simple.
The whey (clear liquid) that comes out when removing the cheese is very healthy. Try using it to make chapatti dough or you can use it in any subzi or gravy instead of water.