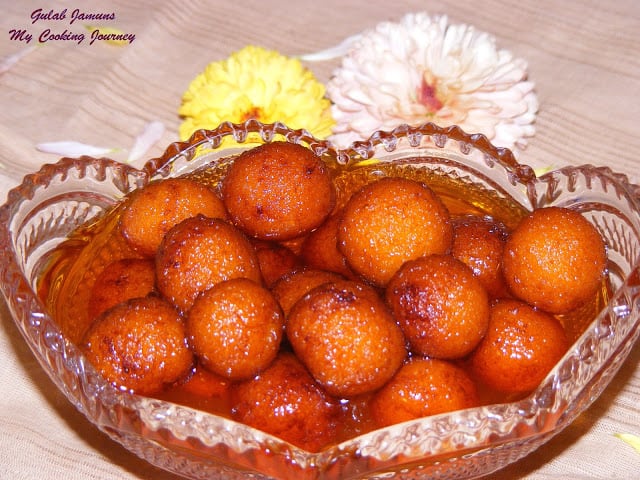 Divya Pramil of You too can cook Indian food came up with a marvelous idea for learning new recipes. Indian states are divided into 2 categories, South and North and each month, both the teams choose a recipe for the other team to try. This is a wonderful way for people to learn dishes that they have never made before. This month's (November) challenge is posted by Pallavi of Cook-Eat-Burrrp. She is from the North team and she challenged bloggers from the South team to make Gulab Jamun. She has the recipe posted in her website and all we have to do is make what she made and post it.
Coming to the recipe, for me Gulab Jamun was always something that I make from the packet. Having never made it from scratch, this was a wonderful opportunity for me to learn. The dish came out really well and I am very happy to have learnt something new in the festive season.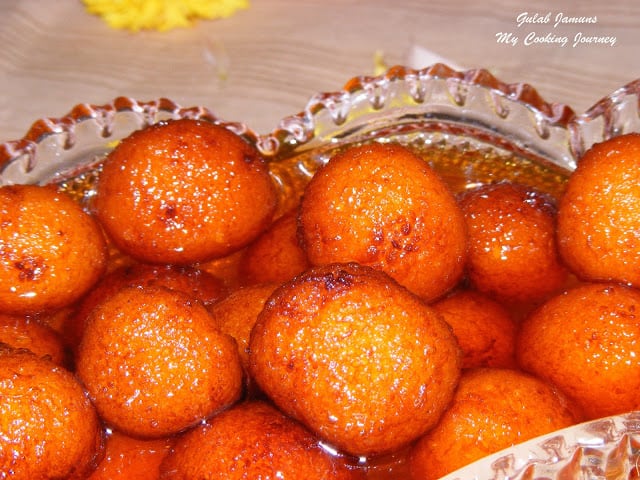 Preparation time – 20 mins
Cooking time – 30 mins
Difficulty level – easy
Ingredients – makes around 20 small Gulab Jamun
For the Jamuns -
Milk powder – 1 cup
Full fat Milk – 6 tbsp (you might need more or less depending on the dough)
Melted butter – 2 tbsp
Maida/APF – 2 tbsp
Rava/semolina – 1 ½ tbsp
Baking powder – ¼ tsp
Oil – to deep fry
For the sugar syrup-
Sugar – 1 cup
Water – 1 cup
Saffron – few threads (optional)
Cardamom powder – 1 tsp
Red food coloring –a pinch (optional)
Procedure to make Gulab Jamun –
In a bowl, whisk together all the dry ingredients mentioned under the jamuns.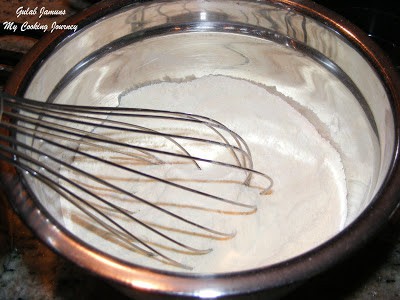 To this add the melted butter and mix well. Then add the milk slowly (1 tbsp at a time) and knead to form smooth dough. Cover with a plastic wrap or kitchen cloth and leave it aside for about 20 mins.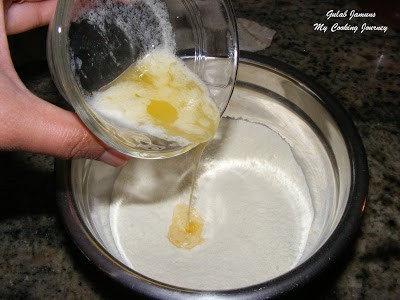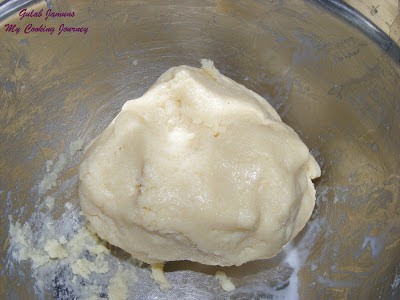 In the mean time, add the sugar and water in a sauce pan. Bring it to a boil and then simmer for 10 mins. Then add the cardamom powder, food coloring and the saffron threads. I left the syrup simmering until I was ready to dunk the fried jamuns in it.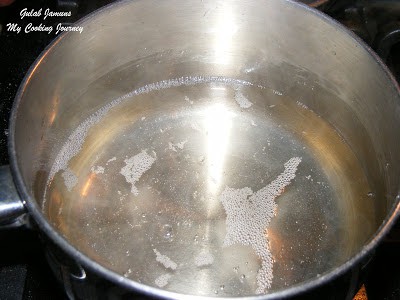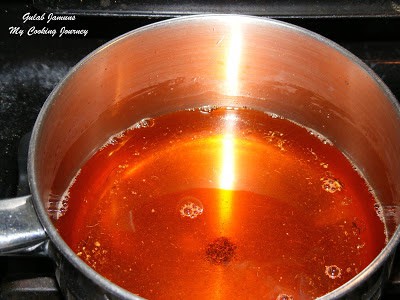 Grease your hands well and shape the dough into smooth balls. Make sure the balls are smooth and have no cracks in it. The secret of making a smooth ball is to apply pressure when shaping in between your palms. Keep aside covered with a cloth.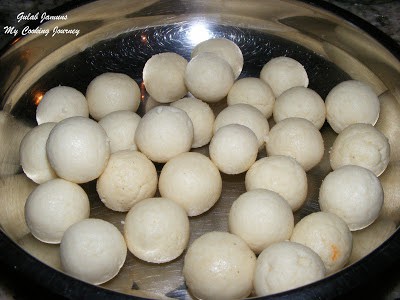 Heat oil in a kadai and once heated add the shaped jamuns into the hot oil. The oil should not be smoking hot; otherwise the jamuns would just cook on the outside and will remain raw inside. So make sure the oil is just the right heat and always keep the flame in low medium when frying.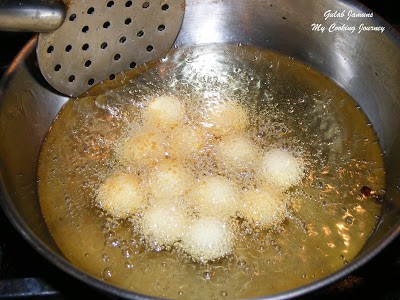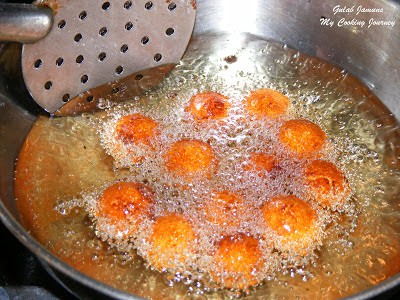 Once the jamuns are golden brown, drain them on a paper towel and then immediately add it to the simmering sugar syrup.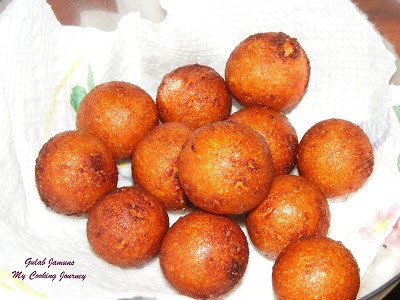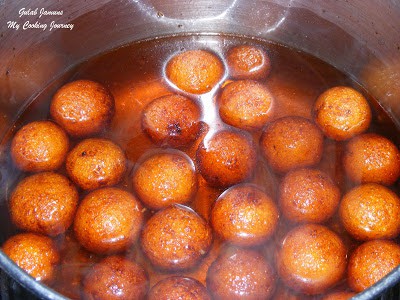 Let it soak for at least an hour and then serve either warm or at room temperature.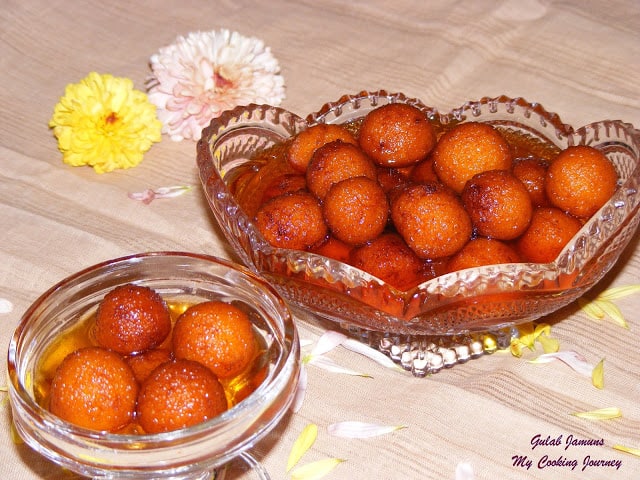 Notes and observations –
The dough should be very soft dough. Once when I made it the dough was too hard and crumbly that resulted in hard gulab jamuns. Make sure the dough is little bit on the softer side, because once we leave it aside, they tend to harden up.
Keep the sugar syrup hot when immersing the jamuns. This way the jamuns soak up the syrup well.
You could garnish it with chopped nuts if you prefer. I like them clean and hence avoided any sort of garnish.