It cannot get easier than this Quick and Easy Mango Lassi Recipe to beat the summer heat. Made with just mangoes, yogurt and sugar, this drink will steal many hearts.

I was first introduced to Mango Lassi when I came to US some 20 years back. I had no idea of how it was going to taste and was not too keen to try it either. Being the loyal Lassi fan, I did not want to try anything else. My husband though was already a big fan of Mango Lassi and would only drink that when eating out at an Indian restaurant. Then came my kids and once they tried out the Mango lassi, fell in love with it. I still remained the Loyal Lassi fan that I was.
Yogurt is a staple part of our diet and we eat it almost everyday with our every meal. Drinks with yogurt are common in India during summer and it is enjoyed in different forms as thirst quenchers. I am no different and make several different flavored drinks with it.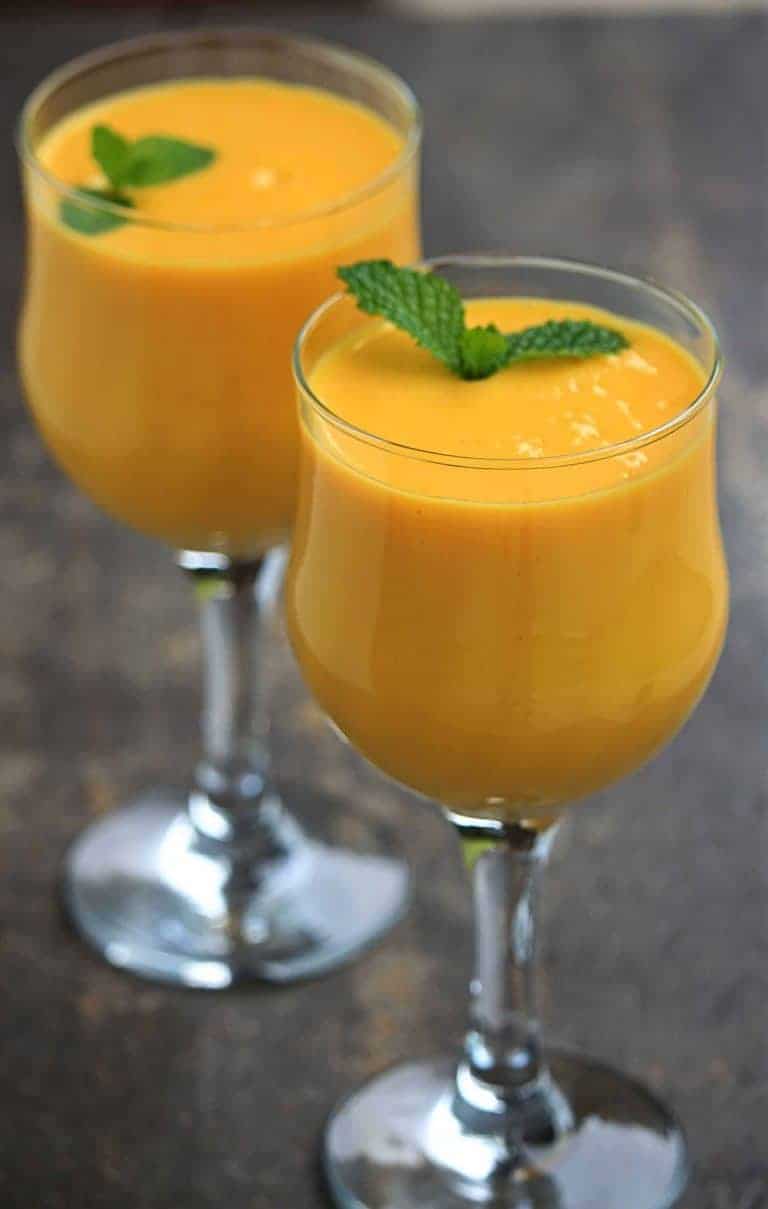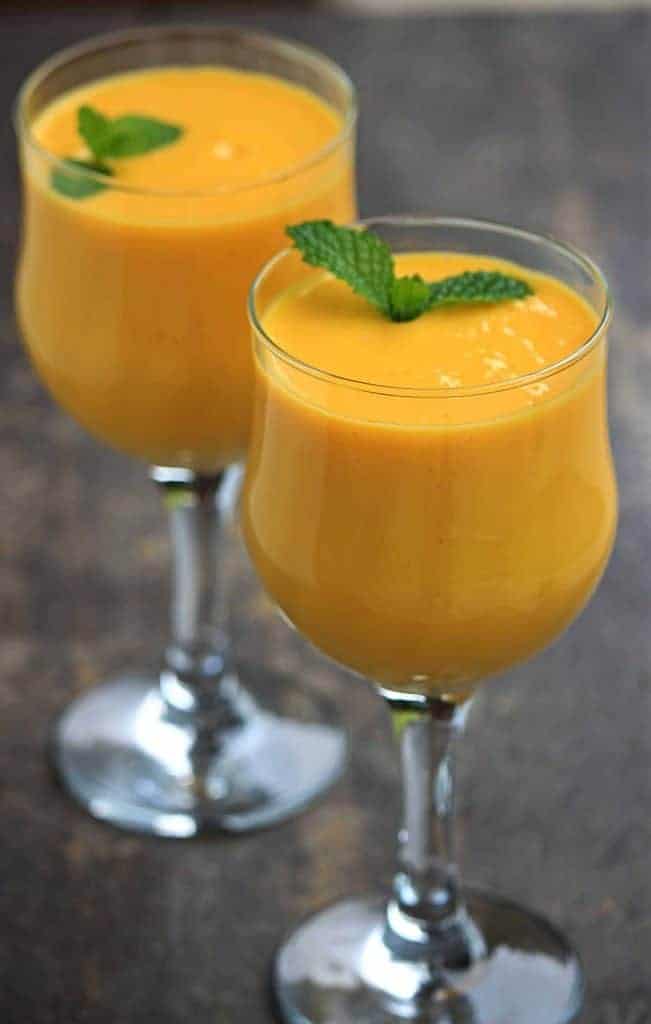 Check out my few flavored Yogurt drinks here –
To get the best yogurt drink, we need to begin with fresh yogurt. You could use the store bought yogurt but I like to use my Freshly made Homemade Yogurt. Making yogurt at home is very simple and it tastes so much better than the store bought ones. Also it is very economical to use homemade yogurt.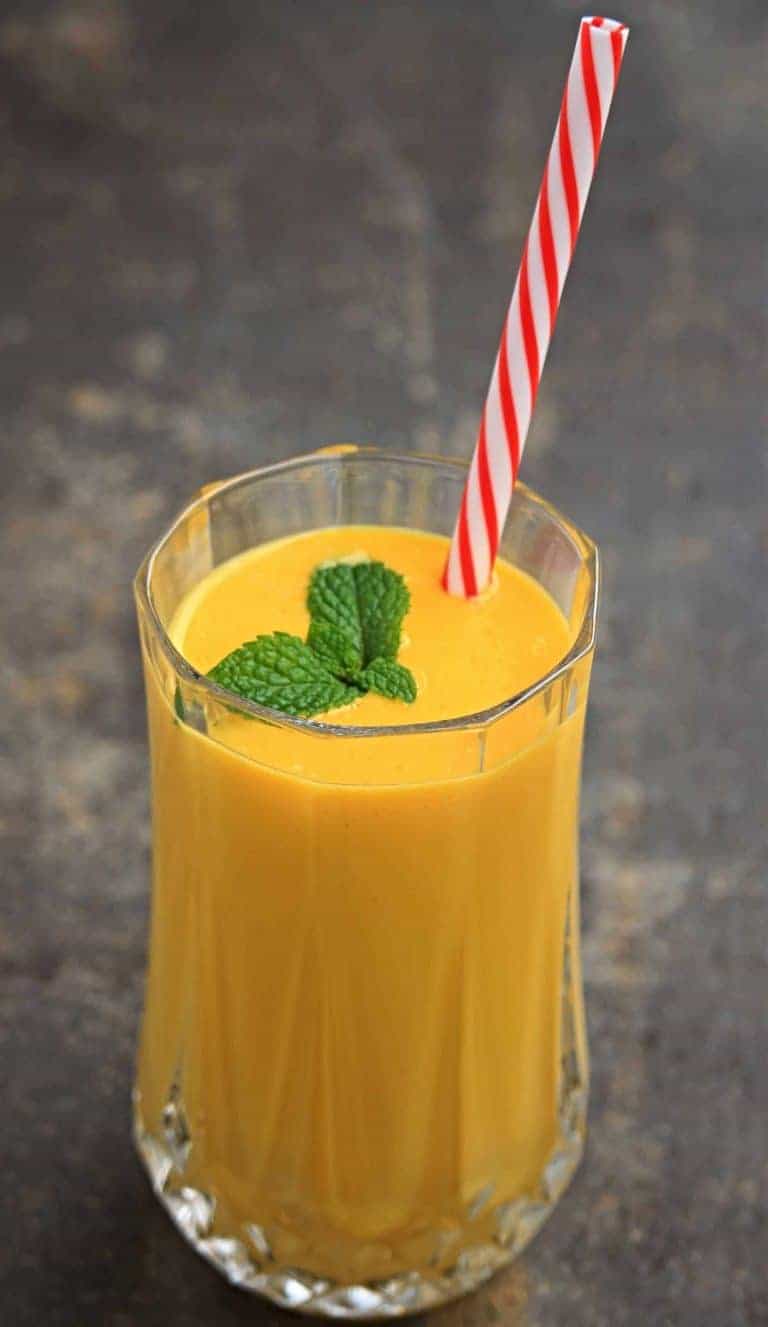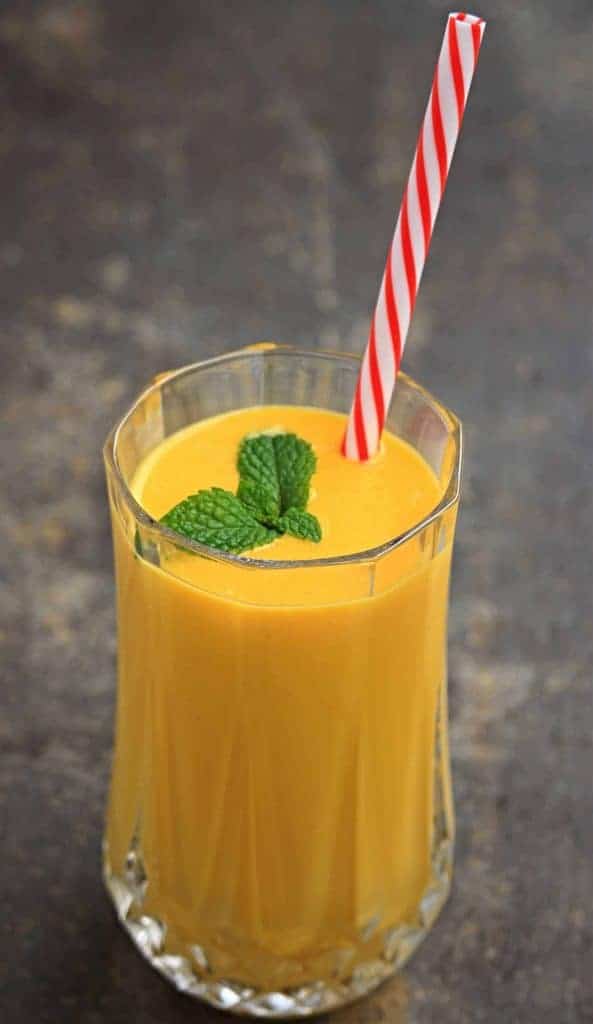 I am surprised that even though I make Mango lassi very often, it took me this long to blog about it. I chose to make 3 Ingredients recipes this week and this 3 Ingredients Mango Lassi Recipe is a perfect fit for the theme. There are many variations of the recipe with different flavoring ingredients added to the lassi. My boys love the plain Mango flavor in their drink and hence I keep it that way.
Summer is the best time to enjoy this chilled and flavorful 3 Ingredients Mango Lassi Recipe. One, it is the best time to get the best tasting mangoes. I used the canned mango pulp for the recipe for the ease. If you live in a region where fresh mangoes are easily available, go ahead and use them. Secondly, summer is when we want to drink chilled drink. Yogurt works great in summer drinks. It is very healthy and loaded with probiotics for a healthy gut.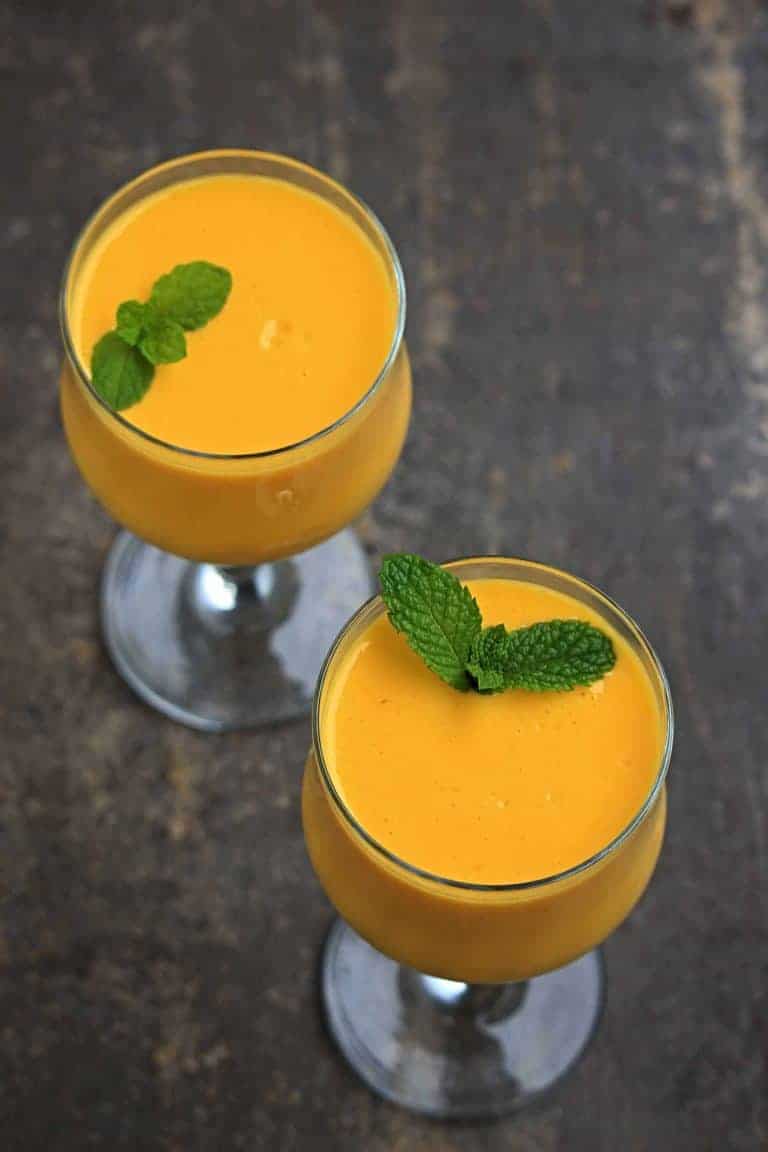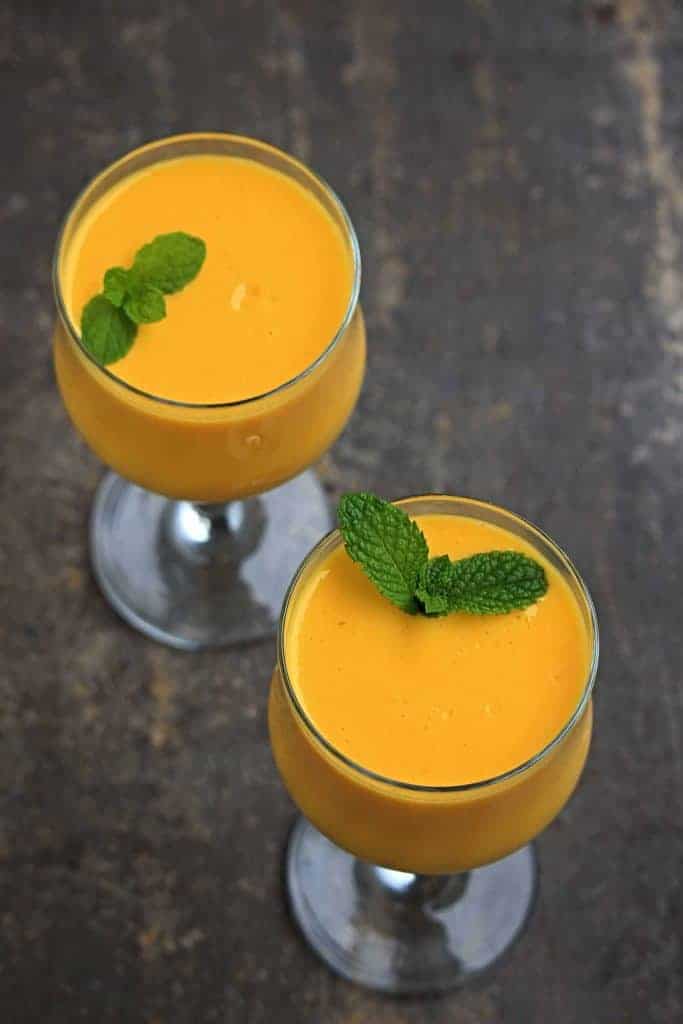 If looking for more Mango recipes to make this season, check out the list here –
Also check out my other 3 ingredient recipes –

Preparation time – 5 minutes
Cooking time – None
Difficulty level – Easy
Ingredients to make 3 Ingredients Mango Lassi – Serves 4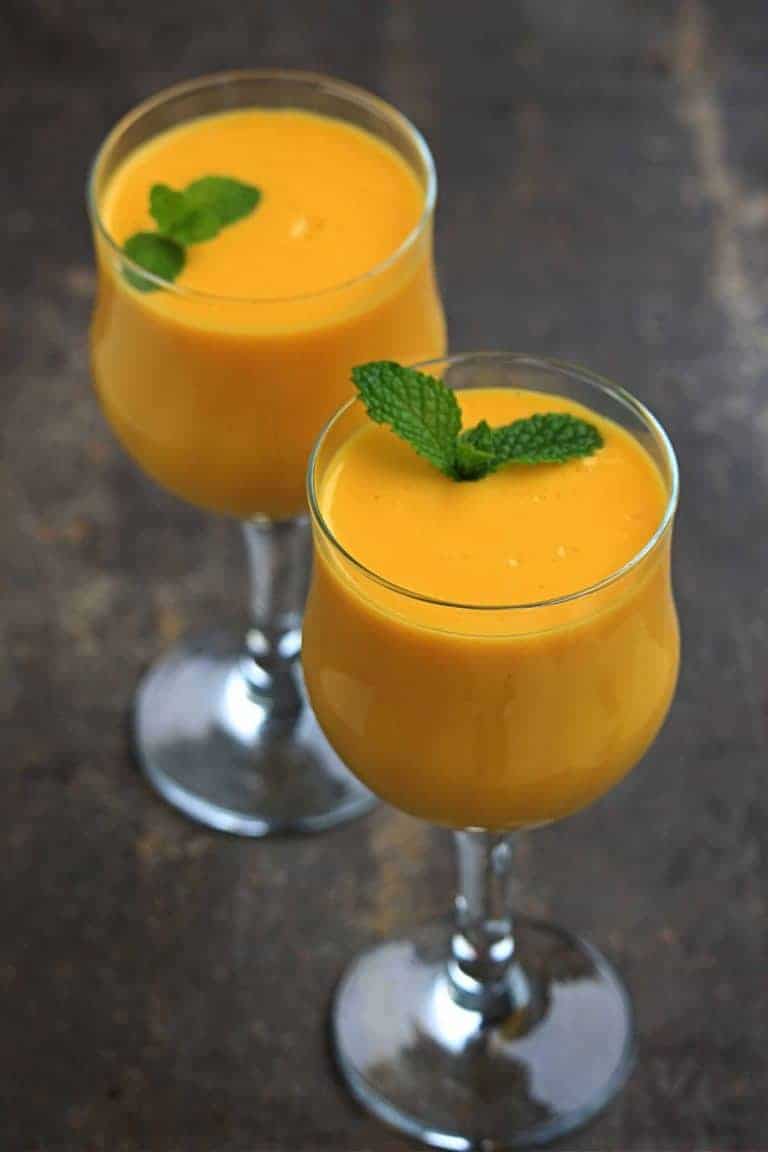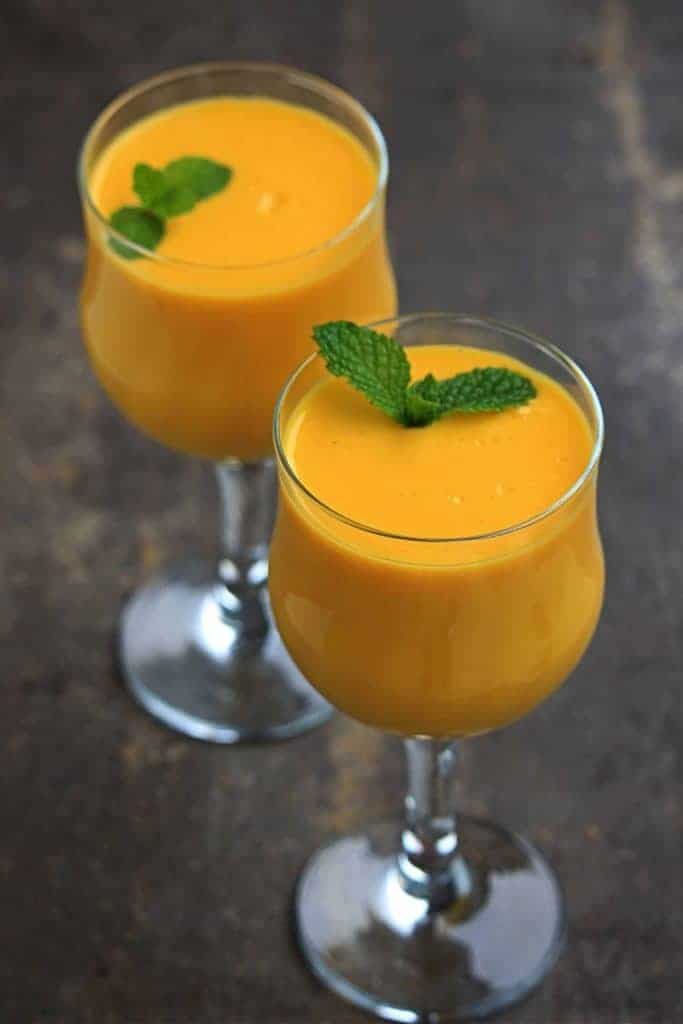 Procedure to make 3 Ingredients Mango Lassi –
Notes and Observation –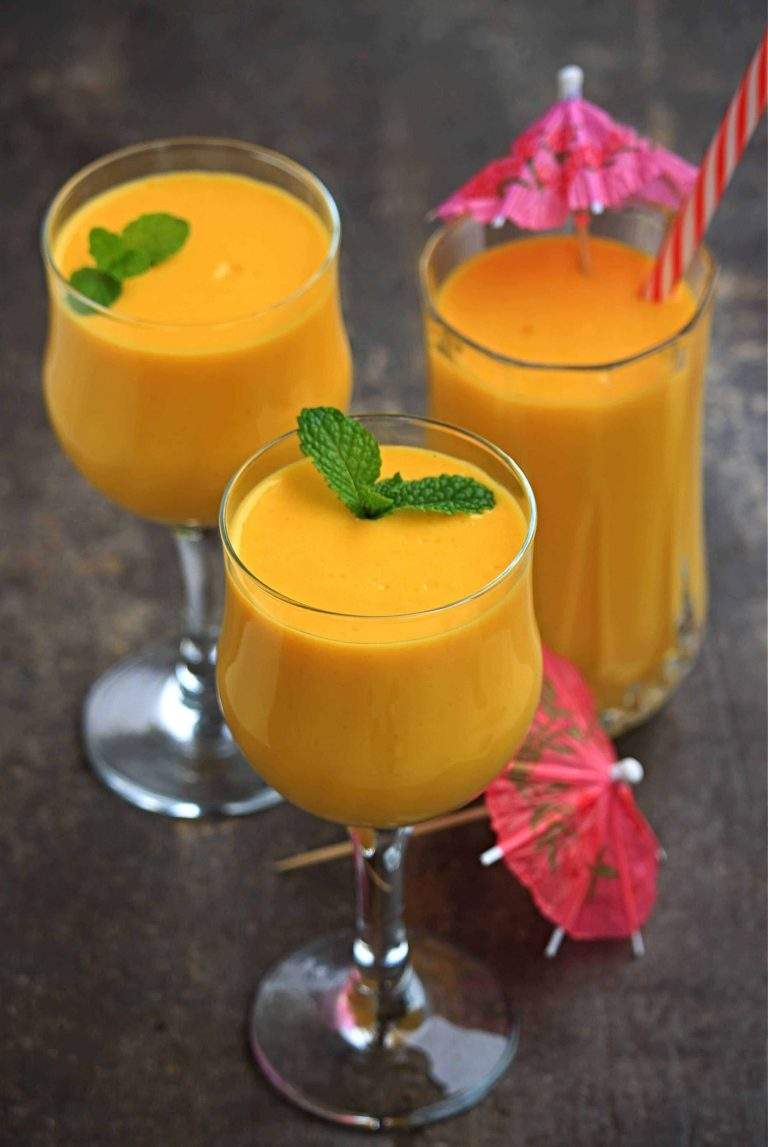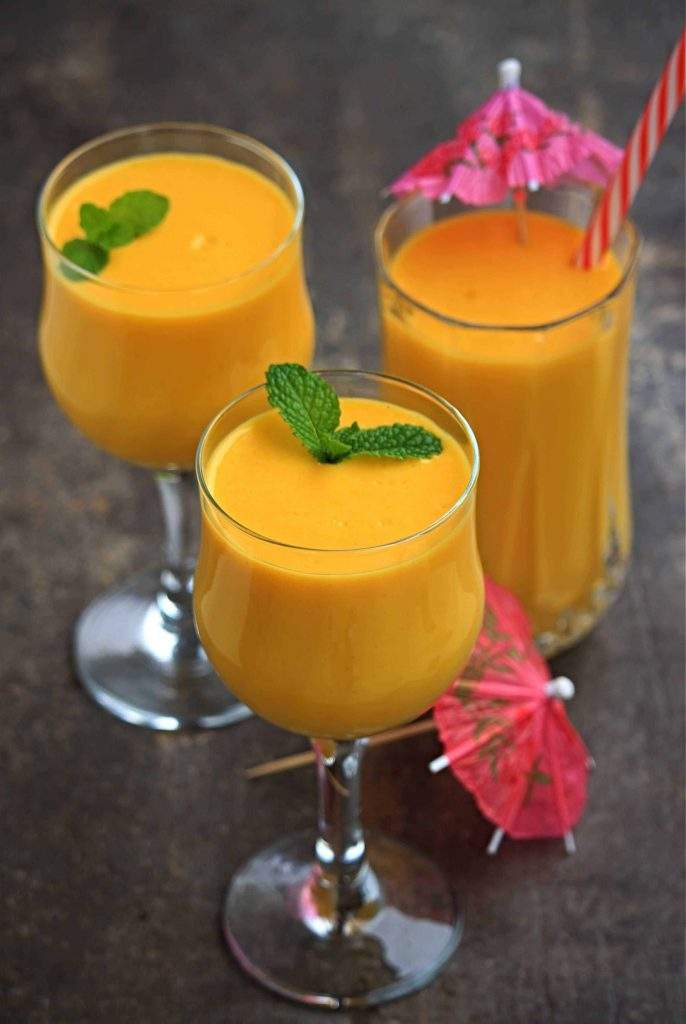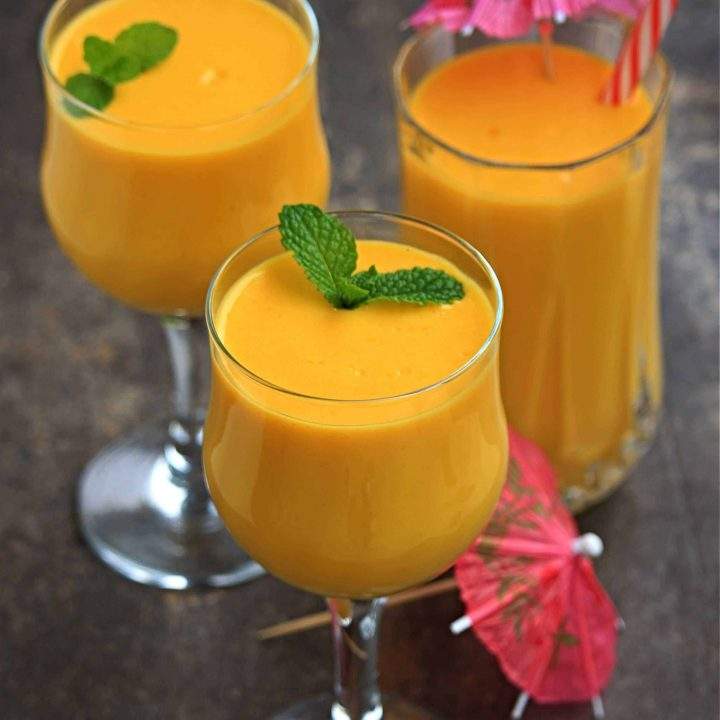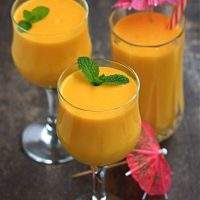 Ingredients
Mango Pulp – 2 cups

I used sweetened Kesar Mango Pulp

Yogurt – 2 cups

I used homemade yogurt

Sugar – 1/4 cup

adjust based on your sweetness level

Ice cubes – few

optional

Milk – 1/2 cup (if you like thinner consistency
Instructions
Measure the mango pulp in a blender jar and add the sugar and the yogurt.

Blend until smooth and frothy. Add ice or milk if preferred.

I usually add a little milk to adjust the consistency.

Serve cold!
Notes
Mango lassi essentially needs just the 3 ingredients; mango, yogurt and sugar. Other ingredients are purely optional.
Use fresh yogurt for best taste. Sour yogurt might need a little more sugar to adjust the sweetness. I used mango pulp for ease.
If fresh mangoes are available, remove the pulp and use them instead of canned mango.
Use and quantity of sugar is purely based on individual preference and sweetness of mango.
Optional ingredients that could be used are cardamom, rose water or saffron. You can try each of the flavor individually to see what works for you. My boys prefer just the pure taste of mango and I usually don't add any other flavoring.