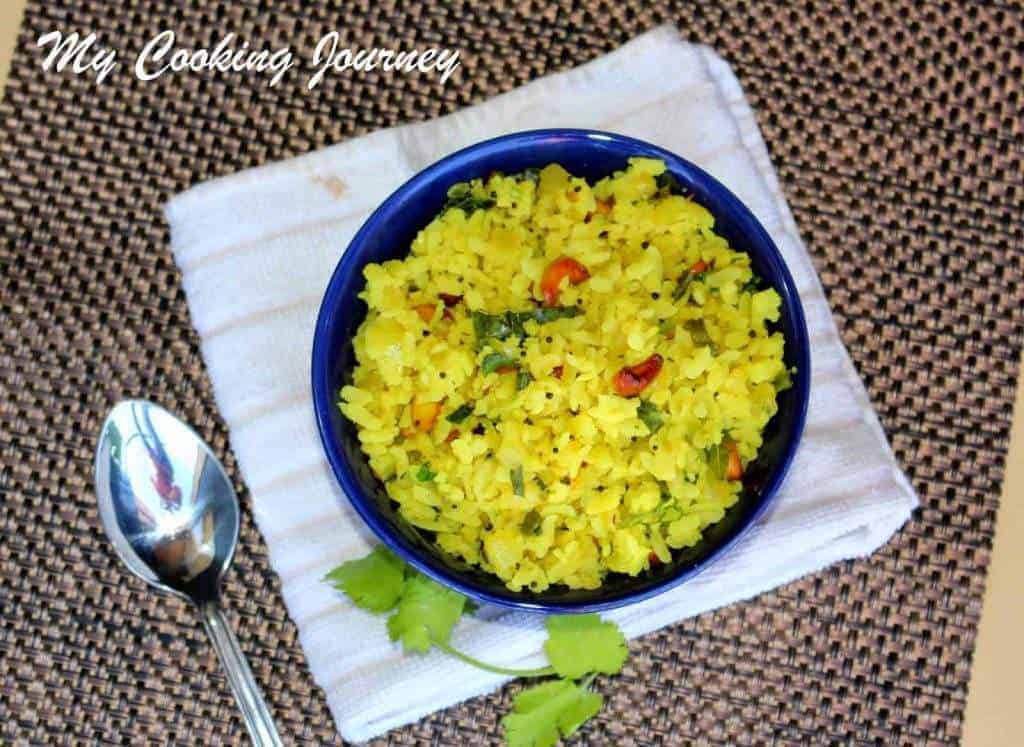 Aval is one of the easiest and quickest ingredients from the pantry to work with. Upma is always considered a quick fix dinner in my house. When in hurry or when there is no time for any kind of prep work, upma is the easiest solution. This week I am doing Bachelor cooking, which means I will be posting recipes that are easy to make, involves no prep work or minimal prep work and can be made with easily available ingredients.
Aval is easily available in Indian stores if in other countries outside of India. Aval is nothing but rice that is beaten or flattened into rice flakes. They are available in different thickness from very thin varieties to thick ones. I have used the medium thick variety of aval here that does not require any prior soaking. I would also suggest that you use slightly thicker variety of aval to hold their shape to make this upma. The thinner ones might get very mushy and will not taste good.
I have made this upma with onions. If in a hurry, you could skip the onions and just use the seasoning. Also since I used medium thick aval, I washed it well under cold water, drained the water and let it sit for 10 minutes to soak some water and become soft. If you see that the aval has become soft and dry at the end of 10 minutes, it is ready to be used. If it still has a bite/crunch to it, then sprinkle a little bit more water, mix well and let it sit for 10 more minutes.
I also frequently make the popular Maharashtrian version of the poha, Kanda Batata poha, which is very similar to this upma except it has some fried potatoes in it. My patti (grandmother) makes this quick sweet aval with coconut and jaggery which is my favorite. I look forward to this sweet snack as soon as I come back from school. I will post the recipe soon for the sweet version.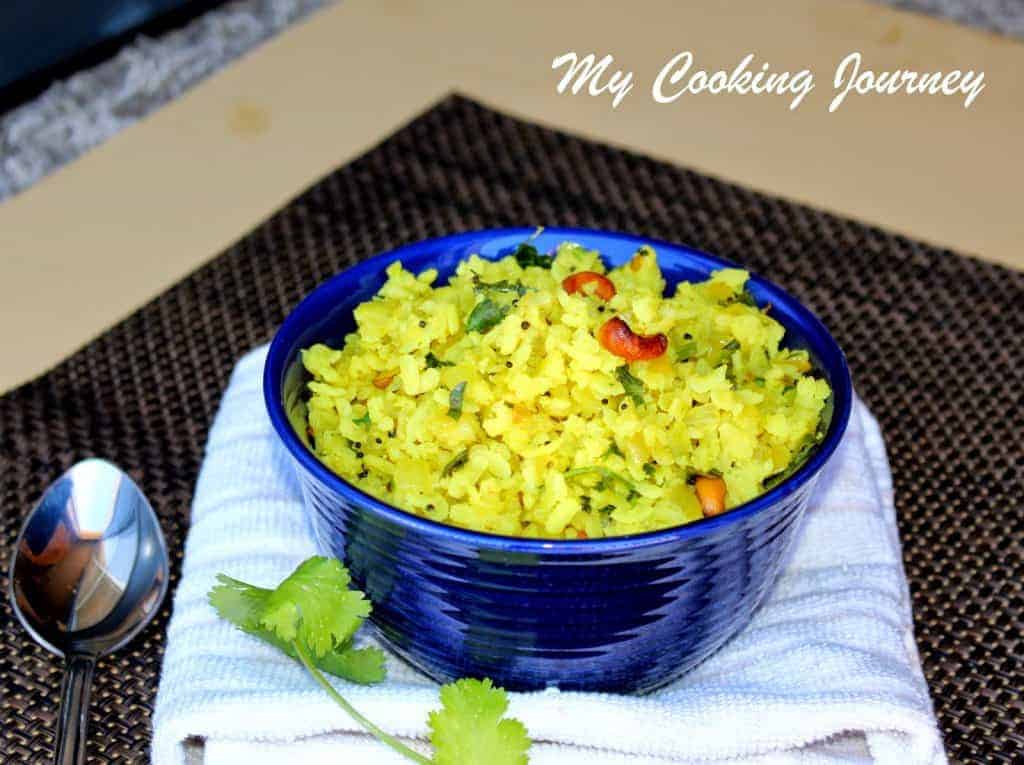 Preparation time – 10 minutes
Cooking time – 20 minutes
Difficulty level – easy
Ingredients to make Aval Upma – (serves 2)
Aval / Poha / Beaten rice – 1 cup (I used medium thick aval)
Onion – 1 medium (chopped)
Green chilies – 2
Red chilies – 1 or 2
Mustard seeds – ½ tsp
Channa dal / Kadalai paruppu – 1 tsp
Turmeric powder – ½ tsp
Cashew nuts or peanuts – few (optional)
Curry leaves – few
Lemon juice – 1 tbsp (or to taste)
Salt – as needed
Oil – 2 tsp
Cilantro – to garnish (optional)
Procedure –
Wash the aval well and drain the water. Let it sit for 10 minutes to soak up and dry. By now you will see that the aval has become soft. If it still has a crunch in it, sprinkle little more water and let it sit for 10 more minutes. The aval should be soft, but still retain its shape. The thicker the aval is the more water it will soak and the more time it will take to become soft.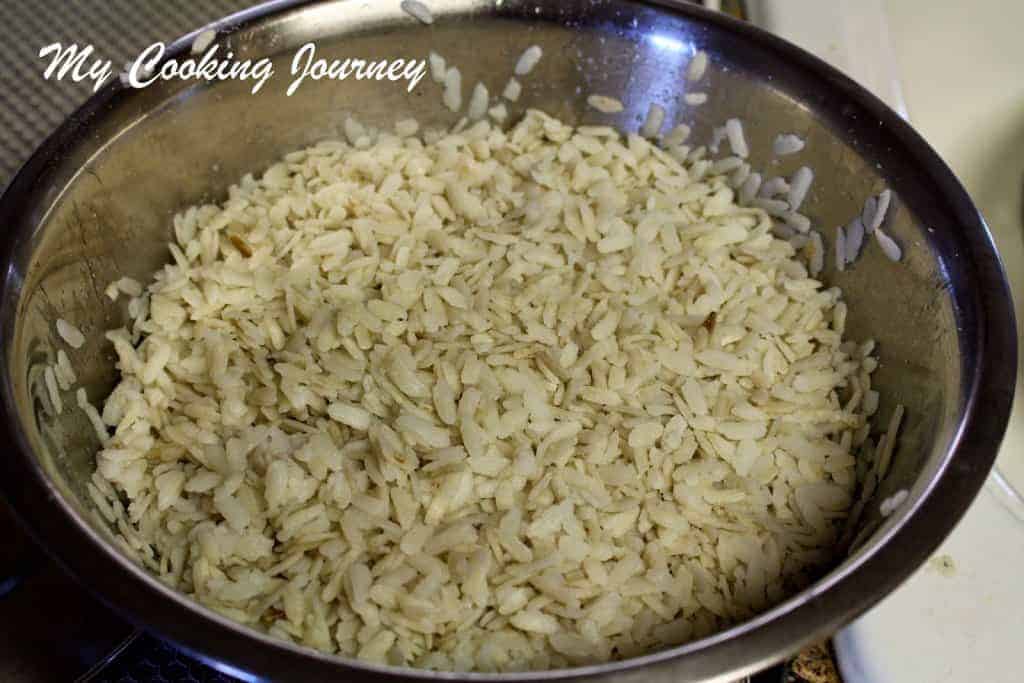 In a pan, heat the oil and then add the mustard seeds. Once the seeds crackle, add the channa dal, cashew nut/peanut, red chilies, green chilies and curry leaves.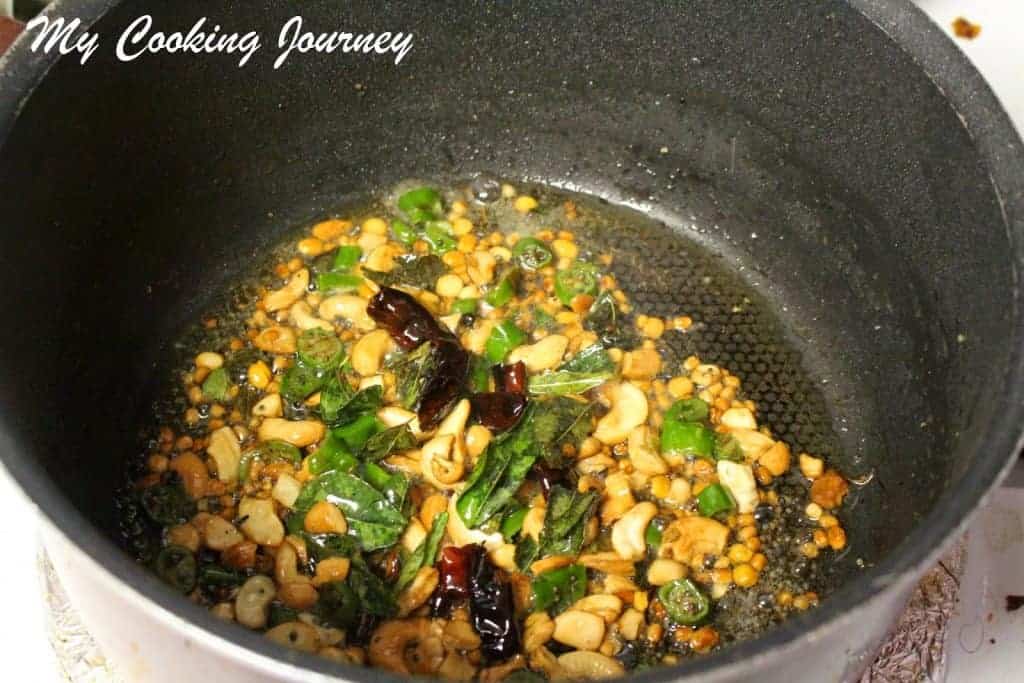 Fry for a minute and then add the chopped onions. Once the onions become soft, add the salt and turmeric powder and fry for 2 more minutes.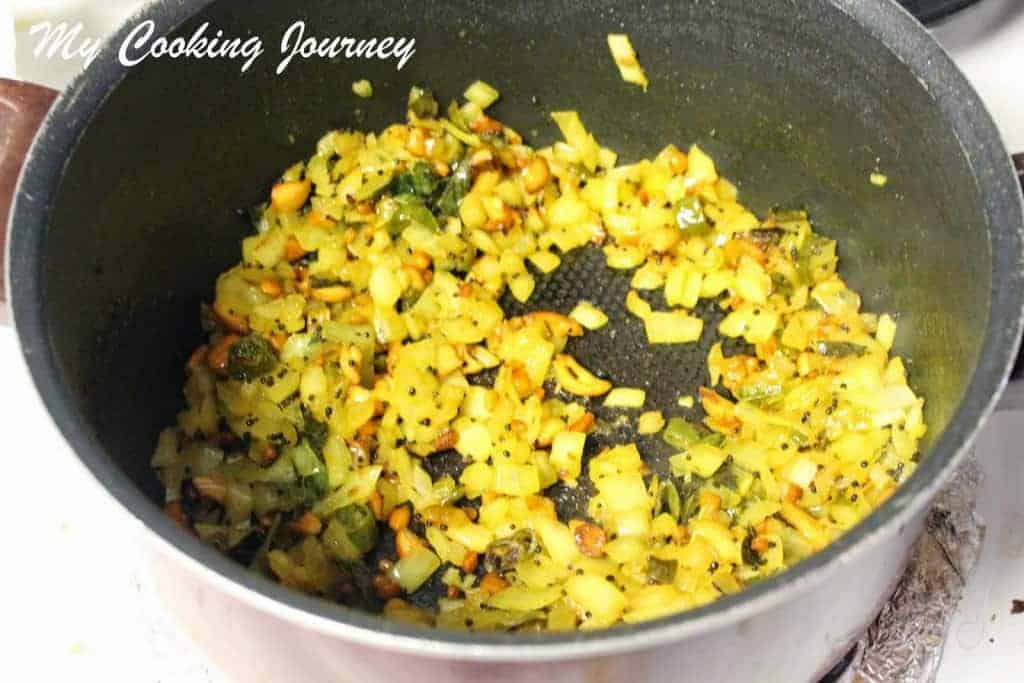 Add the fluffed aval and mix well. Cook on low flame for 2 -3 more minutes until the flavors combine and then turn off the flame.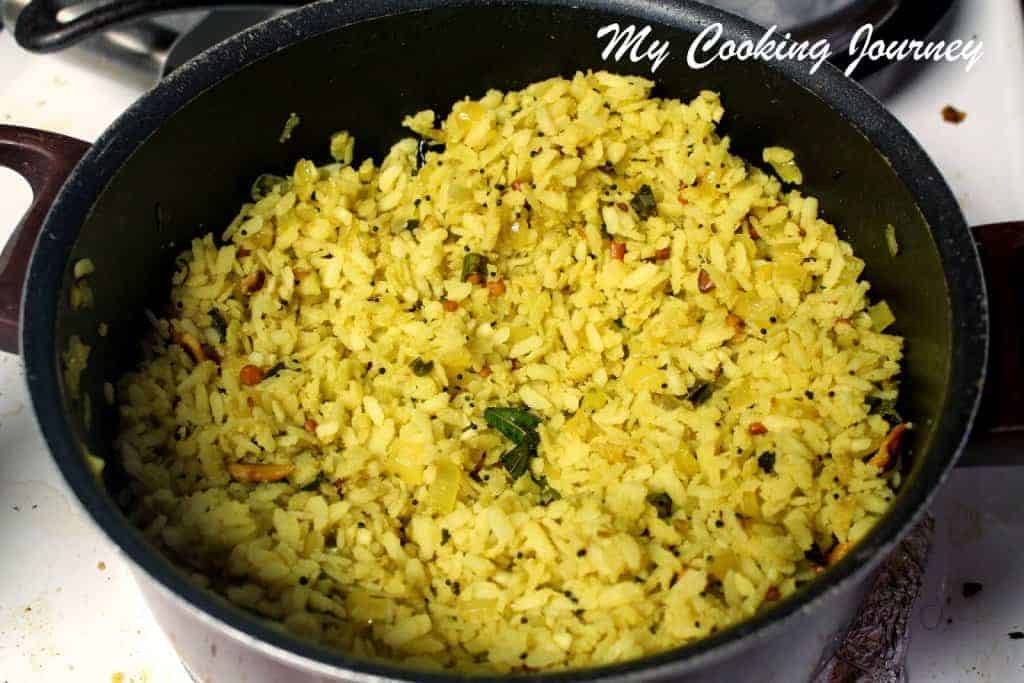 Add the lemon juice and cilantro and mix once more. Serve!