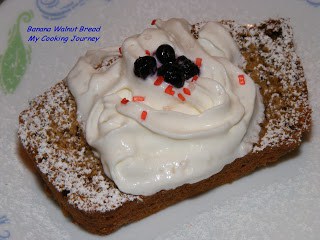 This recipe for Banana Walnut Bread was passed on to me by my cousin and ever since then I make it whenever I have overripe Bananas in my fruit basket. This holiday season, I found that this made a wonderful gift and because this is an egg less recipe, I was able to give it to my friends who have children with egg allergies. This also makes a wonderful hostess gift. As mentioned in my earlier blog, I am also including pictures of how to wrap it as a present. Do pass on your comments.
Preparation time – 10 mins
Cooking time – 45 mins
Difficulty level – easy
Ingredients to make Banana Walnut Bread – makes 2 standard loaf pans
Bananas (mashed) – 3 ripe (over ripe bananas work very well)
Vegetable oil – ¼ cup
Vanilla extract – 1 tsp
Sugar – 1 cup
All purpose flour – 2 cups
Salt – 1 tsp
Baking soda – 1 tsp
Walnuts – 1 cup(chopped)
Procedure to make Banana Walnut Bread -
Preheat the oven to 350 F.
In a mixer, add the mashed bananas, oil, vanilla and sugar and mix well.
In a separate bowl, sift the flour, salt and soda together. Add this to the banana mixture and mix well until the flour is well blended. Do not overbeat. Add the walnuts and mix well.
Pour the mixture in the loaf pan and bake for around 45 mins. Baking time would vary depending on the size of the pan. Check the bread with the toothpick.
Cool 10 mins in the pan and then remove it on a wire rack and let the Banana Walnut Bread cool completely.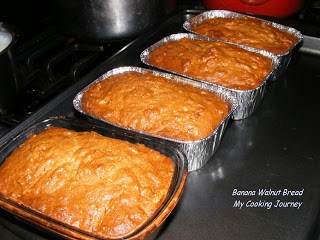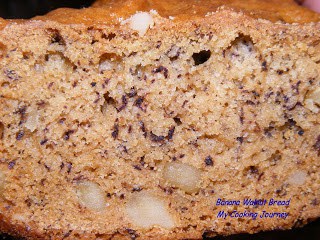 I used around 4 small loaf pans to bake the bread. Mine was done in about 30 mins.
To serve- Slice the bread and serve with a dollop of whipped cream.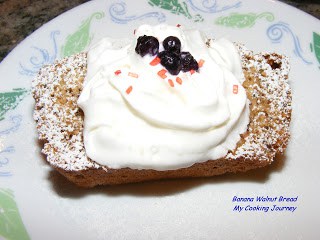 Storing-
The bread keeps well for about 4 days outside. If you want to store them longer, the best way would be to freeze them. Once the bread is cooled completely, wrap the whole thing in a plastic wrap and place it inside freezer bags and freeze them. To use it from freezer, thaw it in the microwave. If freezing, I would not slice the bread. This way the moisture is locked inside and the bread won't dry out as much.
Packing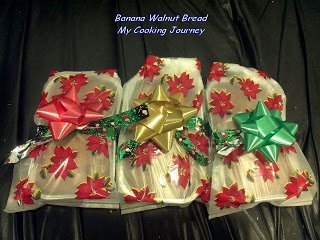 Let the Banana Walnut Bread cool completely. Put it back again inside the same pan you used for baking it (I bought several aluminium baking pans). Wrap the whole thing in a plastic wrap and then put it inside small colorful goody bags and tie it using twist ties. Decorate it with bows and ribbons.
Happy Holidays!!!