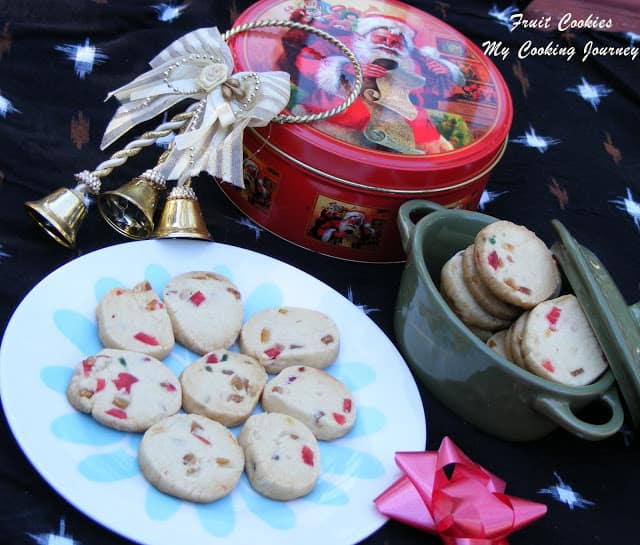 Here I go with one more cookie recipe from me before Christmas. I made this recipe, Fruit Cookies from my dear friend's blog Nivedhanam. I was just about done with the entire cookie making and packing, when I realized that I was running short on one of my cookies. So I had to make another batch and incidentally that morning I saw this recipe on Sowmya's space.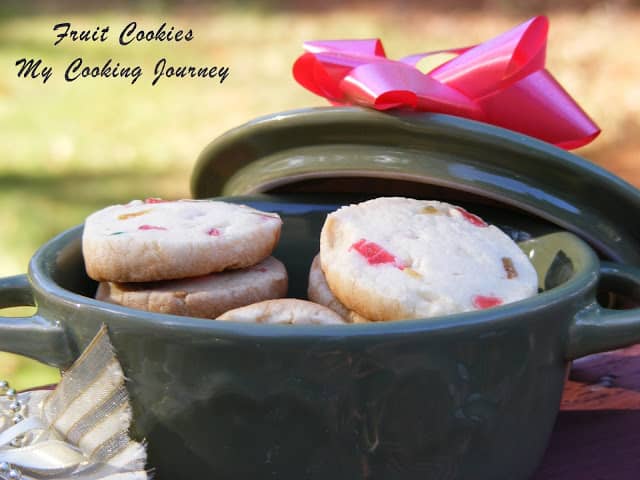 The ingredients needed for Fruit Cookies are pretty straightforward. I have plans to make the Christmas fruit cake and hence had bought couple of boxes of the mixed fruit and cherries. My husband loves these cherries (tutti frutti) and since they are only available during the Christmas time here, I literally hoard on them. The mixed fruit mix that I had also had some candied lemon peel and candied orange peel which added to a wonderful texture in the cookies. So here I go with her recipe. For my friends who need egg less cookie recipe, this one is for you.
Preparation time – 10 mins plus 45 mins to chill the dough
Cooking time – 10 – 15 mins/batch
Difficulty level – easy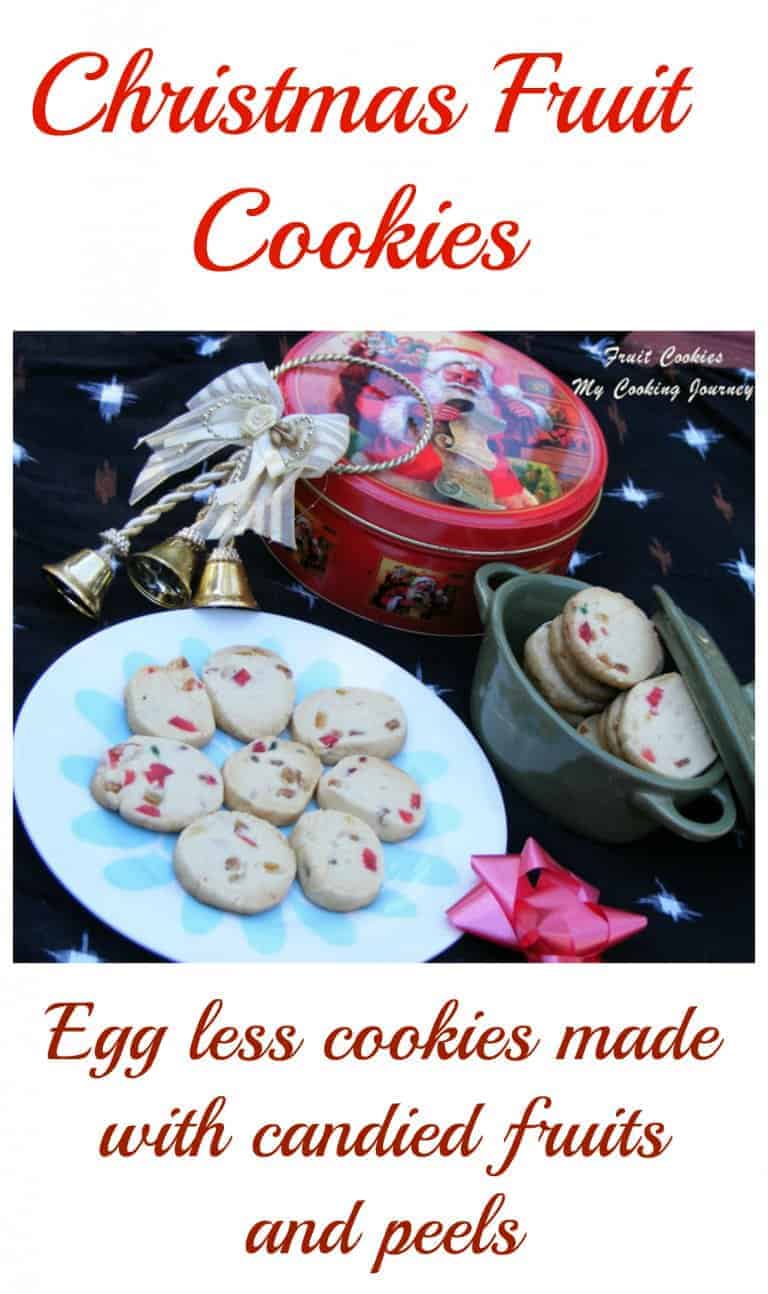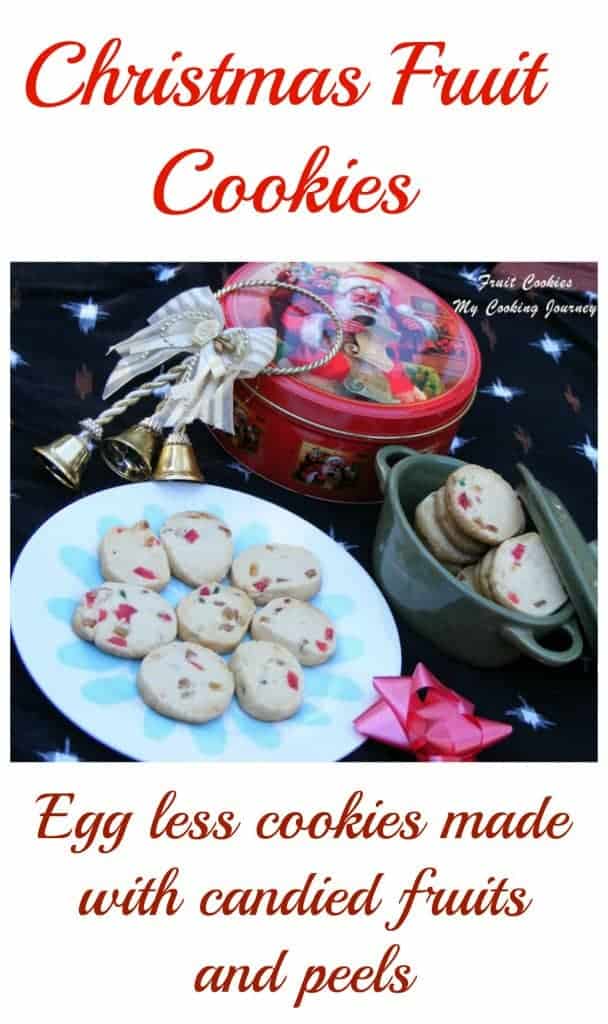 Ingredients to make Fruit Cookies – (makes about 3 dozen small Fruit cookies)
All Purpose flour – 1 cup
Butter (softened) – 6 tbsp (¾th stick)
Confectionary sugar – ½ cup
Tutti frutti/candied cherry or other fruits – ⅓ cup
Vanilla extract – ½ tsp
Milk – 1 to 2 Tbsp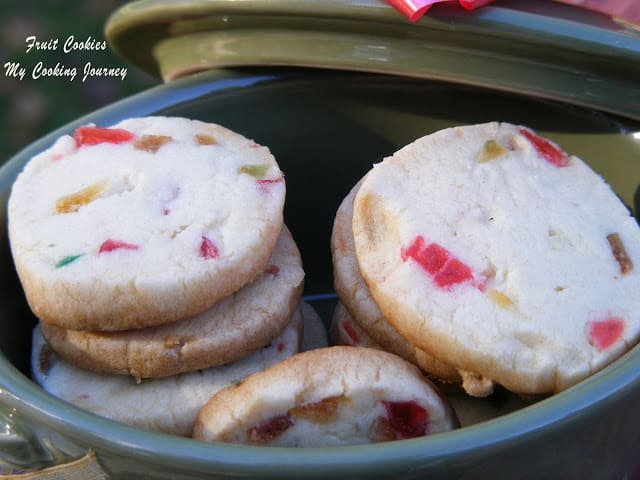 Procedure –
Preheat the oven to 350 F. Line two baking sheets with parchment paper and keep it aside.
Cream the butter and sugar until light and fluffy. To this add the vanilla and mix well.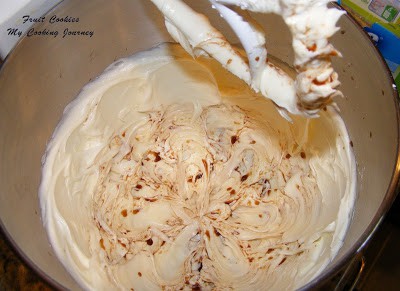 Sift the flour and add it to the butter mixture slowly. Mix well. Now add the tutti frutti too and mix it well. I did not use any milk to form dough, but if the mixture looks crumbly, slowly add the milk to get sticky dough.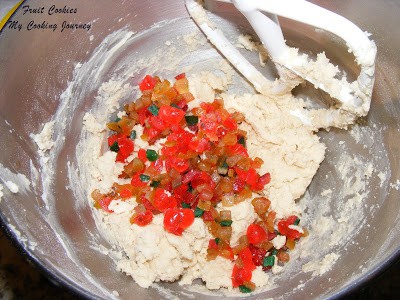 Gather the dough on the work surface and bring it all together. Form a log in the desired size and roll it in a parchment/wax paper and freeze it for about 45 mins.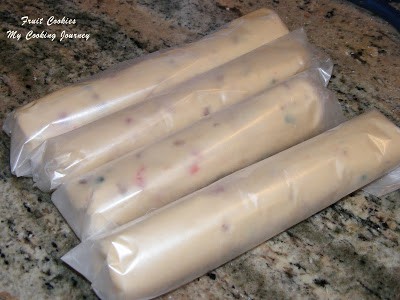 Once the dough is hard, cut it into slices using a very sharp knife. Make sure you cut it in one move, otherwise the edges might crumble. If that happens, just use your fingers to form the shape and lay it on the prepared baking tray.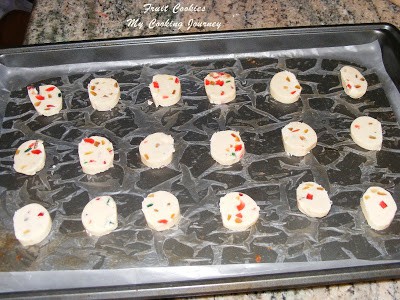 Bake them for about 10-15 mins or until the edges are slightly brown. Keep an eye from about 10 mins, because depending on the thickness of the cookies they cook either at 10 mins or it might take slightly longer.
Cool them on racks and store the Fruit Cookies in air tight containers.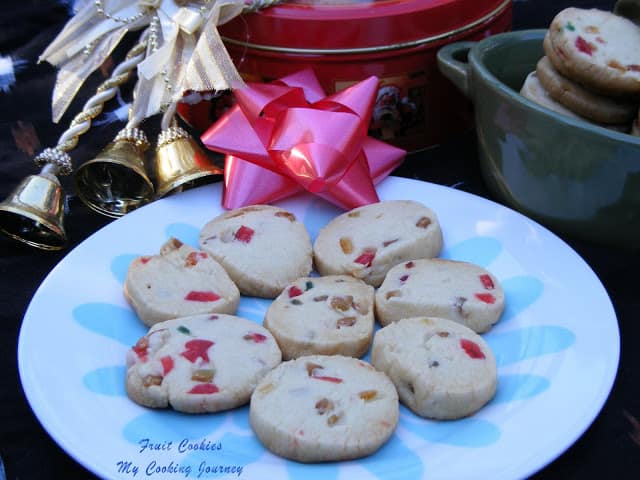 Notes and observations –
You could use any candied fruit to make this cookie. If candied fruits are not available use any dried fruits that are chopped into small pieces.
Slice the cookies uniformly because the baking time depends on the thickness. If the cookies are sliced unevenly, some might get burnt before the others are cooked through.