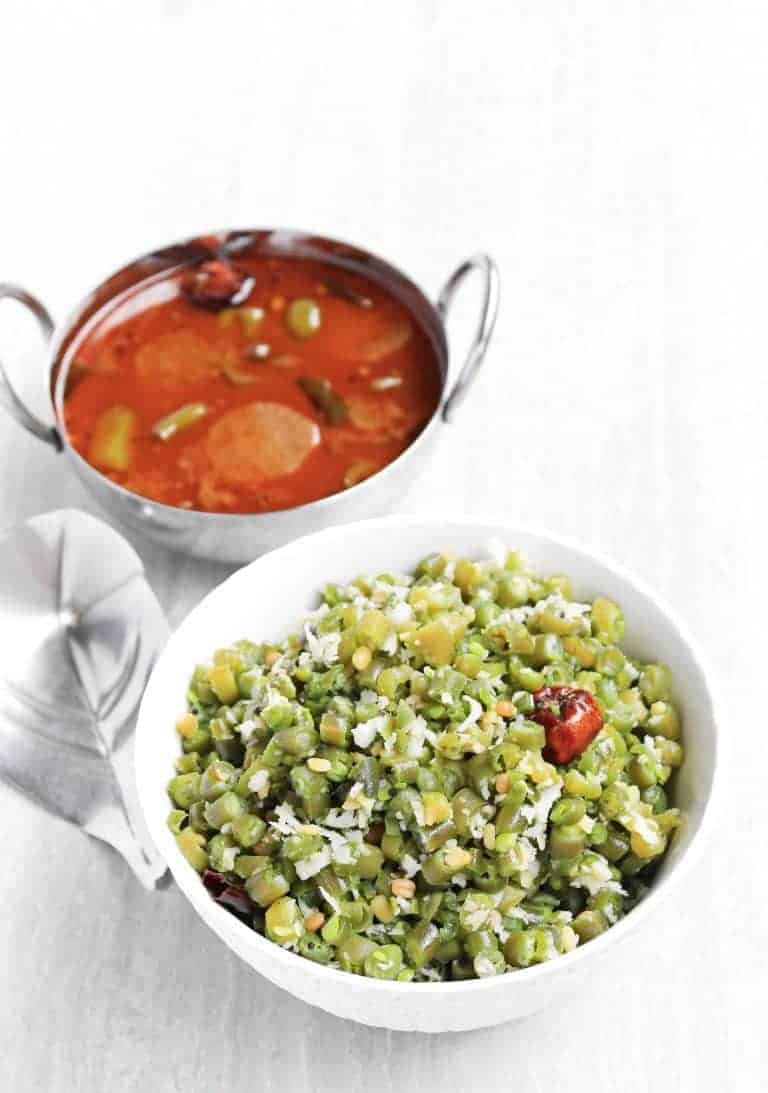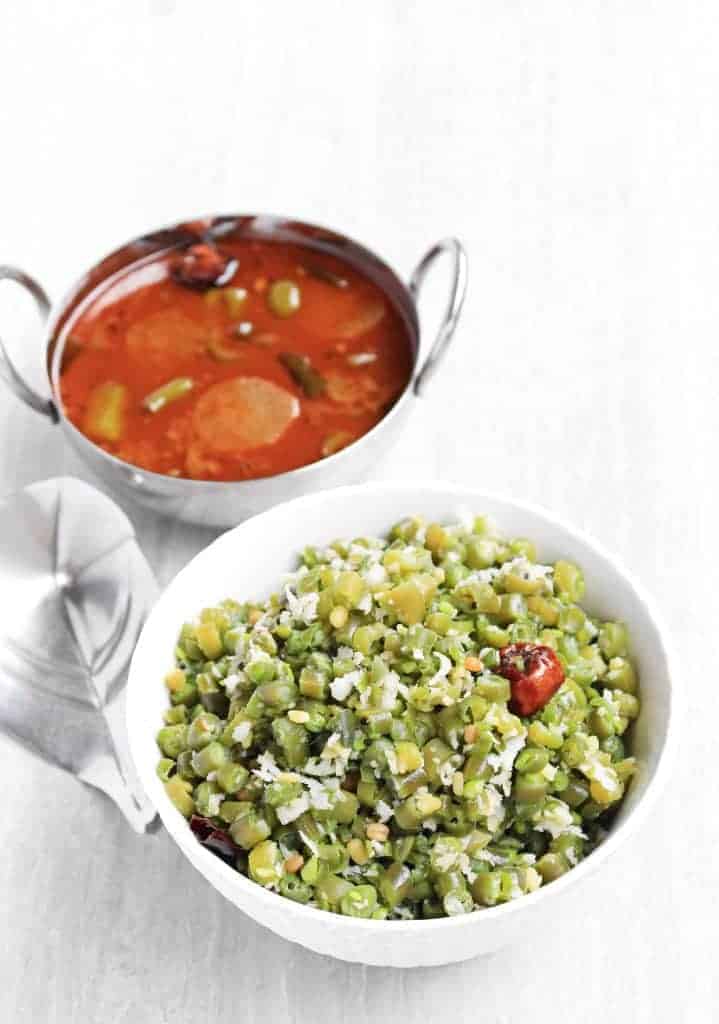 We wait all year long to this time of the year when we get to start picking our favorite vegetables from the backyard. We put lot of effort in spring to get the backyard ready. Each and every person in our house including my little one helps in sowing the seeds and keeping up with the maintenance of the garden. We went on a 2 week vacation and the only thing on each and everyone's mind was the garden. We had the sprinkler watering the garden, but still had few areas that was outside the reach of the sprinkler.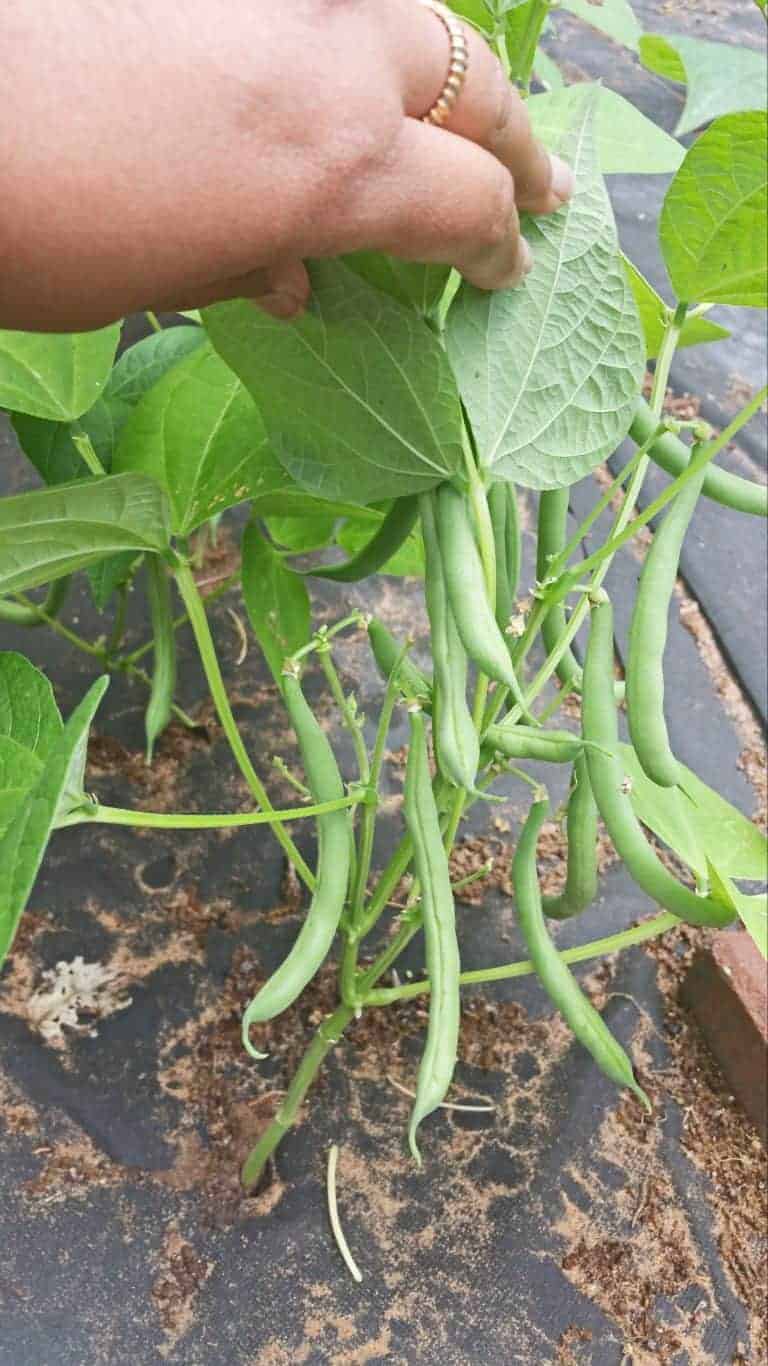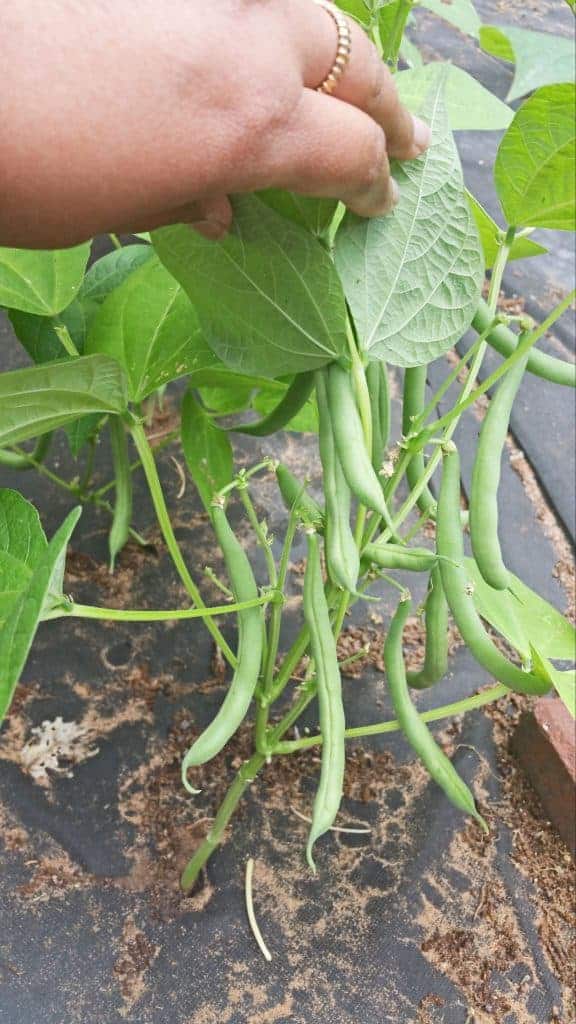 When we came back in the middle of the night, we all had our flashlights out and went to check on the garden. Yes, at 2 AM we all were in the backyard. The garden had grown so much and we could not wait for the next day to go out and pick some fresh vegetables. We were amazed to see that we had so much of beans and every one of them were tender. We picked almost 2 pounds of fresh beans and the first thing I wanted to make was one of my ever favorite Beans Curry | Beans Poriyal with Coconut.
The boys were so excited to eat the Vathal kuzhambu with fresh juicy Beans Curry | Beans Poriyal with Coconut. My little one had already asked me that I make nothing else but Vathal kuzhambu they day we reach back home. This is what 2 weeks of road trip does to our taste buds!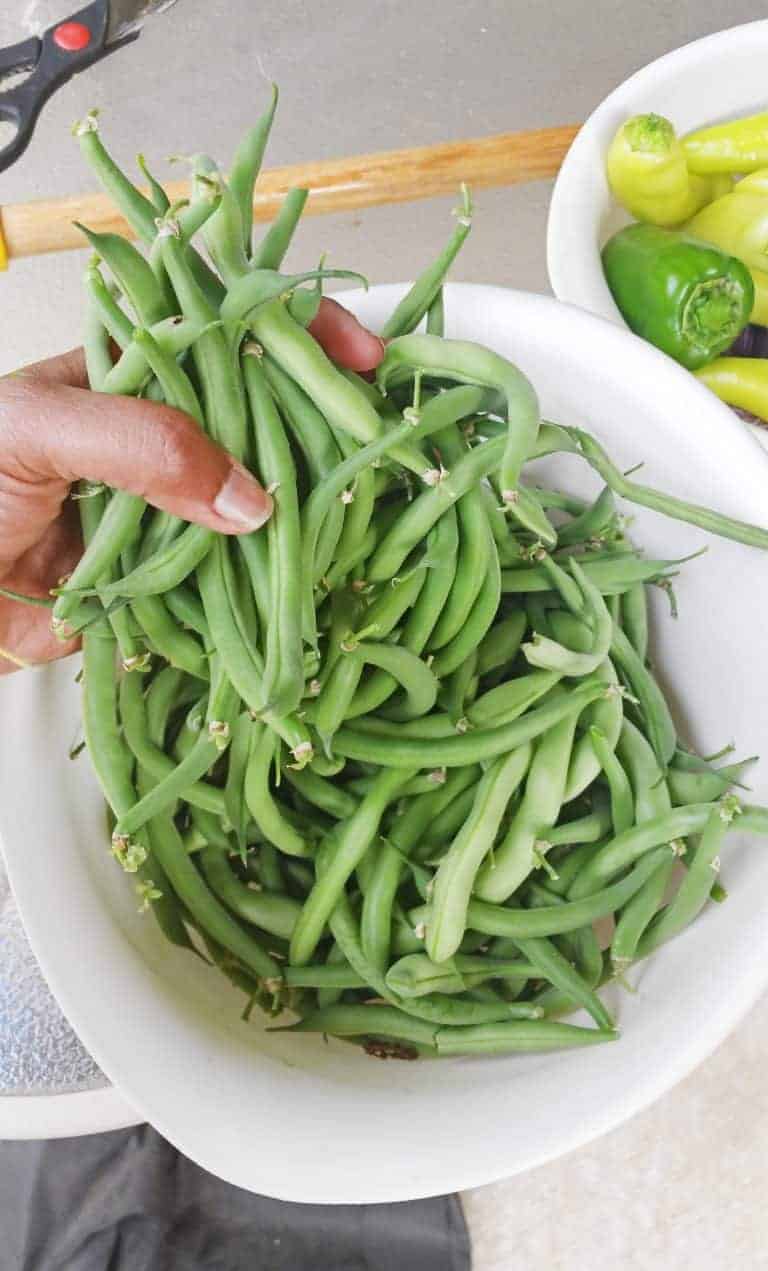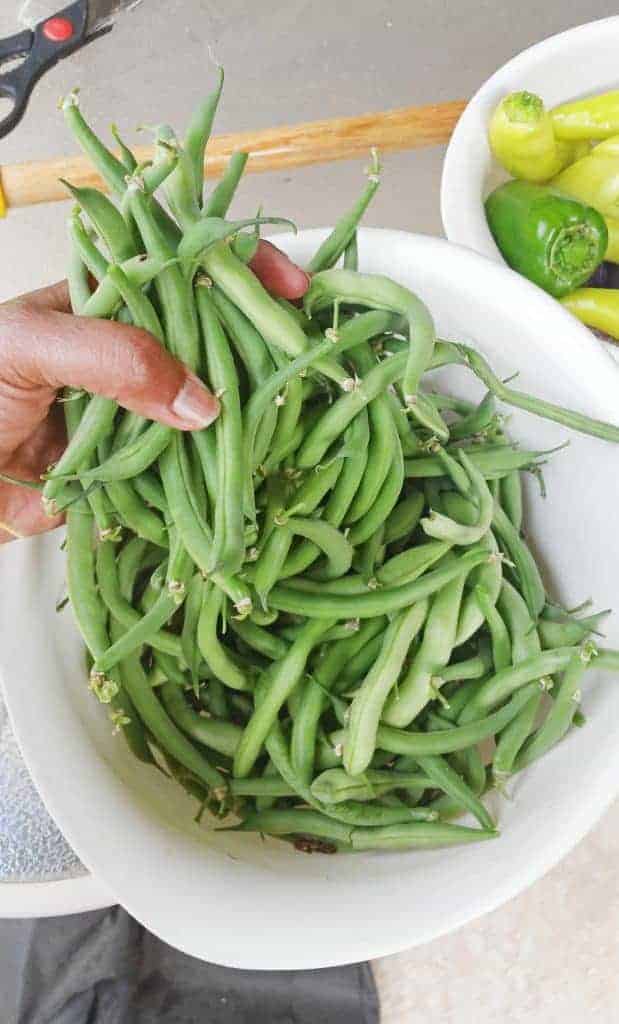 How to make the perfect Beans curry –
Beans curry was something that I could never make it right! Now why is that? I either cook the beans too much…or I don't cook it much. For the past few times I have cooked it, I made sure I was right next to the stove and it cooked perfectly. Now I could proudly say I perfected the beans curry. Every time I make something like this, I say that my mother cooks this best. But this time, I have to say my maternal grandmother makes this best. Her curry is always cooked perfect and it never loses its bright green color. It is always such a refreshing sight to see and eat this curry at my Patti's place.
This week my theme for Blogging Marathon is redoing old post. I wanted to update my old post with the fresh green beans that we picked from our garden. I love the redo old posts theme as this way I am able to give all my old posts some fresh look and also update them.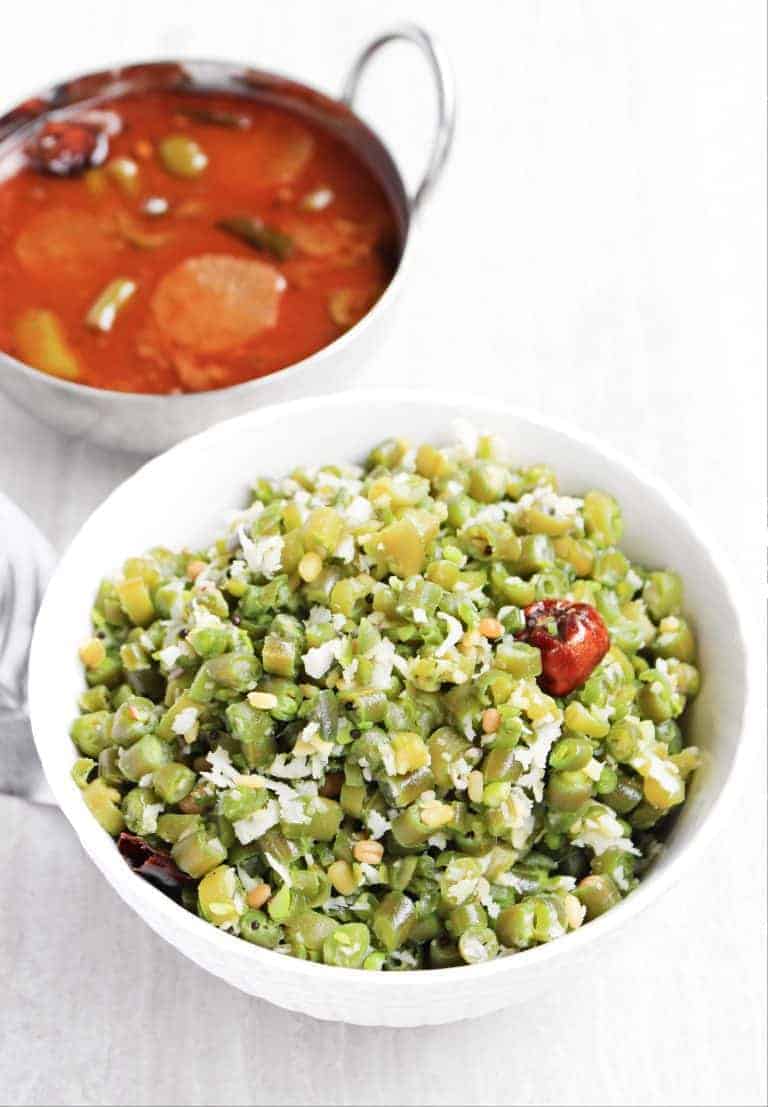 Preparation time – 10 mins
Cooking time – 25 mins
Difficulty level – easy
Ingredients to make Beans Curry | Beans Poriyal with Coconut – (Makes 4-6 servings)
Beans – 1 lb (Cut into tiny pieces)
Coconut (Grated) – 4 tbsp
Moong dal/payatham paruppu – 3 tbsp
Mustard – 1 tsp
Urad dal/ullutham paruppu – 1 tsp
Red chilies – 2 or 3
Curry leaves – few
Asafetida – ¼ tsp
Salt – to taste
Oil – 1 tsp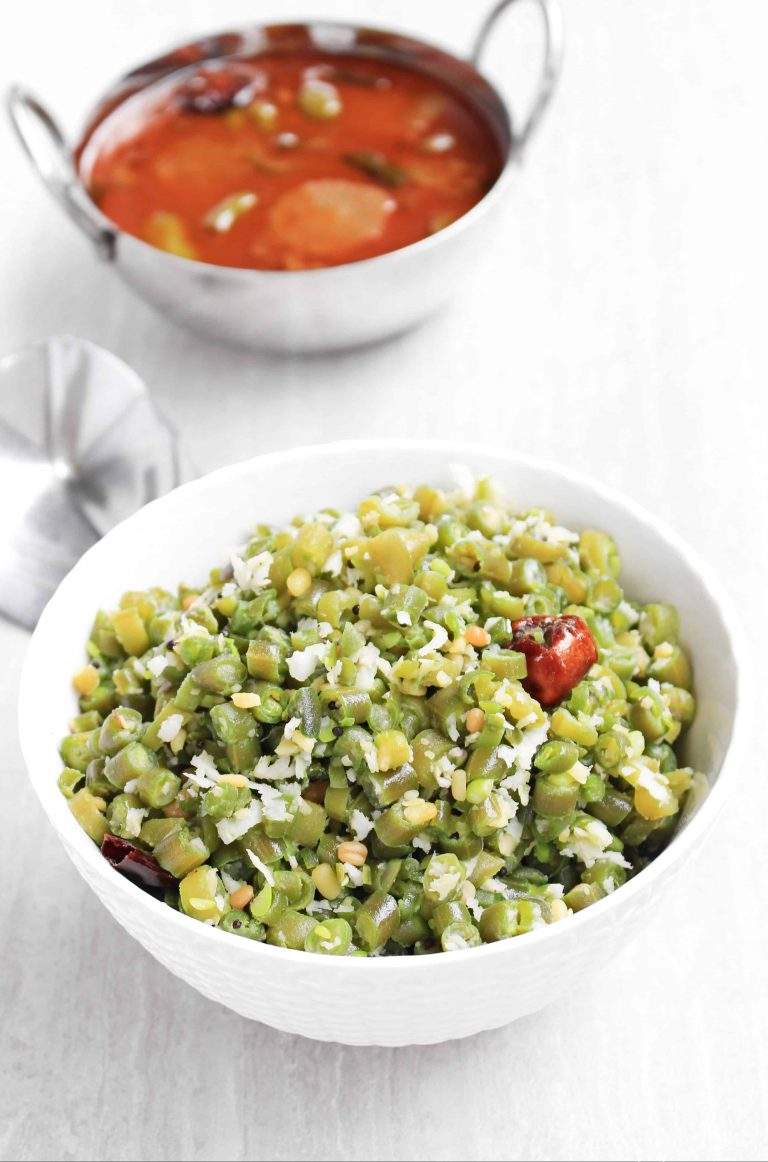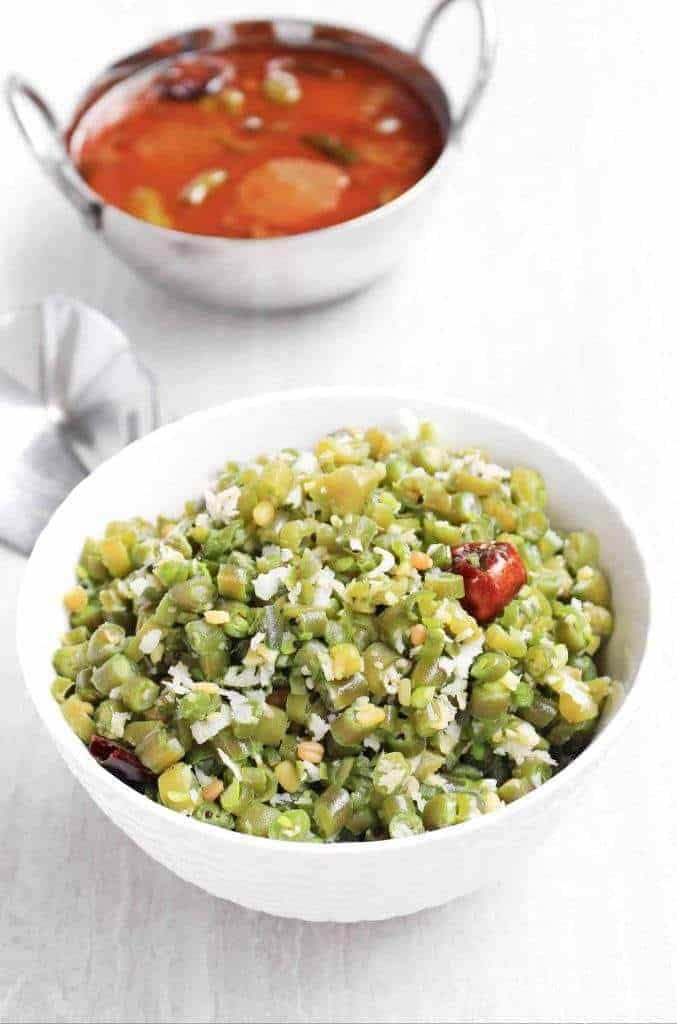 Procedure to make Beans Curry | Beans Poriyal with Coconut –
Clean the beans and cut into tiny pieces. In a pot, add the beans, moong dal and add enough water to cover it and let it come to boil.
Let the beans and the moong dal cook ¾ th ways and at this point generously add salt to the boiling water. Make sure that you add the salt only after the beans is cooked 3/4th. Otherwise, you will end up with uncooked beans. Also make sure that you don't let it cook all the way because then we would end up with mushy beans and dal.
Once you add the salt, let it boil for couple of minutes so the beans and the dal absorb the salt. Drain it in a colander.
In the same pot, add the oil. Once the oil is heated add the seasonings (mustard seeds, urad dal, red chilies, asafetida and the curry leaves. Once they splutter, add the drained beans and mix it well.
Add the sugar and let it cook for 3-4 mins or until all the water evaporates and the beans look dry. Now add the grated coconut and mix it well.
Take it off the flame and serve with rice and sambhar or rasam. I personally love it with curd rice too:).