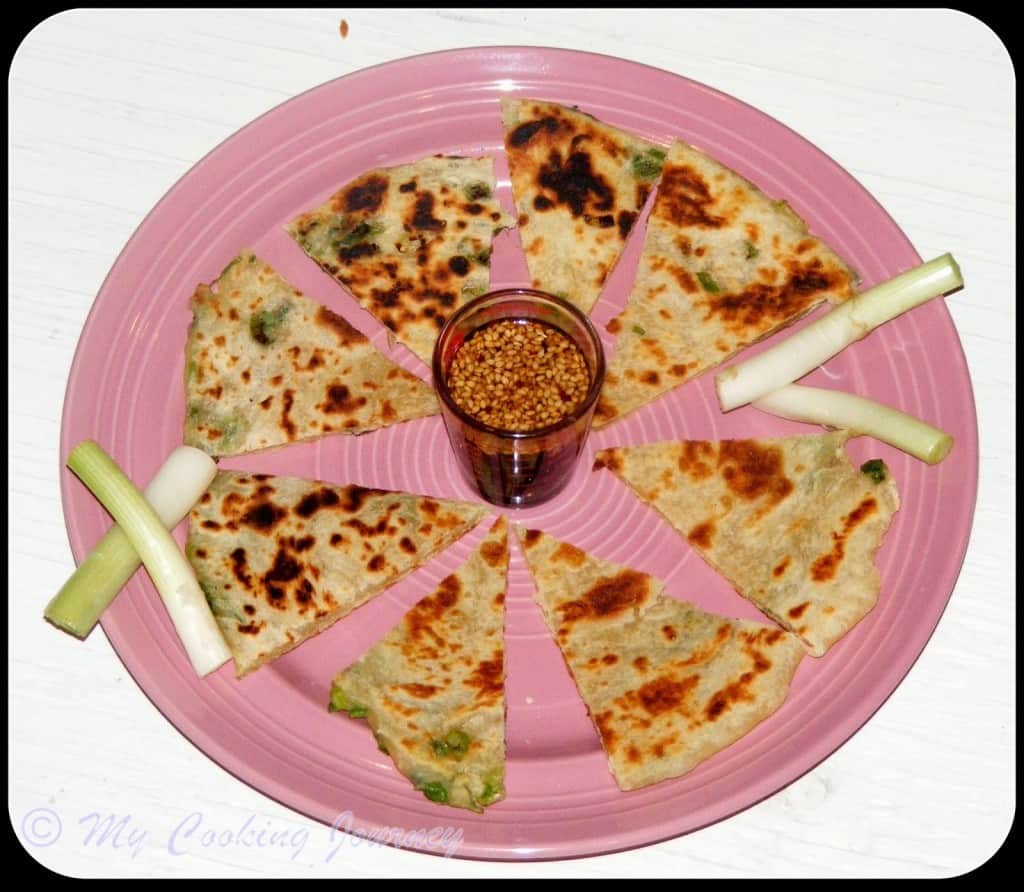 The Chinese Scallion Pancake also known as Cong you Bing is a very popular street food all around China. Even though it is called a pancake, but it is made of dough rather than from a batter. Few months back for a group challenge we were given this recipe. I wanted to make it, but I chose some other recipe over this one. Now I am so glad that I found an opportunity to make this delicious and easy recipe of Chinese Scallion Pancake With Ginger Soy Dipping Sauce.
This week I am doing a theme called Street Foods around the World and this Chinese Scallion Pancake With Ginger Soy Dipping Sauce is my first recipe for the week. This can be served as an appetizer to a Chinese themed dinner or as a main course. I served this with some Ginger soy dipping sauce. The recipe source for this delicious meal was Food network.
The ginger soy sauce was something my kids did not like and they were happy to eat the pancakes with some sweet chili sauce. Myself and my husband though liked this sauce, but I have to warn you that it is a bit stronger in flavor and a little goes a long way.
The recipe is quite simple to make, other than the rolling out part of the dough. I learned by trial and error that resting the dough after coiling it helps a lot with rolling. I would mention this as we go along in the recipe.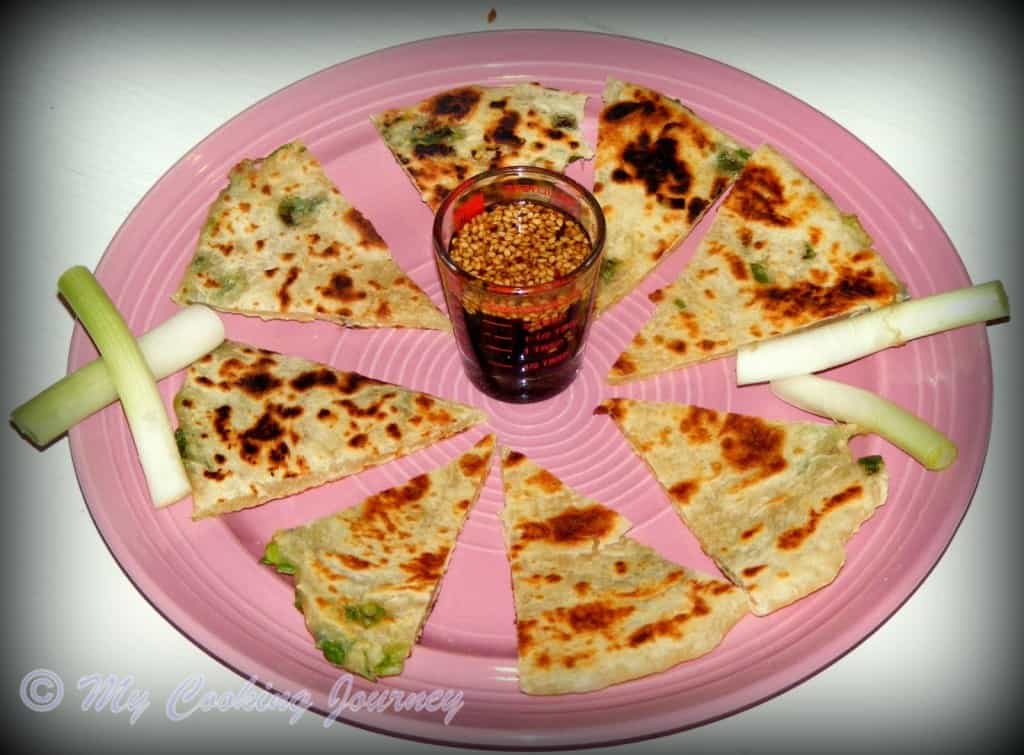 Preparation time – 1 hour
Cooking time – 30 minutes
Difficulty level – easy
Ingredients to make Chinese Scallion Pancake With Ginger Soy Dipping Sauce – Serves 4 -6
For the pancakes
All purpose flour – 2 cups
Boiling hot water – 1 cup
Thinly sliced scallions – ½ cup
Sesame oil – 1 tbsp
Salt – to taste
Oil – to cook the pancakes
For the dipping sauce
Thin soy sauce – 4 tbsp
Vinegar – 4 tbsp
Ginger – ½ tsp (grated)
Sugar – 1 tsp
Red pepper flakes – ½ tsp
Toasted sesame seeds – ½ tsp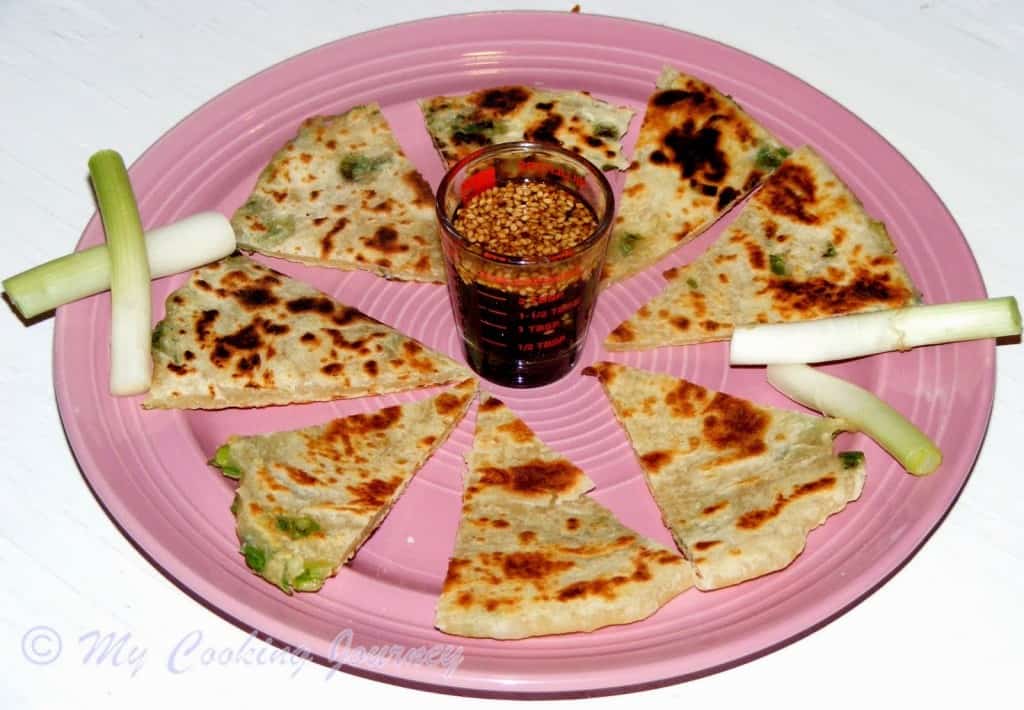 Procedure –
To make the pancakes -
I used a food processor and I would highly recommend using it (if you have one) as the dough can be a little messy to work with hands. In the bowl of the food processor, add the flour and the salt. Run the processor and add the hot water in a stream until it forms a ball. Knead the dough for few more minutes (about 5 minutes) and then let it rest, covered for about an hour.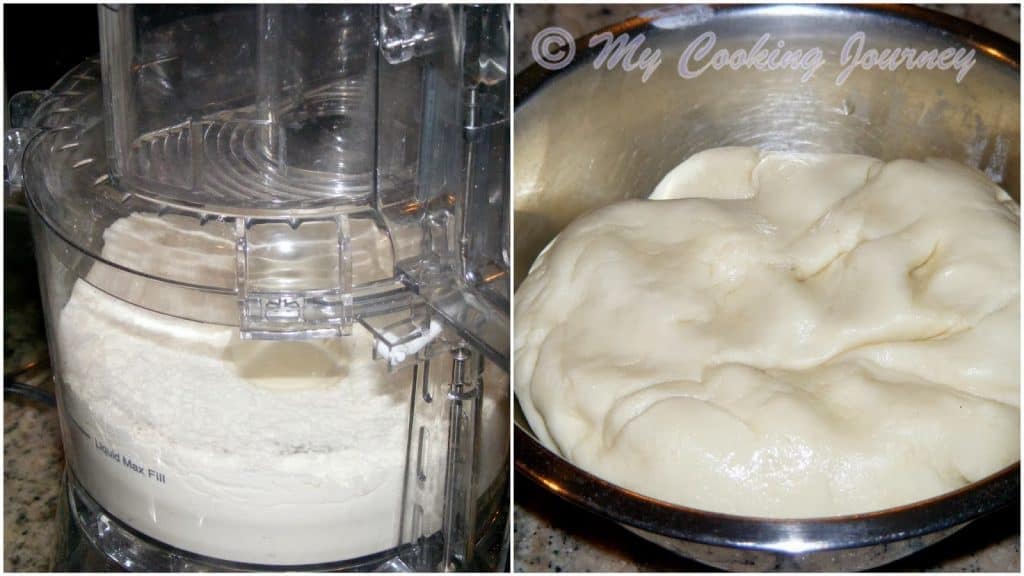 Divide the rested dough in to 4 parts and then keeping the rest of the dough covered, work with one piece at a time.
Roll the dough out into a thin circle and brush with sesame oil. Layer it with the sliced scallions evenly and tightly roll it to form a log. Make sure that you minimize the air bubbles as you are rolling.
Now coil the rolled log and seal the edges. Keep it aside covered to rest.
Repeat the same with the rest of the dough.
Now with the first rested coil, roll it out to form a circle. This was the tricky par since the dough tends to have lot of air bubbles that could pop when rolling. I used a fork to prick the dough every now and then to release the air bubbles. Also do not expect to form a perfect disc. It could be a little shaggy looking but they taste great.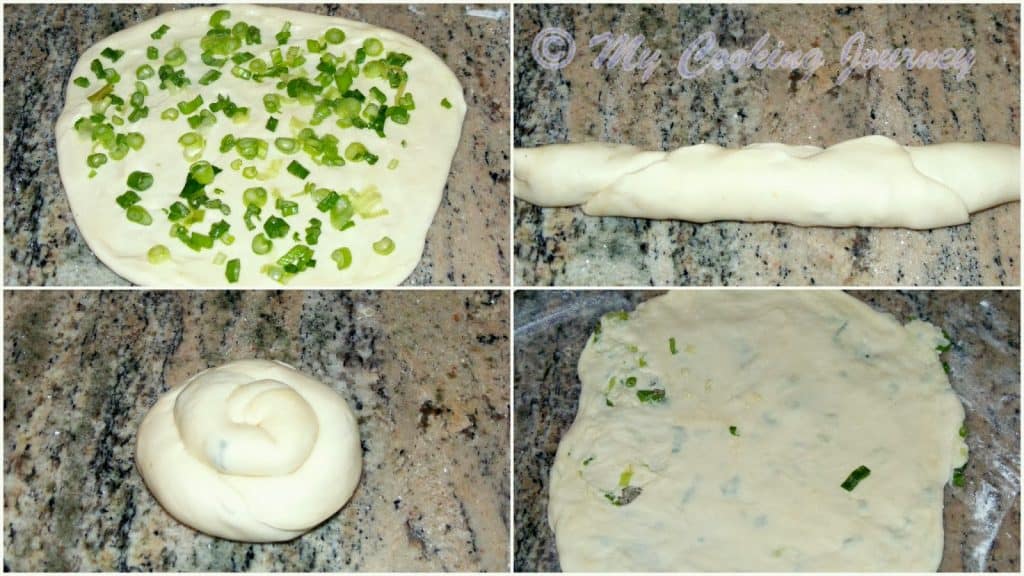 Heat a pan/skillet over medium high heat and smear some oil on it. Cook the rolled out pancakes until they are golden brown on both sides. Add more oil if needed to cook.
Cut into wedges and serve with dipping sauce!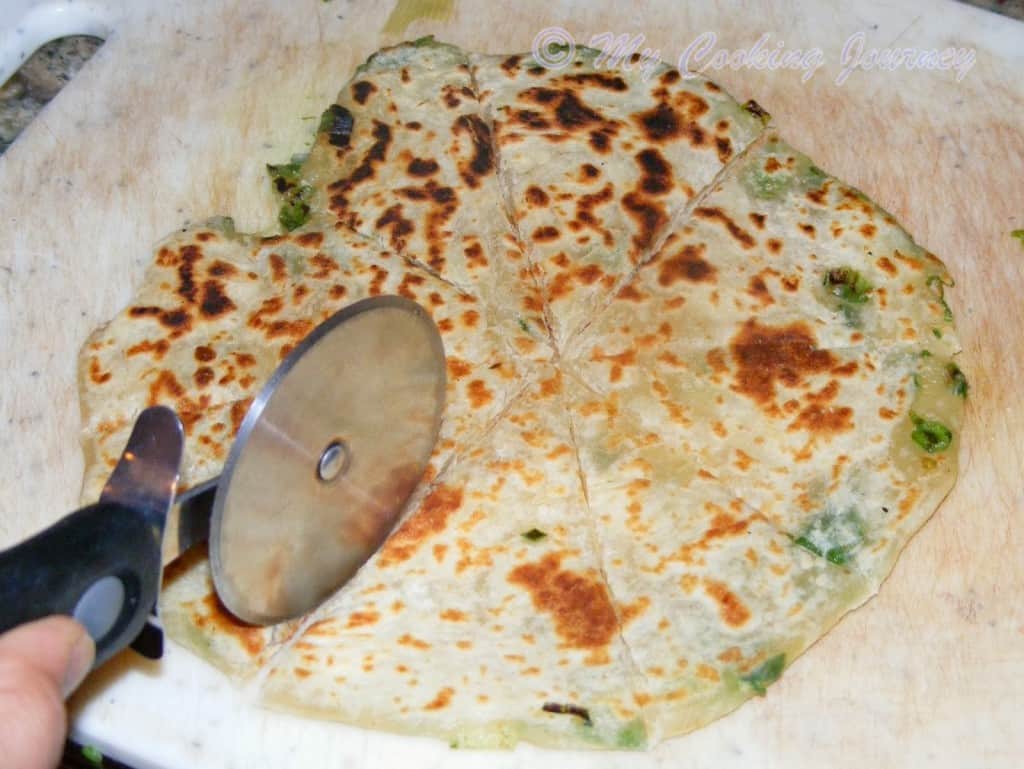 To make the dipping sauce –
Combine all the ingredients mentioned above and whisk it to mix well.
Serve with the pancakes!