Let me begin this post by wishing you all a very Merry Christmas! Hope Santa comes with loads of goodies for each and every one of you. My Santa had been very generous with me this year. I got a food processor that I had been planning to buy for a long time and I love it. When buying the food processor, my husband also got me this set of individual dessert bowls. When thinking of what to serve in those cute little bowls, I immediately thought of this awesome dessert,Mango Cheesecake, that Pavani of Cook's Hideout had served us when she had me and few of the other bloggers for lunch.
I have never cooked with agar-agar before and I have never made individual serve desserts like this before. This was one of the best gelatin free no bake cheese cake I have had before and there is no exaggeration here. Pavani had used Agar powder in her recipe where as I used the agar strands. Other than using almost twice the amount of agar-agar and boiling it for a longer period of time there was no other difference between the two. I still think that if you find agar powder, it would be much quicker. I will include the quantity and procedure for both the agar powder and the strands below.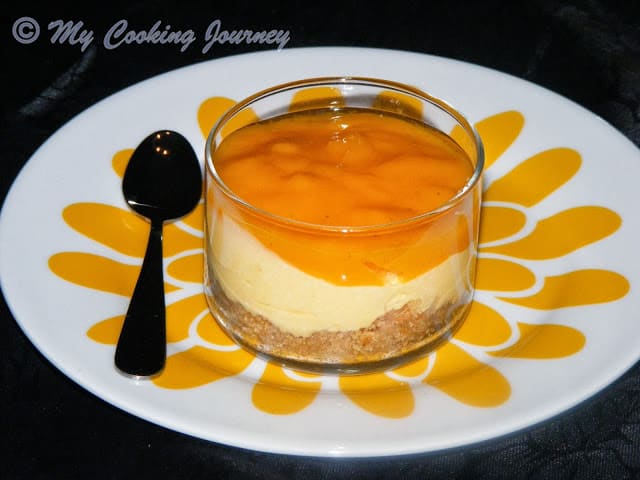 For the last week of this year Blogging marathon, the theme I chose was bookmarked recipes. With the amount of bookmarked recipes I have it was a hard to choose which one to make first. This Mango Cheesecake worked to be an apt recipe for the holiday season when we will be having guests over or for taking it for parties. This dessert can be made couple of days ahead and so there is no sweating on the day of party.
There are three layers for this mango cheese cake, the crumb layer made with graham crackers, the cheesy middle layer and the top tangy mango layer.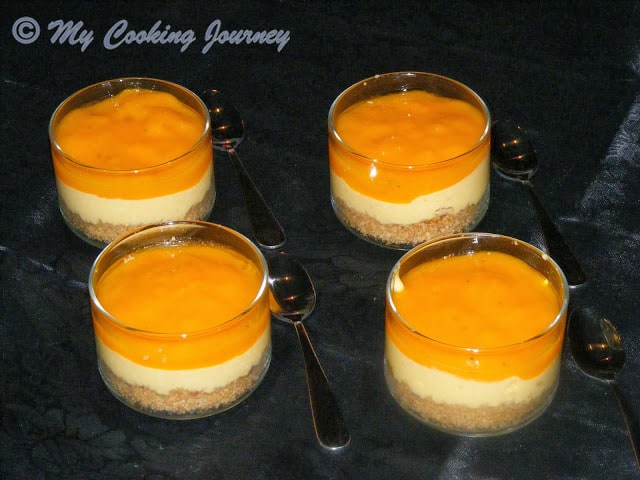 Preparation time – 15 mins
Cooking time – 20 minutes plus 2-3 hrs to set the cheesecake
Difficulty level – medium
Ingredients to make Mango Cheesecake – serves 6
Mango puree – 1 cup (I used the sweetened kesar mango pulp from the can)
Cream cheese – 4 oz at room temperature
Heavy cream – ¼ cup
Sugar – ¼ cup (adjust if using un-sweetened pulp or depending on the sweetness of the mango pulp)
Cardamom powder – ¼ tsp (optional, I might not use this next time)
Water – ½ cup
Agar- Agar – 1 ½ tbsp if using strands and 1 ¼ tsp is using powder
Graham cracker crumbs – 1 cup
Unsalted butter – 3 tbsp (melted)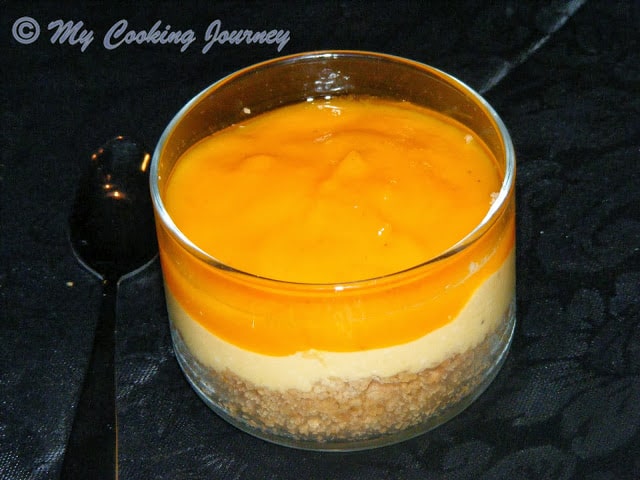 Procedure –
Using a food processor, grind the graham crackers into a coarse crumb. Now slowly add the melted butter to the crumb and run the processor until the mixture is wet. You could also do this by hand. Just mash the crackers well and then add the butter and mix using your hands.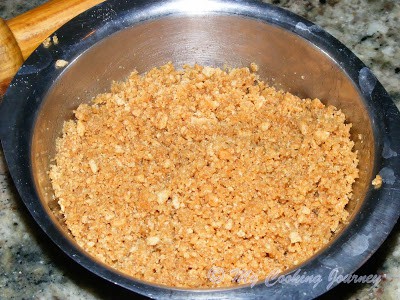 Add the crumbs evenly in between six individual dessert cups and press it down well. Leave the cups in the refrigerator until the rest of the ingredients are ready.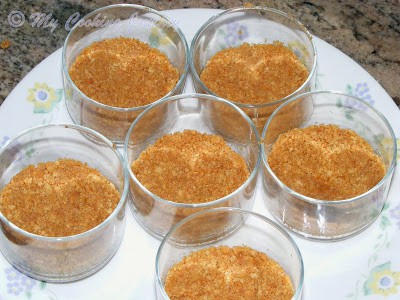 Next combine the softened cream cheese, sugar and heavy cream in a mixing bowl. Using a whisk, mix them well until there are no clumps in the cream cheese. Keep it aside.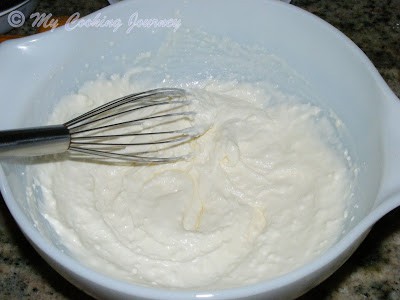 If using agar strands break them into small pieces and add the measured amount into half a cup of water and bring it to a boil. Boil until the agar melts. It will take about 10-15 mins for agar strands to melt whereas the agar powder would take only 2-3 mins. Turn off the heat and let it cool down for 2 minutes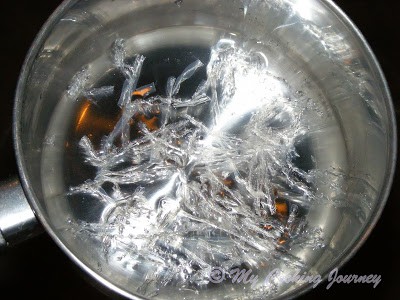 Add the mango pulp and the cardamom powder to the agar mixture. Mix well.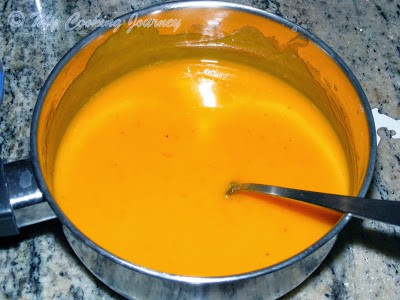 Add half of the mango-agar mixture into the cream cheese mixture and mix well. Pour this cream cheese-mango mixture evenly as the second layer on top of the graham crumbs. Return the cups to the refrigerator for about 10 minutes to set.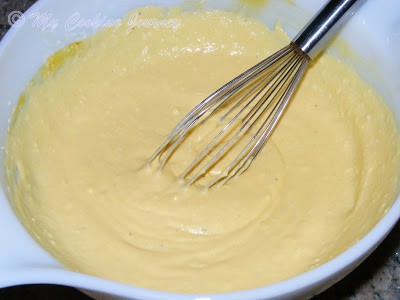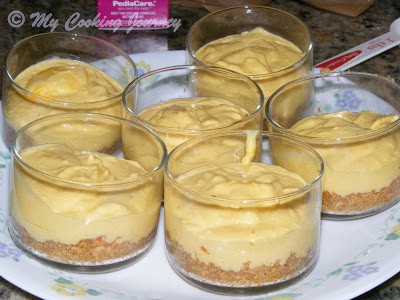 After 10 minutes, distribute evenly the mango-agar mixture as the third layer and let it set in the refrigerator for 2-3 hrs.
Enjoy!!!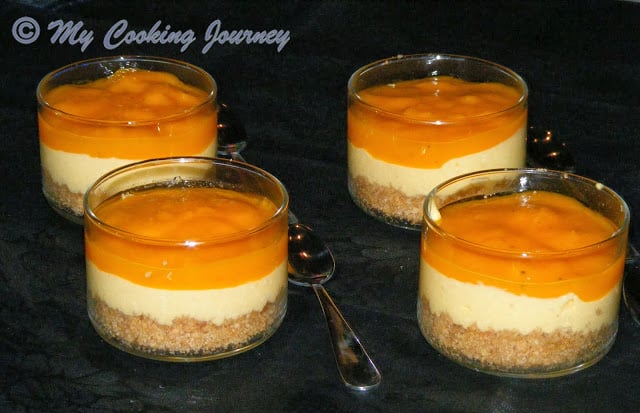 Notes and Observations –
It might take couple of trials to get the perfect texture, but this measurement of the agar flakes worked well for me.
Even if you have a slightly unset layer, the dessert would still taste great. So do not waste it.
You could use any digestive cookies as the crumb layer.