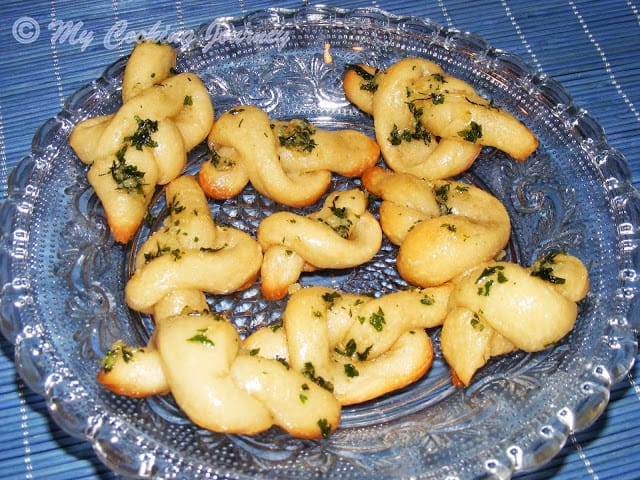 Since recently I have started making my own dough for the Pizza. When I make the dough, I make enough to make 3 large pies. I generally make 2 of them and the third one is left behind in the refrigerator. Last time when I had the pizza dough in the refrigerator (the dough works best when refrigerated for at least 2 days and it works best if refrigerated for 3-5 days), I made the last portion of it into garlic knots and they were beautiful. The knots had crunchy base with chewy center and it was oozing with garlic butter.
For the third and final day of blogging marathon theme's baked savory dishes, I am going to be writing about the garlic knots. To make the pizza dough, please refer to my this post.
Preparation time – 20 mins plus about 1-2 hrs to bring the dough to room temperature
Cooking time – 15 mins plus 2 hrs to rise the dough
Difficulty level – medium
Ingredients to make Garlic Knots – Makes about 20 medium knots
To make the knots
Pizza dough – 1 recipe (enough to make 1 pie) – about 14 oz
All purpose flour – to dust
Olive oil – 1 tbsp
To make the Garlic butter/oil –
Butter/olive oil /combination of both – 4 tbsp
Garlic – 4 cloves (minced finely)
Parsley – ¼ cup (minced finely)
Salt – to taste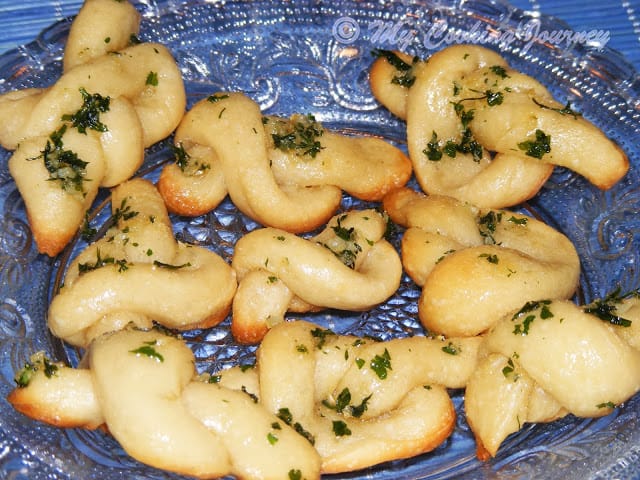 Procedure to make Garlic Knots –
Bring the dough out from the refrigerator. Shape it into a ball and leave it a floured bowl for about an hour to 2 hrs. By then the dough should have doubled in volume.
Bring the dough out and divide it into two. Cover one half when working with the other. Roll out one half into ½ inch thick rectangle.
With a sharp knife, slice the dough into 1 inch thick strips. Take one piece and elongate it a little bit and make it into a knot.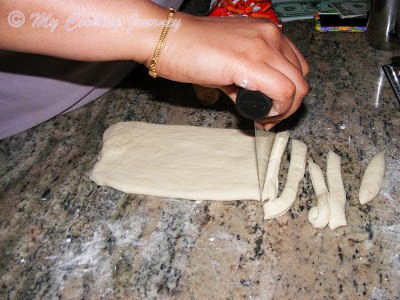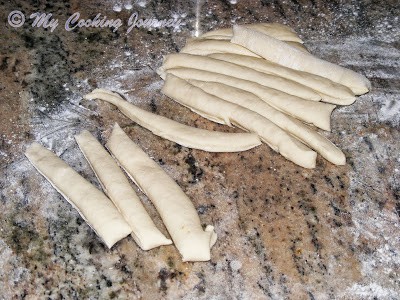 Line them on a lightly greased baking tray leaving a little space between them since they would rise again and become slightly bigger.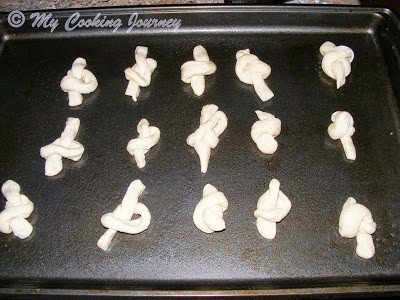 Once all the knots are made, brush them with little olive oil and cover it with a plastic wrap and let them rise again until doubled in size. This could take again anywhere from one hour to 2 hours.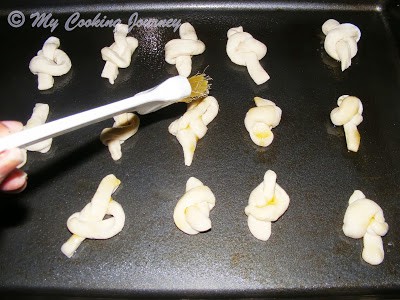 Remove the wrap and bake them in a preheated 400 F oven for about 12-14 mins or until browned on top. If placing 2 baking trays at the same time, make sure you double insulate (one tray on top of another) the tray in the bottom to prevent burning the base of the knots.
Meantime, make the garlic butter.oil. Melt 4 tbsp of butter or oil or combination of both in a small sauce pan. Add the garlic to the butter/oil and cook it on low flame until the garlic is slightly brown. Now add the minced parsley and salt and mix well. Remove from heat.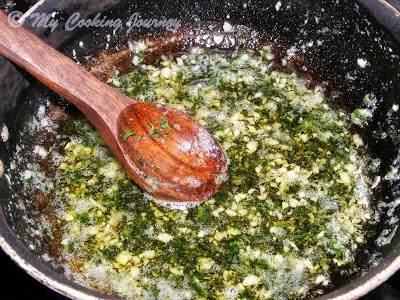 When the knots are done, bring them out and brush them liberally with the garlic butter/oil mixture. Serve warm as is or with some marinara sauce.