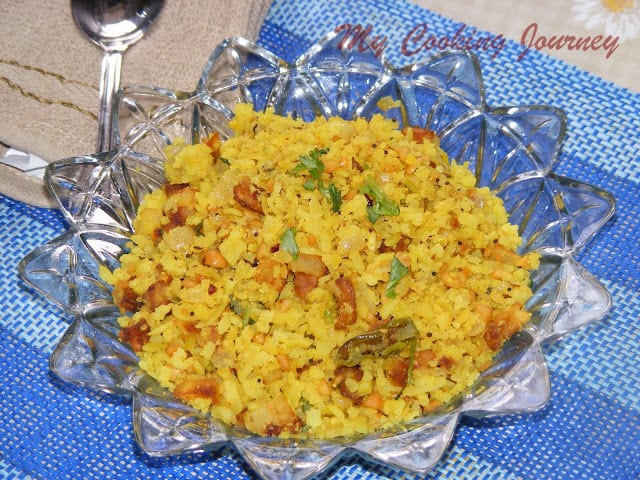 Kanda Batata poha is a very popular breakfast dish in Maharashtra. Kanda means onion, Batata means potato and Poha is flattened rice. Flattened rice also known as beaten rice flakes is de husked rice that is beaten to make it flat. The poha absorbs literally any liquid it is soaked in and become soft. So this becomes a very good medium to carry the flavors. This dish is very easy to make and serves as a very filling breakfast.
On fasting days, you could make this dish without the onions and it will keep you filled up for the rest of the day. I read in Wikipedia, that poha is a kind of convenience meal, similar to the usage of bread.
This dish has a little bit of the all the flavors in it. It has the sweetness from the onions, sourness from the lemon juice, spiciness from the green chilies and crunch from the peanuts. Give this recipe a try and let me know how you liked it.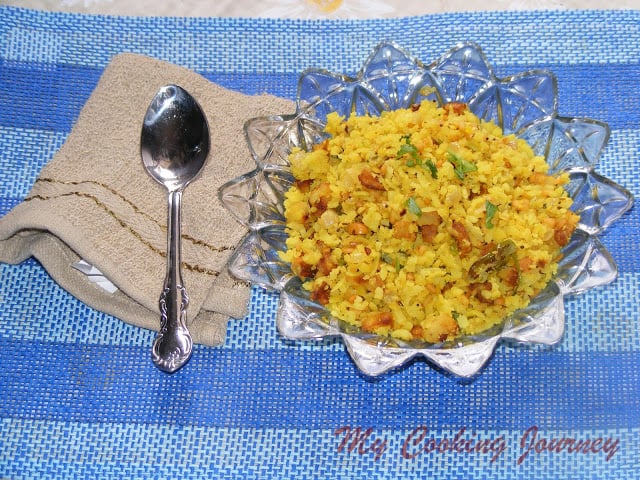 Preparation time – 10 mins
Cooking time – 20 mins
Difficulty level – easy
Ingredients to make Kanda Batata Poha – (serves 2 to 3)
Poha/flattened rice – 2 cups
Onion – 1 (finely chopped)
Peanuts – ¼ cup
Potato (medium) -2 (chopped into tiny cubes)
Mustard seeds – ½ tsp
Cumin – 1 tsp
Ginger (grated) – 1 tsp
Green chilies – 2 (or more depending on how spicy you like the dish)
Curry leaves – few
Cilantro – few (chopped)
Salt – to taste
Turmeric powder – ½ tsp
Lemon or lime juice – from 1 lemon or lime
Sugar – ½ tsp
Oil – 1 tbsp plus 1 tsp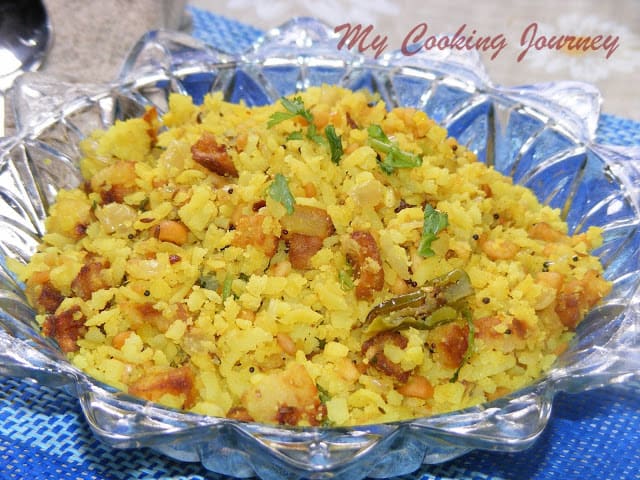 Procedure –
Wash the poha well under running cold water for 2 to 3 times. Leave it in a colander to drain. When it is draining, add the turmeric powder to the poha and mix it well using your hands so the turmeric powder spread evenly.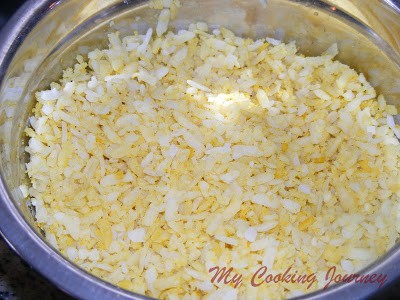 In a large pan, heat 1 tbsp of oil and cook the chopped potatoes until they turn golden brown. Drain and keep aside.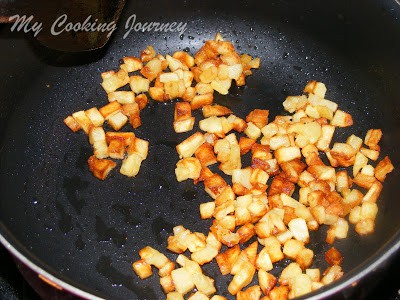 When the potatoes are browning, if you refer crush the peanuts in a mortar and pestle. I like it to have a little bit of crunch and that is why I don't grind it in a mixer. If you prefer you could also leave this step out and add the whole peanuts.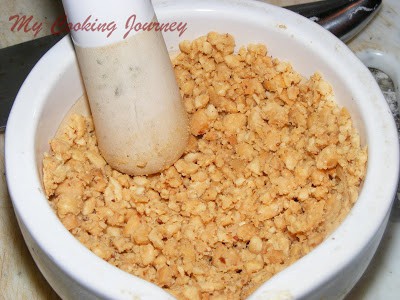 Once the potatoes are drained, in the same pan, add the remaining oil. When the oil heats up, add the mustard seed, cumin, green chilies, ginger and curry leaves. Once they fry for a minute, add the chopped onions and sauté until light brown.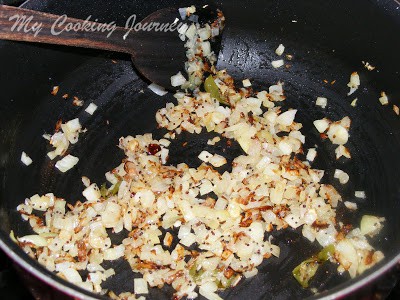 Now add the cooked potatoes, drained poha and the crushed peanuts and mix well. Add salt and sugar and mix well again. Let it cook for about 3 to 4 mins until all the flavors combine. Take care to keep stirring it to avoid the poha sticking together and clumping up.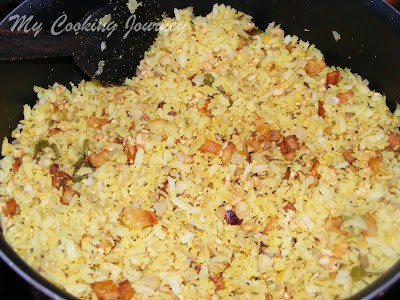 Turn off the flame and add the lemon/lime juice and the chopped cilantro. Mix well.
Serve with hot tea or coffee!
Enjoy as a breakfast dish or as I did as lunch.
Notes and Observations –
Onions can be omitted and the dish can be made only with potatoes or vice versa.
The poha should not be left to soak for a long time; otherwise it would become very soggy. So make sure you wash it under running water and drain it immediately in a colander.
When the turmeric is mixed with the poha itself, it allows for equal distribution and coloration. If added when cooking the poha might not mix evenly with the turmeric and the color will be patchy.
Peanuts could be added whole or crushed. Peanuts could also be left out, if preferred.
The pinch of sugar brings out lot of flavor, so do not leave it out.
Also lemon juice is very essential to give a tangy flavor to the dish.