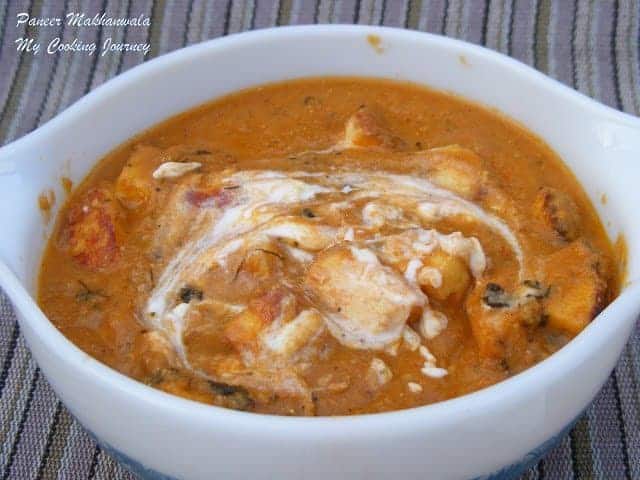 Paneer Makhanwala is popular Indian gravy, made out of cottage cheese in a rich cream, buttery sauce. This dish used to be a part of Mughal meals and hence comes the richness and the creaminess along with it.
If you know me, I substitute tofu for paneer in every dish. I really wanted to keep it authentic, and incidentally I also had paneer in my freezer. I added sour cream in my gravy to make it rich and creamy and it worked great. Try this recipe and pass on your comments.
Preparation time – 15 mins
Cooking time – 45 mins
Difficulty level – medium
Ingredients to make Paneer Makhanwala - Serves 6

The ingredient list is quite long, but don't change your mind yet. This dish is absolutely yummy!!
Paneer – 1 block (around 400gms)
Butter – 2 tbsp
Oil – 1 tbsp
Dhania jeera powder – 1 tsp
Chili powder – ½ tsp
Garam masala – 1 tsp
Sour cream – 2 tbsp
Kasoori methi – 1 tbsp
Honey – 1 tbsp
Grind together for masala with no water
Onion – 2
Tomatoes – 3
Red chilies – 3
Ginger – 1 inch piece
Garlic – 3 cloves
Grated coconut – 2 tsp
Poppy seeds – 2 tsp
Cashews – about 10
Cinnamon – 1 stick
Cloves – 4
Cardamom – 3
Saunf/fennel seeds – 1 tsp
Procedure –
Cut the paneer into 1 inch pieces and shallow fry it in oil until light golden.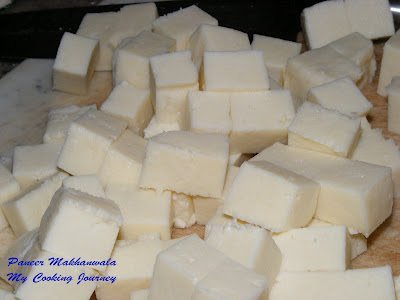 Grind the above mentioned masala into a smooth paste, without adding any water.
Heat the butter in a pan and add the ground masala. Fry the masala in medium flame, until it thickens and the oil separates. Be patient, this takes about half an hour, but it is really worth it. The more the masala fries the better it tastes.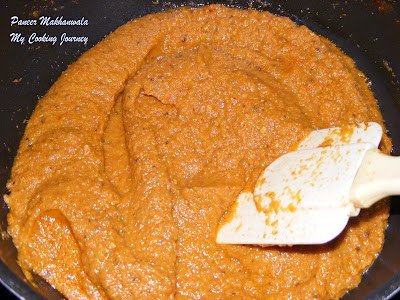 Now add the dhania jeera powder, garam masala and the chilli powder. Fry for 2-3 more mins.
Then add salt, honey, kasoori methi and the sour cream and stir well to combine.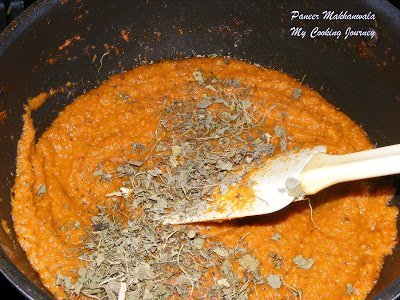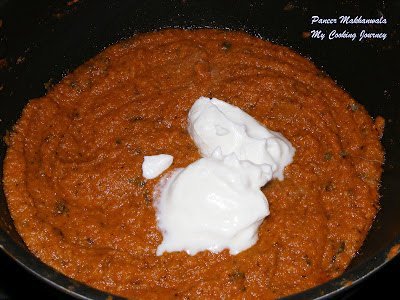 Let it cook for couple of minutes and then add the fried panner pieces to it and let it simmer for about 5-8 mins. Add some water if needed to get the right gravy consistency.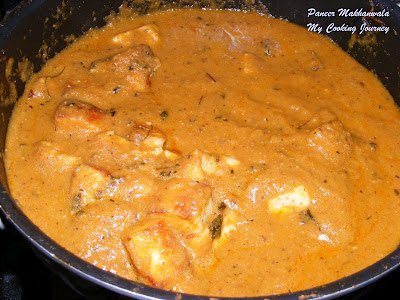 Remove from flame and garnish with butter.
Serve the Paneer Makhanwala hot with Chapattis, parathas or naan!!!