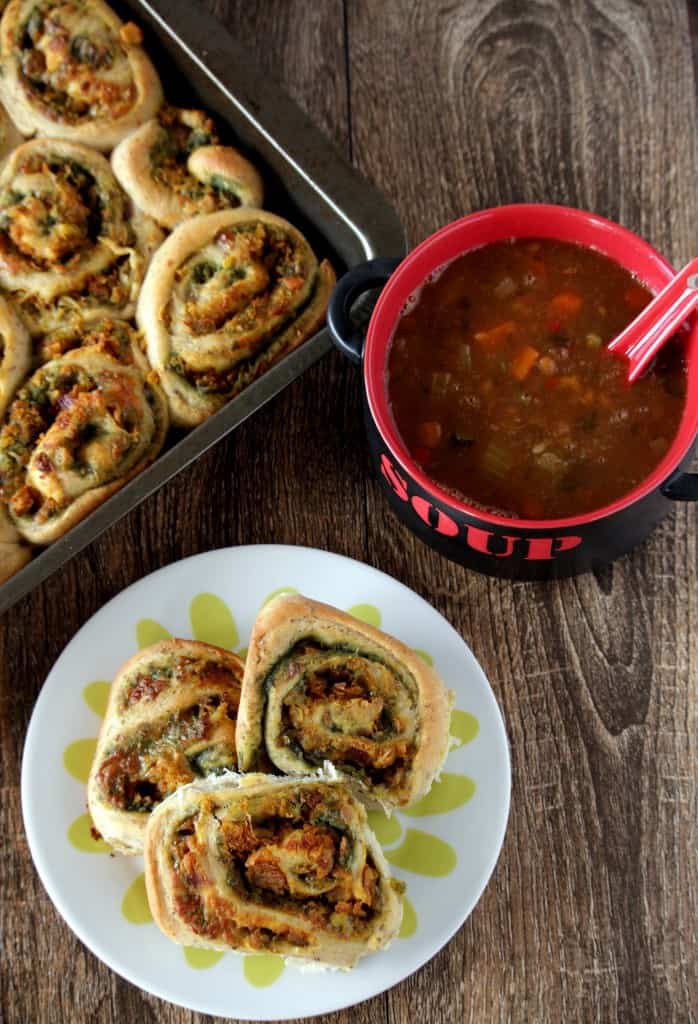 Tackling the leftovers is a big challenge. Last week we were at a burger place and we ended up ordering way more fries than we could handle. Usually, I don't bring back the fries home as they become quite soggy and no one wants to touch it later. This time though, the fires were delicious and I just could not leave it back.
As always nobody wanted to eat the soggy fries and I really had to come up with something to make to justify my bringing back the fries. That is when, I had this idea to shred the fries and use it as filling for bread. Once shredded the fries were just cooked potatoes and they worked great in the recipe. If using fresh potatoes use about 3 potatoes to use to make the stuffing for the pinwheel rolls.I made a simple potato masala with the fries.
I used some mint chutney as the first layer. If you don't have any mint chutney, you could use pesto or tomato chutney or anything else of your choice. Make sure that the chutney is not too liquid as it might ooze out when rolling. I also used some shredded Mexican blend cheese. This is completely optional and you could use any cheese of your choice or skip it all together.
Preparation time – 15 minutes plus about 3 hours of resting time
Cooking time – 20 minutes plus about 25 minutes of baking time
Difficulty level – medium
Sign up to my newsletter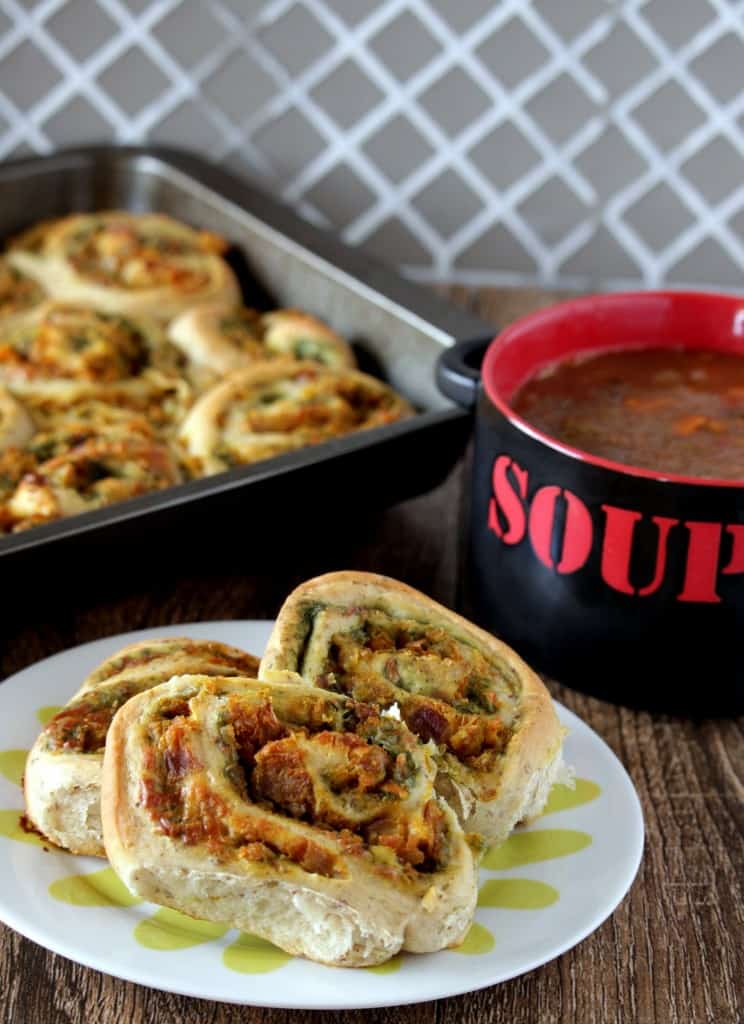 Ingredients to make Pull Apart Potato Stuffed Pinwheels – Makes about 14
For the dough –
Bread flour – 2 cups
Whole wheat flour – 1 cup
Flax meal – 2 tbsp
Instant yeast – 1 ½ tsp
Salt – 1 ½ tsp
Sugar – 1 tbsp
Olive oil – 2 tbsp
Luke warm water – about 1 cup
For the stuffing –
Left over French fries – I had quite a bit
Onion – 1 small (finely chopped)
Cumin seeds – 1 tsp
Turmeric powder – ½ tsp
Red chili powder – 1 ½ tsp
Garam masala – 1 tsp
Salt – to taste
Oil – 1 tbsp
Green chutney / Mint Chutney – about 4 tbsp
Cheese – about 1 cup (shredded)
Milk – to brush the surface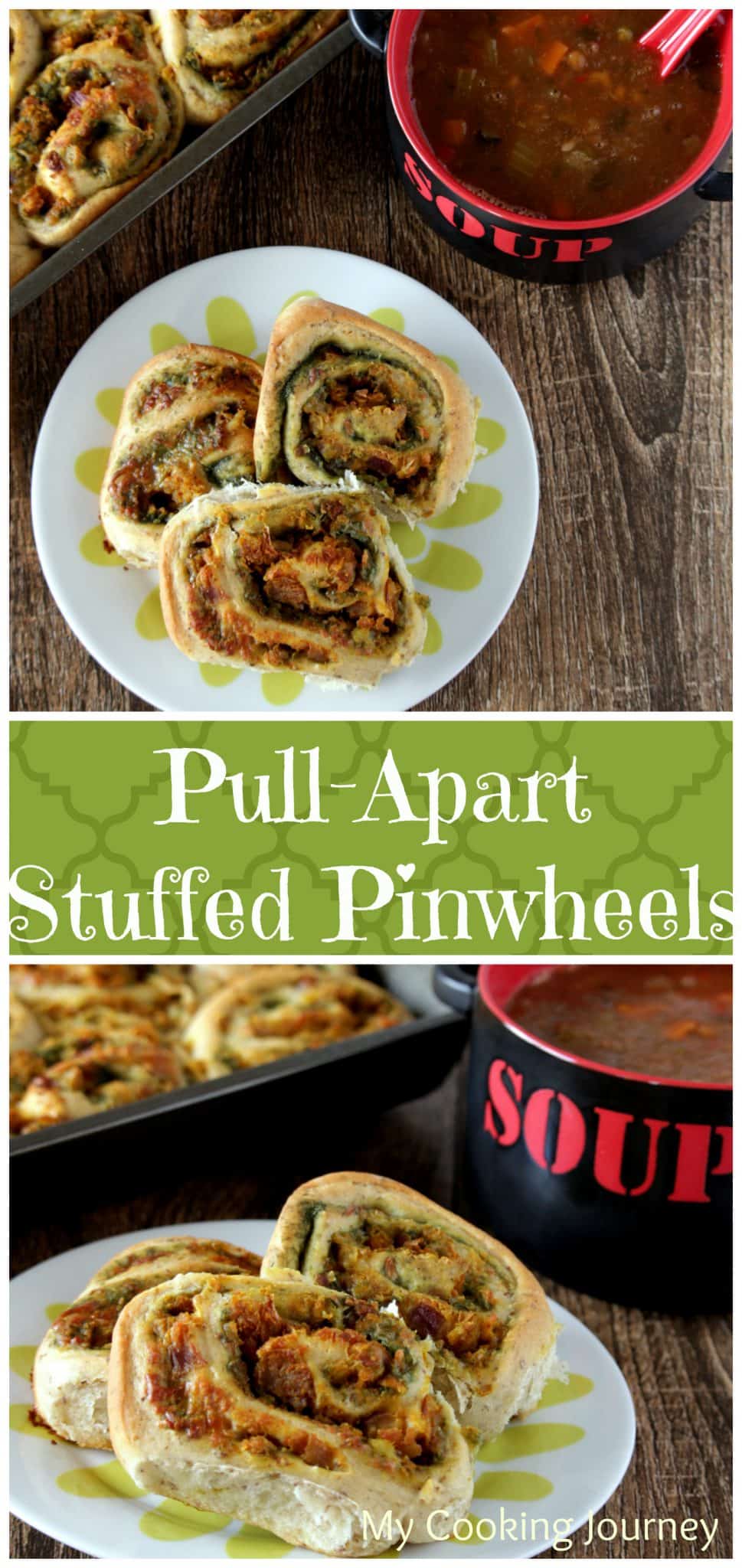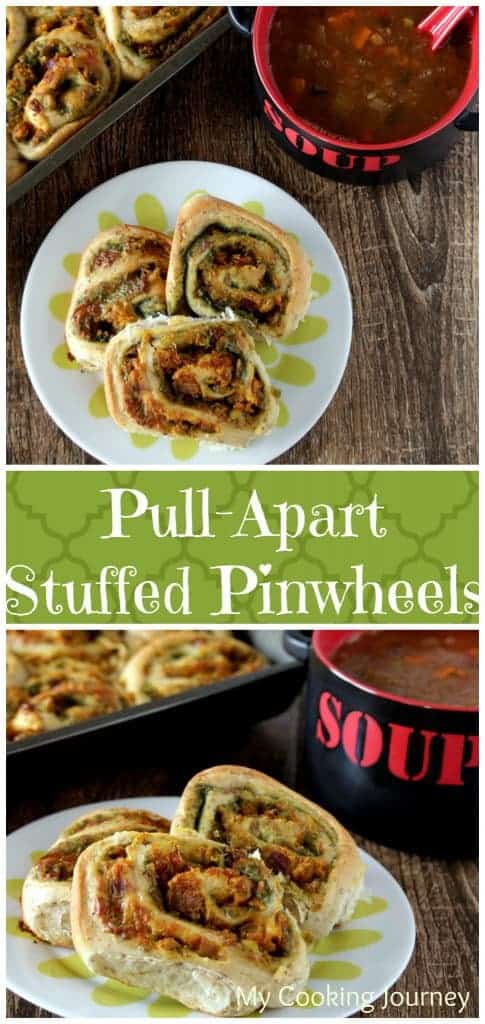 Procedure to make Pull Apart Potato Stuffed Pinwheels –
To make the dough –
Combine the flours, flax meal, yeast, sugar and salt in the mixer bowl.
Add the oil and mix once. Now slowly add the warm water to make soft and slightly sticky dough. You may not need all the water or might need a little more depending on the flour.
Knead the dough for about 10 minutes until it is very soft and pliable.
Place the dough in an oiled bowl and cover it. Let it rise in a warm place for about 1 to 1 ½ hours or until it has doubled in volume.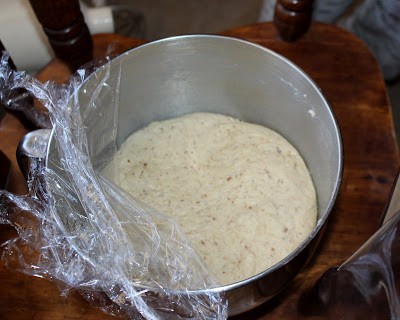 To make the filling –
I used my food processor to shred the fries. Shred or chop the fires into very small pieces. If using fresh potatoes; cook it and mash it up well.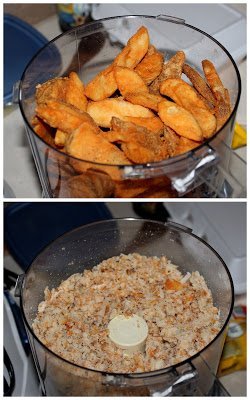 In a pan, heat the oil. Add the cumin seeds and let it crackle.
Now add the chopped onions and fry until translucent. Add the turmeric powder, chili powder, garam masala and salt. If using French fries, use just enough salt for the onions. The fries already are salted.
Add the shredded fries and mix well. Cook until the potatoes are softened.
Let the stuffing cool down to room temperature.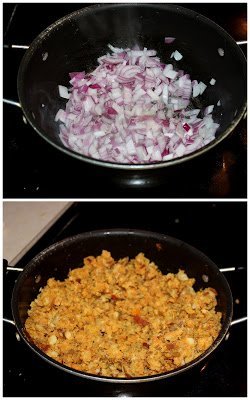 To make the Pinwheel Rolls –
Once the dough has risen, place it on a floured surface and punch it down. Roll it into a rectangle about 12 inches wide and 18 inches long.
Spread the mint chutney evenly over the rolled dough.
Sprinkle the cheese over the chutney.
Now evenly spread the potato mixture. Make sure that you don't over fill as it will be hard to roll.
Starting from the side closer to you, begin rolling the dough away from you. Roll it as tight as you can. Pinch and seal the edges.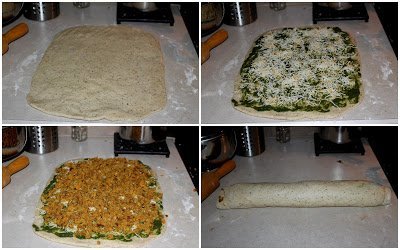 Using a sharp knife cut the dough into even 1 inch rolls.
Place the rolls on a greased tray, leaving about ½ inch between to spread when rising.
Let it rest for about 45 minutes to an hour to rise.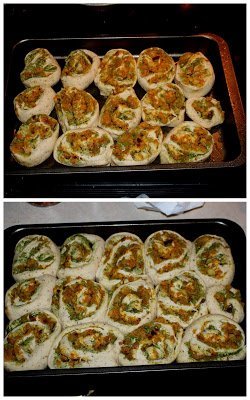 Baking the Pull Apart Potato Stuffed Pinwheels –
Preheat the oven to 375 F.
Brush the proofed rolls with milk and bake for about 20 to 25 minutes or until golden brown.
Remove and let it cool down a bit before serving.